Volume 5, Number 13
Wednesday, July 5, 2006
www.marianist.com
TEMPORARY PROFESSED GATHER IN PUERTO RICO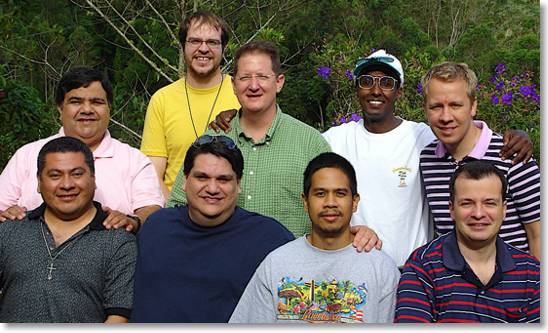 At the temporary professed retreat in Puerto Rico, front row, Bros. Tobías Ferrer, Aaron Sonnenburg, Dennis Bautista and Armando Añeses; back row, Fr. Oscar Vásquez, Bros. Andy Kosmowski, Ed Violett, Isak Keyman-Ige and Brian Halderman. Also in attendance was Bro. Alfredo Chávez.
Eight temporary professed brothers gathered in San Juan, Puerto Rico, June 15 to July 3 for a retreat and workshop organized by Bro. Ed Violett, coordinator of the temporary professed program. Presenters included Frs. Steve Tutas and Rudy Vela, Sr. Mary Haddad, RSM, and Provincial Stephen Glodek. Fr. Oscar Vásquez served as chaplain. The gathering concluded with Bros. Tobías Ferrer, Brian Halderman, Isak Keyman-Ige and Aaron Sonnenburg renewing their temporary vows.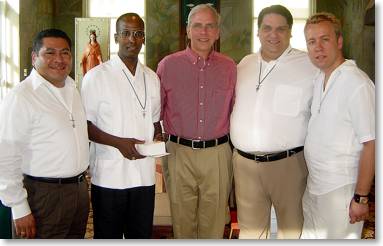 At Colegio San José in Puerto Rico, Bros. Tobias, Isak, Stephen, Aaron and Brian
GENERAL CHAPTER "BLOG" TO GO LIVE JULY 10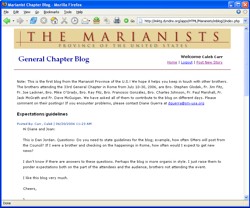 Brothers who are attending the 33rd General Chapter in Rome July 10 to July 30 will begin posting stories about the meeting to the new General Chapter Blog* July 10. The brothers attending the General Chapter who will contribute to the blog are: Bro. Stephen Glodek, Fr. Jim Fitz, Fr. Joe Lackner, Bro. Mike O'Grady, Bro. Ray Fitz, Bro. Francisco González, Bro. Charles Johnson, Fr. Paul Marshall, Fr. Jack McGrath and Fr. Dave McGuigan. Brothers are encouraged to read the blog for news and insights regarding the General Chapter and to post comments to the journal entries from the Chapter participants. New entries will be available by noon CST each day. To access the blog, simply log in to the PORTAL starting July 10 and click on the link for "General Chapter Blog."
A "blog" is short for Web log, a Web page that serves as a journal and is usually updated daily. A blog contains journal entries that are shown in reverse chronological order, and often there is a place for readers to comment on postings. Note: Because the SM PORTAL is password-protected, the blog is not searchable on the Internet.
NEWS ABOUT VOCATIONS
| | |
| --- | --- |
| Read the June 26, 2006, issue of Vocation News from Bro. Charles Johnson. | |
DISTRICT OF INDIA HOLDS CHAPTER MEETING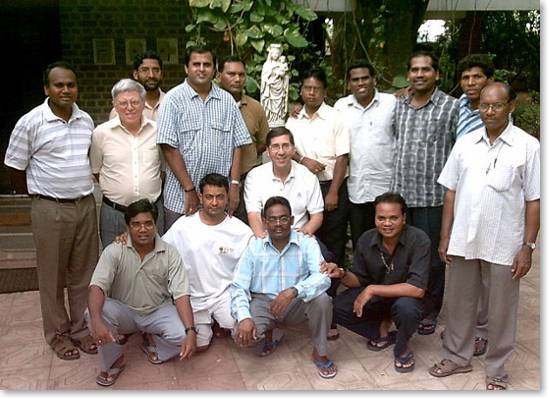 At the meeting, first row, kneeling, Bro. Sanjay Ekka, Fr. D'Cruz Nicholas, Bros. Tom Giardino, Ananias Tete and Prakash Kujur; standing, Bro. Alex Toppo, Bro. Delmar Jorn, Fr. Varghese Manooparampil, Fr. Pragasam T., Bro. Dulare Lucas, Fr. Santosh Tudu, Bro. Xavier Raj, Fr. Antony Atukaran, Bro. Anuranjan Lakra and Fr. Sylverius Kerketta
Thirteen members of the District of India gathered at the novitiate community in Ranchi, India, for the District's chapter meeting June 15 to June 17. Bro. Tom Giardino of the International Center for Marianist Formation kicked off the session with discussions on the roles and responsibilities of the district council and district chapter. The group also discussed community subsidies, the new mission in Nepal and long-term strategic planning. Bro. Tom facilitated meetings with the district formation committee, which reviewed the initial formation programs.
PERSONNEL NEWS
| | |
| --- | --- |
| Congratulations to Fr. Terry Weik, who has been named pastor of St. Joseph's Parish in Eldersburg, Md. Fr. Terry replaces Fr. Pat Tonry, who was named spiritual director of the Marianist Mission. | |
CAUSES OF MADRID MARIANISTS ADVANCED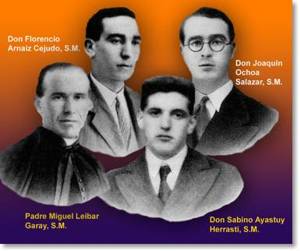 During an audience June 26 with Cardinal Jose Saraiva Martins, CMF, prefect of the Congregation for the Causes of Saints, Pope Benedict XVI authorized that the four Marianist martyrs of Madrid, along with 38 Dominican martyrs, may now be called "Venerable." The four Madrid martyrs were persecuted and killed because of their religious beliefs during the Spanish Civil War. At the time, they were teaching at a Marianist school in Madrid. An announcement on the beatification of Marianist Bros. Joaquin Ochoa Salazar, Sabino Ayastuy Errasti, Florencio Arnaiz Cejudo and Father Miguel Leibar Garay will probably be made by spring 2007. View the entire list of Marianist candidates for sainthood.
FROM THE GENERAL ADMINISTRATION

Read the July 2006 issue of Via Latina.
MARIANIST EDUCATIONAL ASSOCIATES GATHER AT MUM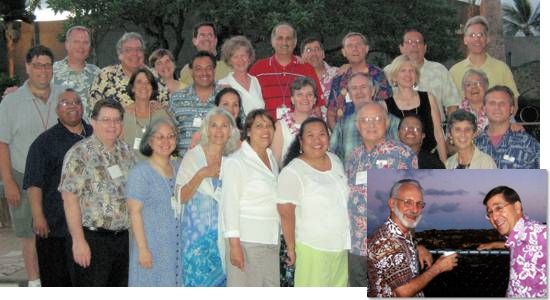 The Marianist Educational Associates with Bro. Jerry Bommer, CUH rector, (first row, third from right); Fr. Paul Marshall, University of Dayton, (second row, far left); and Bro. Tom Giardino, Director of the International Center for Marianist Formation, (third row, fourth from right). Inset photo, Bro. Frank Damm, Chaminade University of Honolulu, with Bro. Tom Giardino. Bro. Tom and Bro. Ray Fitz conducted a Marianist Educational Associates Workshop at MUM.
Twenty-five Marianist Educational Associates from the three Marianist universities attended the Marianist Universities Meeting June 5 to June 8 at Chaminade University of Honolulu. The MEAs, who work at the universities, are expected to play a key role in helping the universities promote Catholic and Marianist traditions of education at the administrative, faculty and staff levels.
MORE FROM MUM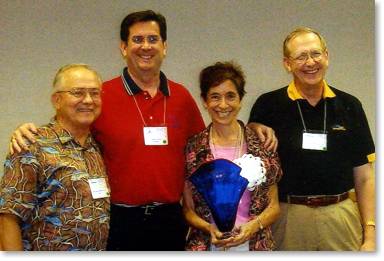 University of Dayton President Dan Curran, second from left, presents Chaminade University of Honolulu President, Sue Wesselkamper, with a vase as a gift from UD. Also shown are CUH Rector Bro. Jerry Bommer, left, and CUH Executive Vice President and Provost Bro. Bernard Ploeger.
"ONE OF THE MOST INTENSE FIVE DAYS OF MY LIFE"
This is how Jim McGinnis of the Institute for Peace and Justice in St. Louis described the recent Katrina immersion experience he and eight others participated in from June 23 to June 26 in New Orleans. The group, organized by Myles McCabe, Province director of peace and justice, gutted homes and listened to the stories of suffering and hope from Katrina survivors. In addition, a group of 35 students, parents and teachers from Chaminade-Julienne High School in Dayton and Archbishop Moeller High School in Cincinnati worked with Habitat for Humanity in nearby Slidell, La. Read more.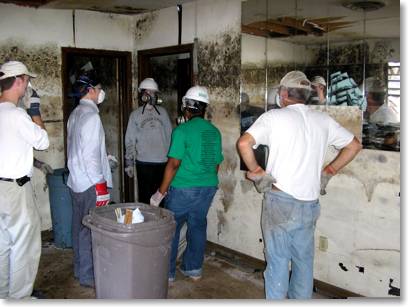 Members of the June Katrina immersion trip entering a home devastated by the hurricane.
SUMMER RETREATS IN ALL SIZES AND SETTINGS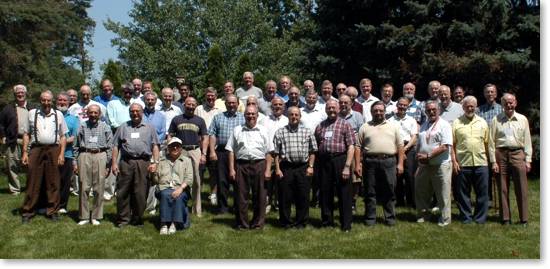 Approximately 50 brothers attended the Bergamo retreat June 12 to June 19 in Dayton. Photo courtesy of Bros. John Lemker and Charles Gausling.


PHOTO LEFT: At the St. Meinrad retreat June 18 to June 25 in Indiana, Bros. Tom Payne, Howard Lohrey, Bob Hatesohl and John Blank, Fr. Jack Rielly, Bros. Tom Jalbert, Hugh Bihl, Don Fahrig, William Callahan (partially hidden) and Fr. Don Cahill. PHOTO RIGHT:, Fr. Jack Rielly was the celebrant for the closing liturgy at St. Meinrad's, as the brothers renewed their profession of vows. Photos courtesy of Bro. Tom Payne
PLEASE PRAY FOR THE REPOSE OF THE SOUL OF . .

Fr. Bernard Meyer (Marianist Residence, San Antonio), 85, who died June 17, 2006. May he rest in peace. A Mass of Christian Burial was celebrated June 20 at Holy Rosary Parish, San Antonio. Burial was at the Marianist Cemetery on the campus of St. Mary's University. The presider and homilist was Fr. John Manahan. Read Fr. Bernard's obituary.

Bro. Severo Pereda Fernández (Province of Zaragoza-Spain), 89, who died June 3, 2006. May he rest in peace. Read Bro. Severo's obituary.

Bro. Fernand Bibeau (Region of Canada), 73, who died June 15, 2006, in Québec, Canada. May he rest in peace. Read Bro. Fernand's obituary.

Provincial Stephen Glodek offers this note of thanks: "I am unable because of time, energy and the upcoming trip to Rome to respond individually to all the cards and e-mails that were sent at the time of the death of my father. On behalf of my brother and I, I would like to extend to you the deep gratitude of the Glodek family for your kindness, prayers, and support that you expressed to us."

Please pray also for Robert Davis, Carol Eppy, and Beverly Karpfinger. Read more.

YELLOW CACTUS FLOWERS, MISSOURI BOTANICAL GARDEN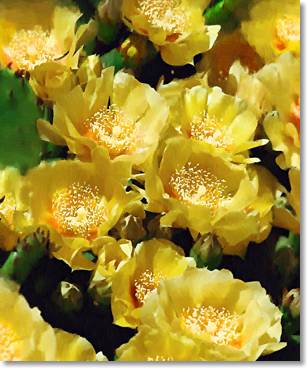 Photo courtesy of Bro. Bob Resing, S.M. Bro. Bob's images are available for sale as note cards or prints. To order, visit http://www.resingart.com/
PLEASE PRAY FOR THE HEALING OF . . .

Fr. Charles Bergedick (Washington Street, Dayton), who is hospitalized for tests at Miami Valley Hospital in Dayton.

Fr. Larry Mann (Villa St. Joseph, Cupertino), who is hospitalized after suffering a slight stroke.

Bro. Joseph Mariscalco (Meyer Hall, Dayton), who is recovering in his community from hip surgery.
WHO'S DOING WHAT
| | |
| --- | --- |
| Congratulations to Bro. Ed Loch (Central Catholic Community, San Antonio), archivist for the San Antonio Archdiocese, who was named "Chancery Employee of the Month" in June. Bro. Ed also received a $3,500 grant to assist with the preservation and restoration of aging archive microfilms. In addition, he's in the process of being approved as a full commissioner of the Bexar County Historical Commission. | |
| | |
| --- | --- |
| Congratulations to Bro. Brian Zampier (Marybrook, St. Louis), who had three pieces accepted in the "Art Section Member Exhibition"at the St. Louis Artist's Guild. Bro. Brian's painting, "Only Child," was among the show's prize winners. | Bro. Brian with his painting "Only Child." The exhibit judge described it as "one of the most unique pieces in the show." |
| | |
| --- | --- |
| Congratulations to Bro. Darwin Joseph (District of India), who recently received his master's degree in philosophy from Saint Louis University. In the fall Bro. Darwin will study computer science and English at the University of Dayton and join the Stonemill-Kiefaber community. | In his spare time, Bro. Darwin enjoys photography. View a slide show of Bro. Darwin's photos of the Chihuly glass exhibit at the Missouri Botanical Garden. |

Bro. Al Koch (Cape May, N.J.) and his Legion of Mary Team recently participated in an evangelization project at St. John of God Catholic Church in North Cape May, N.J. The group visited over 300 area homes in an effort to spread the Catholic faith.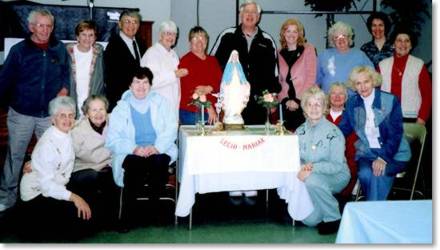 Bro. Al, back row, third from left, with the Legion of Mary team

Fr. Jim Heft gave the keynote address at the Marianist Universities Meeting on June 6. The theme for the meeting was the "Catholic Intellectual Tradition in our Marianist Universities." Read Fr. Jim's keynote address.
| | |
| --- | --- |
| | Bro. Ron Luksic (Montgomery Road, Cincinnati) is leading a two-week safari through Kenya, Africa, beginning July 20. Alumni, parents and students of Archbishop Moeller High School were invited to attend. |

Two of Bro. Mel Meyer's (Curé of Ars, St. Louis) sculptures were recently dedicated. The first is a 12-foot stainless steel spire sculpture entitled "Dianne," which pays tribute to an Arts Company employee who died of cancer. The Arts Company in Nashville, Tenn., exhibits and sells Bro. Mel's work. A second sculpture, which is 11-feet tall and made of curved pieces of stainless steel, was installed at the Reed School in St. Louis.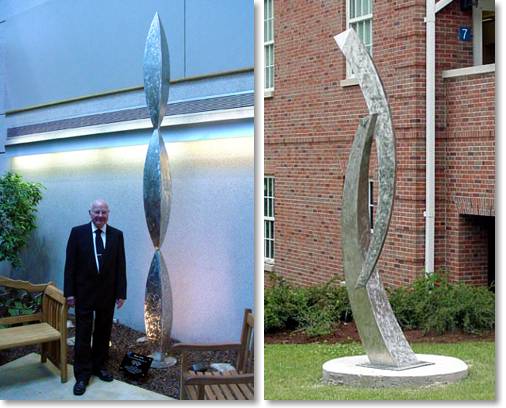 Bro. Mel poses with his sculpture titled "Dianne." At right, his curved sculpture adorns the Reed School campus.
CELEBRATING 30 YEARS OF MINISTRY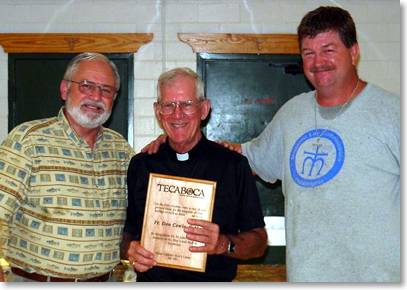 Fr. Don Cowie was recently honored for his 30 years of service to the TECABOCA retreat center in Ingram, Texas. Fr. Don serves as chaplain at TECABOCA and also celebrates Mass at other camps in the area. Shown with Fr. Don is Denis Link, left, TECABOCA executive director, and Sonny Kaufhold, TECABOCA Boy's Camp Program Director.
PEACE & JUSTICE UPDATE:

A SHARING FUND "THANK YOU" Ryan Shaw, a student at St. Mary's High School in St. Louis who took part in a Mexico immersion trip funded by the Marianist Sharing Fund, sent Sharing Fund organizers, Myles McCabe and Sr. Mary Beth Hefti, these words of thanks: "Thank you for supporting our trip to Mexico. I learned much from this experience about myself and the Mexican culture. Through this experience, I learned to appreciate all the small things that I took for granted."

SHARING FUND SUPPORTS SCHOLARSHIP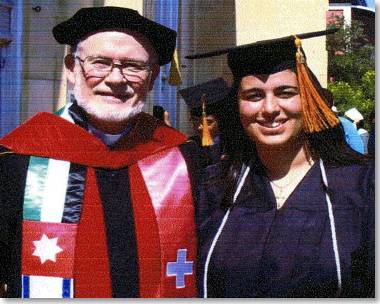 Fr. Charles Miller with graduate Mona Harb, recipient of the Palestinian Christian Scholarship Fund at St. Mary's University in San Antonio. The $1,000 scholarship, made possible by the Marianist Sharing Fund, assisted Mona, a Catholic Palestinian from Bethlehem, Israel, to graduate in May with a bachelor's degree in computer science.

SOCIALLY RESPONSIBLE INVESTING ACTIONS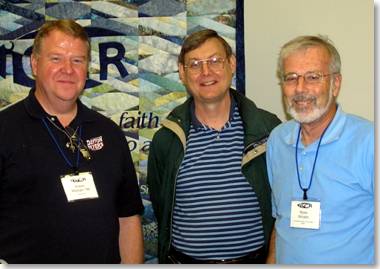 At the ICCR meeting, Bro. Bob Metzger, Bro. Steve O'Neil and Myles McCabe
Myles McCabe reports that in fiscal 2005-2006, the Province pursued actions with 16 corporations with whom it invests. This activity is part of the Province's ongoing relationship with the Interfaith Center on Corporate Responsibility. Issues being pursued include corporate governance, workers' rights and the environment. Bro. Steve O'Neil is the coordinator for ICCR activities and Bro. Bob Metzger votes proxy resolutions on the Province stock investments. Read more.

MARIANIST SOCIAL JUSTICE COLLABORATIVE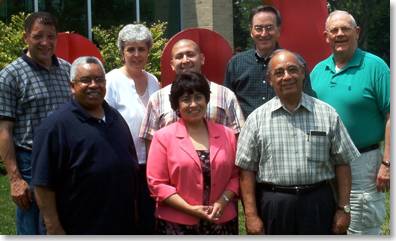 At the recent meeting of the Anti-Racism Team of the MSJC at Mount Saint John in Dayton, Len Roberts, Fr. Paul Marshall, Pati Krasensky, Nancy DeHonores, Rudy Reyes Jr., Fr. Ted Cassidy, Jesse Hernandez and Bro. Bob Wiethorn

MURPHY INITIATIVE FOR PEACE AND JUSTICE
Sr. Joan Serda, RSM, has been elected chair of the board of directors of the Murphy Initiative for Peace and Justice in Baltimore. Bro. Frank O'Donnell serves on the board and Bro. Jesse O'Neill represents the Province on the steering council. The board appointed Daniel Gennarelli as the new executive director. Dick Ullrich, founding executive director, retired on June 30.

Contact Myles McCabe, Province Director of Peace & Justice, mmccabe@sm-usa.org. 314.533.1207, x. 235
VISITING AT CAPE MAY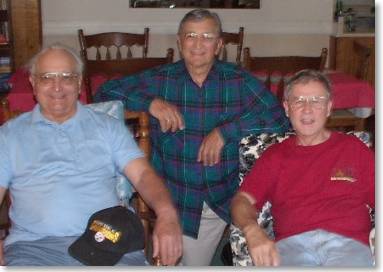 Bro. Ed Unferdorfer, Bro. Al Koch and Fr. Mike Reaume pose for a photo for Joseph Kuntz, who was in the postulate with Bro. Al in the late 1940s, and was visiting Cape May. Fr. Mike was visiting the Cape, and Fr. Ted Cassidy was away.
Marianist Artists at Work
BRO. BOB DZUBINSKI – A MINISTRY OF MUSIC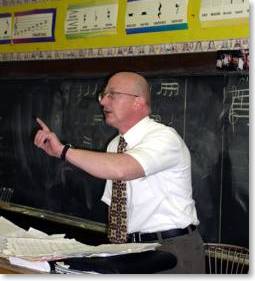 By the time Bro. Bob Dzubinski (St. Clair Avenue, Cleveland) was in ninth grade, he was playing the organ at his church. Throughout high school, his music teachers and the band and choir influenced him to pursue a career in music. So it was no surprise when he graduated with a bachelor's degree in music education. What does surprise and delight Bro. Bob is how this white, classically-trained musician finds himself in Cleveland's inner-city, teaching African-American gospel music to youngsters in kindergarten through eighth grade. "My ministry has enabled me to expand into areas outside my comfort zone," said Bro. Bob, who teaches music at St. Aloysius and St. Joseph schools in Cleveland. Bro. Bob produces an annual gospel choir concert with the students that has become the highlight of the schools' music programs. "It's an event filled with energy and excitement which reflects the energy of Bro. Bob," said Fr. Joe Lackner, who attended this year's concert. "The students processed into the concert in dance with Bro. Bob dancing behind them with even more enthusiasm."
Bro. Bob says he really enjoys his work: "The faculty and staff at the schools are exciting to work with, and the parishioners are delightful and dedicated to their parish, and very appreciative of the Marianist presence."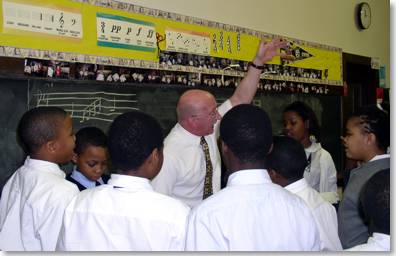 Bro. Bob with students at St. Joseph's School in Cleveland


Bro. Bob, shown with some of his music students, says that many of his students have been exposed to gospel and other types of African-American music from their church or family, so it serves as an excellent starting point for music education and a bridge to other areas of music. Photos courtesy of Aspirant Luis Gamboa
FROM THE SCHOOLS . . .
| | |
| --- | --- |
| CENTRAL CATHOLIC HIGH SCHOOL Congratulations to 2006 graduate Josephus J. Van Lindert, who is the first recipient of the "Hingst Family St. Mary's University Scholarship." The scholarship fund was established as part of a $1 million gift to Central Catholic from Ron and Kathleen Hingst. | Fr. Joe Tarrillion congratulates Josephus on his scholarship. |
| | |
| --- | --- |
| ARCHIBISHOP RIORDAN HIGH SCHOOL Congratulations to 2006 graduate Daniel Moreno, who received a national Jefferson Award for community service in the San Francisco Bay Area. Daniel organized more than 10 fundraisers at Riordan this year for causes such as AIDS and Hurricane Katrina. | |
| | |
| --- | --- |
| NORTH CATHOLIC HIGH SCHOOL was awarded the "Gene Kelly Award for Best Musical" for its spring production of "The Wiz." The Gene Kelly Awards honor excellence in high school theatre and are sponsored by the Pittsburgh Civic Light Theatre and the University of Pittsburgh. Bravo! | Cast and crew of "The Wiz" |
| | |
| --- | --- |
| ST. MARY'S UNIVERSITY recently announced it will launch an accelerated master's of business administration program this fall. The new program will allow students to earn an MBA in less than half the time of a traditional MBA program. Read more. St. Mary's also will offer an evening law program beginning in fall 2007. Read more. | |
BIDDING FAREWELL TO HOLY ROSARY SCHOOL
| | |
| --- | --- |
| | Sr. Gretchen Trautman, FMI, principal of Holy Rosary School, releases balloons as a sign of thankfulness for the school's 57 years of serving students in San Antonio. Holy Rosary School closed in May as a result of low enrollment. |
MARIANIST LIFE SUMMER GATHERINGS
Brian Reavey, national coordinator for Marianist LIFE, announces two LIFE reunion gatherings July 21 to July 22 in Dayton and July 29 to July 30 in San Antonio. Find out more. In addition, members of the Marianist Family also are invited to attend these LIFE gatherings:
LIFE Pacific Gathering— July 8, Vallombrosa Center, Menlo Park, Calif., Read more.

LIFE Central Gathering— July 15, Bergamo Center, Dayton, Ohio, Read more.

LIFE South Moderator Social— July 23, San Antonio (location to be announced). All professed brothers and sisters are invited to meet the moderators and staff of LIFE South. E-mail Rudy Reyes Jr., regional coordinator, or call 574.282.8040.

LIFE South Visitor's Night— July 29, TECABOCA, Ingram, Texas. Find out more (including map) or to receive a postcard reminder e-mail Rudy Reyes Jr.
BIG, BIG BIRTHDAY BASH: THREE 60s and a 50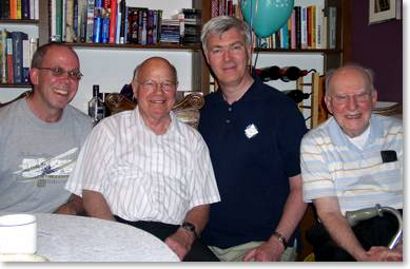 A big birthday bash was held June 20 at the Lindell Blvd. community in St. Louis for four celebrants: Fr. Jim Fitz (60 years old), Bro. Mike O'Grady (60), Bro. Bob Resing (60) and Bro. Jack Ventura (50). Enjoying the party, Bros. Brian Zampier and Mel Meyer, Fr. Neville O'Donohue (visiting from Dublin), and Fr. Richard O'Shaughnessy
OUT AND ABOUT
Read the upcoming travel schedule of members of the Provincial staff in St. Louis.
Please note: The new 2006-2007 Personnel will be distributed in mid-September.

Remember that personnel information on the PORTAL is updated on a regular basis at www.marianist.com/portal
ET CETERA

Provincial Stephen Glodek notes that from July 7 to Aug. 7, 2006, during the time of the General Chapter and the 50th anniversary celebration of the Conference of Major Superiors of Men, ordinary matters of Province business and notification of deaths will be handled by Fr. Tim Kenney and Bro. Richard Dix through the Province offices in St. Louis. Fr. Fitz and Bro. Stephen will have irregular e-mail and telephone contact during the month that they are away from St. Louis. In the case of emergency or any matters needing their attention, please contact Pat Stephens or Sue McKamely at the Province offices. Thank you.
NEWSLETTER
CENTRAL

MARIANIST SOCIAL JUSTICE COLLABORATIVE. Read the July 2006 issue of Justice Jottings.

MLLNA. Read the June/July 2006 issue of MLNNA E-News
OOPS...
In our story about the new formation community in Zambia in the June 20 issue of FamilyOnline, we incorrectly identified Bro. Erick Otiende as the District of Eastern Africa vocation director. Bro. Erick is the vocation director for Zambia. Also Bro. Erick is not the director of aspirancy in Lusaka, as that program has not begun.


JUST ONE MORE...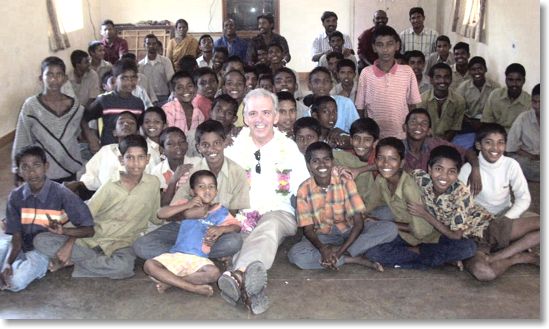 Fr. Tim Kenney, assistant for education, visits with children from the Ragpickers Education & Development Scheme (REDS) in Deepahalli, India. Fr. Tim was in India preaching the temporary professed retreat.
PROVINCE BIRTHDAYS
Editors Note: If you would like your e-mail address eliminated from FamilyOnline for security reasons, please e-mail Ann Mueller.
July

VISIT OUR WEB SITE AT www.marianist.com
Editor: Joan Suda; assistant: Ann Mueller. This biweekly e-mail newsletter produced by the Society of Mary features news about the Society of Mary (SM), Daughters of Mary Immaculate (FMI) and lay Marianists. Bro. Stephen Glodek, SM, provincial; Fr. Jim Fitz, SM, assistant provincial. Read the 2006 publication schedule and deadlines. Read hints about submitting photos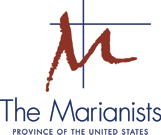 and copy. NEWS: We'll include news of travels, health updates, prayer requests, community celebrations, professional accomplishments, birthdays, and whatever personal or community news you'd like to share. Send news, digital photos and comments and suggestions to Diane Guerra at dguerra@sm-usa.org and use "FamilyOnline" as your subject line. TECHNICAL PROBLEMS: If you're not receiving this newsletter in the proper format, with proper spacing and photographs and art appearing, please let us know and we'll try to find a solution. If we can't, we'll put you on our "NOTIFY ONLY" list. CHANGE IN E-MAIL ADDRESS: Send to Ann Mueller at amueller@sm-usa.org. NOTE TO DIRECTORS: Please print this newsletter and post or distribute to brothers who do not have e-mail. BACK ISSUES/SEARCH: Visit www.marianist.com/fol. SUBSCRIBE/UNSUBSCRIBE: Visit http://www.marianist.com/subscribe.htm. Remember: you can search the archived issues of FamilyOnline at www.marianist.com/fol. Type in the word(s) you're looking for, open the issue, pull down the "Edit" bar and click on "Find on This Page," which will take you to the exact spot you need.