Volume 5, Number 17
Tuesday, August 22, 2006
www.marianist.com
ELEVEN MARIANIST VOLUNTEERS BEGIN SERVICE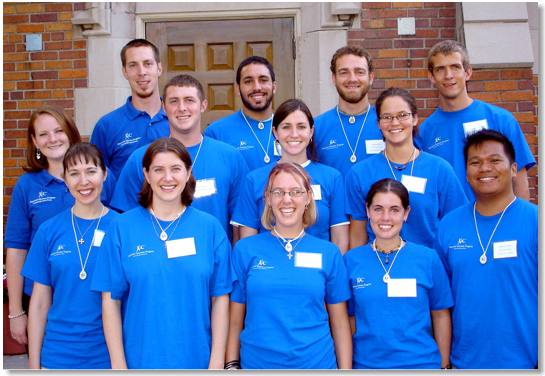 At the Marianist Volunteer Program commissioning ceremony, front row, Adalee Velasquez, Sarah Dawson, Meagan Brorman, Megan Barron and Norman Capinpin; middle row, Maureen O'Rourke, assistant MVP coordinator, Matt Maroon (honorary volunteer), Meghan Brown and Sarah Marquart; back row, Dan Richter, MVP coordinator, John Graziano, Chris Nieport and Jordan Kaderli
Eleven men and women were commissioned as Marianist volunteers in a ceremony Aug. 5, 2006, at St. Mary's High School in St. Louis. The ceremony followed a week-long orientation program led by Dan Richter, Marianist Volunteer Program coordinator and Maureen O'Rourke, assistant coordinator. The volunteers work in a variety of service areas, including: the Marianist DECAMP rural development project, La Chinantla, Mexico; St. Mary's High School and Marian Middle School, St. Louis; and ASK Urban Ministry program, Merced Housing project and the Youth Build program, San Antonio. Congratulations and our prayers to the new MVP volunteers as they begin their ministries. Read more about our volunteers.
| | |
| --- | --- |
| | Here's what our volunteers have to say... |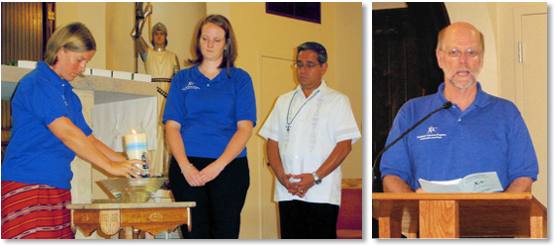 PHOTO LEFT: Lighting a candle for the blessing of the volunteers, MVP Steering Committee Co-Chair Mary Niebler with Maureen O'Rourke and Bro. Jack Ventura, also a steering committee member; PHOTO RIGHT: Bro. Dennis Schmitz, MVP Steering Committee Co-Chair, was the homilist for the ceremony. Photos courtesy of Bro. Brian Halderman
NEW MARIANIST PARISH INAUGURATED IN KENYA
On Aug. 6, approximately 1,000 people gathered in Mombasa, Kenya, to inaugurate the new parish of St. Martin de Porres and to entrust its ministry to the Society of Mary. Fr. Abdon Ilabi of the Foundation of Congo will serve as the parish priest and Bro. Charles Kimeu will serve as parish administrator. The other community members, Bro. Daniel Wang'ombe and Bro. Paul Kageche, will assist in various ways while continuing their involvement at the Marianist Development Project (MDP), located adjacent to the church. A special focus at St. Martin's will be serving the poor and marginalized in Mombasa. The District of Africa wishes to thank three Marianist parishes for their pledge of support: St. Aloysius, Cleveland; Queen of Apostles, Dayton; and St. Francis de Sales, Cincinnati. Congratulations and prayers for our Mombasa brothers!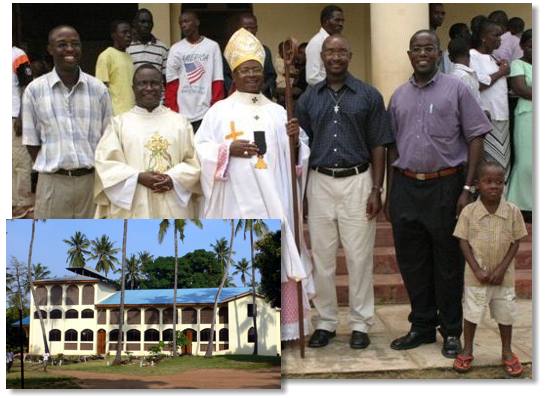 At the inauguration ceremony, Bro. Charles Kimeu, Fr. Abdon Ilabi, Archbishop Boniface Lele, Bro. Daniel Wang'ombe and Bro. Paul Kageche; inset photo, St. Martin de Porres church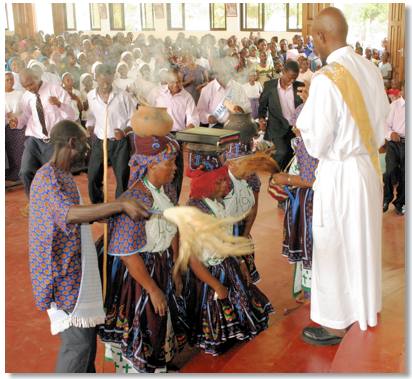 The colorful celebration for St. Martin's included singing, dancing and lunch for the entire congregation.
INPUT REQUESTED FOR PROVINCE VISION STATEMENT
Consultation letters and an e-mail requesting input for the Province Vision Statement were sent to all brothers last week. Several documents also were sent to assist in the discernment process. These documents are available on the PORTAL at www.marianist.com/portal under "Vision Statement Documents." Also on the PORTAL is the link to use for responses. Please respond by Dec. 2, 2006.
MARIANIST JUBILARIANS HONORED IN DAYTON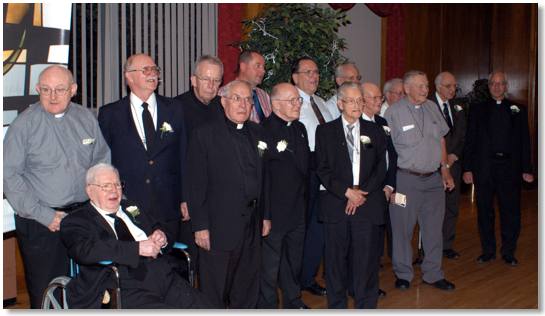 Celebrating jubilees, front row, Bro. Edward Fick (70 years), Fr. George Abmayr (60 years), Fr. Bob Backherms (60 years), Bro. Francis Deibel (80 years), Bro. Paul Jablinski (50 years) and Fr. Ray Middendorf (60 years); back row, Fr. David Fleming (50 years), Bro. Ken Thompson (50 years), Bro. Ray Martin (50 years), Bro. Gerard Mc Auley (25 years), Bro. Larry Cada (50 years), Bro. Frank Damm (50 years), Bro. Don Schaaf (50 years), Bro. Bill Fackovec (60 years) and Fr. Kip Stander (25th sacerdotal). Also celebrating, but not pictured, Fr. Charles Bergedick (60 years), Fr. Donald Bracht (75 years), Fr. Richard Kuhn (60 years) and Bro. Alex Tuss (25 years)
On Aug. 12, more than 250 brothers, family members and friends attended the jubilee celebration for 19 Marianist brothers at Immaculate Conception Chapel on the University of Dayton campus. Fr. Jim Fitz was the celebrant for the special Mass, and Fr. Bert Buby was the homilist. Bro. Mike O'Grady, assistant for religious life, served as master of ceremonies for the dinner at the Kennedy Union Center on campus. Bro. Ken Thompson was the speaker for the jubilarians. Congratulations to the jubilarians!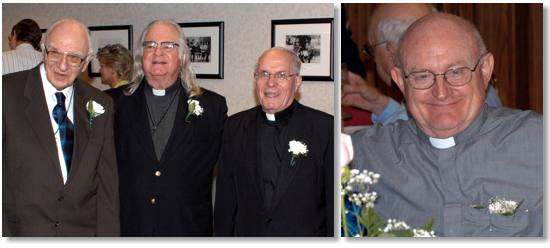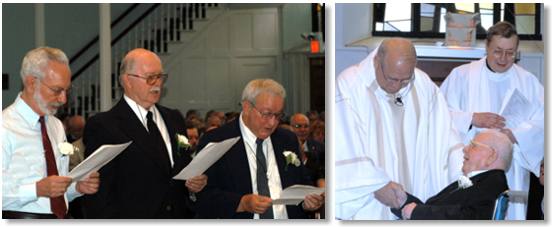 At the ceremony, CLOCKWISE from top, Bro. Bill Fackovec, Fr. Charles Bergedick and Fr. George Abmayr; Fr. David Fleming; Fr. Jim Fitz and Fr. Paul Vieson congratulate Bro. Edward Fick; and Bro. Frank Damm, Bro. Ken Thompson and Bro. Donald Schaaf
CMSM HOLDS GOLDEN JUBILEE ASSEMBLY IN VERMONT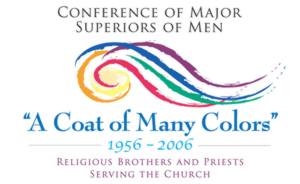 Provincial Stephen Glodek and Assistant Provincial Jim Fitz, along with more than 140 other religious leaders, attended the Conference of Major Superiors of Men 50th Jubilee Assembly Aug. 2 to Aug. 5 in Burlington, Vt. Bro. Stephen, former president of CMSM, gave a presentation on "The Contemporary Challenge" at the event. During the course of the assembly, CMSM members unanimously approved a resolution condemning torture. (Editor's note: Over the 50-year history of CMSM, two other Marianists, Fr. Steve Tutas and the late Fr. James Darby, also served as CMSM president.)
DISTRICT OF AFRICA DIRECTORS MEET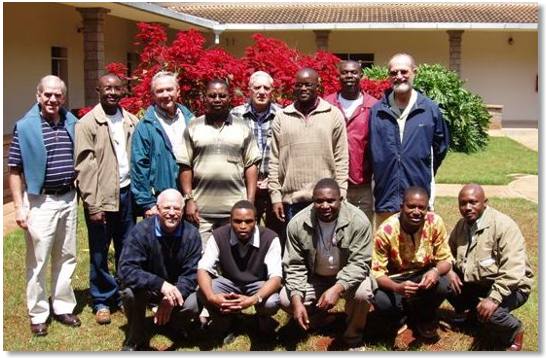 At the director's meeting, kneeling, Bros. Steve Grazulis, Patrick Kagai, Timothy Mazundah, Kondwani Nalivata and Godfrey Ssenyomo; standing, Fr. Martin Solma, Bro. Daniel Wang'ombe, Fr. Mike Nartker, and Bros. Chola Mulenga, Frank Annunziata, Joseph Maricky, Erick Otiende and Bill Schlosser
Leaders from eight communities in the District of Africa met Aug. 14 to Aug. 16 at the Dimesse Centre in Nairobi for their annual directors' meeting. Fr. Joe Lackner, assistant for developing regions, also was present at the meeting. Among the items discussed were two district documents: "To Follow, To Witness and To Serve: Guidelines for Professional Behavior"and "Strengthening Community Life." The directors and Nairobi Marianists gathered for a special Mass on Aug. 15 to celebrate the Feast of the Assumption at the Marianist scholasticate community. At the celebration were Fr. Allen DeLong, who was visiting from Honolulu, and two brothers from West Africa: Bro. Jerome Kanhou (Ivory Coast) and Bro. Emmanuel Souly (Tunisia). After the directors' meeting, community business managers met to discuss ways to standardize fiscal policies and procedures.
FR. MANAHAN CELEBRATES LAST MASS AT HOLY ROSARY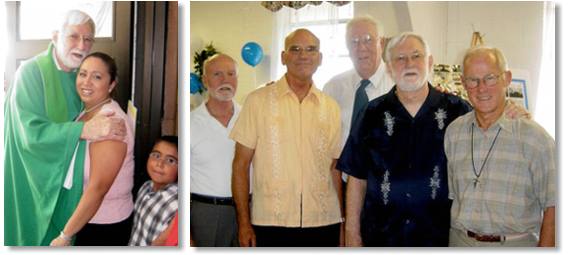 Fr. John bids farewell to Holy Rosary parishioners and, right, poses with Holy Rosary community members Bro. Rich Thompson, Fr. Cris Janson, Bro. Ralph Neumann and Bro. Richard Schrader. Photos courtesy of Bro. Dennis Bautista
On Aug. 13, Fr. John Manahan presided at his final Mass, after 10 years as pastor, at Holy Rosary Parish in San Antonio. Following the Mass, hundreds of parishioners gathered at Holy Rosary school cafeteria for a reception to bid Fr. John farewell and thank him for his years of service. Fr. Cris Janson assumed responsibilities as pastor effective Aug. 15 and has joined the Marianist community at Holy Rosary Parish with Bros. Ralph Neumann, Rich Schrader and Rich Thompson. Fr. John will participate in the Ministry to Ministers Sabbatical Program at the Oblate Renewal Center in San Antonio, Aug. 14 to
Dec. 19.
TUESDAYS AT CASA MARIA
| | |
| --- | --- |
| | The Casa María community in San Antonio hosted a dinner for all university resident hall directors on Tuesday, Aug. 8. Bro. Mike Sullivan hands a Chaminade coloring book to Teresa Anjah-Dalvi (7 years old, center) and Prasad Xavier Dalvi (5 years old, right), children of Teresa M. Treviño (back), Chaminade Hall Director at St. Mary's University. Photo courtesy of Bro. Dennis Bautista |
PLEASE PRAY FOR THE REPOSE OF THE SOUL OF . .

Charles "Bud" Hayes, 55, who died in a motorcycle accident Aug. 14, 2006, in California. Charles was the cousin of Fr. Ted Ley (West Hills, Calif.) May he rest in peace. Mr. Hayes recently was honored as Alumnus of the Year at Chaminade College Prep in California.

Marie Kaven, who died Aug. 15, 2006. May she rest in peace. Marie was a longtime cafeteria manager at Chaminade-Madonna High School, Hollywood, Fla.

Paul Nash, who died Aug. 17, 2006. May he rest in peace. Paul was a former novice of the former Cincinnati Province. He joined the order in Ireland, and remained close to the community in Dublin. Fr. Mike Reaume celebrated his funeral Mass.
ROCKING CHAIR, NEW HARMONY, INDIANA
PLEASE PRAY FOR THE HEALING OF . . .

Bro. Art Dofing (Curé of Ars, St. Louis), who is still hospitalized and recovering from surgery.

Bro. Joseph Gaudet (Mercy Siena, Dayton), who will have surgery this week.

Please pray also for Kay Cleary, Diane Guerra, Art Hammel, Dorothy Janovac, Jessica Koenig, Michael Murray, and Bob Wightman. Read more.
VISIT TO ST. JOSEPH PARISH IN ELDERSBURG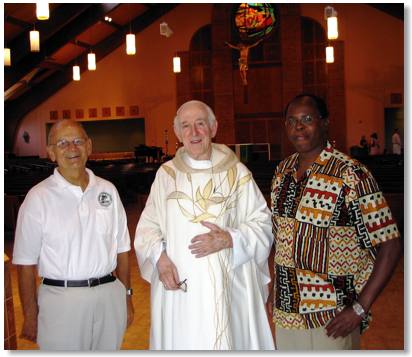 During a recent trip to Baltimore, Bro. Tom Payne (not pictured) and Bro. Richard Dix (left) visited with Fr. Paul Reich and Bro. Joseph "Jomo" Mwaura at St. Joseph Parish in Eldersburg, Md. Photo courtesy of Bro. Tom Payne
MARIANIST YOUNG ADULTS MEET AT MLNNA ASSEMBLY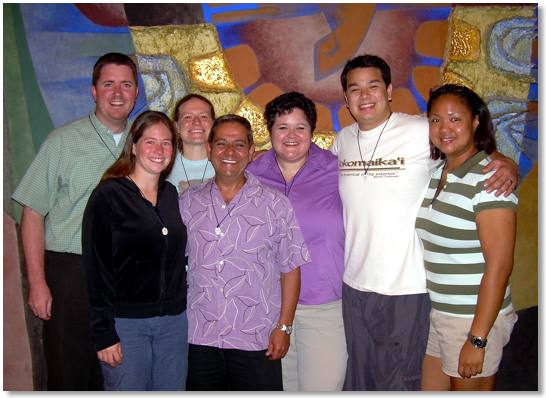 At the MLNNA assembly, Brian Reavey, Cristin Fong, Ashley McEnary, Bro. Jack Ventura, Kathy Murray, Jamieson Fong and Toni Mesina
In late July, Marianist Young Adults gathered at the MLNNA Continential Assembly in San Antonio. Cristin Fong and Brian Reavey, national coordinator for Marianist LIFE, helped organize a focus group for developing small communities of faith for young adults. Bro. Jack Ventura presented a workshop titled, "Is it Random, or is it a Process?"

Fr. Charles Miller (Chaminade Community House, San Antonio) and his "Roamin' Rattlers" group visited with Fr. David Fleming in Rome in July.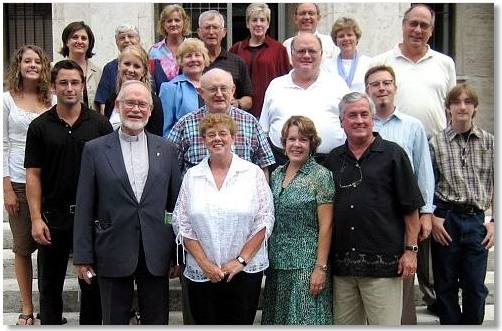 Fr. Charles, first row, far left, and Fr. David, second row, center
| | |
| --- | --- |
| Bro. Dennis Bautista (Casa Maria, San Antonio) was featured in a two-page article in the July 28 issue of the Hawaii Catholic Herald newspaper. Aspirant Brandon Alana also appears in the article. Read the article. | |
| | |
| --- | --- |
| Bro. Brian Halderman (Marybrook, St. Louis) was quoted in an article in the St. Louis Review about the new Marianist vocations Web pages. Read the article. | |

A new grotto at the Catholic Campus Ministry Center of the University of North Texas/Texas Woman's University in Denton, Texas, was recently dedicated to the memory of Marianist Fr. Bob Lewandowski (photo inset), who served in campus ministry for many years until his death in August 2003.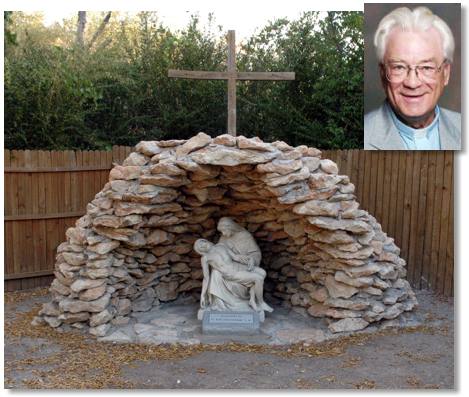 The grotto was built and funded by students, alumni, faculty and staff under the direction of Eric Gray, campus minister. Photo courtesy of Paul Combest.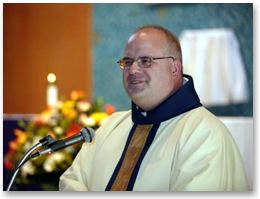 Fr. Richard Wosman (Woodlawn, San Antonio) has had a busy summer. In July and August, he spoke at eight gatherings of educators (more than 1,000 individuals) in four Texas dioceses: San Antonio, Austin, Victoria and Corpus Christi, including a talk to almost 400 teachers in the Corpus Christi diocese on the qualities and roles of Catholic school educators. He has more engagements coming up, including a talk to the superintendents of all Texas dioceses at the Texas Catholic Conference. Read an article that includes Fr. Rich.
| | |
| --- | --- |
| Bro. Steve Grazulis reports that the new e-mail address for the novitiate in Limuru, Kenya, is smlimuru@yahoo.com. | |
PEACE & JUSTICE UPDATE:

Marianist Sharing Fund The Marianist Sharing Fund supports programs that promote social, structural and systemic change. Applications for 2006 – 2007 are now being accepted. Find out more.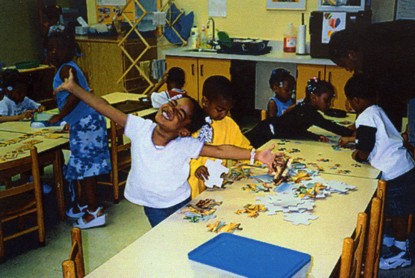 A Marianist Sharing Fund grant provides tuition assistance to pre-kindergarten students in the St. Joseph Collinwood Family Care Program in Cleveland.

Contact Myles McCabe, Province Director of Peace & Justice, mmccabe@sm-usa.org. 314.533.1207, x. 235
BROTHERS TEACH ENGLISH TO SPANISH STUDENTS


In the late 1960s, the late Bro. Julian Murua from Spain began a program that brought Spanish students to Ireland during the summer to learn the English language. The English Academy continues today, hosted by the Marianist secondary school in Dublin, St. Laurence College. Bro. Bob Flaherty from Cincinnati has taught at the academy for 18 summers; Bro. Paul Metzger from San Antonio has taught for 13 summers. Above left, Bro. Bob works with student Gonzalo de Cos Granero; at right, Bro. Paul with student Nutria Pente
WHO ARE ARE, WHERE WE LIVE
MEET THE BROTHERS OF DUBLIN, IRELAND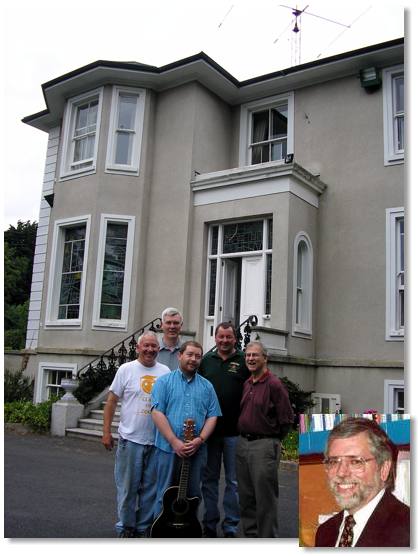 In front of their home in Ballybrack, just south of Dublin, Bro. Fred Rech, Fr. Neville O'Donohue, Aspirant Alan Smith, Bro. Gerry Mc Auley and Fr. Mike Reaume. INSET: Bro. Jim Contadino. The home dates to the mid-1800s. The Marianists have been in Ireland since the late 1960s, when they started St. Laurence College, a secondary school, in nearby Loughlinstown.
Read more about the Irish brothers.
FROM THE SCHOOLS . . .
ST. MARY'S UNIVERSITY. The Bill Greehey School of Business at St. Mary´s University in San Antonio has been rated as an outstanding business school by The Princeton Review and will be listed among the best in the nation this fall. Read more.

St. Mary's also earned a top tier ranking in the U.S. News & World Report's "America's Best Colleges" guide for the 13th straight year. Read more.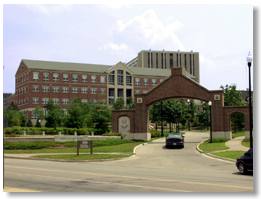 UNIVERSITY OF DAYTON again has been ranked as a top-tier national university in U.S. News & World Report's 2007 edition of America's Best Colleges. UD ties for 105 among 248 universities nationally that offer a wide range of undergraduate, master's and doctoral degrees. Read more.
COMMON BOND REUNION HELD IN DAYTON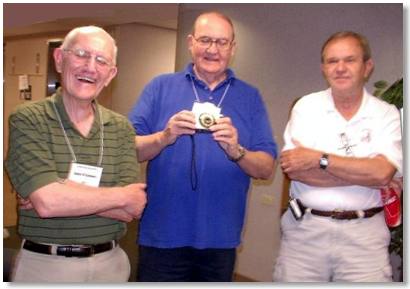 Common Bond President John O'Connor, Tom Brooks, and Reunion Committee Chair Myron Achbach
Approximately 200 former Marianists and Marianists attended the Third National Common Bond Reunion July 28 to July 30 at the University of Dayton. A highlight of the event was a special Mass celebrated at the Chapel of Immaculate Conception on the UD campus. Fr. Pat Tonry was the homilist. Twenty members of the Mercy Siena community also attended. "There is nothing like the sound of 200 voices," said former Marianist Joseph Kuntz. "The chapel just rang." The reunion also included a workshop and a visit to Mount St. John.
OUT AND ABOUT
Read the upcoming travel schedule of members of the Provincial staff in St. Louis.
Please note: The new 2006-2007 Personnel will be distributed in mid-September.

Remember that personnel information on the PORTAL is updated on a regular basis at www.marianist.com/portal
OOPS…OOPS…
In correcting information about Bro. Ron Luksic's African safari last issue, we mistakenly identified him as Bro. John Luksic. Our apologies, again!
NEWSLETTER
CENTRAL

CAPE MAY. Read the August 2006 issue of Beacon.com, the newsletter of the Marianist Family Retreat Center in Cape May Point, N.J.
JUST ONE MORE...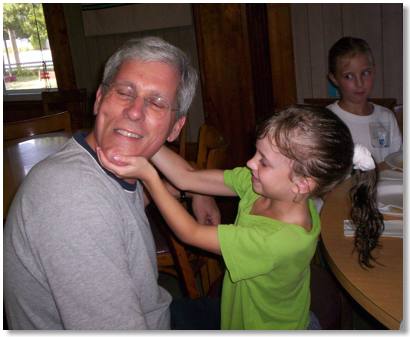 Fr. Gene Contadino getting his head on straight before beginning his day at the Marianist Family Retreat Center in Cape May Point, N.J. Fr. Gene served as chaplain for one of the family retreats in early August.
PROVINCE
BIRTHDAYS
Editor's Note: If you would like your e-mail address eliminated from FamilyOnline for security reasons, please e-mail Ann Mueller.
August
September
VISIT OUR WEB SITE AT www.marianist.com
Editor: Joan Suda; assistant: Ann Mueller. This biweekly e-mail newsletter produced by the Society of Mary features news about the Society of Mary (SM), Daughters of Mary Immaculate (FMI) and lay Marianists. Bro. Stephen Glodek, SM, provincial; Fr. Jim Fitz, SM, assistant provincial. Read the 2006 publication schedule and deadlines. Read hints about submitting photos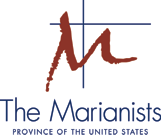 and copy. NEWS: We'll include news of travels, health updates, prayer requests, community celebrations, professional accomplishments, birthdays, and whatever personal or community news you'd like to share. Send news, digital photos and comments and suggestions to Diane Guerra at dguerra@sm-usa.org and use "FamilyOnline" as your subject line. TECHNICAL PROBLEMS: If you're not receiving this newsletter in the proper format, with proper spacing and photographs and art appearing, please let us know and we'll try to find a solution. If we can't, we'll put you on our "NOTIFY ONLY" list. CHANGE IN E-MAIL ADDRESS: Send to Ann Mueller at amueller@sm-usa.org. NOTE TO DIRECTORS: Please print this newsletter and post or distribute to brothers who do not have e-mail. BACK ISSUES/SEARCH: Visit www.marianist.com/fol. SUBSCRIBE/UNSUBSCRIBE: Visit http://www.marianist.com/subscribe.htm. Remember: you can search the archived issues of FamilyOnline at www.marianist.com/fol. Type in the word(s) you're looking for, open the issue, pull down the "Edit" bar and click on "Find on This Page," which will take you to the exact spot you need.