COMMUNITY DIRECTORS MEET IN SAN ANTONIO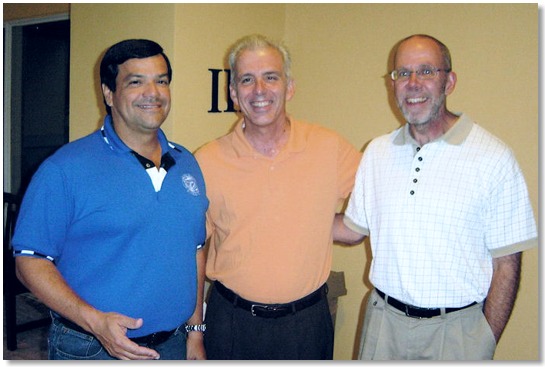 At the directors' meeting, Bro. Francisco González, Fr. Tim Kenney and Bro. Brian Zampier
Marianist community directors gathered with Provincial Council members at the Oblate Retreat Center in San Antonio for prayer, discussion, presentations and workshops from Oct. 6 to Oct. 8. Speakers included Fr. Ronald Rolheiser, OMI, president of the Oblate School of Theology in San Antonio, who began the session with a presentation on "Nurturing a Spiritual Leadership," and Paul Fanucchi, director of nursing at the Marianist Residence in San Antonio, who spoke on the physical health concerns of brothers. Paul also gave a workshop on helping senior members deal with physical changes and limitations. Other workshops included the "Dynamics of Formation/Vocation Discernment Communities," given by Bros. Mike O'Grady and Charles Johnson, and "Responding to the Difficult Person in Community," by Bro. Stephen Glodek. Presentations were given by the Provincial officers, including a session on the goals and orientations of the Provincial Council for 2006-2007.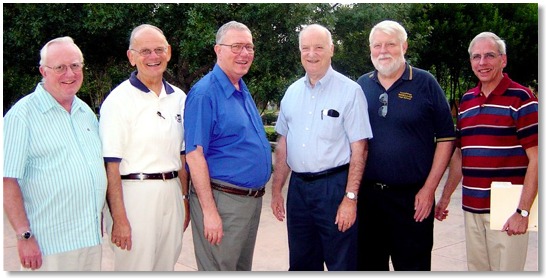 ABOVE: At the directors' meeting, Bros. John Haster, Richard Dix and Tony Pistone, Frs. Joe Tarrillion and Joe Lackner and Bro. Stephen Glodek; BELOW: Enjoying the social, Fr. Ken Templin, Bro. Mitch Schweickart and Bro. Mike O'Grady; and Bro. Norb Karpfinger and Fr. Ted Cassidy. Photos courtesy of Bro. Dennis Bautista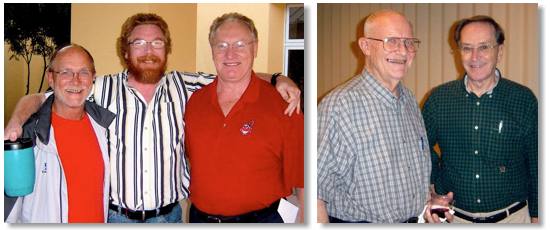 CONSULTATION FOR ASSISTANT PROVINCIAL BEGINS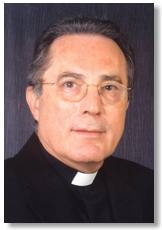 Fr. Manuel Cortés
Last week brothers were sent by e-mail and surface mail the consultation for assistant provincial from Fr. Manuel Cortés, superior general. If you have problems accessing the document, or did not receive a copy in the mail, please contact Pat Stephens, assistant to the provincial, at pstephens@sm-usa.org or 314.533.1207. The superior general has requested that responses be e-mailed or faxed to Rome no later than Oct. 29, 2006.
In his letter, Fr. Cortés summarized several Province challenges and priorities that were sent by brothers to the General Administration last May, including issues relating to mission and vision, vocations, the problem of aging, development of leadership and the burden of legal matters.
PROVINCIAL COUNCIL NAMES AREA COORDINATORS
The Provincial Council explained in Provincial Letter 17 that due to the geographic expanse of the Province, the Transition Coordinating Committee recommended the development of a "middle-management" between the Council and the local communities to facilitate conversation, regular contact and celebrations. Consequently, area coordinator positions have been created for the Province. The areas were designated along the lines of the proposed geographical subdivisions recommended for future Chapter elections. Area coordinators will assist in organizing celebrations including feast days, jubilees and funerals, serve as the liaison to Chapter delegates and meet annually with the Provincial Council and other area coordinators. Read the area coordinator job description. The area coordinators will meet with the Provincial Council in February 2007 to evaluate this structure. The Province is grateful for the generosity of the following men who have accepted these positions:
Hawaii
Fr. Bob Hackel
California
Fr. Dave Schuyler
Missouri
Bro. Brian Zampier
Texas
Fr. Rich Wosman
Ohio
Bro. Ed Brink
East Coast,
Puerto Rico
and Ireland
Fr. John Thompson
ALUMNI HALL GARDEN OFFERS PEACEFUL REFUGE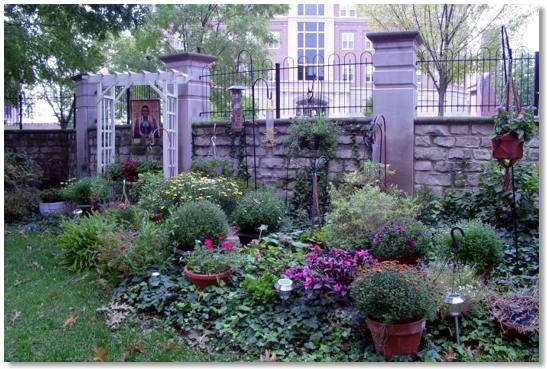 The Alumni Hall community garden at the University of Dayton, developed and cared for by Fr. Joe Tedesco, is a popular spot for prayer and meditation by students, faculty and staff. The garden is built around an outdoor shrine featuring an icon of Blessed Chaminade. Thanks to the efforts of Bro. Louis Fournier, the Chaminade icon has been weatherized to withstand the outdoors.
FALL CHAPTER MEETING WILL FOCUS ON DISCUSSION
The tenth session of the Provincial Chapter will convene Oct. 27 to Oct. 29 at the El Retiro Jesuit Retreat Center in Los Altos, Calif. There will be no propositions solicited for this session. The next legislative session is March 2 to March 6, 2007. Read the convocation of the Chapter from Provincial Stephen Glodek.
FR. OSCAR NAMED DIRECTOR OF TEMPORARY PROFESSED
| | |
| --- | --- |
| | Fr. Oscar Vasquez (Marybrook, St. Louis) has been appointed director of temporary professed by the Provincial Council in consultation with the Formation Advisory Council. Fr. Oscar replaces Bro. Ed Violett, who was elected to the General Administration in July. Our best wishes to Fr. Oscar. |
NEWS ABOUT VOCATIONS
Read the Oct. 4, 2006, issue of Vocation News from Bro. Charles Johnson.

Bro. Charles also announces that a new vocation brochure is now available. Limited quantities may be ordered by e-mailing Bro. Charles.
ACCREDITATION ENSURES HIGHEST STANDARDS
Fr. Stan De Boe, OSST, and Christy Schiller, MA, of Praesidium, the national leader in abuse risk management, visited the Provincial offices and four communities in St. Louis Sept. 27 and Sept. 29 as part of the Praesidium Accreditation™ process. Visits also were made to communities in Cupertino, Dayton, Honolulu and San Antonio. According to Fr. Stan, Praesidium provides a fresh set of eyes to review Province abuse policies and ensure standards are met. In interviews with Province leadership, Marianist religious and lay employees, Praesidium examined three issues: prevention of abuse; response to allegations; and supervision of members with abuse allegations. When the process is finished, the U.S. Province will be Praesidium Accredited™ and the report can be made public. A letter also will be sent to diocesan offices notifying them of the U.S. Province's accreditation. Read more.
COMMUNITIES DISCUSS SHARED MISSION TO SERVE POOR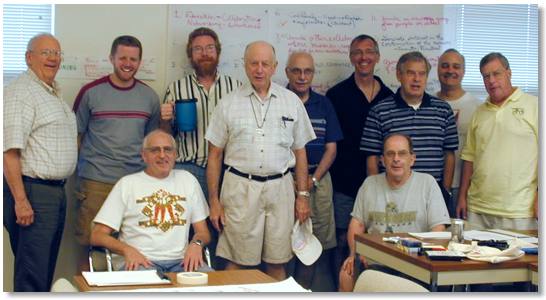 At the September meeting of the DeSales Crossings and Over-the-Rhine communities (standing) Bro. Bob Wiethorn, Novice Bob Jones, Bro. Mitch Schweickart, Fr. Ed Jach, and Bros. Bob Politi, Bob Donovan, Ray Fitz, Giancarlo Bonutti and Joe Kamis; (seated) Bros. Mike Murphy and Bill Grundish
"When we work at advancing justice, how is our neighborhood, Walnut Hills, Over-the-Rhine, Cincinnati, and those we serve, going to be better or different because the Marianists are there?" This is a question Bro. Ray Fitz poses frequently as facilitator at meetings between the DeSales Crossings and Over-the-Rhine communities. The communities have been meeting regularly since January 2006 to discuss their common mission and vision in working with the area's poor. The goal of these conversations is to find ways to partner and support each other in serving the poor and to develop a shared vision/mission that can be submitted for Province funding. The group will meet again in December.
GENERAL COUNCIL MAKES APPOINTMENTS
On Sept. 25, 2006, the General Council in Rome made the following appointments to the General Administration. Prayers and our congratulations to the brothers as they begin their new assignments.
| | |
| --- | --- |
| Bro. Michael McAward (Province of Meribah) was named secretary general, effective Nov. 1, 2006. Bro. Mike succeeds Bro. Peter Pontolillo who will return to the U.S. Province in December. | |
| | |
| --- | --- |
| | Fr. Lorenzo Amigo, rector of the seminary in Rome, was named procurator to the Holy See, effective Oct. 1, 2006. Fr. Lorenzo succeeds Fr. Antonio Soldà who will return to the Province of Italy. |
| | |
| --- | --- |
| Fr. Antonio Gascón (Province of Madrid) was ratified as postulator general and archivist general. As archivist, Fr. Antonio replaces Bro. Dario Tucci who died in March. As postulator, he replaces Fr. Antonio Soldà. | |
FROM THE GENERAL ADMINISTRATION
Read the October 2006 issue of Via Latina.
ST. LOUIS MARIANIST HIGH SCHOOLS MEET, CELEBRATE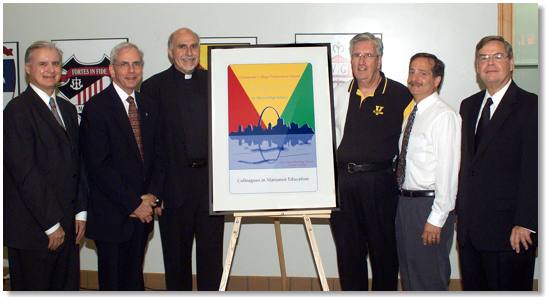 At the Marianist high school education celebration, Kevin Hacker, St. Mary's principal, Provincial Stephen Glodek, Fr. Ralph Siefert, Chaminade president, Larry Keller, Vianney principal, Michael Bander, Chaminade middle school principal and Bro. John Habjan, assistant director of education
On Oct. 2, for the first time, the administration, faculty and staff of three St. Louis Marianist high schools—Chaminade College Preparatory, St. John Vianney and St. Mary's—gathered for Eucharist, a meal, and a talk by Fr. Joseph Tedesco. Approximately 300 people attended the event, which began with Eucharist at Our Lady of the Pillar Church, followed by a brunch and social in the dining room of Chaminade. The theme was "Colleagues in Marianist Education," and its goal was the ongoing commitment of the schools in implementing the Characteristics of Marianist Education.
Also attending were Marianist brothers and priests from the greater St. Louis area, representatives from the St. Louis Archdiocese, and guest speaker Fr. Joe Tedesco. Fr. Tim Kenney, director of education, was the presider and homilist at Mass. Provincial Stephen Glodek offered a blessing and commissioning of the group. The event was coordinated by Dr. Stephanie Kralemann, associate principal for academics curriculum at Chaminade.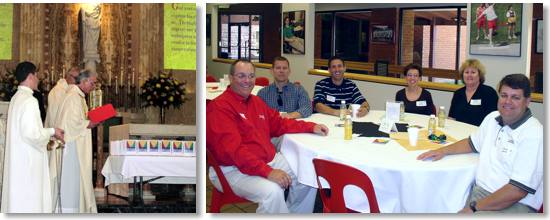 LEFT: Fr. Tim Kenney blesses the commemorative plaques given to each high school staff member. RIGHT: At the brunch, Jim Gerker, Chaminade, Stephen Murphy, Chaminade, Jack Wilson, Chaminade, Mary Perotti, office of education, Debbie Weindel, St. Mary's and John Mohr, Vianney
MARIANISTS PREPARE FOR WORLD DAY OF PRAYER
| | |
| --- | --- |
| | The 2006 Marianist World Day of Prayer will be celebrated Oct. 15, 2006, at Our Lady of Verdelais shrine near Bordeaux, France, a place dear to Blessed Chaminade. Members of the Marianist Family and friends from around the world will gather at Verdelais to celebrate Mass and pray. A document has been prepared for distribution to the Marianist communities in preparation for the World Day of Prayer. |
MARIAN SHRINE IN LUSAKA NEARING COMPLETION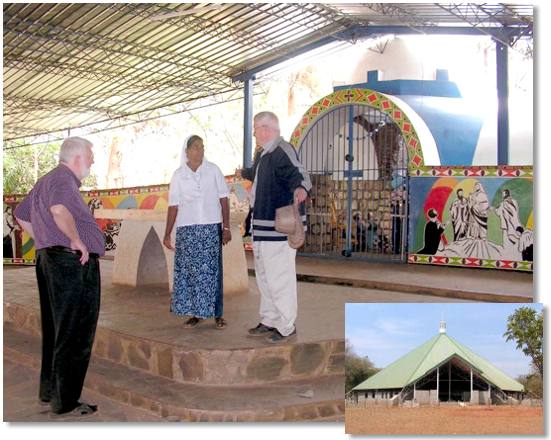 Fr. Joe Lackner, assistant for developing regions, (left), tours the Marian Shrine in Lusaka, Zambia, with Fr. Tony Jansen and an Indian sister who cares for the shrine. Fr. Tony, who Fr. Joe describes as an "indefatigable octogenarian," has worked for over 25 years with the archdiocese of the region to help raise funds for the building of the shrine. Fr. Tony also serves on the shrine board. INSET: exterior of the Lusaka shrine.
PROGRAMS OFFERED FOR SPIRITUAL RENEWAL

Bro. Tom Giardino announces programs for spiritual renewal for Marianist brothers in collaboration with the Marist brothers and coordinated by the International Center for Marianist Formation (IMCF). A program for religious from 65 to 80 years of age is scheduled for October to December 2007 in Italy. View the program listing. For more information, contact your unit superior or Bro. Tom.
ASPIRANCY HOUSE IS TAKING SHAPE IN AFRICA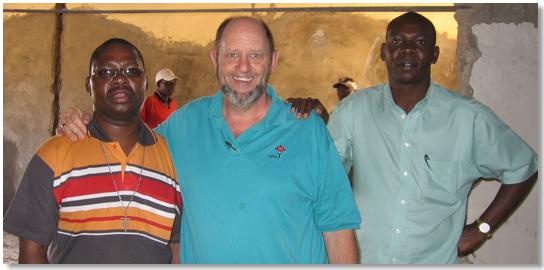 ABOVE: Bro. Jack Somerville (center) with Bros. Chola Mulenga and Erick Otiende at the site of a new aspirancy house being built on four acres of property purchased in Lusaka, Zambia, to house a Marianist formation community. Bro. Jack is supervising the construction project called Faustino House. Bro. Jack reports that despite delays, the lawyer now has the documents to transfer the property title to the Society of Mary— a major step in the process. Read reflections from Bro. Jack on his experience in Africa. BELOW: interior and exterior of the aspirancy house.


PLEASE PRAY FOR THE REPOSE OF THE SOUL OF . . .
| | |
| --- | --- |
| | Bro. Joseph Gaudet (Mercy Siena, Dayton), 91, who died Sept. 29, 2006. May he rest in peace. Bro. Joseph had a doctorate in history and taught for over 50 years. A Mass of Christian Burial was celebrated Oct. 5 at Queen of Apostles Chapel at Mount St. John in Dayton. Burial was at Queen of Heaven cemetery at Mount St. John. The presider was Fr. Tom Schroer and the homilist was Fr. Pat Tonry. Read Bro. Joseph's obituary. |

Fr. Robert Hoeper (Mercy Siena, Dayton), 87, who died Sept. 25, 2006. May he rest in peace. A Mass of Christian Burial was celebrated Sept. 30 at Queen of Apostles Chapel at Mount St. John in Dayton. Burial was at Queen of Heaven cemetery at Mount St. John. The presider and homilist was Fr. Tom Schroer. Read Fr. Robert's obituary.

Please pray also for Elizabeth Benkowski, James Dowdy, Earl Plavier, and Robert Wightman. Read more.
PORTRAIT OF AN AUTUMN ROSE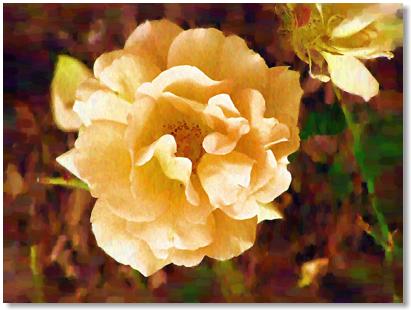 Photo courtesy of Bro. Bob Resing, S.M. Bro. Bob's images are available for sale as note cards or prints. To order, visit http://www.resingart.com/
PLEASE PRAY FOR THE HEALING OF . . .

Bro. Paul Metzger (Marianist Residence, San Antonio), who is hospitalized and recovering from heart bypass surgery.

Fr. Mario González-Simancas (Province of Madrid), who is hospitalized with a heart condition. Fr. Mario is assigned to the Marianist Community, Puebla, Mexico.

Please pray also for Patricia Deaton, Al Dexter, A. Gardner Finn, Ross Maguire, Colin McNeil, Sr. Sue Rech and Joseph Veasey. Read more.
WHO'S DOING WHAT. . .
| | |
| --- | --- |
| | Fr. Joe Tarrillion has been appointed to a third term as director of the Chaminade House community in San Antonio, pending ratification by the Superior General. |
| | |
| --- | --- |
| Fr. Rich Wosman (Woodlawn Ave., San Antonio) invites all Marianist brothers in the San Antonio area to a celebration of the Solemnity of All Souls on Thursday, Nov. 2, 2006. Vespers is at 4:45 p.m. followed by a social and dinner in the Marianist residence. RSVP through your community director. | |
| | |
| --- | --- |
| Fr. Allen DeLong recently spent a day preaching to seminarians, catechists and primary school teachers at Blessed Bhakita Center in Kitale, Kenya. Fr. Allen is in Africa as part of a sabbatical. | Bro. Benjamin Mwai, Maria del Pilar, who volunteered at Our Lady of Nazareth school this summer, and Fr. Allen |

Bro. Larry Cada (Indiana Ave., Dayton) taught a class on Marianist spirituality for the opening of the 2006 - 2007 seminary year in Rome. During his stay he fulfilled one of his lifelong dreams—visiting the city of Pompeii.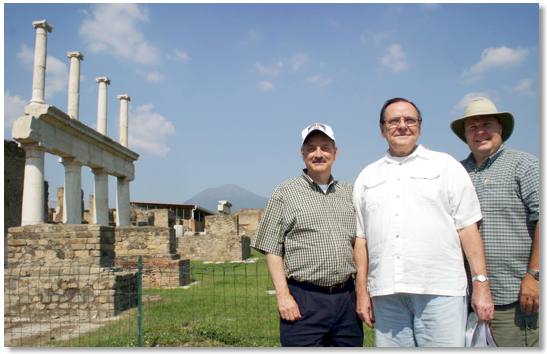 In Pompeii, Bro. Larry (center) with seminarians Rich Villa and Pat McDaid
| | |
| --- | --- |
| Congratulations to Bro. Ed Loch (Central Catholic, San Antonio), archivist for the San Antonio Archdiocese, who was chosen to be on the archival recovery team for church documents and artifacts damaged by Hurricane Katrina. The recovery effort is funded by the Association of Catholic Diocesan Archivists. | |
| | |
| --- | --- |
| | Fr. Charles Miller, professor of theology at St. Mary's University and archdiocesan liaison to the San Antonio Community of Churches, appeared on a KENS-TV news show Sept. 24 as spokesman for Archbishop José Gómez. He spoke and answered questions about Pope Benedict XVI's recent comments on Islam. |

Fr. Jim Heft, president of the Institute for Advanced Catholic Studies at the University of Southern California and former professor of faith and culture and chancellor at the University of Dayton, gave the homily at the Mass of the Holy Spirit (called the "Red Mass") celebrated by the University of Dayton School of Law on Sept. 24 at the UD chapel. Read Fr. Jim's homily.
| | |
| --- | --- |
| | Dan Curran, University of Dayton president, published an op-ed piece in the Sept 25 issue of the Dayton Daily News on the role private universities play in educating Ohio's work force. Read the editorial. |
ASPIRANTS JOIN IN JUBILEE CELEBRATION FOR SISTERS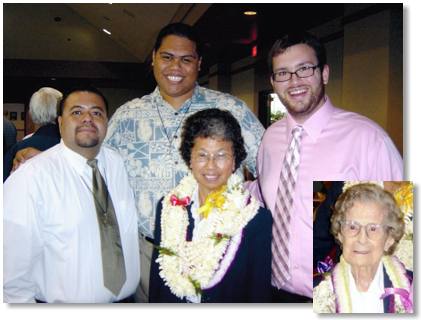 Aspirants Ray Dominguez, Brandon Alana and Ken Barrett at the golden jubilee reception for Marianist Srs. Stephanie Morales (center) and Rose Marie Eggleston (inset) on Sept. 23 in San Antonio. Congratulations to Sr. Stephanie and Sr. Rose Marie!
PEACE & JUSTICE UPDATE:

New Calendar. The office of peace and justice has added a calendar of events to its Web pages. View the calendar.

Secure Fence Act of 2006 authorizes 700 miles of new border fencing along the U.S. and Mexico border. It is expected that President Bush will sign this legislation into law. Help veto this bill and fight for comprehensive immigration reform. Write to President Bush.

Marianist Social Justice Collaborative encourages you to download two voter guides focusing on social justice issues for the upcoming election. The guides are the Sojourner's "Voting God's Politics" and "Voting for the Common Good" from Catholics in Alliance for the Common Good. MSJC also will be sending a copy of these guides to all Marianist communities this week.

Contact Myles McCabe, Province Director of Peace & Justice, mmccabe@sm-usa.org. 314.533.1207, x. 235
SHARING FUND AIDS CAPE MAY NEIGHBORHOOD GROUP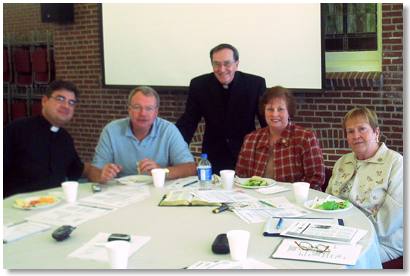 Fr. Ted Cassidy (center) with clergy and leaders of faith groups at the First Baptist Church in Cape May County, N.J.
Funds provided by the Marianist Sharing Fund are helping to develop a faith-based community organization in Cape May County, N.J. On Sept. 23, Fr. Ted Cassidy, along with more than 20 other clergy and leaders of faith groups, met to discuss the problems their congregations face and ideas for creating a community organization to address these problems. One of the organization's goals is to help low-income residents improve their neighborhoods and address social problems.
WORKSHOP IN HONOLULU ASSISTS LAY MARIANISTS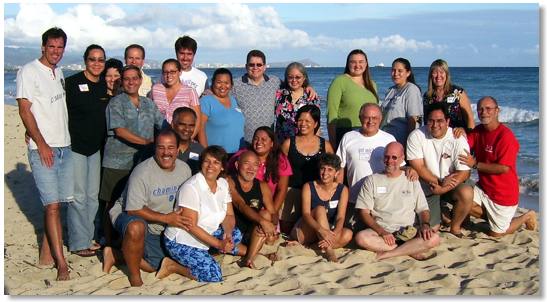 Bro. Jack Ventura (standing, fourth from left), Bro. Franklin Pao (seated, fourth from left), Bro. Jerry Bommer (kneeling, third from right), Bro. Dennis Schmitz (seated, far right) and Fr. Ken Templin (kneeling, far right) with workshop attendees
A renewed energy for Marianist Lay Communities in Hawaii surfaced at a recent gathering at the brothers' house at Ewa Beach near Honolulu. Almost 30 lay Marianists attended a one-day workshop by Bro. Jack Ventura. Bro. Jack shared ideas for starting and sustaining Marianist lay communities. Participants included faculty, staff and alumni from Saint Louis School and Chaminade University of Honolulu and Pacific Marianist LIFE moderators. Plans are underway for future gatherings.
ST. LAURENCE SCHOOL IN DUBLIN HOSTS FR. TIM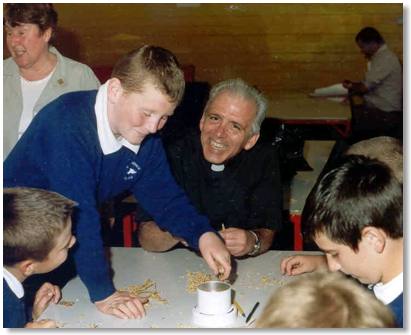 Fr. Tim Kenney, assistant for education, with students of Bro. Fred Rech's religion class at St. Laurence School in Dublin, Ireland. Fr. Tim, who was visiting in September, participated in Bro. Fred's lesson on making hosts from wheat.
FROM THE SCHOOLS . . .
CHAMINADE CAPS 50TH ANNIVERSARY CELEBRATION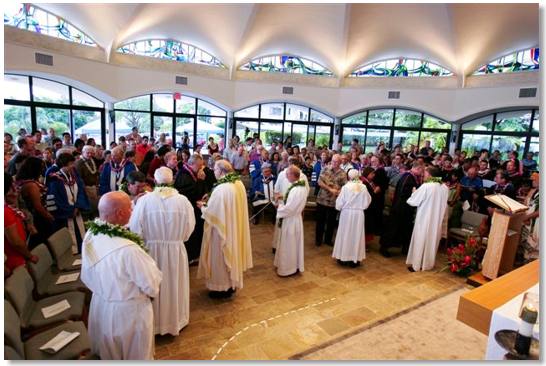 Closing Eucharist of Chaminade University's 50th anniversary celebration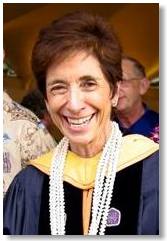 Chaminade President
Sue Wesselkamper
On Sept. 16, Chaminade University of Honolulu concluded its golden anniversary celebration with a Mass at the Mystical Rose Oratory followed by a reception. The yearlong celebration included academic forums, guest speakers, a gala and alumni gatherings. Community service was a special emphasis of the anniversary activities. Faculty, staff, students, alumni and friends logged more than 90,000 volunteer hours from January 2005 to September 2006, far exceeding the school's goal of 50,000 hours. During the anniversary year, the school's capital campaign raised nearly $40 million toward its goal of $50 million by 2008 and broke ground on its largest construction project in decades—The Sullivan Family Library and Information Resource Center.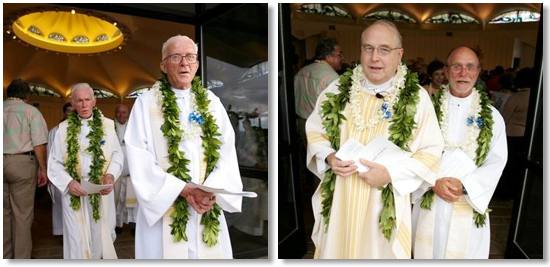 At the celebration, left, Frs. Jack Rielly and Bob Hertweck, and, right, Frs. Jim Fitz and Ken Templin
| | |
| --- | --- |
| ST. MARY'S UNIVERSITY received a $250,000 grant from the AT&T foundation to update its classrooms and distance-learning technology and modernize St. Louis Hall. Read more. | |
| | |
| --- | --- |
| ARCHBISHOP MOELLER students have launched a crusade to bring affordable housing to low income residents in Cincinnati. Moeller Advocates for Community Housing is a student-led group that recently celebrated the opening of an apartment unit they helped rehabilitate. Read more. | Moeller students with tenant Liz Shockley, who will live in the apartment unit they helped renovate. |
OUT AND ABOUT
Read the upcoming travel schedule of members of the Provincial staff in St. Louis.
UD STUDENTS EXPERIENCE MARIANIST FAITH COMMUNITIES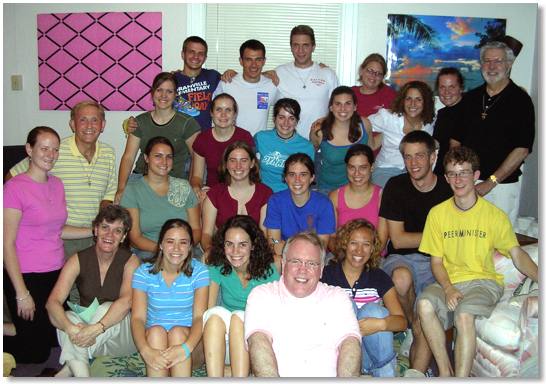 Bro. Tom Pieper (second row, second from left), Bro. Charlie Wanda (third row, far right) and Joan McGuinness Wagner (seated, far left) take part in a house blessing during the progressive dinner event.
Four Marianist student communities began the academic year with a progressive dinner and house blessing at the University of Dayton. Bros. Charlie Wanda and Tom Pieper, along with Joan McGuinness Wagner, coordinator, shared in prayer and a blessing. These UD students will be a Marianist presence in the student neighborhood and meet regularly for prayer and service. The communities are mentored by faculty and staff of UD, many of whom are Marianist Educational Associates.
CMSC HOLDS ANNUAL LEADERSHIP WORKSHOP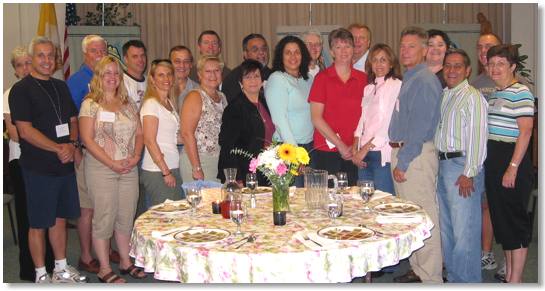 Bro. Jack Ventura, second from right, with lay Marianists from New York, New Jersey, Maryland and Texas attending the Second Annual CMSC Leadership Workshop in Aston, Penn., Sept. 15 to Sept. 17. The weekend offered formation and leadership skills in the Marianist tradition.
MARIANIST "THEOLOGY ON TAP" SERIES BEGINS
The Chaminade Faith Sharing group invites all Marianists in the greater St. Louis area to its "Marianist Theology on Tap" discussion series. A new topic is discussed each month. Meetings are from 7 to 8:30 p.m. at Seamus McDaniel's. View the schedule. For more information, e-mail Ashley McEnary.
BEAUTIFUL CARDS RECOGNIZE DECAMP DONATION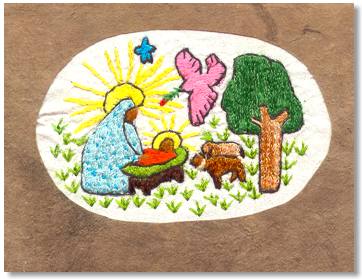 With every gift of a farm animal purchased through the Marianist Rural Development Project (DECAMP) in Uxpanapa, Mexico, a beautiful hand-embroidered card, made by the Chinantecas women, is sent in recognition of the donation. Donations assist and empower the poor in southern Mexico. A new supply of cards is now available. Order animal gifts now for the holidays, as Christmas card supplies are limited. Visit the DECAMP web site to donate.
CHAMINADE CELEBRATES MEA COMMITMENT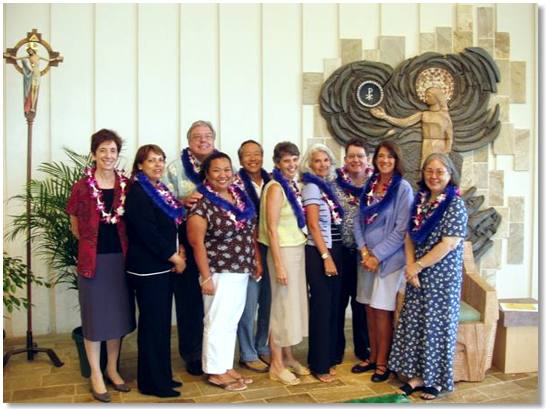 Sue Wesselkamper, Chaminade president, with the new Marianist Educational Associates: Grissel Benitez-Hodge, Michael Fassiotto, Venus Ituralde, Yukio Ozaki, Barbara Belle, Margaret Friedman, David Coleman, Kristina (Kay) Stone and Valerie Coleman
Earlier this month, Chaminade University celebrated the 189th birthday of the Society of Mary with a special service witnessing the public commitment of nine lay people from its faculty and staff as Marianist Educational Associates (MEA). MEAs play a key role in helping the universities promote Catholic and Marianist traditions of education at the administrative, faculty and staff levels.
| | |
| --- | --- |
| THE CLASSIFIEDS | |
HIGH SCHOOL PRESIDENT. St. John Vianney High School in St. Louis is seeking applications from qualified religious and lay persons for the position of president. Application deadline is Nov. 15, 2006. Read the job description.
NEW PERSONNEL ARRIVES!
NEED MORE COPIES? The 2006-2007 Personnel has been delivered to Marianist communities and ministries, according to Ann Mueller, administrative assistant in the Province Office of Communications. If you need additional copies, e-mail Ann.

CHANGES . . . We already have changes to the new Personnel. To read them, please click here. Remember that up-to-date personnel information is always available on the PORTAL.
NEWSLETTER CENTRAL

CAPE MAY. Read the October 2006 issue of Beacon.com, the newsletter of the Marianist Family Retreat Center in Cape May Point, N.J.

GALLERY ST. JOHN. Read the September 2006 issue of Gallery St. John News-Notes.

MARIANIST SOCIAL JUSTICE COLLABORATIVE. Read the October 2006 issue of Justice Jottings.

MARIANIST INTERNATIONAL VOLUNTEERS. Read the September 2006 issue of the MIV newsletter.
JUST ONE MORE...
PLAYING THE GAME OF LIFE IN DAYTON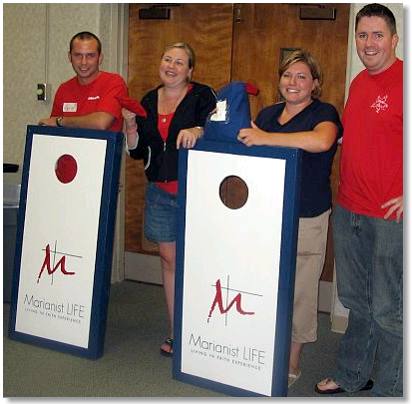 Marianist LIFE moderators from Purcell-Marian High School in Cincinnati, Kevin Schomaker, Natalie Mulholland and Jen Meinking, with Brian Reavey, national coordinator for Marianist LIFE. Jen's parents constructed a Marianist bean bag toss game to use at the Marianist LIFE summer program in Dayton.
PROVINCE
BIRTHDAYS
Editor's Note: If you would like your e-mail address eliminated from FamilyOnline for security reasons, please e-mail Ann Mueller.
October

VISIT OUR WEB SITE AT www.marianist.com
Editor: Joan Suda; assistant: Ann Mueller. This biweekly e-mail newsletter produced by the Society of Mary features news about the Society of Mary (SM), Daughters of Mary Immaculate (FMI) and lay Marianists. Bro. Stephen Glodek, SM, provincial; Fr. Jim Fitz, SM, assistant provincial. Read the 2006 publication schedule and deadlines. Read hints about submitting photos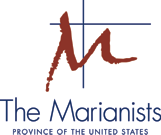 and copy. NEWS: We'll include news of travels, health updates, prayer requests, community celebrations, professional accomplishments, birthdays, and whatever personal or community news you'd like to share. Send news, digital photos and comments and suggestions to Diane Guerra at dguerra@sm-usa.org and use "FamilyOnline" as your subject line. TECHNICAL PROBLEMS: If you're not receiving this newsletter in the proper format, with proper spacing and photographs and art appearing, please let us know and we'll try to find a solution. If we can't, we'll put you on our "NOTIFY ONLY" list. CHANGE IN E-MAIL ADDRESS: Send to Ann Mueller at amueller@sm-usa.org. NOTE TO DIRECTORS: Please print this newsletter and post or distribute to brothers who do not have e-mail. BACK ISSUES/SEARCH: Visit www.marianist.com/fol. SUBSCRIBE/UNSUBSCRIBE: Visit http://www.marianist.com/subscribe.htm. Remember: you can search the archived issues of FamilyOnline at www.marianist.com/fol. Type in the word(s) you're looking for, open the issue, pull down the "Edit" bar and click on "Find on This Page," which will take you to the exact spot you need.