If you are having difficulty viewing this E-mail, please visit our online version.

FOUR SEMINARIANS ORDAINED TO DIACONATE IN ROME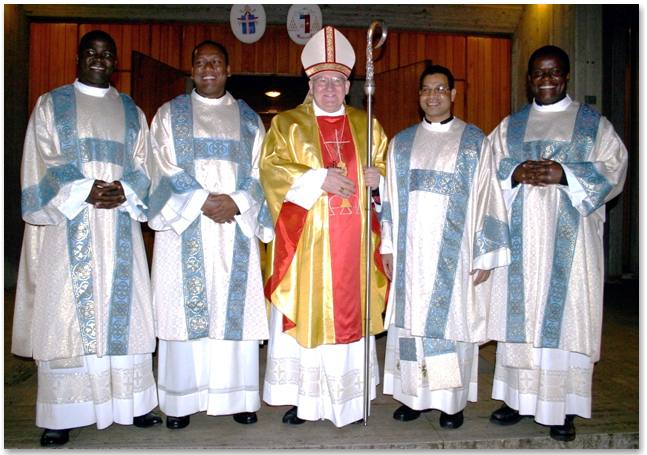 At the ordination ceremony, Deacons Callistus JeJe and James Dungdung, Bishop Brian Farrell and Deacons Marianus Lugun and Michael Otieno
Approximately 200 members of the Marianist family attended the ceremony for four Marianists who were ordained as deacons on Jan. 20, 2007, at Santo Nome di Maria, the Marianist parish in Rome. The new deacons are Marianus Lugun and James Dungdung from the District of India, and Callistus Jeje and Michael Otieno from the District of Eastern Africa. Bishop Brian Farrell, secretary of the Pontifical Council for Promoting Christian Unity, was the main celebrant and ordaining bishop. Rector Lorenzo Amigo and Vice Rector Timothy Phillips presented the candidates. The four deacons, who are in their third year of studies at the Chaminade International Seminary in Rome, will finish the academic year before their ordination to the priesthood. Over the next months, the deacons will assist with liturgies and other pastoral duties. View a video of the ceremony. Our congratulations to the new deacons!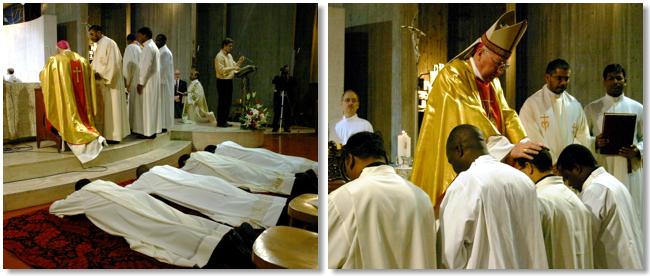 LEFT: The ceremony also included traditional rituals ( Litany of Saints) and songs from India and Africa; RIGHT: Bishop Farrell imposes hands on the candidates. Photos courtesy of Bro. Pat McDaid
DISCERNMENT RETREAT AT EWA BEACH, HAWAII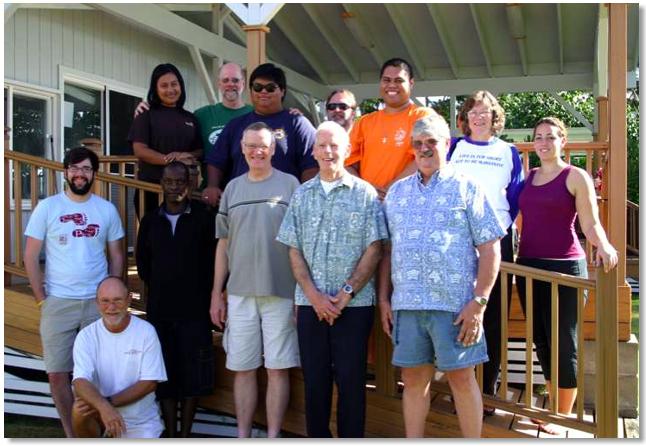 View a slideshow of the discernment retreat Jan. 26 to Feb. 4 at Ewa Beach on Oahu. Shown, kneeling, Fr. Ken Templin; standing, front row, Robert Manuel, Mike Chiuri, Bros. Mike Sullivan, LeRoy Viera and Jim Wisecaver; second row, Jezga Elias, Bro. Dennis Schmitz, Dustyn Lai-Ragasa, Bro. Charles Johnson, Aspirant Brandon Alana, Sr. Laura Leming and Krista Brkick. Photos courtesy of Bro. Jim Wisecaver
BROTHERS AROUND THE PROVINCE CELEBRATE MARIANIST HERITAGE
SAN ANTONIO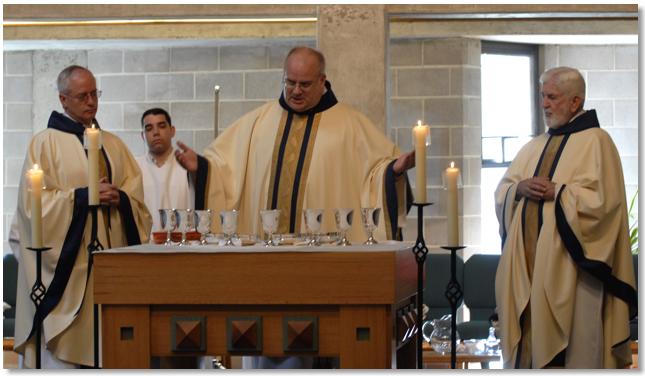 Celebrating the liturgy, Frs. Kip Stander, Rich Wosman and Bernie Lee
Brothers in San Antonio commemorated the 27th Annual Marianist Heritage Week with a Eucharistic celebration and an awards ceremony on Jan. 25. The Mass was held at the Chapel of Our Lady of Guadalupe on the campus of St. Mary's University. Fr. Rich Wosman was the main celebrant and homilist. A highlight of the Mass was the recognition of the 2007 Marianist jubilarians: Bro. Paul Novosal (70 years), Bro. James Pieper (70 years), Bro. Harold Lootens (60 years), Fr. George Montague (60 years), Bro. Fred Gelhard (50 years), Bro. Lester Kaehler (50 years), Sr. Marcy Loehrlein (50 years) and Bro. Ed Violett (25 years). After Mass, the Marianist Heritage Award was presented to Dr. Paul Uhlig, associate professor of mathematics at St. Mary's University and a Marianist Educational Associate, and Rey Gustamente, minister for spiritual development at St. Mary's. The Marianist Student Leadership Award was presented to students Jennifer A. Buchmeyer and Henry Van De Putte III. Congratulations to the jubilarians and award winners!


LEFT: Frs. Tim Dwyer, Charles Miller, George Montague, John Manahan and Kip Stander;
RIGHT: Jubilarians, Bro. Lester Kaehler, Fr. George Montague, Bro. James Pieper and Bro. Paul Novosal
HOLLYWOOD, FLA.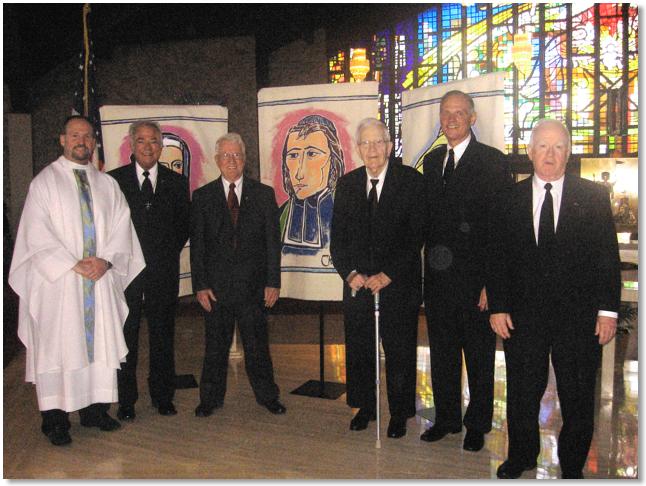 Fr. John Thompson, Bro. Kevin Whelan, Bros. Don Neff and Charles Roggemann (visiting from Dayton), Bro. George Endres and Bro. Ray Kane
On Jan. 18, the Chaminade-Madonna College Preparatory school community celebrated Marianist heritage month with a special Mass. During Mass, Bros. George Endres, Ray Kane, Kevin Whelan, Charles Roggemann and Don Neff and Fr. John Thompson, president of Chaminade-Madonna, renewed their vows and received a blessing from the lay Marianist community. Collectively, the six Marianists represent 256 years of vowed life and 82 years of service to Chaminade-Madonna. A dinner was held that evening at the Jackson Street community house for the brothers, lay Marianists and school administrators.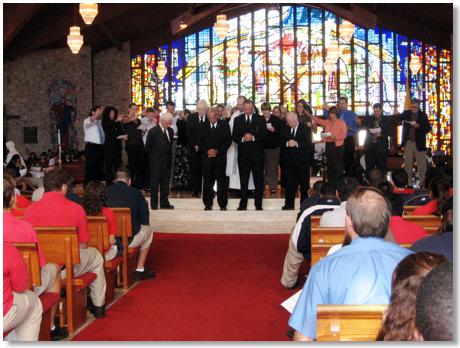 The brothers receive a blessing from members of the lay Marianist community in Hollywood, Fla.
CLEVELAND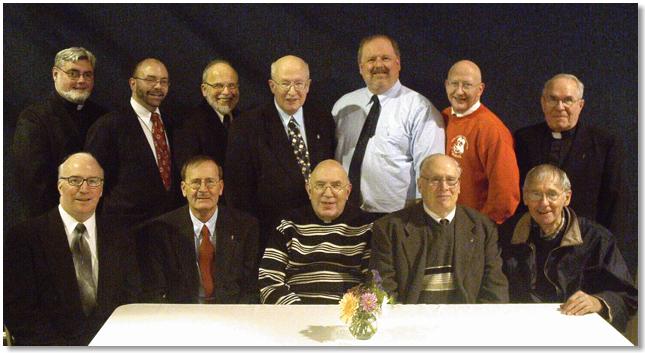 At the Chaminade Day celebration, seated, Bros. David Murphy, and Will Halloway, Fr. Bill Behringer, Bros. Joseph Scheible and Richard Roesch. Standing, Fr. Mike Lisbeth, Bros. George Kemmett, David Conrad, Jack Dempsey, Paul Hoffman, and Bob Dzubinski, and Fr. George Abmayr. Photo by Phil Patrick
In Cleveland, brothers celebrated Chaminade Day with Mass at St. Aloysius-St. Agatha Church on Jan. 21. Fr. Bill Behringer was the celebrant, Fr. Mike Lisbeth was the homilist, and Fr. George Abmayr concelebrated. After Mass, approximately 200 attended a reception in the parish hall. Attendees included parishioners, faculty and friends, including Luis Guerra, a participant in the Lalanne program and second-year teacher at Villa Angela-St. Joseph High School in Cleveland, and Contact Jeff Campbell.
DUBLIN, IRELAND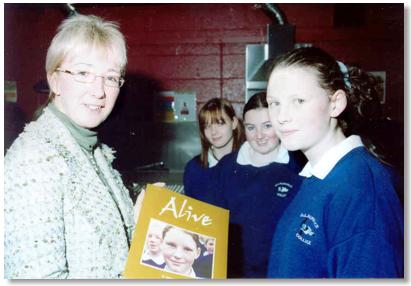 In Dublin, Chaminade Day was celebrated with a number of activities at St. Laurence School, including a visit from the Ireland Minister for Education and Science Mary Hanafin, who helped open the school's new home economics room. Mary is holding a copy of ALIVE magazine that she received from student Nicole Bacon, who is featured on the cover. Photo by Bro. Fred Rech
MARIANISTS TO LEAVE QUEEN OF APOSTLES PARISH IN SAN JOSE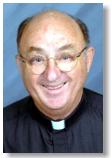 Fr. Jim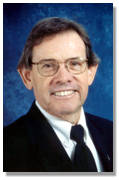 Bro. Bill
After much prayer and discernment, Provincial Stephen Glodek announces the Marianist withdrawal from Queen of Apostles parish in San Jose, Calif., effective June 15, 2007. Bro. Mike O'Grady, assistant for religious life, read a letter from Bro. Stephen announcing the news to the Queen of Apostles parish community at Masses on Jan. 27 and Jan. 28.
The decision was made after the Provincial Council and Provincial Chapter carefully studied how the Marianists can most effectively serve in parish ministry. The decision is part of a larger plan to maximize resources for future Marianist parish ministry. In his letter, Bro. Stephen acknowledged the rich ministry at Queen of Apostles led by Fr. Jim Mifsud, pastor, and Bro. Bill Bolts, pastoral associate.
The Marianists came to Queen of Apostles in June 1985, when Fr. Bertrand Clemens became pastor. At the time, the Marianists operated a school, Archbishop Mitty High School (1964 to 1990), that was adjacent to the parish. After Fr. Bertrand's death, Fr. Joseph Stefanelli served briefly as pastor and was succeeded by present pastor Fr. Jim Mifsud in November 1989. Bro. Bill Bolts has served at Queen of Apostles since 1994. Read Bro. Stephen's letter.
MORE FROM MEXICO –
BRO. RAYMUNDO'S PERPETUAL VOW CEREMONY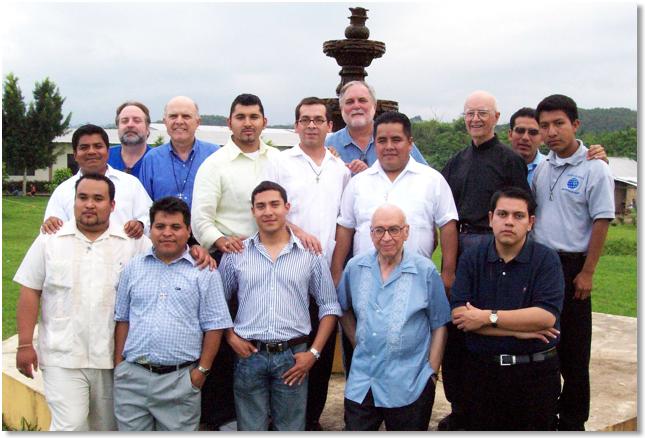 At the perpetual vow ceremony for Bro. Raymundo Dominguez González Jan. 22 at San Marcos Evangelista parish in La Chinantla, Mexico, front row, Prenovice Guillermo Antonio Bóer Pérez, Bro. Fermín García García, Prenovice Mario Lenín Espinoza, Fr. Mario González-Simancas, Prenovice Leandro Marmolejo Muñoz; second row, Bro. Régulo García Hernández, Bro. Charles Johnson, Bro. Roger Bau, Prenovice Giovanni Lázaro Moreno, Prenovice Saúl Rodríguez Lavoignet, Bro. Roberto Rapp, Bro. Raymundo González Domínguez, Fr. Quentin Hakenewerth, Prenovice Raúl Barrientos, and Prenovice Rigoberto Martínez Hernández
CHAPTER TO DISCUSS VISIONING, FUTURE STRUCTURE
From March 2 to March 6, the members of the eleventh session of the Provincial Chapter will meet in St. Louis to discuss the visioning process, review the report of the Provincial Council and review and approve further sections of the Province Directory. Other agenda items at the Chapter include the future structure of Provincial Chapters, follow-up on the 2006 General Chapter meeting and discussions regarding the new Provincial Council. Read the convocation of the Chapter from Provincial Stephen Glodek. View the proposed agenda and meeting timetable. Our prayers for the Chapter members in this important work. (Note: All chapter documents, including budget documents, propositions and the report of the Chapter Structures Commission are available on the PORTAL. Click on "Documents" and then click on "Chapter Documents." Feedback on the documents can be given to Chapter members or e-mail Fr. Jim Fitz.)
BRO. FRANCISCO GONZÁLEZ HONORED AT FOUNDER'S AWARDS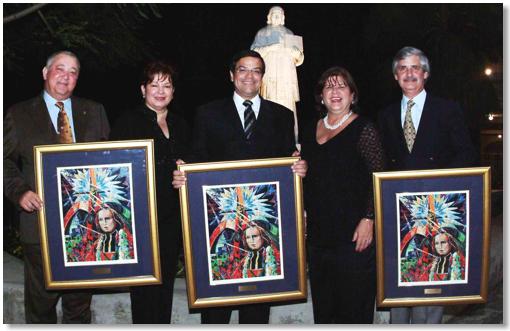 Receiving their awards, Guillermo and Belén González, Bro. Francisco, Glorín González and her husband
Colegio San José in Puerto Rico held its annual Founder´s Award celebration, recognizing the work of people who support the school and represent Fr. Chaminade´s legacy. Bro. Francisco González, principal/director of Colegio San José for the past 16 years, was one of the 2007 award recipients. Bro. Francisco also was celebrating his 25th anniversary as a Marianist brother and his 50th birthday! Other award recipients included Glorín González, recognized for her fundraising and support of school events, and Guillermo and Belén González, who have made numerous contributions to the school.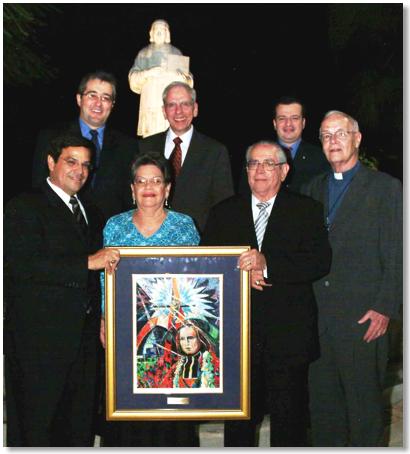 At the Founder's Awards celebration, front, Bro. Francisco and his parents, Nadine and Frank González; back, Bro. Reinaldo Berrios, Provincial Stephen Glodek, Bro. Armando Añeses and Fr. Don Wallace
DISCERNMENT RETREAT HELD AT GOVERNOR'S ISLAND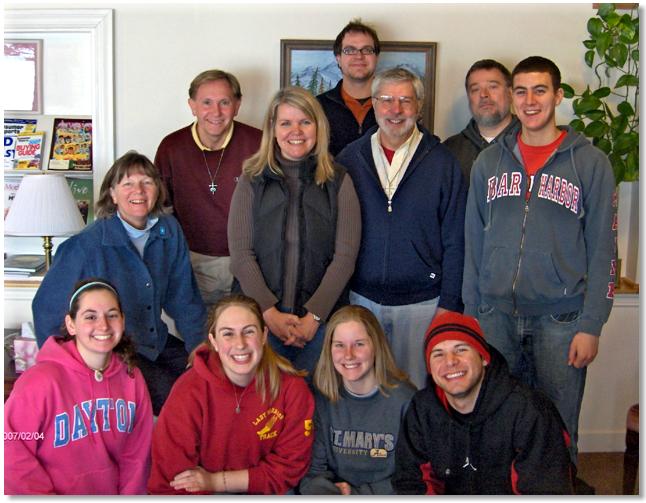 " The weather was freezing, but our Marianist spirit kept us warm," said Bro. Charlie Wanda of last weekend's discernment retreat at Governor's Island in Huntsville, Ohio. The retreat was the second vocation retreat of the academic year. Activities included prayer, reflection and discussion on vows and Marianist life. Retreatants shown, front, Amanda Hall, UD student, Sarah Deak, UD, Amiee Gessel, graduate of St. Mary's University and Joe Melendrez UD; top, Sr. Laura Leming, Bro. Tom Pieper, Erin Iturriaga, Washington, D.C., Bro. Andy Kosmowski, Bro. Charlie Wanda, Doug Amber, Indiana, and Eric Stoiber, UD
PERSONNEL NEWS
| | |
| --- | --- |
| Best wishes to Fr. John Klobuka, who is the new associate pastor of St. Joseph Parish and who has joined the Marianist community in Eldersburg, Md. | |
| | |
| --- | --- |
| Bro. Dan Stupka will join the Alumni Hall community in Dayton, effective Feb. 10. Bro. Dan is exploring ministry opportunities with the Marian Library, International Marianist Research Institute and various tutoring programs. Our best wishes to Bro. Dan! | |

Second year Novice John Darius Mulenga and first year Novice Cyprian Maingi have announced their withdrawals from the novitiate in Eastern Africa in Kenya. We thank John and Cyprian for their time with us and wish them God's blessing in their future journeys.
BOARD FORMATION GATHERING TO BE HELD IN DALLAS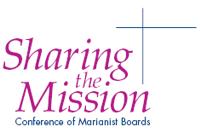 Sharing the Mission: A Conference of Marianist Boards will take place Feb. 15 to Feb. 18 in Dallas. The gathering will bring together three people from each Marianist institution— the chair of the board, the president/director of the institution, and a mission integration person, to discuss ways to unify the governance and mission characteristics of Marianist boards. Approximately 100 people will attend the meeting, which will include input from Provincial Stephen Glodek, SM, and Sr. Pat Talone, RSM, vice president of mission services at the Catholic Health Association. The event is co-chaired by Tony Fitzgerald of the Marianist Family Retreat Center in Cape May, N.J., and Bro. Jack Ventura.
LIGUSTRUM COMMUNITY WELCOMES MARIANIST VOLUNTEERS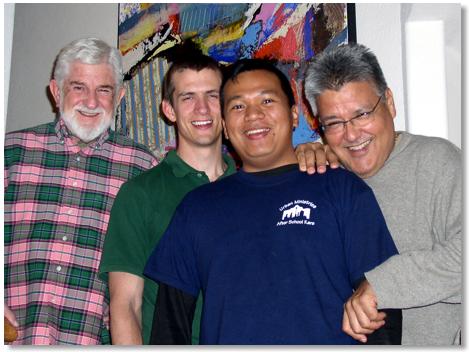 Once a week, Fr. Bernie Lee and Fr. Rudy Vela invite two young men who are part of the Marianist Volunteer Program in San Antonio for Eucharist and dinner at the Marianist Ligustrum residence. Shown, Fr. Bernie, volunteers Jordan Kaderli and Norman Capinpin and Fr. Rudy. Jordan is volunteering at Merced Housing Texas, which works for housing justice for the poor. Norman ministers at After School Kare, a program of San Antonio Urban Ministries, which provides safe after-school supervision for working parents.
PLEASE PRAY FOR THE REPOSE OF THE SOUL OF . . .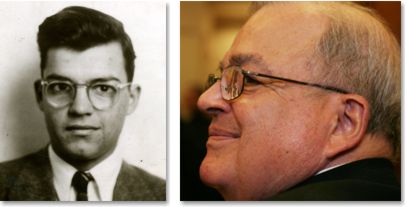 | | |
| --- | --- |
| Bro. Bob, early years | Bro. Bob, recent |

Bro. Robert Massa (Marianist Residence, San Antonio), 78, who died Jan. 31, 2007. May he rest in peace. Bro. Bob taught high school history, reading and English for 37 years in St. Louis, Milwaukee and Chicago. After retiring from teaching, he served as host at the Marianist Retreat & Conference Center in Eureka, Mo., for 16 years. A Mass of Christian Burial was celebrated Feb. 3 at Our Lady of the Pillar, St. Louis, with burial at Maryhurst Cemetery. Fr. Jim Fitz was the presider and Fr. Joe Uvietta was the homilist. Read Bro. Robert's obituary.
| | |
| --- | --- |
| Bro. Victor Naegele (Marianist Residence, San Antonio), 90, who died Jan. 29, 2007. May he rest in peace. Bro. Victor taught high school for 25 years before joining the Sociology department at St. Mary's University. He was active in the American Sociology Society and was a lecturer, committee member and consultant for migrant issues. Bro. Victor also was known for his photography skills and travels around the world. A Mass of Christian Burial was celebrated Jan. 31 at the Marianist Residence Chapel, San Antonio, with burial at the Marianist cemetery. Fr. Bernard Lee was the presider and homilist. Read the homily and Bro. Victor's obituary. | |

Bro. Celestino Bacas (Province of Madrid), 66, who died Jan. 18, 2007, in Madrid. May he rest in peace. Read Bro. Celestino's obituary.

Please pray also for Sr. Susan Keferal, Ray Ledinsky, Rita Middleton, Al Minoletti and Vincent Pokhrel. Read more.
YOSEMITE NATIONAL PARK, CALIFORNIA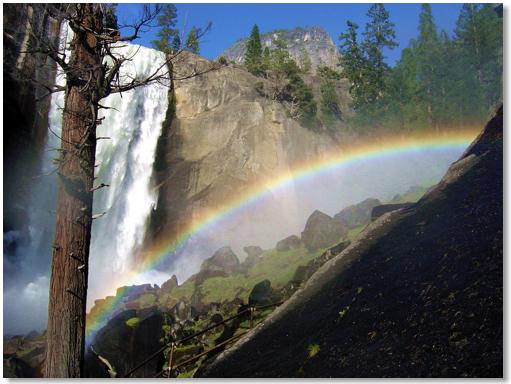 Photo by Fr. Roland Bunda
PLEASE PRAY FOR THE HEALING OF . . .

Bro. William Deanhofer (Governor's Island, Huntsville), who underwent knee replacement surgery today.

Bro. Frank Deibel (Mercy Siena, Dayton), who is having a procedure to insert a feeding tube.

Bro. Paul Merland (Cincinnati, Ohio), who is being treated for esophageal cancer with chemotherapy and radiation. A cure is sought through the intercession of Venerable Adèle de Batz de Trenquelléon.

Fr. Thomas Doyle (Port Washington, N.Y.), who is hospitalized and undergoing tests following a fall.

Sr. Audrey Buttner (Marianist Sisters, Dayton),who had lung surgery recently.

Please pray also for Joseph Alessandrini, John Brossart, Cathleen Campbell, Richard Csarny, Dolorous Heffner, Johnny Gomes, Karin Gomes, Ashley Kessler, Anna Oldenski, Dan Paul and Beth Sargent. Read more.
MARIANIST LIFE INTRODUCES "THE FULCRUM" NEWSLETTER
| | |
| --- | --- |
| Brian Reavey, national coordinator for Marianist LIFE, has issued the first edition of LIFE's electronic newsletter "The Fulcrum." The publication includes the latest news, resources and links for Marianist LIFE activities. Read the newsletter. | |
WHO'S DOING WHAT. . .
| | |
| --- | --- |
| Bro. Stan Mathews (Mercy Siena, Dayton), former principal of St. Joseph's High School in Cleveland, recently visited with alum, Dan Dever, who graduated from St. Joseph's approximately 40 years ago. Dan is now a teacher at Chaminade-Julienne High School in Dayton. | Dan and Bro. Stan. Dan says he is grateful to be part of a Marianist school again. |
| | |
| --- | --- |
| | Fr. Jim Heft (Los Angeles) recently edited and introduced a new book "Passing on the Faith: Transforming Traditions for the Next Generation of Jews, Christians and Muslims," published by Fordham University Press. The book includes essays that explore the challenges of passing on the faith to young people. |

Bro. Ed Loch (Central Catholic, San Antonio), archivist for the San Antonio Archdiocese, was featured in an article in the Jan. 21 issue of the San-Antonio News Express for his efforts to help churches salvage religious items from the devastation of Hurricane Katrina. Read the article.
| | |
| --- | --- |
| Fr. Charles Miller (Chaminade Community House, San Antonio), director of the St. Mary's University Roamin' Rattlers, collaborated with the Institute for Interfaith Dialogue to lead a group of St. Mary's faculty and staff on a Christian-Muslim tour of Turkey in January. | Fr. Charles, center, and Sr. Grace Walle, back row, far right, with the tour group in front of the library in Ephesus |

Bro. John Samaha (Villa St. Joseph, Cupertino) offers this article, translated by Fr. Joe Stefanelli, on the history of the Region of Austria (formerly the Province of Austria). The Region is celebrating its 100th anniversary this year. Read the article.
| | |
| --- | --- |
| Dan Curran, president of the University of Dayton, received the regional volunteer leadership award from the Dayton Development Coalition. He was recognized for his efforts in securing more than $55 million in grants for the Miami Valley area. Read more. | |



Congratulations to Rey Gustamente, minister for spiritual development at St. Mary's University in San Antonio, who received a Marianist Heritage Award Jan. 25 for his contributions to the school's mission.

St. Mary's President Charles Cotrell and Rey
| | |
| --- | --- |
| Grace Pancipanci, director of nursing for the Marianist Health Care Center in Cupertino, Calif., thanks the Marianist brothers in Cupertino for their support of her efforts to aid Balay Pasilungan, a shelter for homeless children in Davao City, Philippines, staffed by Marianists from around the world. "Even in their retirement years, the brothers are very productive in their own simple ways," said Grace. To find out how you can help the shelter, e-mail Grace. | |
MAKING PROGRESS ON FAUSTINO HOUSE IN LUSAKA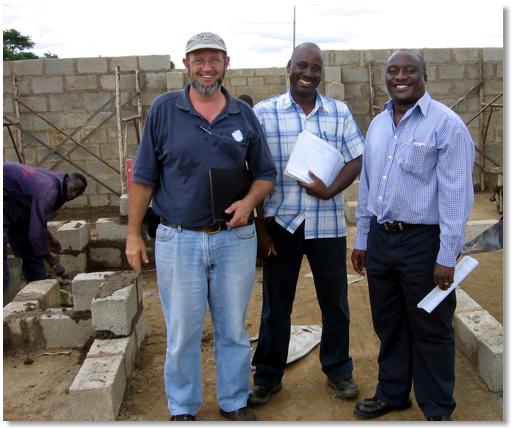 Bro. Jack Somerville, project manager for Faustino House, the new aspirancy house in Lusaka, Zambia, with Andrew Mwala, site agent, and Anthony Chatta, architect
TEACHING NON-VIOLENCE IS ON "TAP" AT CINCINNATI SCHOOLS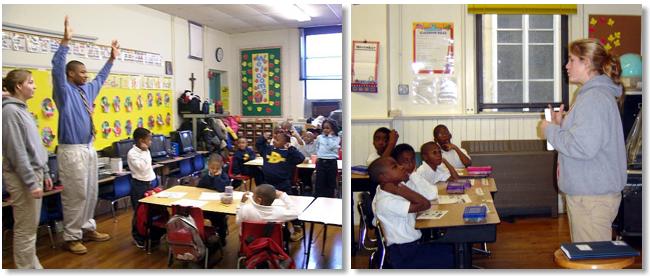 TAP members work with children at St. Francis DeSales grade school in Cincinnati. The teens helped design content and activities appropriate for each grade level.
"Teens Acting for Peace" or TAP is a program that helps teens learn strategies to encourage non-violence and ways to teach younger students alternatives to fighting. Ten students from Purcell Marian and eight students from Archbishop Moeller High Schools are participating in the program. The teens made their first presentation to students at St. Francis DeSales grade school in Cincinnati in November. They will return each quarter to build relationships with the grade school students. Jen Meinking, director of campus ministry at Purcell Marian, and Todd Forman, director of community service at Archbishop Moeller are the program coordinators.
FROM THE SCHOOLS . . .
| | |
| --- | --- |
| ARCHBISHOP MOELLER HIGH SCHOOL celebrated its Marianist heritage with a special Mass and awards celebration Jan. 25. Founder's Awards were presented to teacher Michael Moroski for his work with area homeless and Whitey and Carol Campbell for their over 26 years of volunteer service to the school. Read more. | Michael Moroski, Bro. Bob Flaherty and Whitey and Carol Campbell |
| | |
| --- | --- |
| CHAMINADE COLLEGE PREPARATORY invited St. Louis Archbishop Raymond Burke to celebrate Mass Jan. 26 as part of its Chaminade heritage week. During Mass, Chaminade graduates Edward Hamilton '52 received the Alumnus of the Year Award and John C. Vatterott '61, received the Alumni Humanitarian Award. | Archbishop Burke, Dr. Louis Peters, Chaminade principal, Fr. Ralph Siefert, Chaminade president, Fr. Edmund Griesedieck, Chaminade alumnus and Fr. Jim Tobin |
| | |
| --- | --- |
| DANIEL J. GROSS CATHOLIC HIGH SCHOOL students celebrated Chaminade heritage week with special morning prayers, history and facts about the Marianists and their works throughout the world, and a Mass on Jan. 25 planned by the school's Marianist LIFE group. The LIFE group invited the local Lay Marianist Affiliate group to attend the Mass . | A LIFE team member helps prepare for the Chaminade Day Mass. |
CENTRAL CATHOLIC HIGH SCHOOL art students created a special mural crafted of ceramic tiles in honor of Chaminade heritage week.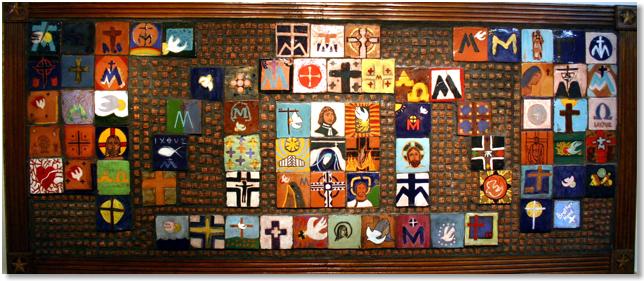 | | |
| --- | --- |
| | UNIVERSITY OF DAYTON law school was recognized in a recent Carnegie Foundation report for its "Lawyer As a Problem Solver" curriculum. The courses allow students to apply their knowledge to real world situations. Read more. |
ST. LOUIS VOWED, LAY MARIANISTS CELEBRATE FOUNDATION DAY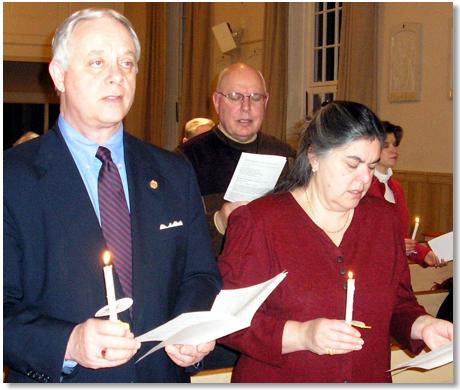 Every year in early February, Brother Jack Ventura invites vowed and lay Marianists from St. Louis for evening prayer and dinner at Our Lady of Pillar parish to celebrate the anniversary of the Foundation Day of Marianist Sodalities. This year it's the 206th anniversary. Top, Alvan Sage, former president of the board of trustees of Chaminade College Prep in St. Louis, and his wife Amy, with Bro. Tom Payne in the background, participate in the Candlemas Ceremony, when the group recommits to the building of faith communities in the Marianist tradition. Bottom, Frs. Gene Sweeney and José Ramirez, Bro. Fred Hausch, Fr. Gerry Hammel and Lay Marianist Affiliate Nancy Davies enjoy the dinner.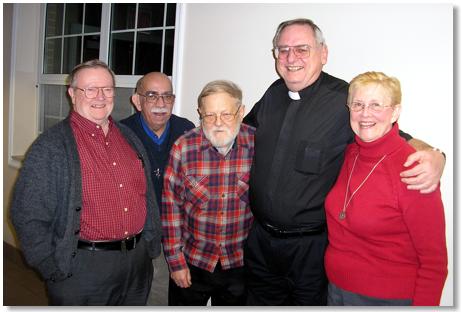 GOOD TO KNOW

OUT AND ABOUT. Read the upcoming travel schedule of members of the Provincial staff in St. Louis.

PERSONNEL CHANGES. Read the changes. Remember that personnel information on the PORTAL is updated on a regular basis.

RFC SUMMER FORUM. The Religious Formation Conference will present "Right Relationships: A Reflection on the Vow of Chastity," July 14 to July 21 at the Washington Theological Union in Washington, D.C. Read more.

Feb. 9 – Feb. 13
Provincial Council Meetings, San Antonio

Feb. 15 – Feb. 18
Conference of Marianist Boards, Dallas

Feb. 16 – Feb. 18
Marianist Artist Vocation Retreat, Eureka, Mo.
BABYSITTING WITH BRO. ED UNFERDORFER

.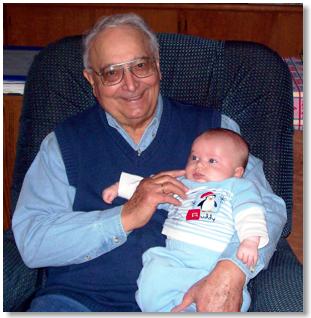 Bro. Ed Unferdorfer and Eddie Fucci, son of Marianist Family Retreat Center director Anthony Fucci, take a break after the Chaminade Day festivities in Cape May Point, N.J.
NEWSLETTER
CENTRAL

Marianist Associate John Linge from New York writes a weekly reflection on the Sunday readings, and includes sharing questions based on the readings. If you'd like to link to John's column, contact John and Mary.

CFL RETREAT CENTER. Read the latest issue of CFL High Tidings, a newsletter from the Christian Family Living Retreat Center in N. Topsail, N.C.

CUPERTINO. Read Fr. Steve Tutas' February 2007 Cupertino newsletter.

INTERNATIONAL ORGANIZATION OF MLC. Read the January 2007 issue of Gifts and Tasks.

MEXICO. Read the February 2007 issue of Marianistas México. This publication is in Spanish.

MARIANIST SOCIAL JUSTICE COLLABORATIVE. Read the February issue of Justice Jottings.

MLNNA. Read the January issue of E-NEWS from the Marianist Lay Network of North America.
SANTA CRUZ NEWMAN CENTER HOLDS BENEFIT DINNER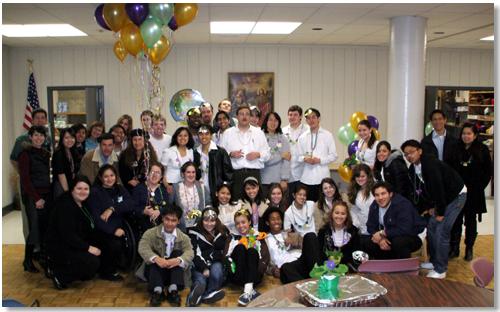 Bro. David Betz, standing, center, with student volunteers for the 10th annual benefit dinner for the Newman Center at the University of California at Santa Cruz held Jan. 27 at St. Joseph Parish in Capitola, Calif. The Newman Center serves students at UCSC, Cabrillo College and California State University Monterey Bay.
THE CLASSIFIEDS

DIRECTOR FOR LITURGY & MUSIC. St. Joseph Parish in Eldersburg, Md., is seeking a practicing Catholic with a master's degree in music to direct its parish music programs, liturgical ministries and activities. Find out more.
JUST ONE MORE...
BRRRRRRR…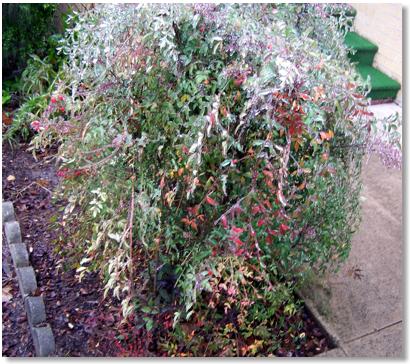 ICE IN SAN ANTONIO? Fr. Cris Janson caught this rare occurrence on camera as San Antonio experienced an ice storm in January.
PROVINCE
BIRTHDAYS
Editor's Note: If you would like your e-mail address eliminated from FamilyOnline for security reasons, please e-mail Ann Mueller.
February

VISIT OUR WEB SITE AT www.marianist.com
Editor: Joan Suda; assistant: Ann Mueller. This biweekly e-mail newsletter produced by the Society of Mary features news about the Society of Mary (SM), Daughters of Mary Immaculate (FMI) and lay Marianists. Bro. Stephen Glodek, SM, provincial; Fr. Jim Fitz, SM, assistant provincial. Read the 2007 publication schedule and deadlines. Read hints about submitting photos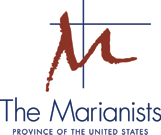 and copy. NEWS: We'll include news of travels, health updates, prayer requests, community celebrations, professional accomplishments, birthdays, and whatever personal or community news you'd like to share. Send news, digital photos and comments and suggestions to Diane Guerra at dguerra@sm-usa.org and use "FamilyOnline" as your subject line. TECHNICAL PROBLEMS: If you're not receiving this newsletter in the proper format, with proper spacing and photographs and art appearing, please let us know and we'll try to find a solution. If we can't, we'll put you on our "NOTIFY ONLY" list. CHANGE IN E-MAIL ADDRESS: Send to Ann Mueller at amueller@sm-usa.org. NOTE TO DIRECTORS: Please print this newsletter and post or distribute to brothers who do not have e-mail. BACK ISSUES/SEARCH: Visit www.marianist.com/fol. SUBSCRIBE/UNSUBSCRIBE: Visit http://www.marianist.com/subscribe.htm. Remember: you can search the archived issues of FamilyOnline at www.marianist.com/fol. Type in the word(s) you're looking for, open the issue, pull down the "Edit" bar and click on "Find on This Page," which will take you to the exact spot you need.