If you are having difficulty viewing this E-mail, please visit our online version.

ELEVENTH SESSION OF PROVINCIAL CHAPTER MEETS IN ST. LOUIS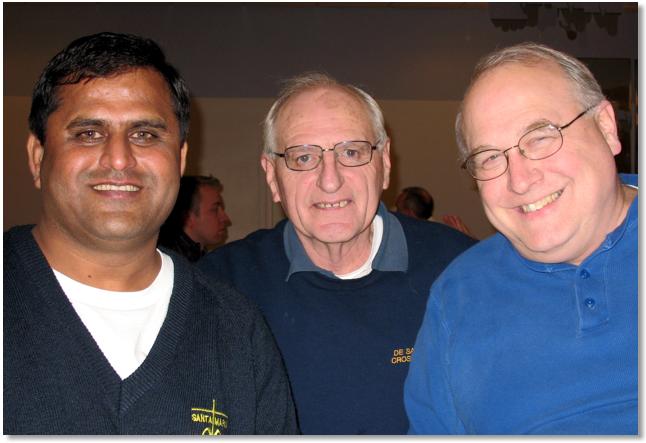 At the Provincial Chapter meeting, Fr. Pragasam, district superior of India, Bro. Mike Murphy (visiting from Cincinnati) and Fr. Jim Fitz
The 11th session of the Provincial Chapter was held March 2 to March 6 at the Marianist Retreat & Conference Center outside St. Louis. It was the final Chapter meeting for the elected members of the group, as well as for three Provincial Council members who are members by right: Bro. Richard Dix, Fr. Tim Kenney and Bro. Mike O'Grady.
Ballots to elect new Chapter members will be sent to Province members in the near future; the new Chapter will be in place by May 1, 2007. Read the Chapter document that outlines the new election process, which will increase the geographic diversity of the Chapter.
Invited as guests to the Chapter were Fr. George Cerniglia, Bro. Joe Markel and Bro. Jack Ventura, all of whom will assume positions on the Province leadership team on July 1, 2007.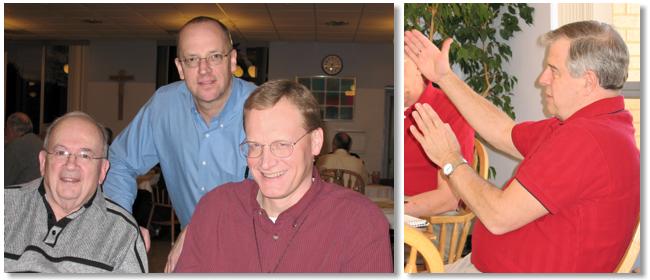 Fr. Bill Wightman, Bro. Joe Markel, Fr. Chris Wittmann
and
Bro. Ray Fitz
Chapter members discussed at length the report of the Provincial Council regarding the Province's first five years. Bro. Frank O'Donnell reported on the future structures of the Chapter, and Bro. Ray Fitz and Fr. Jack McGrath discussed the efforts of the Chapter Vision Committee. Fr. Marty Solma, district superior of Eastern Africa, gave a comprehensive presentation on the activities of the district (available in the next issue of FamilyOnline). Three sections of the Province directory were approved. Also discussed were two propositions submitted to the Chapter, Province finances and recommendations of the General Chapter held in summer 2006.
On Sunday night, brothers from the St. Louis area joined Chapter members for prayer, dinner and discussion on the work of the Chapter Vision Committee.
A full report on the Chapter from Bro. Stephen Glodek, as well as meeting minutes and acts of the Chapter, will be distributed in the near future. Read Chapter documents on the PORTAL.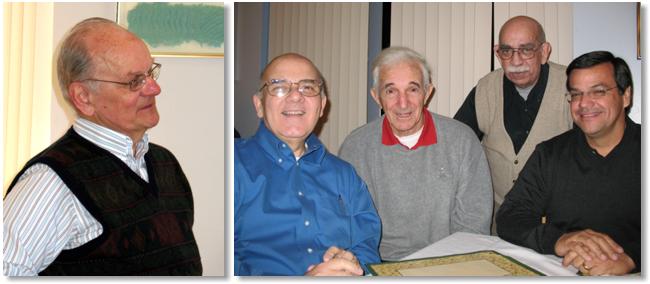 Bro. Richard Dix, who celebrated his 75th birthday on March 2, and Fr. George Cerniglia, Bro. Carmine Annunziata (visiting from Lusaka, Zambia), Fr. José Ramirez and Bro. Francisco González
SR. GRETCHEN TRAUTMAN TO LEAD SAN ANTONIO VOCATION OFFICE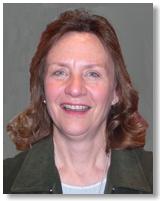 Bro. Charles Johnson, national vocation director, announces that effective July 1, 2007, Sr. Gretchen Trautman will assume leadership of the San Antonio vocation office, a part-time position, at St. Mary's University. "We are grateful for Sr. Gretchen's willingness to accept this assignment and for her enthusiasm for vocation ministry," said Bro. Charles. Sr. Gretchen is coordinator for the Marianist Leadership Program at St. Mary's. Bro Charles also wishes to thank Bro. Mike Sullivan and Sr. Evangeline Escobar, who are retiring from direct vocation ministry, for their years of service to the Marianist Province of the U.S. and the former St. Louis Province. Our congratulations and prayers to all in their new ministries.
ST. MARY'S COMMUNITY DEDICATES MEMORIAL BELL TOWER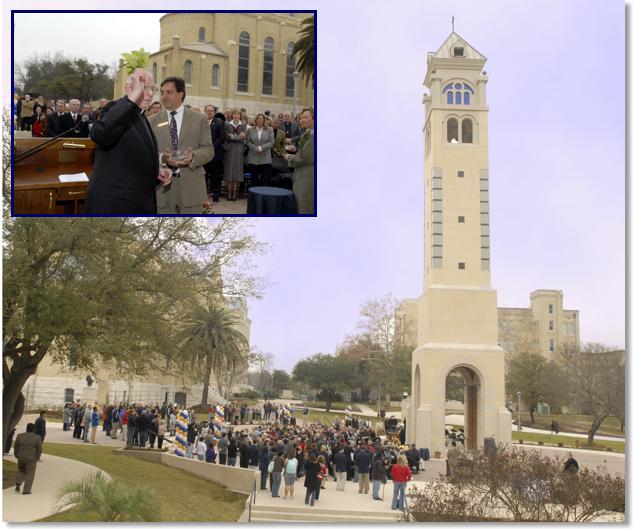 The dedication ceremony for the Barrett Memorial Bell Tower at St. Mary's University; inset photo, Fr. John Leies gives the blessing at the ceremony
On Feb. 9, the St. Mary's University community in San Antonio formally dedicated the Barrett Memorial Bell Tower. Charles T. Barrett Jr., a St. Mary's alumnus and CEO of Barrett Holdings Inc., made the lead gift for the 100-foot tower. "The tower stands as a memorial for loved ones and a symbol of the excellence of St. Mary's University," said Barrett. The tower, which rests on a large, landscaped plaza, chimes music daily. The bell tower will chime the Angelus three times a day and mark the daily "Three O'Clock Prayer" time. Chimes also will be heard for Sunday Masses, school Masses, funerals and certain feast days. The school song, "The Bells of St. Mary's," will play on special occasions.
2007 JUBILARIANS; CELEBRATIONS
| | |
| --- | --- |
| This year, 32 brothers in the Province of the United States will celebrate the anniversary of their first vows; six Marianist priests will celebrate their ordination jubilee. Read the list of 2007 jubilarians. Five jubilee celebrations will be held in the Province—in Cupertino, Dayton, Queens, San Antonio and St. Louis. Read about the 2007 celebrations. | Fr. Kip Stander with Fr. Jim Fitz at the 2006 Dayton jubilee celebration |
PERSONNEL NEWS
| | |
| --- | --- |
| Bro. Jim Facette has joined the Marianist Hall community in Honolulu. Bro. Jim will continue his ministry at Chaminade University. | |
| | |
| --- | --- |
| Bro. Tom Heinle has joined the Ligustrum Avenue community in San Antonio. Bro. Tom will continue his ministry at St. Mary's University. | |
| | |
| --- | --- |
| Congratulations to Bro. Richard Thompson (Holy Rosary, San Antonio), who has been appointed to a full term as director of the Holy Rosary community. | |
REMINDER: 2007 PROVINCE ASSEMBLY REGISTRATION
| | |
| --- | --- |
| | On Jan. 22 , all brothers were sent an e-mail invitation with registration instructions for the 2007 Province Assembly in Tucson, Ariz. Just a reminder: The assembly starts on the afternoon of June 25 and continues until July 1. Anyone who has received an invitation from the Office of Education to attend its meeting should make reservations for the night of June 24. A reminder notice about registration also was sent on March 5. If you did not receive these e-mails or if you have questions, please e-mail Donna Tucker or call 314. 533.1207 ext. 223. The deadline for registration for the 2007 Province Assembly is Thursday, March 15, 2007. |
FROM THE GENERAL ADMINISTRATION
Read the March 2007 issue of Via Latina.
NEW MEMBERS ADDED TO MARIANIST LAY COMMUNITY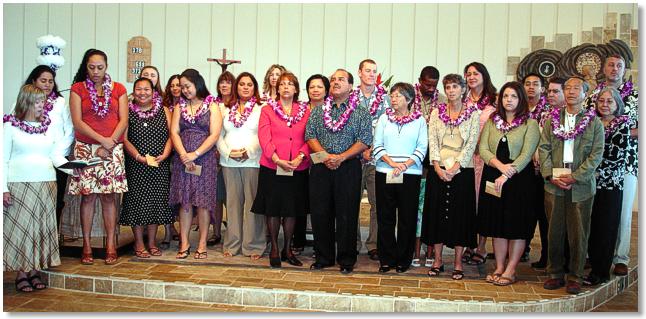 Almost 25 men and women, many associated with Chaminade University of Honolulu, formally committed themselves to being lay Marianists in a ceremony Feb. 4 at the Mystical Rose Oratory in Honolulu. The new members represent four local lay Marianist communities. As part of a Hawaiian tradition, the invitation to enter the Church as lay Marianists was given by Bro. Franklin Pao. The commitment prayers were led by Julie Nagasako, West Coast/Hawaii MLNNA representative and Kay Stone, MLNNA Leadership Team member. Photo courtesy of Cliff Bieberly
DESALES CROSSINGS COMMUNITY CELEBRATES MARIANIST HERITAGE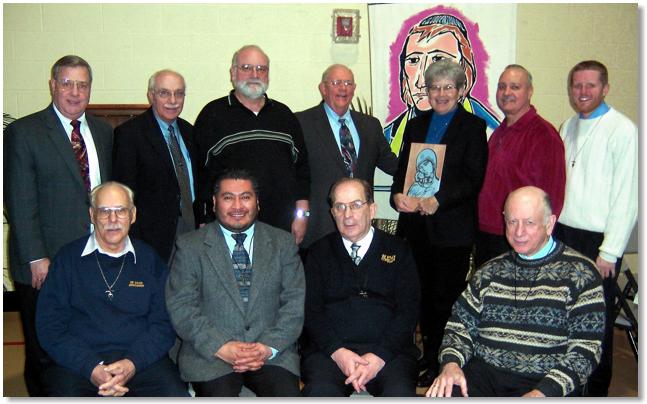 DeSales Crossings community members and guests, seated, Bros. Dan Stupka, Tobías Ferrer, Bill Grundish and Fr. Edward Jach; standing, Bros. Joe Kamis, Bob Politi, Larry Corbin and Bob Wiethorn, Sr. Sally Sherman, RSM, Bro. Giancarlo Bonutti and Novice Bob Jones
| | |
| --- | --- |
| On Jan. 22, the DeSales Crossings community and two lay communities—Mariska (Hungarian for "Mary") and Anawim— celebrated the anniversary of Blessed Chaminade with Eucharist and a brunch at Purcell Marian High School. Fr. Joe Kozar (Alumni Hall, Dayton) was the homilist. The community presented Sr. Sally Sherman, RSM, director of Mercy Connections in Cincinnati, with its second annual DeSales Crossings Marianist Community award. | Sr. Sally and Fr. Joe |
CHAMINADE UNIVERSITY SHARES SOME FOUNDER'S DAY FUN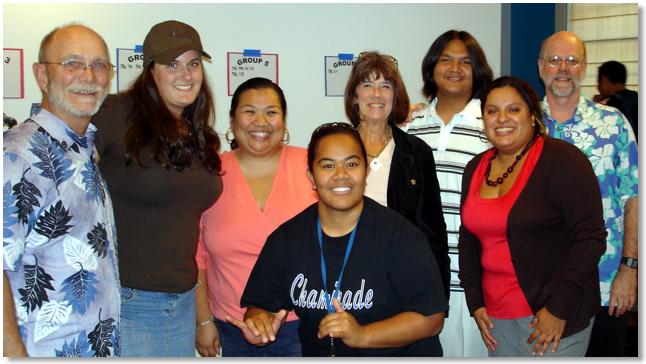 Fr. Ken Templin (left) and Bro. Dennis Schmitz (right) were the emcees and judges for the "Marianist LingoBingoJingle" game which kicked off the Founder's Day activities at Chaminade University of Honolulu in January. Fr. Ken and Bro. Dennis are shown with the winning LingoBingoJingle team.
PLEASE PRAY FOR THE REPOSE OF THE SOUL OF . . .

Bro. Joseph Meierdirks (Mercy Siena, Dayton), 86, who died March 3, 2007. May he rest in peace. Bro. Joseph was a decorated World War II veteran who joined the Society of Mary at age 39. Bro. Joseph taught and was a pastoral minister in Ohio, Kentucky and Florida. A Mass of Christian Burial will be celebrated March 10 at Queen of Apostles Chapel at Mount St. John in Dayton with burial at Queen of Heaven Cemetery. Fr. Jim Fitz will be the presider and Fr. Bert Buby the homilist. Bro. Joseph's obituary will appear in the next issue of FamilyOnline.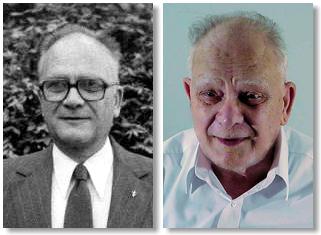 | | |
| --- | --- |
| Bro. Joseph, early years | Bro. Joseph, current |

Bro. Francis Mullan (Mercy Siena, Dayton), 78, who died Feb. 21, 2007. May he rest in peace. Bro. Francis was a teacher and business manager for over 50 years. He spent a large part of his career ministering in Africa. A Mass of Christian Burial was celebrated Feb. 26 at Queen of Apostles Chapel in Dayton with burial at Holy Rood Cemetery, Long Island, N.Y. Fr. Pat Tonry was the presider and Fr. Jack McGrath was the homilist. Bro. Charles Johnson represented the Provincial Council and gave the eulogy. Read the homily, eulogy and Bro. Francis' obituary.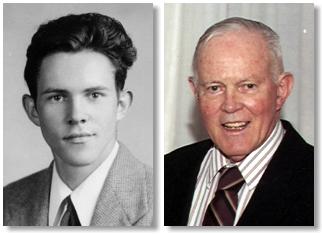 | | |
| --- | --- |
| Bro. Francis, early years | Bro. Francis, current |

Fr. Alfonso Santorum (Province of Italy), 92, who died March 6, 2007, in Verbania Pallanza. May he rest in peace. Fr. Alfonso's obituary will appear in the next issue of FamilyOnline.

Bro. Antonino Pardo (Province of Madrid), 81, who died Feb. 15, 2007, in Madrid. May he rest in peace. Read Bro. Antonino's obituary.

Please pray also for Mary V. Cunningham, Peggy Keane, Al Minoletti, Lloyd Samaha and Robert Zumwalt. Read more.
MARIANIST CEMETERY, SAN ANTONIO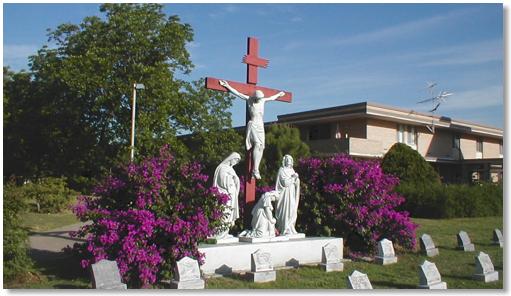 Photo courtesy of Bro. Bernard Zalewski
PLEASE PRAY FOR THE HEALING OF . . .

Bro. DuWayne Brisendine (Marianist Hall, Honolulu), who is recovering from back surgery.

Fr. Thomas Doyle (Port Washington, N.Y.), who has returned to a nursing home for further rehabilitation from a stroke.

Bro. Paul Hoffman (St. Clair Avenue, Cleveland), who had surgery on his wrist and thumb following a fall.

Bro. John Klein (Marianist Community, East St. Louis), who has transferred to the Marianist Residence in San Antonio for recuperation from hip surgery.

Fr. Cy Middendorf (Mercy Siena, Dayton), who has returned to his community and is recovering from a serious infection.

Bro. Tom Payne (Maryland Avenue, St. Louis), who underwent back surgery today.

Bro. Frank Smith (Snead's Ferry, N.C.), who has been hospitalized for tests.

Please pray also for Dr. Rudolf Dittrick, Dan Fisher, Sr. John Marie Samaha, SHF, and Erna Wethington. Read more.
MARIANIST RETREAT CENTER HONORS SCHOOL SUPERINTENDENT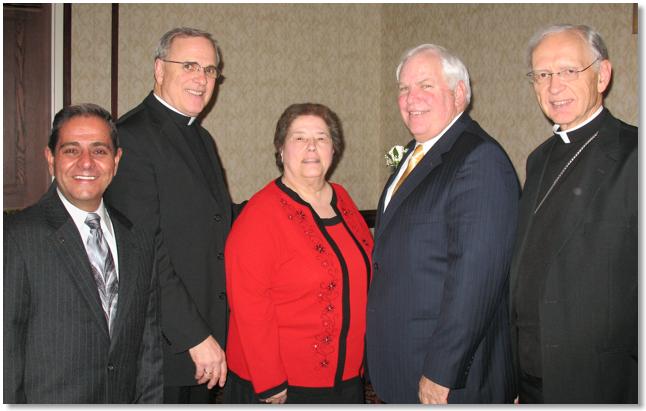 The Marianist Retreat & Conference Center in St. Louis held its 19th annual tribute dinner on Feb. 25, awarding its Marianist Youth Medal to George Henry, superintendent of Catholic education for the Archdiocese of St. Louis. The medal honors those making a significant contribution for the betterment of youth. At the dinner, Bro. Jack Ventura, Provincial liaison to Marianist retreat centers; Fr. Dave Paul, board chair; Sr. Paulette Patritti, executive director; honoree George Henry, and Auxiliary Bishop Robert Hermann
MID-LIFE HOLDS ANNUAL CONFERENCE IN CALIFORNIA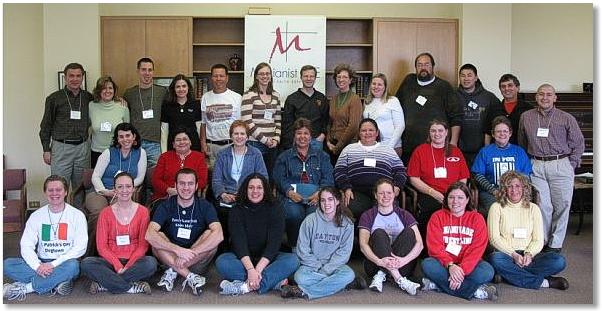 Participants in the Mid-LIFE conference
Approximately 30 adult moderators and staff participated in the third annual Mid-LIFE conference held Feb. 22 to Feb. 25 at the Mercy Retreat Center in Burlingame, Calif. The weekend included time for reflection, professional development and sharing of best practices with schools and parishes from around the country. Presenters included Fr. Daniel Groody, CSC, who gave a keynote talk on immigration, Sr. Grace Walle, who led the day of reflection and retreat, and Marlena Johnston, Archbishop Riordan High School, who provided social justice resources to the group. The event was organized by Brian Reavey, national coordinator for LIFE.


LEFT: Brian Reavey, Marlena Johnston, Sr. Grace Walle and Fr. Daniel Groody; RIGHT: Members of the Archbishop Riordan LIFE team hosted a Mass and presentation for the conference participants.
UD MARIANIST LEADERSHIP SCHOLARS STRIKE AGAIN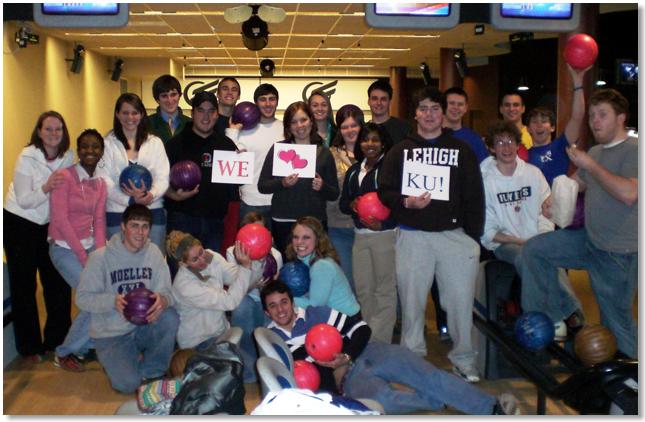 The University of Dayton Marianist Leadership Scholars recently took to the bowling lanes to chase away their winter blues. Marianist Leadership Scholarships are offered to graduates of Marianist secondary schools who demonstrate an understanding and practice of the Marianist spirit. The students shown here represent 10 different Marianist high schools. The program is coordinated by Maureen O'Rourke. Read more about the Marianist Scholarship Program.
WHO'S DOING WHAT. . .
| | |
| --- | --- |
| Congratulations to Sr. Paulette Patritti, executive director of the Marianist Retreat & Conference Center in Eureka, Mo., who received the "Spiritual Guide Award" on March 3 at the Catholic Women's Awards in St. Louis. The award is sponsored by the St. Louis Archdiocese Office of Human Rights. | |
| | |
| --- | --- |
| Bro. Brian Halderman (Marybrook, St. Louis) attended the 45th session of the Commission for Social Development at the United Nations in February. His visit was made possible through Bro. Steve O'Neil and the Marianist NGO at the United Nations. Read Bro. Brian's account of the experience. | |
| | |
| --- | --- |
| | Fr. Ken Templin (Center Marianist, Honolulu) is profiled in Chaminade University of Honolulu's student newspaper The Silversword. Read the article. |
| | |
| --- | --- |
| Bro. Ed Longbottom (District of Mexico) discusses the Marianist ministries in Mexico in a new video created by Bro. Brian Halderman. View the video. | |
| | |
| --- | --- |
| Fr. Charles Miller (Chaminade Community House, San Antonio) and Sr. Grace Walle were featured in a cover story in the Feb. 16 issue of Today's Catholic for leading a group of St. Mary's faculty and staff on a 10-day Christian-Muslim tour of Turkey in January. Read the article. | Fr. Charles (back row, center) and Sr. Grace, third from right, in front of the Blue Mosque of Istanbul |
| | |
| --- | --- |
| | Bro. John Samaha (Villa St. Joseph, Cupertino) published an article in the February 2007 issue of Homiletic & Pastoral Review titled "Mary in Eastern Spiritual Life." Read the article. |
| | |
| --- | --- |
| Cathedral Latin School alumnus Gene Gibbons '44 has written "The History of Cathedral Latin School 1916 – 1979." The book details the former Marianist school's accomplishments, including graduating more than 400 students who became bishops, brothers or priests. Gibbons said he was inspired to write by a journalism class taught by the late Bro. Raymond Roesch. Order online or call 216. 691.9999. Cost is $55. | |
BROTHERS EXTEND WARMTH, SUPPORT TO DYING SISTER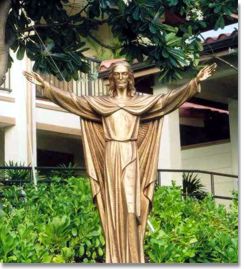 Sr. Susan Keferl, provincial of the Sisters of Notre Dame de Namur, went to Honolulu in January seeking a sunny destination to take a break from her chemotherapy treatment for ovarian cancer. For Sr. Susan, however, it was the warmth of her fellow religious, including brothers from the Center Marianist community, that comforted her when she became gravely ill during her stay. Fr. Tim Eden, accompanied by other Marianist brothers, visited Sr. Susan at the hospital and anointed her before she died on Feb. 4. The brothers also hosted Sister Patricia Knopp and Sister Colette Quinn at the Center Marianist community while they were in town to be with Sr. Susan during her final days. "You have truly reflected. . . Mary's warmth of welcome to God and to others, " said Fr. Jim Fitz, in a letter thanking the community for its kindness.
PEACE & JUSTICE UPDATE:

Marianist Sharing Fund Assists Student Programs
| | |
| --- | --- |
| | Makana Paris of Chaminade University of Honolulu, with Bro. Tom Spring and Fr. Joe Lackner, accepts a Marianist Sharing Fund grant on behalf of two projects sponsored by Chaminade: The PALS Project Enrichment program for students in Palolo Valley and the Kea'au Summer Immersion program which supports homeless native Hawaiians. |

Marianists Participate in World Social Forum. Read a report from Bro. Charles Kimeu (District of Eastern Africa) and a report from Bro. Steve O'Neil, Marianist NGO representative to the United Nations, who attended the recent World Social Forum in Nairobi, Kenya.

The U.S. and Iran. Larry Hufford, a teacher at St. Mary's University in San Antonio and collaborator on Province social justice issues, published a commentary titled "U.S. Wages A Campaign of Fear Against Iran" in the March 3 issue of the National Catholic Reporter. Read the commentary.

4th Anniversary of the Iraq War. March 19 marks four years of war with Iraq. It is also the feast of St. Joseph. In honor of our patron, ask your representative to vote "no" against escalation and co-sponsor HR 746, the "The Safe and Orderly Withdrawal From Iraq Act."
E-mail your representative today.

Contact Myles McCabe, Province director of peace & justice, mmccabe@sm-usa.org. 314.533.1207, x. 235
CHAMINADE SCHOLARS REUNITE AT GOVERNOR'S ISLAND RETREAT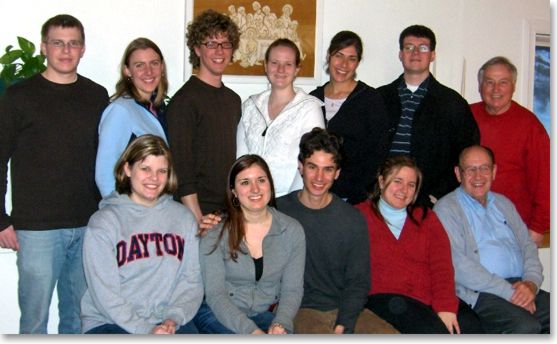 Fr. Jim Russell, seated far right, and Bro. Paul Bredestege, standing, far right, with the 2005 Chaminade Scholars, seated, Abby Doss, Anne Marie LeQuyea, Nick Raddell and Anna Coleman Hancock; standing, Drew Schaefer, Melissa Diemunsch, Alan Schulze, Maureen O'Rourke, Ruth Hinde and Bob Short
The Chaminade Scholars Program, sponsored by the University of Dayton, challenges students to prepare for their postgraduate lives spiritually as well as academically. Fifteen students are admitted to the program each year. On the weekend of March 2, 10 members of the 2005 Chaminade Scholars Program gathered at Governor's Island in Huntsville, Ohio, to discern ways to continue their group experience in their post-college lives. The retreat was organized by Maureen O'Rourke, a 2005 Chaminade Scholar and coordinator of Marianist Activities and Scholarship at the University of Dayton.
MARIANIST SISTERS ASSIST WITH REDS PROGRAM IN RANCHI, INDIA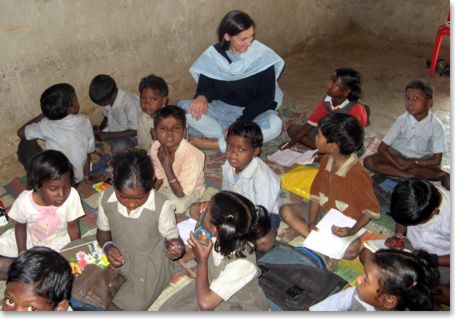 Sr. Juliana Teresa (shown above) is one of the Marianist sisters ministering with the Ragpickers' Education & Development Scheme in Ranchi. The sisters come to the Khadgarha Centre daily to teach street children. The sisters are learning too, as the children help them learn Hindi. Read a report from the Marianist sisters working with REDS.
FROM THE SCHOOLS . . .
| | |
| --- | --- |
| CENTRAL CATHOLIC HIGH SCHOOL. Congratulations to the Central Catholic varsity soccer team for bringing home the school's first state soccer championship. The team defeated St. Michael's High School 5–1. Josh Smith is the team's head coach. | |
UNIVERSITY OF DAYTON Marianist Leadership Scholarship students visited with Marianist brothers and other residents at the Mercy Siena healthcare center in Dayton on Feb. 24.

Villa Angela –St. Joseph High School graduate and UD sophomore Ashleigh Robinson visits with a Mercy Siena resident
| | |
| --- | --- |
| CHAMINADE-MADONNA COLLEGE PREPARATORY. As part of the school's Marianist heritage celebration in January, vowed and lay Marianist faculty members spoke with students about what it means to be a Marianist. | Teacher Gina Billisi, Bro. Carmine Annunziata, visiting from Eastern Africa, and Bro. Kevin Whelan |
GOVERNOR'S ISLAND HOSTS RETREAT FOR UD STUDENTS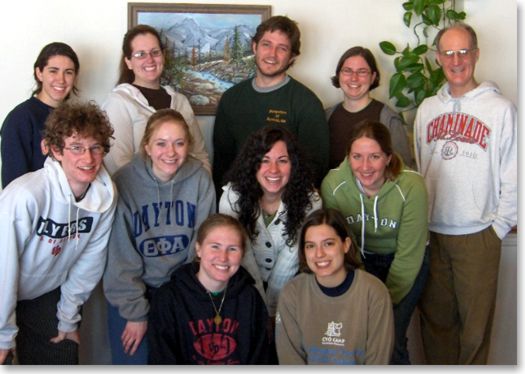 Fr. Jim Schimelpfening (far right) with a group of University of Dayton students who attended a retreat on Governor's Island in Huntsville, Ohio, in early February. The retreat emphasized scripture and quiet meditation.
GOOD TO KNOW

OUT AND ABOUT. Read the upcoming travel schedule of members of the Provincial staff in St. Louis.

PERSONNEL CHANGES. Read the changes. Remember that personnel information on the PORTAL is updated on a regular basis.

MARIANIST CALENDAR. A calendar that lists events involving Marianist brothers, Marianist sisters and lay Marianists is available at www.marianist.com/calendar. The calendar also is available on the PORTAL. If you'd like an event included, send the event, date, location and contact information to Pat Stephens.

Mar. 13 – Mar. 19
Pacific LIFE Team
Meeting, Honolulu

Mar. 14 – Mar. 15 Provincial Council
Meeting, St. Louis
MELENDREZ SHARES BURRITO BOUNTY WITH HOMELESS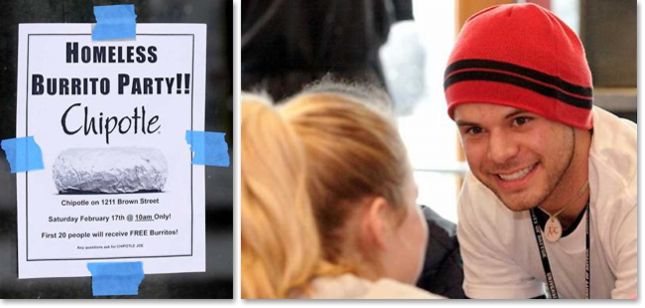 Joe Melendrez (right), co-director of Marianist involvement for the University of Dayton's student government association, was featured in the Dayton Daily News for transforming his prize from a Chipotle Restaurant contest— three free burritos every day for a year and 20 burrito parties—into an outreach program for the area's homeless. Read more.
NEWSLETTER
CENTRAL

REDS. Read the January 2007 issue of Friends the newsletter of the Ragpickers Education and Development Scheme in Bangalore, India.

DISTRICT OF INDIA. Read the February 2007 newsletter.

MLNNA. Read the February 2007 issue of MLNNA E-news, the e-newsletter of the Marianist Lay Network of North America.

MARIANIST SOCIAL JUSTICE COLLABORATIVE. Read the March 2007 issue of Justice Jottings.
MARIANIST AFFILIATE CELEBRATES 100TH BIRTHDAY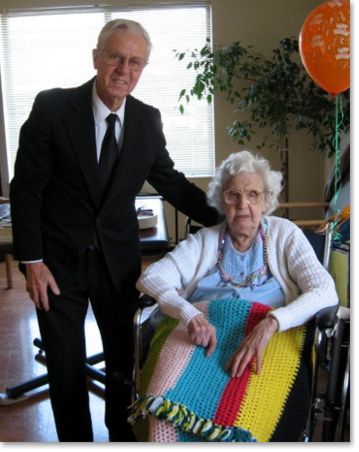 Happy birthday to Marianist affiliate Madeline Hirbe, shown with Bro. Ken Jung, who celebrated her 100th birthday on Feb. 18 at Our Lady Queen and Mother nursing facility in St. Louis.
THE CLASSIFIEDS

ASSOCIATE DIRECTOR OF CAMPUS MINISTRY. Chaminade College Preparatory School in St. Louis has an open position in campus ministry for the 2007 – 2008 school year. The associate director will assist with retreats, liturgy and service and help organize new areas of ministry. For more details, e-mail Peter Vlahutin.
JUST ONE MORE...
Happy St. Patrick's Day…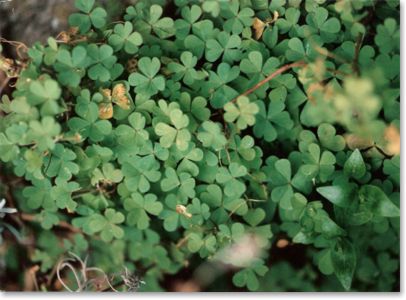 Bro. Fred Rech (Dublin) offers an ancient Irish poem thought to be written by Amerigin, a pre-Christian poet. It is taken from the "Book of Invasions," a 12th century composition. Bro. Fred also took the lovely photo.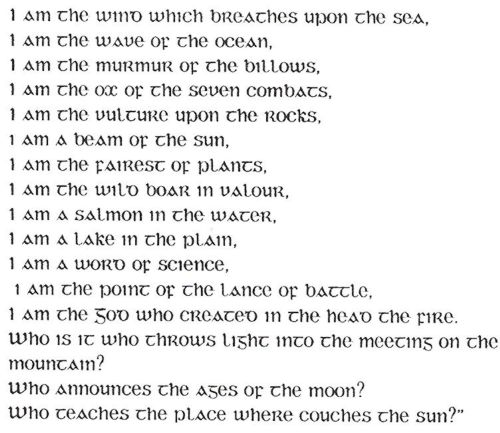 PROVINCE
BIRTHDAYS
Editor's Note: If you would like your e-mail address eliminated from FamilyOnline for security reasons, please e-mail Ann Mueller.
March
VISIT OUR WEB SITE AT www.marianist.com
Editor: Joan Suda; assistant: Ann Mueller. This biweekly e-mail newsletter produced by the Society of Mary features news about the Society of Mary (SM), Daughters of Mary Immaculate (FMI) and lay Marianists. Bro. Stephen Glodek, SM, provincial; Fr. Jim Fitz, SM, assistant provincial. Read the 2007 publication schedule and deadlines. Read hints about submitting photos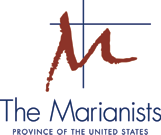 and copy. NEWS: We'll include news of travels, health updates, prayer requests, community celebrations, professional accomplishments, birthdays, and whatever personal or community news you'd like to share. Send news, digital photos and comments and suggestions to Diane Guerra at dguerra@sm-usa.org and use "FamilyOnline" as your subject line. TECHNICAL PROBLEMS: If you're not receiving this newsletter in the proper format, with proper spacing and photographs and art appearing, please let us know and we'll try to find a solution. If we can't, we'll put you on our "NOTIFY ONLY" list. CHANGE IN E-MAIL ADDRESS: Send to Ann Mueller at amueller@sm-usa.org. NOTE TO DIRECTORS: Please print this newsletter and post or distribute to brothers who do not have e-mail. BACK ISSUES/SEARCH: Visit www.marianist.com/fol. SUBSCRIBE/UNSUBSCRIBE: Visit http://www.marianist.com/subscribe.htm. Remember: you can search the archived issues of FamilyOnline at www.marianist.com/fol. Type in the word(s) you're looking for, open the issue, pull down the "Edit" bar and click on "Find on This Page," which will take you to the exact spot you need.