4% of Priests Were Accused of Sex Abuse
Report Says Epidemic in Church Peaked in '70s
By Alan Cooperman and Caryle Murphy
Washington Post
February 28, 2004; Page A01

http://www.washingtonpost.com/wp-dyn/articles/A13668-2004Feb27.html

[See also a set of charts summarizing the findings of the National Review Board report.]

An epidemic of child sexual abuse by priests tore through the Roman Catholic Church beginning in the 1960s and peaking in the 1970s as seminaries failed to weed out sexually dysfunctional men while bishops averted their eyes, a panel of lay Catholic leaders said yesterday.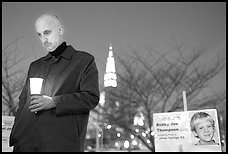 Peter J. Isely, a leader of the organization Survivors Network of Those Abused by Priests, said the report omits some vital information about abusers: "What are their names? Where have they been -- have they been in my parish or my school -- where are they right now?" (John Mcdonnell -- The Washington Post)
After a year-long survey that was initially resisted by some bishops, academic researchers hired by the church also reported that 4 percent of all the priests who have served in the United States since 1950 have been accused of sexually abusing minors. Eighty-one percent of the victims were boys, and the majority were 11 to 14, the researchers said.
Church officials said the pair of studies released yesterday -- one sizing up the statistical scope of the sex abuse scandal, the other dissecting its causes -- mark the first time that any religious denomination or profession has publicly investigated the extent of child molestation in its ranks.
The report on the scandal's "causes and context" was written by the 12-member National Review Board, a panel of eminent lay people appointed by the U.S. Conference of Catholic Bishops. It nonetheless laid a heavy measure of blame on the bishops, saying they failed to report abuse to police, allowed suspected abusers to continue ministering to minors, and spent at least $572 million on legal settlements and counseling that kept allegations quiet.

Robert S. Bennett, a principal author of the report, said, "Many bishops ... breached their responsibilities as shepherds of the flock and put their heads in the sand. By Bill O'Leary – The Washington Post.
"Knowingly allowing evil to continue is cooperation with evil," said Washington lawyer Robert S. Bennett, a principal author of the report. "We make no excuses for the bishops. Many bishops, certainly not all, breached their responsibilities as pastors, breached their responsibilities as shepherds of the flock and put their heads in the sand."
The statistical study on the "nature and scope" of sex abuse by priests and deacons was compiled by criminologists and psychologists at John Jay College of Criminal Justice in New York.
It found that incidents of abuse rose slowly in the '50s, climbed rapidly in the '60s, and peaked between 1970 and 1980, when 600 to 800 alleged cases of abuse occurred each year. Since then, reported incidents have fallen sharply, to about 50 cases a year from 1995 to 2000.
Karen Terry, the study's principal investigator, cautioned that the drop-off could be illusory. What looks like a bell curve of abuse cases could be just a snapshot in time, she said. Relatively few cases may have been reported in the '50s because "people didn't talk about it back then," and relatively few cases may have come to light in the '90s because many victims do not report abuse until middle age, she said.
Still, the president of the bishops conference, Bishop Wilton D. Gregory of Belleville, Ill., hailed the apparent decline.
"Along with the pain and anguish we feel in reviewing the past, we can also discern signs that the actions we have taken over the last 15 years have had a significant effect," he said at a news conference.
Gregory also revealed that more than 700 priests -- about twice as many as previously reported -- have been removed from ministry since the long-simmering scandal erupted in Boston in January 2002.
Reeling from the revelation that Boston's Cardinal Bernard F. Law had shuffled a notorious pedophile from parish to parish, the nation's bishops tightened their policies that year. At a meeting in Dallas in June 2002, they adopted a charter promising the permanent removal from ministry of any priest found to have abused a child. They also created the National Review Board, established an office of youth protection headed by a former FBI official and called for the studies released yesterday.
When the John Jay researchers sent lengthy surveys to every diocese last year, some initially balked. Bennett said one bishop threatened to sue the review board. But in the end, just two of the 195 U.S. dioceses -- Lincoln, Neb., and Davenport, Iowa -- refused to provide information. More than 140 religious orders, such as the Jesuits, also responded.
The statistical study found that 10,667 people have reported allegations of abuse to church authorities since 1950. Dioceses labeled more than 10 percent of the allegations "not substantiated." But Terry said that meant only that there was insufficient information to make a determination, not that the allegations were false.
The report does not include any cases in which priests were exonerated, the allegations were withdrawn, or dioceses deemed the allegations false. As a result, the data do not show what percentage of claims were untrue, Terry said.
On top of the 10,667 alleged victims, dioceses reported that they were aware of 3,000 people who had not filed formal complaints. Terry gave the example of two brothers who were abused, only one of whom wished to come forward.
Victims groups said they believe that the study, based on self-reporting by dioceses, almost certainly represented an undercount. They also said it did not include the information that victims and many lay Catholics are most eager to know.
"If you had access to church files, what you would most want to know is who these men are: What are their names? Where have they been -- have they been in my parish or my school -- and where are they right now?" said Peter J. Isely of Milwaukee, a leader of the 4,600-member Survivors Network of Those Abused by Priests. "That's what they're not telling us."
The study found that 109,694 priests have served in the United States since 1950. Of the 4,392 -- or 4 percent -- who were accused, a majority are alleged to have abused a single child, though in many cases the abuse is said to have occurred repeatedly.
Bennett said it is impossible to know whether the 4 percent figure is higher or lower than the percentage of offenders in the general male population, because no such studies have been done.
The John Jay researchers said their survey did not ask how many cases of abuse were reported by the church to civil authorities. The best indication of that, Terry said, was that 613 cases -- about 6 percent of the total -- were investigated by police. In the end, 217 priests were charged, 138 were convicted and 100 went to prison, she said.
Bennett offered a litany of reasons the country's bishops bear responsibility. He said they adopted "an adversarial stance not worthy of the church" toward victims, failed "to comprehend fully the extent and magnitude of harm" suffered by victims, and placed "the interests of accused priests above those of the victims and too often declined to hear from victims directly, relying instead on denials and assurances from the accused."
Wearing a tie of deep purple, the church color for repentance, Bennett said the review board had reached two "overarching conclusions" about the reasons for the crisis.
The first, he said, was that seminaries in the 1960s and 1970s failed to screen out "psychosexually immature and dysfunctional" candidates for the priesthood. And the second, he said, is that they failed to prepare candidates for a life of celibacy. "Seminary reform must be a very high priority," he said.
Bennett said that while neither homosexuality nor celibacy caused the crisis, it cannot be understood without considering their role. He said the board opposed a "litmus test" that would keep gays out of the priesthood. But, he said, church leaders must face "the fact that more than 80 percent of the abuse at issue was of a homosexual nature."
Celibacy is a "great gift to many priests," Bennett said. "But also, for those who are unable to live it, it is an albatross that leads to other problems." While it would be "totally inappropriate" for the review board to make a pronouncement on whether the requirement of celibacy should continue, he said, the board "is comfortable with saying . . . it's a subject of future study."