Cardinal George Reacts to Latest Abuse Charges
Daniel McCormack Now Charged with Abusing 5 Boys

By Derrick Blakley
CBS 2
May 8, 2006

http://cbs2chicago.com/local/local_story_128161356.html

(CBS) Chicago - There are new charges against a Roman Catholic priest already charged with sexually abusing three boys.

Father Daniel McCormack is now accused of abusing two more young boys.

CBS 2's Derrick Blakley reports the cardinal says the new charges are upsetting.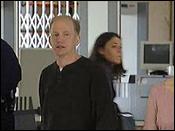 McCormack reports for a court appearance on Monday.
CBS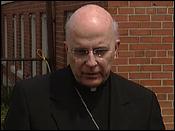 George responds to the new allegations on Monday.
CBS



"Every time one hears of this, you're devastated again," Francis Cardinal George said.

Cardinal George reacted Monday to the latest charges against Father Daniel McCormack, who charged last weekend with molesting two more West Side boys.

"This is a cancer that eats away at all of us because in the church we're connected and in the society we're connected," George said.

Prosecutors say both victims were students at Presentation School, where McCormack taught and coached basketball.

He's charged with fondling a 10-year-old boy once and with molesting an 11-year-old on a daily basis between September 2005 and last January. That was the period when McCormack's activities were supposed to have been monitored by another priest after sex abuse allegations had been raised but not verified.

It appears to be more evidence the program monitoring priests accused of abuse didn't work.

"We know what needs to be done, and we've been very public about the failings of the Archdiocese in terms of our monitoring and terms of the specifics of this case," said Archdiocese Chancellor Jimmy Lago.

Last March, outside auditors issued a scathing report, saying those assigned to monitor accused priests are poorly trained and accused priests essentially report their own activities with no verification.

But Lago said Monday that changes are being made.

"We've been informing the monitors in a better way. We've been changing our logging system and other things. But I don't think today's the day when were prepared to talk fully about what all those changes are," Lago said.

Afterward, Lago told CBS 2 the Archdiocese is considering whether it should have a monitoring program at all. That is, whether it can effectively track accused priests and limit their conduct with young people.

But abolishing monitoring leads to another problem: What to do with priests who are accused but not yet convicted?

Related Stories

- Archdiocese Monitoring Priest During Alleged Abuse (May 8, 2006)
- Accused Priest Faces New Sex Abuse Charges (May 6, 2006)
- 3 More "Possible Victims" Of Chicago Priest Abuse (April 26, 2006)
- Grand Jury Indicts Priest On Sex Abuse Charges (Feb 10, 2006)
- Priest Denied Contact With Young Family Members (Jan 23, 2006)
- Sex Allegations Against Priest Began Last Year (Jan 23, 2006)