NEWARK (NJ)
NorthJersey.com [Woodland Park NJ]

March 9, 2021
By Abbott Koloff and Deena Yellin
Photo above: Archbishop of Washington Theodore McCarrick, left, is seen with Pope John Paul II in Newark, in October of 1995. McCarrick was named cardinal by Pope John Paul II during the Sunday Angelus address at the Vatican Jan. 21, 2001. (AP Photo/Arturo Mari)
Catholic Church officials in New Jersey have filed court documents aiming to shift responsibility for former Cardinal Theodore McCarrick's alleged sexual abuse away from themselves and onto the former prelate — even as the church's own investigation revealed his rise to a position of power was aided by high-ranking clerics who covered up his behavior.
The church's court filings, called crossclaims, have become common as more than 300 sex abuse lawsuits have been filed against the church in New Jersey since the state suspended the civil statute of limitation on such cases on Dec. 1, 2019. Attorneys for accusers say they represent a shift in tactics by the church in defending itself against such lawsuits, and an attempt to lessen its financial liability.
Both the Newark Archdiocese and the Metuchen Diocese, which had been led by McCarrick, have filed multiple crossclaims against the former cardinal. Metuchen filed one of its claims after the Vatican's release of its report on McCarrick last year. The report alleged that high-ranking clerics — including the late Bishop Edward Hughes of Metuchen — lied to the Vatican about what they knew regarding McCarrick's alleged abuse of adult seminarians.
Mitchell Garabedian, an attorney who represents one of the McCarrick accusers, said in a statement that the crossclaims are an attempt by church officials "to deflect blame and not look like enablers of a once powerful Cardinal accused of being a serial pedophile" and that they are "trying to cut their monetary costs and public image losses by pointing the finger at Defendant McCarrick."
"The Vatican report is the elephant in the room," he said in a subsequent phone interview. "It points to issues which indicate that the Diocese of Metuchen and the Archdiocese of Newark were complicit in the sexual abuse by McCarrick."
Garabedian represents James Grein, who alleges in a lawsuit that McCarrick abused him for decades, starting when he was 11 years old and living in North Jersey in the 1960s. Grein alleged that he told Pope John Paul II about the abuse in 1988 while on a trip to Rome with McCarrick. The lawsuit names McCarrick as a defendant, along with the Newark Archdiocese and the Metuchen Diocese.
The Vatican report, issued Nov. 10, 2020, revealed that Pope John Paul II had second thoughts about promoting McCarrick, then the Archbishop of Newark, to lead the Washington Archdiocese in 2000. It said three New Jersey bishops, including Hughes, provided misleading statements to the Vatican to dispel those concerns.
On December 4, weeks after the Vatican report was released, Metuchen filed a crossclaim in the Grein case.
In that claim, the diocese asked the court to require McCarrick to contribute to financial damages that might be awarded. The diocese, which did not admit to liability, said McCarrick "is liable to Metuchen for all claims asserted by Plaintiff in this action." If a jury finds Metuchen to be liable for any damages, the diocese said in the filing, "such liability is secondary, passive, constructive" while McCarrick's liability "was active and primary."
The Metuchen Diocese has followed attorneys' advice to file crossclaims, a diocesan spokesman said, adding that he could not comment on specific lawsuits. However, he said the naming of accused clerics in court papers helps to hold them "accountable."
"Our endeavor is to hold the perpetrators accountable for these horrific acts," said the spokesman, Anthony P. Kearns III, chancellor of the Metuchen Diocese. "It is fair to say that is the point of our rationale to name the perpetrator."
The use of crossclaims against co-defendants, which are routine in many other types of lawsuits, had not been used by the church until the recent flood of filings related to the change in the state law, according to attorneys who represent sex abuse survivors. The church also has filed third-party complaints against priests who haven't been named as defendants to bring them into the lawsuits. Similar to crossclaims, they request that the clerics be held accountable for at least some of the damages.
Trying to lower financial liability
Advocates and attorneys for abuse survivors said the church is attempting to diminish its financial liability and preserve its reputation by shifting blame onto allegedly abusive clerics. But they said the lawsuits against the church focus not on the alleged abuser but on church officials who allegedly covered up abuse allegations, allowing some clerics to continue to abuse children.
"Of course, the archdiocese will try to get out of its responsibility," said Bob Hoatson, a former priest and victims' advocate. He added that people who allege they were abused by McCarrick "have a right to sue the entities that he represented or led during his entire priesthood."
Attorneys said the church's attempts to place financial responsibility on clerics could result in less money available for people even if they win lawsuits, because many of the priests are deceased and others have little to no assets.
"It's the definition of hypocrisy," said John Baldante, who has filed dozens of lawsuits against the Catholic Church. "It's really all about more of the responsibility getting placed on the priest with a mental illness to lessen their financial exposure."
Ken Mullaney, the Paterson Diocese attorney, said he was caught off guard when lawsuits were filed not naming accused priests as defendants. He said he believes the focus was on dioceses and parishes because they have "the deep pockets." He said he filed third-party complaints against priests after judges ruled against motions to dismiss cases that didn't name them.
"A jury will be called on to allocate fault," Mullaney said. "It's possible the jury could determine 100 percent of fault on the abuser."
Focus on cover-up
Plaintiffs' attorneys argue that the failure of church officials — including McCarrick — to remove allegedly abusive priests was at the root of the sex-abuse scandal in the church.
"McCarrick and information related to him is going to be relevant to all cases — his fingerprints are all over what happened," said Jay Mascolo, an attorney who has filed dozens of lawsuits in New Jersey. "We want the focus of the cases to be on the diocese — on the cover-up."
Attorneys argue that is the point of naming dioceses in the four cases where McCarrick himself is accused of abusing children — and to use as a reference the Vatican report, which laid bare numerous allegations of a cover-up by church officials.
The report alleges that two bishops watched, but said nothing, as McCarrick fondled a young man at a banquet hall. It said the former cardinal's alleged harassment of seminarians was so well known that Cardinal John O'Connor, the former archbishop of New York, wrote a letter in 1999 to dissuade Catholic leaders from promoting McCarrick to be the Archbishop of Washington.
It also referred to "a series of anonymous letters" sent to church leaders in the early 1990s that "accused McCarrick of pedophilia" with young men whom he referred to as his "nephews."
McCarrick told officials at the time that he had "never engaged in sexual conduct" and Pope John Paul II apparently believed him, moving him to Washington. McCarrick was laicized in 2019 amid allegations that he sexually abused children and adults. His attorney, Barry Coburn, declined to comment for this story.
Greg Gianforcaro, an attorney involved in two lawsuits accusing McCarrick of abuse, said the church has been trying to minimize its "complicity for his criminal behavior" by filing crossclaims against the former prelate. He added that the Vatican's McCarrick report indicates church officials knew a great deal about McCarrick's behavior.
"Based on the allegations I read in the McCarrick report, there was so much complicity that to claim they were not liable was shocking and arrogant," Gianforcaro said.
Gianforcaro and Jeff Anderson, a Minnesota attorney, represent a client who filed a lawsuit last year alleging McCarrick and other priests abused the plaintiff and other boys at a Jersey shore home in the early 1980s. In a press conference, Anderson called it a sex ring.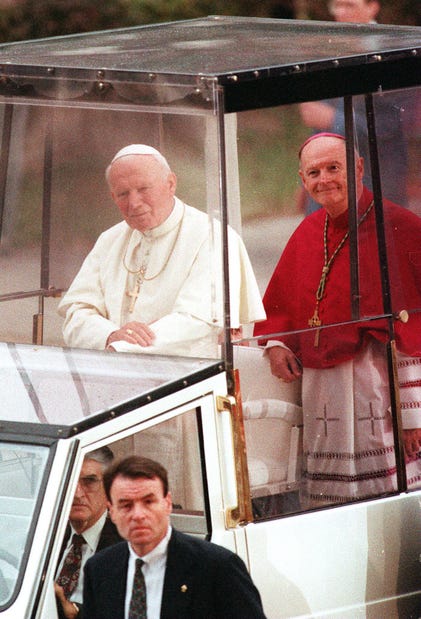 In that lawsuit, the Newark Archdiocese filed a crossclaim against both McCarrick and the Metuchen Diocese. It also filed third-party claims against several priests accused in the lawsuit but not named as defendants.
Newark Archdiocese spokeswoman Maria Margiotta declined to comment, saying it would be "inappropriate to discuss or comment on matters in litigation" and that the archdiocese "remains fully committed to transparency and to our long-standing programs to protect the faithful."
Adam Horowitz, an attorney who represents sex abuse victims, said he doesn't believe juries will buy the attempt to shift responsibility away from church leaders.
"It's like a zookeeper and a wild animal, and the wild animal gets out," he said. "Do you blame the wild animal or the zookeeper?"
Attorneys said the crossclaims and third-party complaints indicate that dioceses and priests may be at odds, and they may end up pointing fingers at one in another.
"Historically, the dioceses would protect their own," Horowitz said, adding added that the church now appears to be attempting to distance itself from the accused priests, but that the strategy won't work if it is proven that church officials were working in concert with the clerics to cover up allegations of abuse.
"You can't point the finger at your co-conspirator," he said.
https://www.northjersey.com/story/news/2021/03/09/catholic-church-sex-abuse-lawsuits-blame-shift-cardinal-mccarrick/6909663002/