BUFFALO (NY)
Buffalo News [Buffalo NY]

March 28, 2021
By Jay Tokasz
The Rev. Norbert F. Orsolits, a Catholic priest whose 2018 admission that he had molested "probably dozens" of boys decades earlier led to a reckoning within the Buffalo Diocese over its coverup of child sex abuse cases, has died at the age of 81.
A brief death notice published Sunday in The Buffalo News indicated that Orsolits died March 25. An obituary published on the website of W.S. Davis Funeral Home said Orsolits died in the Buffalo Center for Nursing and Rehabilitation. Orsolits said in a 2018 interview with The News that he had leukemia, but his cause of death was not known.
Orsolits admitted that he had sexually abused children in the 1970s and 1980s when he was contacted by The News at his home in the Town of Ashford about allegations by Michael F. Whalen Jr., 55, who accused the priest of molesting him in 1979 or 1980 while they were on a weekend ski trip. Orsolits said he didn't remember Whalen, but he didn't deny abusing him and he acknowledged that he had had sexual contact with boys until receiving treatment at Southdown Institute in Ontario, where the diocese sent priests with addiction and mental health problems.
Whalen's accusations, combined with Orsolits' stunning admissions, helped launch a tsunami of abuse claims against clergy and other employees of the diocese and ultimately led to a federal investigation of the diocese, a lawsuit by State Attorney General Letitia James and 260 Child Victims Act lawsuits against the diocese, which in 2020 filed for Chapter 11 bankruptcy protection in an effort to settle claims with what are expected to be at least 400 abuse survivors.
Within days of Whalen's account of being abused, a pair of brothers told The News that Orsolits also had abused them as youngsters. Orsolits confirmed in an interview that he had sexual contact with both brothers. Orsolits was accused of abuse in 16 separate Child Victims Act lawsuits, with allegations stemming back to the earliest days of his priesthood and into the early 1980s.
Whalen said in 2019 that had forgiven Orsolits. On Sunday, he said that he wished he had had an opportunity to talk with Orsolits before the priest died.
"I wish I was able to sit face to face with him just to ask why," he said. "I pray that in his final days that he made peace with himself and if he made peace with God. Everyone I talked to today asked me why I would pray for him to make peace with himself and God. Way too much hate in the world today. He will answer to God he will be judged."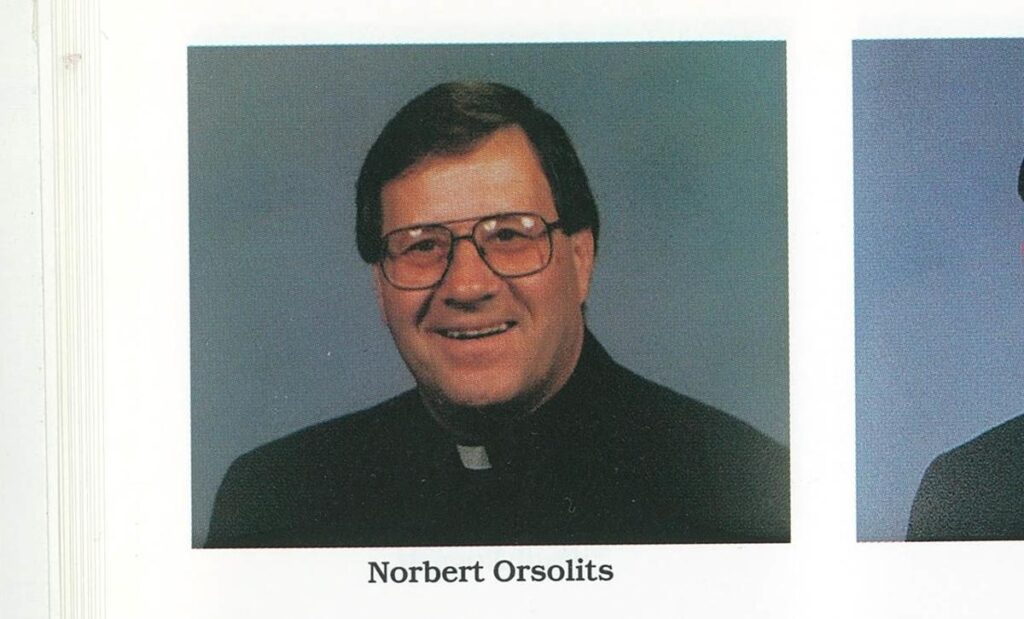 Despite his admissions, Orsolits never apologized to his victims and he repeatedly maintained that he had been reformed following two stints at Southdown.
Ordained in 1965, Orsolits' first assignment was at St. Joseph Church in Bliss. He then served at All Saints in Buffalo, St. John in Alden and St. John the Evangelist in South Buffalo. He worked in 13 parishes in all until 1988, when he was named chaplain at Buffalo General Hospital and placed into what diocese officials called "guarded ministry." He was removed from priestly ministry in 2004 and forbidden to celebrate Masses publicly, but diocese officials gave no public explanation at the time.
Whether the general public will be able to examine the confidential records someday remains unclear and likely will be subject to intense negotiations during the bankruptcy proceedings.
He was still technically a priest at the time of his death. Diocese officials had been preparing a canon law case to submit to the Vatican, where only the pope can dismiss a priest from the clerical state, Catholic terminology for defrocking a priest.
The obituary at the funeral home site noted that Orsolits was a retired chaplain for Hospice Buffalo Inc., and a former chaplain at the Holland Speedway, but made no mention of the fact that he was a Catholic priest and didn't identify him by the honorific title of "Reverend."
The obituary also said that he is an automobile enthusiast and enjoyed hiking, rafting, and skiing. He is survived by several cousins.
https://buffalonews.com/news/local/catholic-priest-who-admitted-molesting-boys-dies-at-age-81/article_ae4dcefc-9024-11eb-b1d0-47ad3f397fb0.html