(UNITED KINGDOM)
Edinburgh Evening News (Edinburgh, Scotland)

March 5, 2021
By Jamie McKenzie
Former pupils at one of Scotland's most prestigious schools are considering a private prosecution after the Crown Office decided not to extradite a teacher who they say abused them.
Two men have spoken to the Edinburgh Evening News about being physically and sexually abused at Fettes College junior school in the mid 1970s.
One victim said he was taken into a changing room and beaten to the extent of "blacking out" and ended up in a school sanatorium for medical treatment for ten days.
Both men said the teacher, who now lives in South Africa, would fondle them at his desk when they went up to receive feedback on their work, and that he would be "openly violent" to pupils during class.
A spokesperson for Fettes College says the school wants to apologise to anyone who suffered abuse there, and stressed they take historic abuse claims "extremely seriously" and will cooperate with the authorities in any case of alleged abuse.
The men have spoken to investigators in the Scottish Child Abuse Inquiry and are expected to give formal statements at a future date – but what they want most is justice.
A letter from the Crown Office to the victims in November last year, seen by the Edinburgh Evening News, states it will not attempt to extradite the former teacher from South Africa due to a time-bar on certain historic abuse crimes, the age of the accused and delays to the extradition process which would be exacerbated by the coronavirus pandemic.
Despite the letter saying the case was likely to have been pursued had the accused lived in Scotland, it says it is "not in the public interest to prosecute" due to delays to proceedings and the uncertainty around that during the pandemic.
Former pupils say a teacher at Fettes College abused them in the 1970s.
The Crown Office decision has since been upheld following a request for it to be reviewed by the men. The review was carried out by a member of the Crown Counsel, not involved in the original decision-making process, and was appointed by the Lord Advocate who is head of the Crown Office.
One of the victims, who we are calling 'James,' said: "I am both stunned and furious. I could not believe they knocked it back in the first place and thought that there must be some error.
"They were basically saying in that letter, because he is an older man and went to South Africa it would not be possible to pursue this. Our ages were not considered when we were being abused. Were it to be in this country, they would prosecute, which I find unbelievable.
"For the Crown Office to say they do not think it's in the public interest to prosecute this man, who has molested boys and beaten some so badly they ended up in hospital – it beggars belief."
Crown Office response
James says he wrote to First Minister Nicola Sturgeon about the matter last week and says he and two others are considering pursuing a private prosecution of the former teacher.
Both victims we spoke to highlighted other hig profile cases where people of similar age have been extradited to face sexual abuse allegations in Scotland.
One is that of former Catholic monk Dennis Alexander, who was 83 when he was extradited from Australia early last year and appeared in court in Inverness accused of sexually abusing children when he taught at Fort Augustus Abbey school in the 1970s.
In relation to South Africa, one victim cited a landmark decision in 2018 by the Constitutional Court of South Africa which declared a piece of legislation "unconstitutional" in that it had previously barred the prosecution of sexual offences other than rape after 20 years.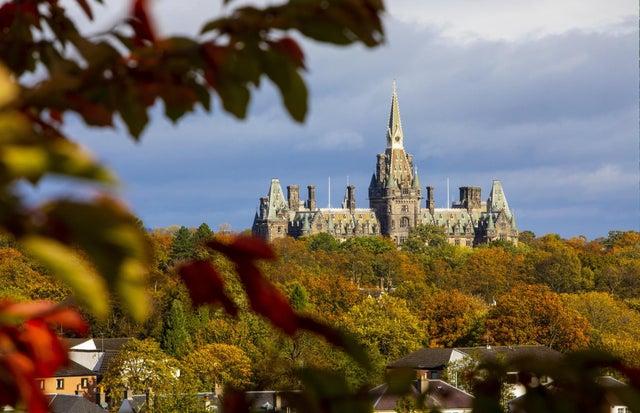 The Crown Office states in its latest letter that although this is the case, that declaration of invalidity by the court was only made retrospective to April 27, 1994. This is the date when South Africa held its first multiracial elections and Nelson Mandela was voted in as president and the new anti-Apartheid regime came into being.
The Crown Office letter said the correct interpretation and application of South African law in relation to an extraditable offence is a matter for authorities there to determine.
But in December a South African lawyer, Gary Eisenberg, who specialises in immigration and extradition, told Radio Scotland's Drivetime with John Beattie programme that any sexual offences, including child molestation, are not time barred at all in their common law.
Mr Eisenberg told the radio show that if someone in South Africa is alleged to have committed a sexual offence against a child or an adult either 40, 60 or 80 years ago, the criminal offence is not time-barred for the purposes of prosecution.
At the time, no mention was made by Mr Eisenberg of the law change being retrospective to April 27, 1994. The Edinburgh Evening News has approached him for comment on this.
Inexplicable rages
James said his experience at Fettes did not really affect him until his early 20s but that it had a major impact on his life, including suffering from depression and inexplicable bursts of rage and problems with drinking.
The other victim we spoke to is attempting to take matters further in his request for a more in-depth Crown Office review of its decision. He says he was hospitalised for days due to a violent attack by the teacher, and said he has also been diagnosed with severe delayed psychological trauma and has been referred to mental health services, which has come about amid the Child Abuse Inquiry and making his complaint to police.
He added: "We have a Crown office which is apparently not accountable for their actions. It seems as if the victims' only recourse is to ask the Crown Office to review itself. It is not fit for purpose.
"People can say this is jumping on the bandwagon at the moment, but these are very serious historical abuse charges. These offences have been reported by various people, a number of times over many years. The evidence is becoming overwhelming and many stories corroborate each other in surprising detail. Yet nothing effective is ever done by the Police and the Crown Office. Frankly, it beggars belief."
The men believe that potentially very many boys who went to the Fettes junior school may have experienced abuse from the same teacher and that this has possibly been witnessed by hundreds. The men have urged anyone who was abused there to come forward and report it to police and the Child Abuse Inquiry.
James added: "I was of an age when I knew something was not right but I was absolutely terrified by this never ending threat of violence.
"The world has changed a lot and I am quite sure the vast majority of children, if it were to happen now, would speak out – but we did not have any way of speaking about it.
"Everyone is shocked to the core about what happened. The Child Abuse Inquiry is great at offering support for people to talk to, and all we want is a bit of justice."
Decision 'unbelievable'
Highlands & Islands Labour MSP Rhoda Grant, who is supporting James as a constituent, said: "I have been supporting him in this very difficult situation. The Crown's decision in this case is unbelievable and I have written to the Lord Advocate asking to be advised on the circumstances and for this matter to be reviewed. I am continuing to press the Crown on this.
"All abusers ruin the promising futures of young people and they must be brought to justice."
Laura Connor, head of the Historic Abuse Unit at Thompsons Solicitors, said: "The sexual and physical abuse of children at Fettes is abhorrent and appears to have taken place over a considerable period of time. We are currently pursuing civil claims against the school on behalf of several survivors.
"I have little doubt that many more have yet to come forward and I would urge them to do so and report their abuse to the police. I also urge the Crown Office to do everything in their power to make sure those accused of abuse at Fettes face justice in a Scottish court as soon as possible."
A spokesperson for Fettes College said: "Fettes College would like to apologise to anyone who suffered abuse at Fettes. We take all claims of non-recent child abuse extremely seriously and we will co-operate fully with all relevant authorities in any case of alleged abuse.
"If someone contacts the school directly to report abuse, our safeguarding team is fully trained to assist them. All reports are passed to Police Scotland for investigation and details are sent to the Scottish Child Abuse Inquiry.
"Fettes College is dedicated to ensuring that all pupils and staff live together in a safe environment. Safeguarding is central to all that we do and is integral to the ethos of the school. It is the duty of all members of staff, throughout the Fettes community, to play an active role in promoting the wellbeing of all our pupils."
A Crown Office spokesperson said: "This has been a complex investigation and COPFS appreciates that it has been a difficult time for all those involved.
"Officials from COPFS have maintained contact with the complainers over the status of the case.
"In order to protect any potential proceedings and to preserve the rights of the complainers, the Crown will not comment further at this stage."
https://www.edinburghnews.scotsman.com/news/crime/men-consider-private-prosecution-of-fettes-teacher-facing-abuse-claims-after-crown-office-decide-not-to-pursue-south-africa-extradition-3155189