COLOGNE (GERMANY)
The Tablet [Market Harborough, England]

March 3, 2021
By Christa Pongratz-Lippitt
German bishops have backtracked after sharp criticism of the turmoil in the archdiocese of Cologne in recent weeks caused by Cardinal Rainer Maria Woelki's decision not to publish the abuse report he had commissioned.
At their plenary in the last week of February, they publicly emphasised that they were all responsible for the situation of the German Church.
"A number of things in the Cologne archdiocese certainly need clearing up, but it would be all too hasty a conclusion to put the focus solely on the Archbishop of Cologne. On the contrary, we must all face up to the criticism", conference president, Bishop Georg Bätzing of Limburg, underlined in his final report after the online plenary.
The bishops would keep to their commitment unconditionally to appraise and clarify the abuse of minors in the German Church, promised.
The bishops then dealt with the election of a new conference secretary general. The long-standing general secretary, Fr Hans Langendörfer SJ, 70, who had been secretary general for 24 years, retired at the beginning of the year. Their choice was lay theologian Beate Gilles, 50, both the first lay person and the first woman to become general secretary of the 172-year-old conference.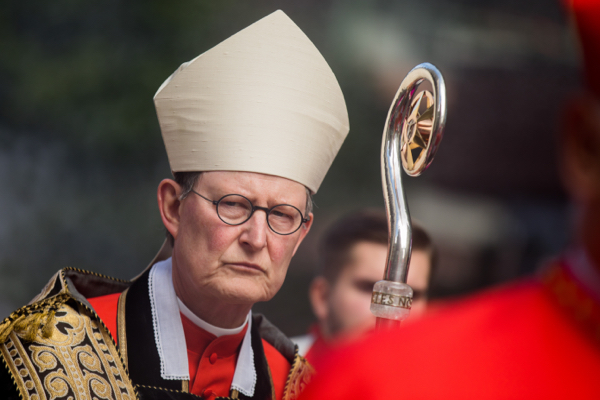 Gilles will take over on 1 July. She currently heads the department for youth, family and children in Bätzing's diocese of Limburg.
Electing her was a "strong sign" that the bishops were in favour of promoting women to leading positions in the Church, Bätzing said.
Gilles said her main focus would be the synodal procedure for church reform. Her election was "a sign within the Church. I'm very aware of that", she underlined. Maria 2.0, the German women's group that is under investigation by the Vatican for protesting against Cardinal Woelki's refusal to publish the abuse report he had commissioned, was positioned "right in the middle of the Church", Gilles said.
https://www.thetablet.co.uk/news/13907/pressure-eases-on-cardinal-woelki-