RAMSEY (NJ)
The Record [Woodland Park NJ]

March 22, 2021
By Abbott Koloff
[Photo above: Susan Gallagher, who lived in Waldwick, with Father Frank Nugent, a director of Don Bosco Prep in Ramsey in the 1970s. Gallagher received a settlement from the Salesians of Don Bosco religious order related to allegations that Nugent sexually abused her and her brother when they were children. Courtesy of Susan Gallagher.]
At least five sex abuse lawsuits have been filed over the past 15 months against the religious order that runs Don Bosco Preparatory School in Ramsey, a group that has faced a significant number of accusations in other parts of the country but that so far has received little attention in New Jersey.
The eastern province of the Salesians of Don Bosco, a Catholic order headquartered in New York, has published on its website a list of 40 members who have been credibly accused of abusing children. At least 22 were assigned to work in New Jersey at some point in their careers, including 10 at Don Bosco Prep.
Most recently, a transgender woman alleged in a lawsuit filed this month that she was sexually assaulted by a religious brother who was her algebra teacher at Don Bosco Prep in the 1970s. The teacher, Michael Brinkman, who now lives at a Salesian residence center in Florida, had not been included in the order's list of accused brothers.
The accuser, who identified as a boy at the time, was "hysterical and crying" as Brinkman held him down and raped him, according to court filings. Brinkman allegedly "had a reputation for being mean and abusive with students" and disciplined them, "including plaintiff, by shoving and punching them in full view of other students and faculty."
An official with the Salesians said Brinkman appears to have had no prior accusations against him.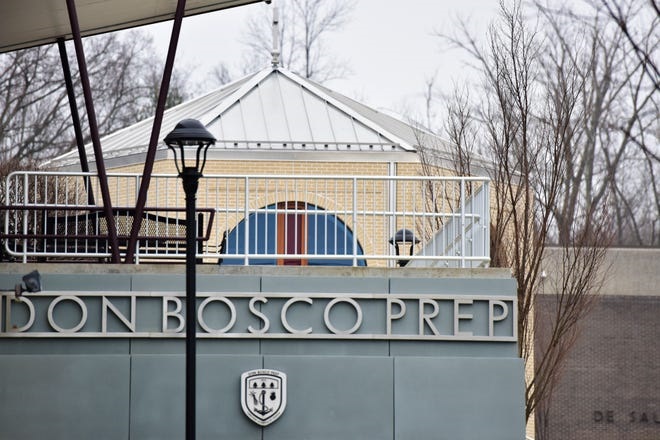 Four other lawsuits filed in New Jersey since December 2019 name three religious brothers on the order's list of credibly accused members — Sean Rooney, Joseph Maffei and Alan Scheneman — alleging abuse decades ago. All three had previously been accused of sexual abuse in a 2013 lawsuit by a former student at a Salesian seminary in New York for high school students.
In the New Jersey lawsuits, Rooney is accused of abusing two students at the now-defunct Don Bosco Technical School in Paterson; Maffei allegedly abused an altar boy at St. Anthony of Padua Church in Elizabeth; and Scheneman is accused of abusing a boy at a camp at the Salesians' Don Bosco College in Newton, which has since closed.
The lawsuits were filed after the state suspended the statute of limitations in civil sex abuse cases for two years.
None of the accused Salesians were included in any of the lists of credibly accused clerics released two years ago by the state's five Catholic dioceses. Church officials have said religious order clerics are not included because their orders, and not local bishops, are responsible for them.
However, in 2018, the New Orleans Archdiocese publicly named eight Salesians after the order told local church officials that they had been credibly accused of abusing children there. Four of those brothers also worked in New Jersey.
The Salesians declined to say whether they provided information about accused priests to New Jersey dioceses. The Paterson Diocese said it never received such information from the order. The Newark Archdiocese declined to say whether it ever received such information. The Salesians' list of accused brothers includes assignments, but not the years of those assignments or where the alleged abuse occurred.
The Salesians of Don Bosco "do not comment on the list other than the published statement that accompanies the list on the website," Father Steve Ryan, a vice provincial of the order, said in an email last Monday. Nor does the order "comment on pending litigation."
Former Don Bosco director accused
Frank Nugent, a director at Don Bosco Prep in the 1970s who died in 2011, is on the Salesians'list.
In 2002, amid the national sex abuse scandal involving cover-ups of sexual abuse by Catholic priests, a former New Jersey woman went public with allegations that she and her brother Patrick had been abused for years by Nugent, a Salesian priest, when they lived in Waldwick. The story, published in The New York Times, did not lead to many additional claims against Salesians, as the woman had anticipated.
"They've really stayed under the radar," the woman, Susan Gallagher, who now lives in Massachusetts, said of the Salesians in New Jersey.
Gallagher, 61, told The Record and NorthJersey.com that she was among a group of up to eight children who were regularly abused by Nugent in the 1970s. They weren't Don Bosco students, she said, but children who met Nugent in other ways, including several from New York City. Her brothers met him at a camp in the Catskills in the late 1960s.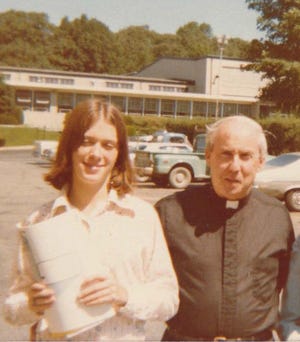 Nugent became the director of Don Bosco Prep in 1973, according to an article from that time in The Record, which noted that he was one of the few enlisted men to serve as a pilot during World War II.
He surrounded himself with children from poor families, Gallagher said, and gave them money — in some cases large amounts — so they could buy alcohol and drugs. Gallagher said Nugent paid for vacations and took her on shopping sprees to purchase clothes at the Paramus Park mall.
"Wherever he was, he was in charge of the money," Gallagher said of Nugent. "We weren't the only ones — we called it being on the payroll."
She said Nugent encouraged the children to invite friends to large parties in a house on the Don Bosco campus, and that police sometimes arrived, only to be met by the priest — who told them that everything was under control.
Years later, she said, her brother Patrick died while driving a car that was owned by the Salesians and purchased by Nugent. Patrick, 25, was despondent and drinking, she said, when he drove the car into a pond and drowned in 1980.
Nugent, she said, celebrated Patrick's funeral Mass at St. Luke's Church in Ho-Ho-Kus.
Gallagher said she first went to the Salesians with her allegations in the early 1990s, and was threatened by a religious brother, whose name she doesn't remember, who told her she would be "destroyed" if she went public with the allegations — and that any harm done to her and her brother was outweighed by the church's accomplishments.
In 1998, after learning Nugent had been working as an administrator at a youth camp in Newton, she said, she went to an attorney and was prepared to file a lawsuit. The Salesians gave her $250,000 to settle her claim, requiring her to sign a confidentiality agreement.
In 2002, a little more than a week before the New York Times story was published, the order apologized to her in an email that she provided to The Record and NorthJersey.com.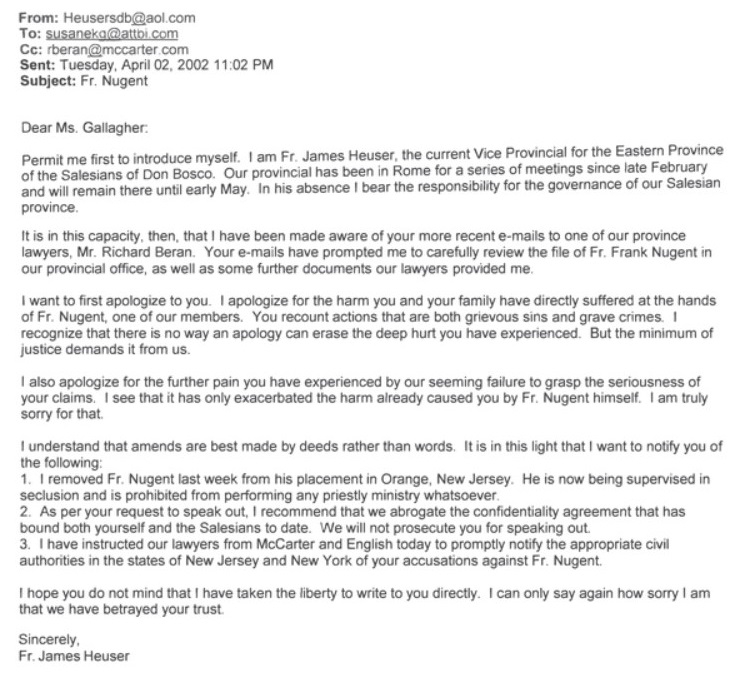 In the email, the Salesians told her Nugent was being removed from a residence in Orange and would be "supervised in seclusion." He was no longer allowed to function as a priest, and authorities in New Jersey and New York were to be notified of Gallagher's accusations against him. The order told her she was being released from the confidentiality agreement.
The email was signed by Father James Heuser, then vice provincial of the order's eastern province and now director of Don Bosco Prep. Heuser did not respond to a request for comment.
In the email to Gallagher, Heuser apologized "for the harm you and your family have directly suffered at the hands of Fr. Nugent" and made a reference to the Salesians' failure to take her allegations seriously when she first went to them.
"I also apologize for the further pain you have experienced by our seeming failure to grasp the seriousness of your claims," he wrote. "I see that it has only exacerbated the harm already caused you by Fr. Nugent himself. I am truly sorry for that."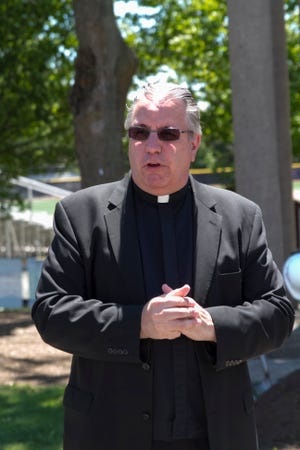 The story in The Times led to at least one new allegation, based on an examination of court records by The Record and NorthJersey.com: a 2007 federal suit that accused Nugent of sexually abusing a Don Bosco Prep student in 1976 and 1977. The accuser, who was going to therapy because of problems in his marriage, remembered the abuse in 2005when his mother sent him a copy of a Don Bosco yearbook that contained photographs of Nugent.
An internet search led the accuser to read about a settlement related to Nugent, according to the suit — apparently Gallagher's case. He contacted a New Jersey attorney, Stephen Rubino, who had represented Gallagher.
The plaintiff "was flooded with memories of his abuse," the lawsuit said, and called his therapist to say he had "discovered important information regarding his high school experiences that he thought might be related to his psychological problems."
The lawsuit was settled in 2008, according to federal court records.
The Salesians' list of credibly accused members of the order — which can be found under the heading "Creating Safe Environments" on the order's website — indicates that 28 of the 40 accused brothers are deceased. Five are listed as having been laicized. More than a dozen withdrew from ministry, many without any form of punishment listed.
"Apparently the Salesians kick the sexual abusers out without notice to the public as a means of irresponsible damage control," Mitchell Garabedian, an attorney who has represented almost 50 clients who have accused a Salesian brother of abuse, said in an email. "The sexual abuse committed by Salesian priests and brothers is as widespread as you will see anywhere in the Catholic Church."
Jeff Herman, an attorney whose firm represents three plaintiffs accusing Salesians of abuse in New Jersey, said dioceses should include members of religious orders on their lists of accused clerics because it helps victims to come forward and "exposes the predators who may still be out there." He said survivors of abuse by those in religious orders often "have to go on a hunt" to find other accusations against their abusers.
The Salesians were founded in the late 19th century by St. John Bosco to care for poor children during the Industrial Revolution, according to the Don Bosco Prep website, which said it was among the largest Catholic religious orders, with more than 20,000 members worldwide as of 2000.
"Mean and abusive with students"
The most recent New Jersey lawsuit, which was filed a little more than a week ago, alleges thatBrinkman, a religious brother and an algebra teacher at Don Bosco Prep in Ramsey, sexually assaulted a 10th grade student in 1977 or 1978. The plaintiff is a 59-year-old transgender woman who had not yet identified as female while attending the all-boys school, said her attorney, D. Alexander Latanision.
Brinkman allegedly grabbed the student "and pulled him through the hallways, down a flight of stairs and out of the school building," forcing the plaintiff to go with him to the basement of a nearby Salesian residence, where the student "was punched with closed fists," and then allegedly raped.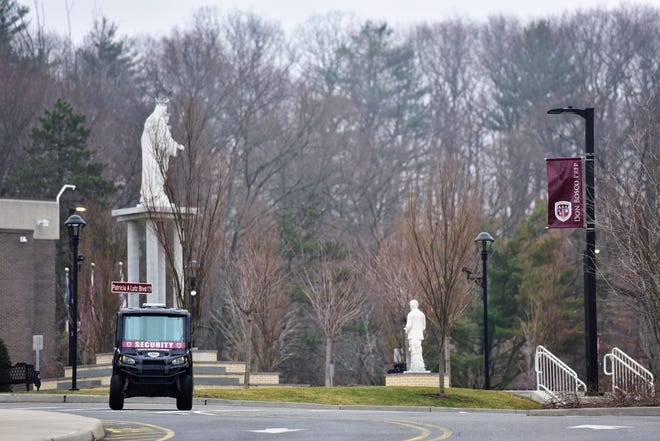 Timothy Zak, the provincial superior of the Salesians' eastern province, declined to discuss specific information about brothers who have been accused of abuse, although he said this appears to be the first time Brinkman has been accused and confirmed that he is now living at a Salesian residence in Florida.
Brinkman, reached at his residence by telephone, said he did not understand the questions when he was asked about the allegations. He said he lived at Don Bosco from 1976 to 1979 but didn't teach there. He asked for questions to be sent to him by email. He did not respond to the emailed questions.
Brinkman taught math at Don Bosco Prep in Ramsey, then was appointed principal of Don Bosco Technical School in Paterson in 1979, according to an article published in The Record at the time. He had worked at Salesian schools for 18 years before becoming principal of the Paterson school.
Other New Jersey allegations
Several other Salesian brothers from New Jersey have been named in lawsuits filed in other states.
Garabedian filed a 2013 lawsuit in Massachusetts, which was later settled, accusing several Salesians of abusing a 14-year-old boy in the late 1970s and early 1980s. The plaintiff had been a student at the Salesian Junior Seminary, a New York high school for boys aspiring to join the order.
One of the accused was Richard McCormick, who was the provincial leader of the Salesians when he was arrested on sexual assault charges in 2012. He died last year while serving a prison sentence for the sexual abuse of two boys in the 1980s, according to multiple published reports.
Three of the Salesians accused in the Massachusetts lawsuit — Rooney, Maffei, and Scheneman — have been accused in recent New Jersey filings.
In separate lawsuits, two men said Rooney, an order priest, sexually abused them in the 1970s when they attended Don Bosco Technical School in Paterson. One of the men alleged that he was sexually abused more than 100 times. Rooney, who lives in Arizona, could not be reached for comment. He later worked at Don Bosco Prep in Ramsey, where he was a librarian and theology instructor, according to a 1981 report published in The Record. The Salesians list him as being laicized in 2008.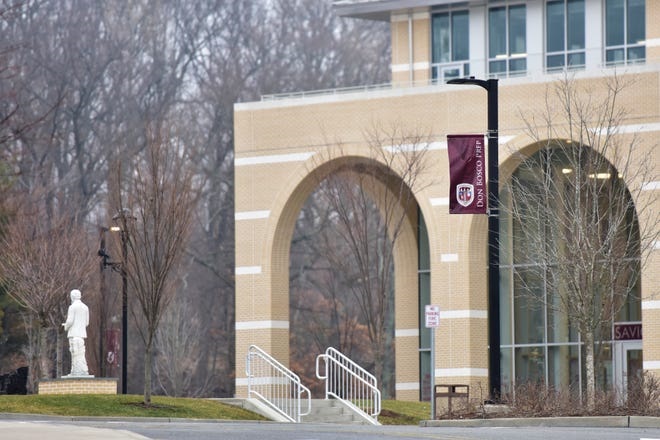 Maffei, a Salesian priest, allegedly abused an 11-year-old altar boy in 1984 after a funeral service at St. Anthony of Padua Church in Elizabeth. The lawsuit alleges that the priest continued to abuse the boy for four years. The Salesians list Maffei as having died in 2009.
Scheneman, a Salesian brother, allegedly abused a boy who was attending a summer camp in the early 1980s in Newton. Scheneman was teaching photography at the camp, according to the lawsuit. The Salesians' list indicated that he "withdrew" from the order in 1982. He is not listed as having a New Jersey assignment.
The Paterson Diocese initially was named as a defendant in three of the recent lawsuits. However, the diocese was dismissed from all three cases because the facilities where the alleged abuse took place were not under its control, according to the diocese attorney, Ken Mullaney. The attorney said the Salesian brothersno longer operate any facilities within the Paterson Diocese.
The Newark Archdiocese has been named as a defendant in two of the cases, involving Don Bosco Prep and St. Anthony of Padua in Elizabeth. The archdiocese said in a statement that it could not discuss "matters in litigation" and "will continue to work with victims" and law enforcement "to resolve allegations."
Garabedian said he has settled cases against at least eight Salesian brothers. Most of the cases have been outside New Jersey, but four of the brothers worked for a time in the state — Maffei, Rooney, Scheneman and George Sheehan, who died in 2006 and whose assignments included Don Bosco Tech in Paterson and Don Bosco Prep in Ramsey.
The attorney said he has settled one New Jersey claim, which he brought to the Salesians several years ago but did not file as a lawsuit, on behalf of an accuser who said he was abused by Rooney at Don Bosco Tech in Paterson in the 1970s. Garabedian said he plans to file a civil complaint naming another Salesian brother who allegedly abused a 13-year-old boy at a summer youth camp in Newton. The alleged abuser in that case does not appear on the Salesian's list of credibly accused brothers.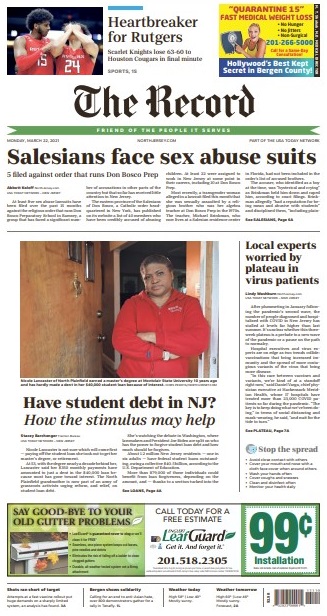 [This article appeared on the front page of The Record.]
Abbott Koloff is an investigative reporter for NorthJersey.com. To get unlimited access to his watchdog work that safeguards our communities and democracy, please subscribe or activate your digital account today.
Email: koloff@northjersey.com
Twitter: @abbottkoloff
https://www.northjersey.com/story/news/2021/03/22/don-bosco-nj-salesian-order-sex-abuse-lawsuits/4711112001/