SANTA FE (NM)
Santa Fe Reporter [Santa Fe NM]

April 21, 2021
By Katherine Lewin
Hotel owner and elder school both make a play for Immaculate Heart property
Perched in the city's eastern foothills, the Immaculate Heart of Mary Retreat and Conference Center sits in near silence. The coronavirus stopped most activities on the property that's cradled by the Carmelite monastery, a residential neighborhood of expensive adobes and Museum Hill.
But behind the scenes in recent months, at least two buyers made offers to buy the retreat and conference center property from the struggling Archdiocese of Santa Fe, and a bidding war appears to be taking shape.
The owner of a company based in Austin, Texas, says he has a purchase agreement with the archdiocese to buy the property and turn it into a hotel with a restaurant and bar, which has set off concerns among current tenants and neighbors about noise, a change of pace in the area and proposed rezoning that would be required for such an operation.
A second company has also bid on the property, making the future a bit more uncertain.
Those worried about what would happen if the retreat center took on a commercial bent include David Van Winkle, a board member for the New Mexico Performing Arts Society, which has historically put on concerts in the chapel there.
"This major change in use will require re-zoning by the City of Santa Fe and a liquor license. There is significant risk in obtaining these authorizations, due to its proximity to religious, educational and residential areas," Winkle wrote in a letter to the Archdiocese of Santa Fe's bankruptcy attorneys and trustees on behalf of the society. "The current zoning does not allow for a restaurant and bar, so they would have to have a waiver approved by the Carmelite nuns, Santa Fe Prep, and others, in order to close the purchase."
About 12 acres of historic buildings, including offices, the chapel, a gym and guest rooms have been on the market as the archdiocese attempts a bankruptcy settlement with hundreds of claimants who say they or their children survived abuse at the hands of priests. The sale of the retreat center is part of a much larger sell-off of other properties, including the St. Francis Cathedral School in downtown Santa Fe.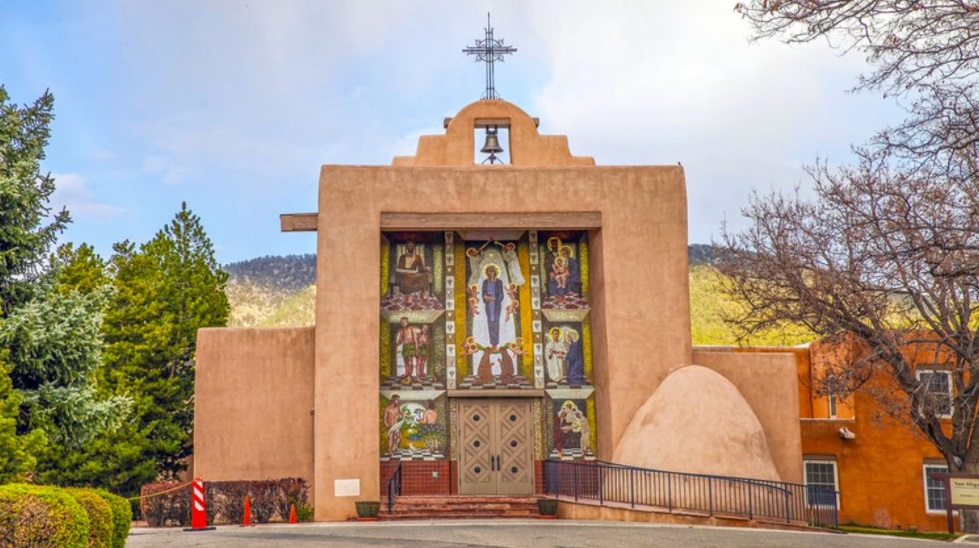 On Feb. 26, the archdiocese and Austin's Mighty Tai entered into a purchase agreement for $6.4 million for the property, according to court documents. On March 19, the church filed a motion authorizing the sale. Because the property is in bankruptcy court, a court order signed by a judge is necessary for a sale to go through after both sides present their case either for or against the purchase.
But the church withdrew that motion April 9, citing a competing bid that "appears to be a higher and better offer" to consider, according to court documents. The document does not specify what company submitted a competing offer or for how much, and the archdiocese did not reply to requests for comment by presstime.
According to James Stang, a California-based attorney who represents a group of survivors and parents of survivors of priest abuse in the bankruptcy case, the other bidder is Modern Elder Academy, which bills itself as a "midlife wisdom school."
A representative from Elder declined to comment on any interest in the property, though this spring the academy bought nearly 2,600 acres of the Saddleback Ranch in the Galisteo Basin outside of Santa Fe, which will be repurposed to house the second MEA campus, a regenerative farm and ranch, and a small residential community, according to a company news release.
It's not clear exactly how MEA would utilize the eastside center.
"[MEA has] undertaken a lot of what I'll call public relations efforts to convince the archdiocese and us, frankly, that we should support the offer," Stang tells SFR.
While there is still a purchase agreement between Mighty Tai and the archdiocese, no sale is set in stone yet, according to Jennifer Jenkins, a local land use and project management contractor who is working with the company.
The man behind the Mighty Tai offer is Jack Barron, the founder of Mighty Union, a hotel management company also based in Austin. Barron tells SFR he lived in Santa Fe in the 1980s and 1990s and that he and his wife have bought a house in the City Different and will be back in town by June 1.
Barron says Mighty Tai includes "silent" and "capital" partners and that his company is the "talent." Mighty Union has four total properties—the retreat center would be the fifth, he says. The company operates The Carpenter Hotel in Austin, restaurant Pepe Le Moko Spirit of 77 in Portland and The Suttle Lodge in Deschutes National Forest in Oregon. Two other properties, one in Honolulu and another in San Antonio, are under renovations to become small hotels.
Barron says there would be no additional building on the property, and they would instead renovate it for the use as a hotel. They would also allow Santa Fe Workshops, which has had a space on the property for several decades, to remain.
But the company would face rezoning hurdles in front of the City Council if it is ultimately the winning buyer. Using the property as a hotel and restaurant would only happen if officials agree to rezone it for commercial uses, according to Jenkins, including a planned unit development overlay. It's currently zoned residential.
"Right now there are somewhere between 50 and 60 rooms there, and it's actually been operating as a retreat center for the past 20 years, which is functionally a hotel," Barron says. "In essence…we want to run those buildings as a hotel. We're not going to add any more capacity or any significant capacity. It's just going to be about the same level of what they can do. We're just going to hopefully be more successful at it."
Katherine Lewin is a Florida native in Santa Fe to cover the texture and life of the city's Southside using writing, photography, videography and audio. She's a grant-funded fellow in the Report for America program. Her second year as a corpsmember began June 1, 2020.
https://www.sfreporter.com/news/2021/04/21/bidding-war/