CAPE TOWN (SOUTH AFRICA)
Cape Argus [Cape Town, South Africa]

April 11, 2021
By Bulelwa Payi
Activist organisations have welcomed the decision by the Anglican Church to launch an investigation into allegations of rape against one of the priests.
The church announced that a tribunal would hear the case involving allegations of rape by Reverend June Major against another cleric.
This followed protests and hunger strikes by Major since 2016, demanding that a tribunal be set up to investigate the alleged rape and be allowed to serve again as a priest.
Major said she hoped that the tribunal would also look into the role of the church in protecting the alleged rapist as he continued to minister in the Diocese of Cape Town.
The alleged rape incident took place in 2002 in Makhanda (Grahamstown) while Major was at theological seminary.
The case will be heard in terms of the church law, known as canons, and will involve public sessions.
However, Major said she was told that she would only be allowed to be represented by a lawyer who was a member of the Anglican church.
"I cannot afford legal representation, I have not been working for years but I am prepared for the case. I have to see it to the end. even without representation. I've carried the weight of the rape incident for 18 years.
"I also have to do it for any other survivor from a disadvantaged community who would not be able to afford a lawyer. Often, they are scared to testify in cases because it's their word against the perpetrator.
"The Anglican Church is also the second biggest church in the world, that's intimidating for people. Whatever happens in this case, I am prepared for it," said Major.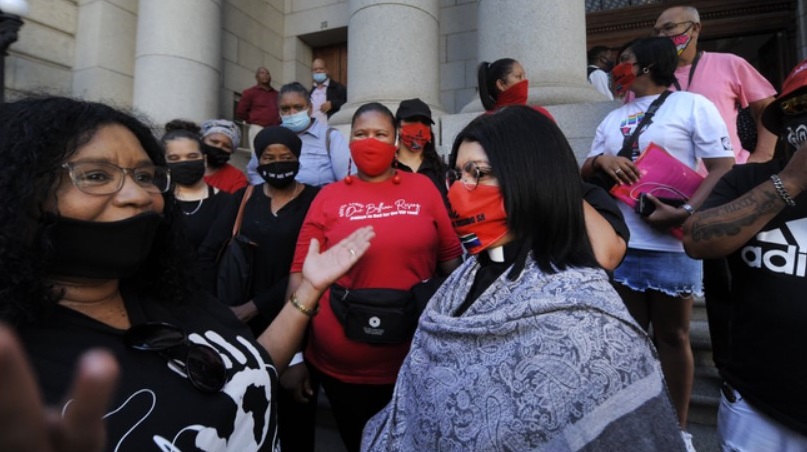 The case is scheduled to be heard in mid-May, according to the church, although June said she had asked that it be held later as she had to go back to the high court on May 24 after she named the alleged perpetrator.
"I felt I could not continue to hide his identity while I was still bearing the brunt of what happened. I have asked the church to be given time to focus on that case first and then the internal one," she added.
The Safe Church Commission said both Major and the alleged perpetrator were allowed to have legal representatives of their own choice and may also bring a friend or family member for support.
The commission said there was no requirement that the lawyer should be Anglican.
According to the church, the accused was "not serving in any parish or carrying out any ministry".
The chief executive of activist group, People Opposed to Women Abuse (Powa), Mary Makgaba said it would go against the Constitution if Major was not allowed a lawyer of her choice.
"Not being given the freedom to choose whichever lawyer she wants undermines her human rights," said Makgaba, adding that such a move might lead to a perception of "bias and lack of objectivity".
"It must also be highlighted that churches need to be regulated as the rate of allegations of rape of young girls was high," Makgaba said.
Director of Molo Songololo, an organisation against sexual abuse, Patric Solomons, said it was important for the church to "listen, investigate and respond" to allegations by victims.
Solomons said the church would also be judged in how it dealt with the case and made it easier for other victims to report crimes of sexual abuse and rape.
"The church cannot hide behind religious doctrine in relation to dealing with allegations against priests and staff members. It's important that they are seen to be doing something and demonstrate that they are against sexual violation of people," said Solomon.
An accused who is found guilty is liable to penalties ranging from being admonished to being suspended for a period and/or deposed from being a priest, said the church.
https://www.iol.co.za/weekend-argus/news/church-sets-the-motion-to-hear-rape-case-against-priest-d938f9ae-5e0b-4450-b315-b4dc97d210c2