WELLINGTON (NEW ZEALAND)
Stuff [Wellington, New Zealand]

March 26, 2021
By George Heagney
The disgraced bishop of Palmerston North, Charles Drennan, still retains his title, but must follow conditions imposed on him by the Vatican, a commission has heard.
Cardinal John Dew apologised to victims of abuse from the Catholic Church at the Royal Commission into Abuse in Care on Friday and he also discussed Drennan's resignation.
Drennan resigned as Palmerston North bishop in October 2019 after allegations involving an inappropriate relationship and harm of a young woman who was not a minor.
Drennan has not been laicised, which is the loss of clerical character but not the same as resignation, and remains a bishop, but must operate under conditions imposed by the Vatican.
"He was to move out of the diocese of Palmerston North and find accommodation outside the dioceses," Dew said. "He is not to participate in any public ministry whatsoever.
"He is not to wear any episcopal attire or similar …. nor to participate in any celebration or function as a bishop."
If Drennan wants to leave the country, he has to tell the apostolic nuncio, a diplomatic representative in the country, he wants to visit and abide by their instructions.
The church's lawyer Sally McKechnie asked Dew why Drennan was still a bishop.
"That is entirely Rome's decision," Dew replied. "The Pope is the only one that can remove a bishop from office.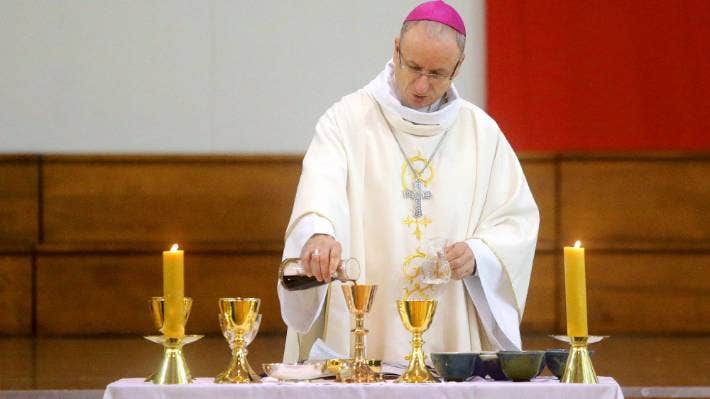 "They have all the information from the investigation. I really don't know why he is still a bishop."
Dew said there were cases where a bishop had been demoted to being a priest, but he didn't think it could be done in a small country like New Zealand.
"If [Drennan] was [demoted to being a priest], I think they would have to be very careful where they put him and have clear safeguarding procedures put in place."
Dew said no-one asked for Drennan's laicisation and it was a grey area.
"I sent in my votum​ about the complaint and it was up to Rome to decide what his future might be."
After Drennan's resignation was registered by Pope Francis, Dew was made apostolic administrator of the diocese of Palmerston North.
During his apology, Dew said there was no excuse for the actions of those in the church that had harmed people.
"Any kind of abuse is unacceptable and indefensible. We are deeply sorry."
He was committed to supporting a culture that prevented bad behaviour.
Dew also spoke about the church historically dealing with complaints of sexual abuse.
"I think they genuinely believed if a priest said, 'yes this happened and it won't happen again', they took them at their word.
"In the case of paedophilia they didn't realise this was a major psychological problem."
https://www.stuff.co.nz/national/300263074/disgraced-palmerston-north-bishops-future-lies-with-the-vatican