VANCOUVER (CANADA)
Vancouver Sun [Vancouver, British Columbia]

April 7, 2021
By Keith Fraser
A former Catholic archbishop has been ordered by a B.C. judge to give evidence in old sex-abuse case.
A former Roman Catholic Archbishop of Vancouver has been ordered by a judge to give evidence in old sex-abuse case, the second time he will have given evidence in such a case.
The case involves a man named Mark O'Neill alleging that he was physically and sexually abused when he was a student at the Seminary of Christ the King in Mission. He claims that several former Benedictine priests abused him while he was between the ages of 13 and 17, with the alleged incidents occurring between 1974 and 1978.
In a court application, he sought to have Archbishop Emeritus Adam Exner, who served as Archbishop of Vancouver from 1991 to 2004, to be compelled to attend an examination for discovery, a pretrial questioning of a witness.
Exner is not himself named as a defendant but the Roman Catholic Archbishop of Vancouver, in its corporate capacity, is named as one of the defendants.
O'Neill alleges that the corporate Archbishop defendant negligently failed to take reasonable steps to mitigate a known risk posed by the other defendants and is vicariously liable for their conduct. He claimed that Exner was the most appropriate representative to be questioned on behalf of the Archbishop even though he held that position decades after the events in question. O'Neill argued that Exner was archbishop at a time when one of the priest defendants was tried criminally for some of the events in question and acquitted, and Exner was personally involved in dealing with the consequences of that criminal trial.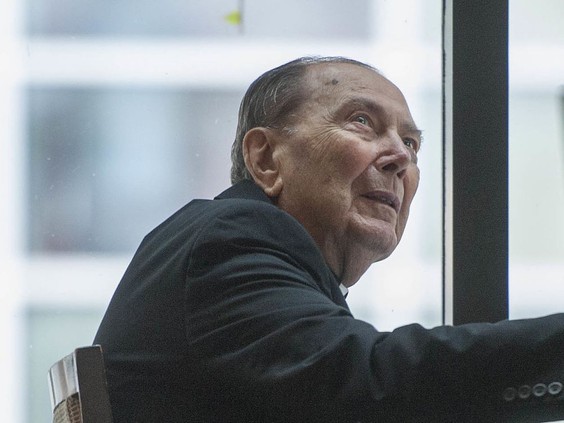 Documents indicated that Exner had at least some indirect personal involvement in possibly relevant events at the time, including Exner writing a message after the trial that it was prudent for the priest in question not to be allowed to teach any longer.
The Archbishop of Vancouver defendant opposed the application for Exner to be examined, proposing another church official to be questioned instead, and noting Exner's advanced age and poor mental and physical health.
O'Neill's lawyer pointed out that in 2019 Exner had testified at the trial of a woman who claimed that she had been sexually abused by a priest in Kamloops while Exner was the bishop in that community. That case, which didn't name Exner as a defendant either, resulted in the victim, Rosemary Anderson, being awarded $844,000 in damages.
In his ruling on O'Neill's application, B.C. Supreme Court Justice Warren Milman concluded that the appropriate order was to allow the examination of Exner under certain conditions.
The decision was handed down in November but the written ruling was posted on the court's website last Thursday. The trial in the case is scheduled for September 2022. The corporate Archbishop of Vancouver defendant has denied that it should be held liable for any damages.
https://vancouversun.com/news/former-catholic-archbishop-ordered-to-give-evidence-in-old-sex-abuse-case