(ITALY)
Catholic Herald [London, England]

April 24, 2021
By Christopher Altieri
Over the past few years, journalists – including this Vatican watcher – and experts in a host of related or adjacent fields have written ad nauseam about "the state of reform" in the Catholic Church, especially regarding juridical reform, broader legal reform, and general reform of the leadership culture.
The premise has always been the same: that there is a conscious and deliberate reform effort underway at every level of ecclesiastical life and governance, driven by persons appalled at the status quo and spearheaded by reformers who want to get it right.
Events of the past two weeks make it abundantly clear that it is time to challenge that premise.
At very least, it is time to allow that cases before the public suggest things may be otherwise.
Crookston
Last week, Pope Francis accepted the resignation of Bishop Michael J. Hoeppner from the Diocese of Crookston, Mn. Crookston said Pope Francis had asked Hoeppner to resign after an investigation conducted somehow under the auspices of Vos estis lux mundi – the sweeping paper reform ostensibly designed to facilitate the reporting of abuse and coverup and streamline the investigation and prosecution of abuse and coverup allegations.
Allegations have been before the public for years, saying that Bishop Hoeppner pressured a man in training for the Crookston diaconate to keep quiet about abuse he claimed to have suffered, and demanded that the man recant his allegation – which the fellow did did in a 2015 letter.
Bishop Hoeppner has denied the allegation of coercion, and stated under oath that he declared Grundhaus fit for ministry despite his knowledge of the allegation in order to protect the identity of the alleged victim.
Neither the Vatican nor Crookston revealed any specifics regarding the findings of the late Vos estis investigation.
Archbishop Bernard Hebda of St. Paul-Minneapolis had the task of conducting the inquiries. The Archdiocese of St. Paul-Minneapolis put out a statement saying saying that the investigator looked at an allegation Hoeppner "had intentionally interfered with or avoided a canonical or civil investigation of an allegation of sexual abuse of a minor."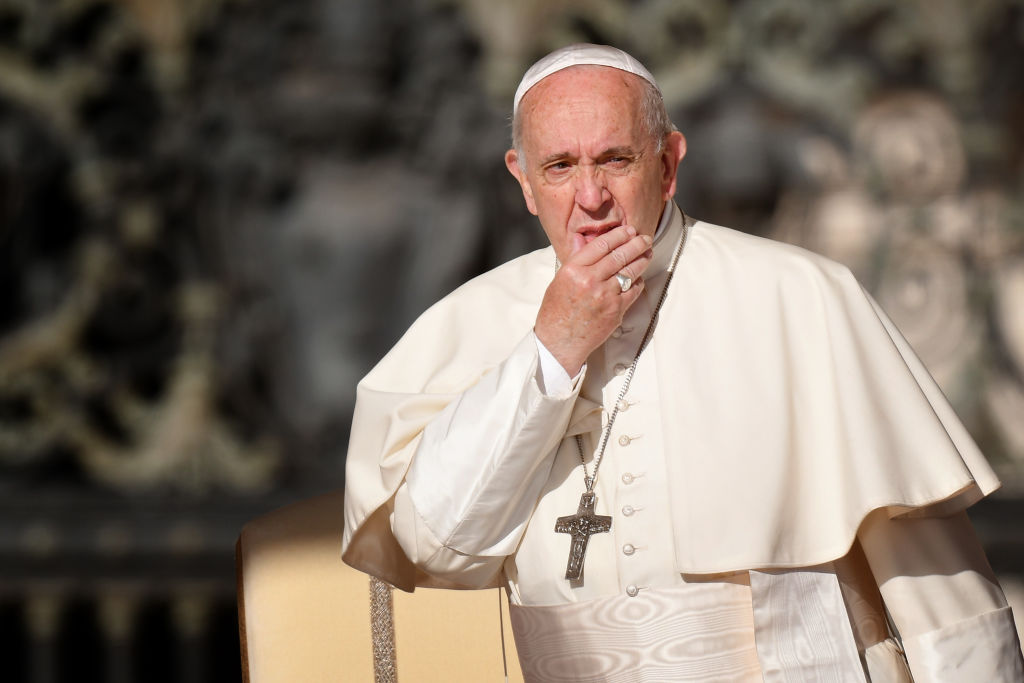 When Bishop Hoeppner discussed the matter in a letter to the faithful of Crookston, he wrote that his resignation came as a result of investigation into reports that he had "failed to observe applicable norms when presented with allegations of sexual abuse involving clergy of the Diocese of Crookston."
There could be at least an iota's difference between intentionally interfering in an investigation and failing to observe applicable norms. Either the PR flacks didn't notice, or the Churchmen calling the shots thought nobody would, or maybe it's a little from Column A and a little from Column B.
Did the object of the inquiry change? Is this a clue to the findings? Why not just come out and say what happened, and who made what judgments, and why?
Then — maybe — getting the apparent discrepancy in front of the public and hoping someone would notice was the best the locals could do. It happens all the time that folks in all sorts of large, multi-level organizations have to find a way to operate under constraints they'd rather were not in place. But, why?
The statement from the Archdiocese of St. Paul-Minneapolis said in essence that the investigation — three of them, or one big inquiry in three discrete phases, depending on how you slice it — was Very Thorough, Indeed. St. Paul-Minneapolis said next to nothing, however, about the actual contents of the report that went to the Vatican, nothing about subsequent proceedings, their eventual outcome, penalties, restrictions, sanctions or other measures taken (or not) against Hoeppner.
Nobody did.
When I asked the Vatican whether Bishop Hoeppner has emeritus status, the Press Office referred me to Crookston's statement. I'd already written to Crookston, and would write again. Crookston never acknowledged receipt of my queries. When I asked St. Paul-Minneapolis, their comms department referred me to the Vatican. I called the Congregation for Bishops this week, and put my queries in an email (per their instructions), addressed to the Secretary: Archbishop Ilson de Jesus Montanari. Crickets.
"The CYA Olympics," is how a friend described it — I wish I'd come up with that myself — archly and accurately.
Bishop Hoeppner celebrated his own farewell Mass last week, apologizing for "any failures that are mine" and insisting that the liturgy he was celebrating was "a Mass of thanksgiving" for his 13½ years in Crookston. "It's been a real joy," he said, "and a treat."
Cincinnati
Also last week, word got out that the Archdiocese of Cincinnati wants to give a new multi-parish assignment to a former auxiliary bishop and head of the diocesan priest personnel board who allowed a priest with multiple allegations of inappropriate behavior to become pastor of the parish with the largest Catholic elementary school in the state of Ohio.
Bishop Joseph Binzer received separate complaints in 2013 and 2015 against Fr. Geoff Drew, of various inappropriate behavior. Binzer passed the complaints to law enforcement, but did not inform his principal, Archbishop Dennis Schnurr. Binzer also apparently left reports of the complaints out of Drew's personnel file.
In 2018, two things happened: Fr. Drew put in for a transfer to St. Ignatius parish and school apparently because it was closer to Drew's ailing mother; Archbishop Schnurr found out about the 2015 complaint — but not before Drew's transfer to St. Ignatius had gone through.
Short version: Bishop Binzer chose to deal quietly with complaints of inappropriate behavior, and apparently arranged things so the personnel board did not have the complaints on record when they considered Drew's 2018 request for assignment to the parish with what is reportedly the largest Catholic elementary school in the state.
Parents found out, and they didn't like it.
Eye on the timeline: Archbishop Schnurr left Bishop Binzer in charge of the Priest Personnel Board for roughly a year after finding out about his administratively irregular handling of Fr. Drew's business.
Binzer, by the way, also kept his seat on the USCCB's child protection committee during that time.
It gets worse.
In 2019, Fr. Drew was arrested and charged with multiple counts of child rape. Drew has entered a Not Guilty plea and is now facing criminal trial and possible life sentence on charges he repeatedly raped a boy years before entering formation for the priesthood.
The Archdiocese of Cincinnati eventually sent a file package to the Congregation for Bishops, and Bishop Binzer eventually resigned as auxiliary, but what precisely came of that report — if anything — to this day remains mostly a mystery. The report does appear to have been narrow in scope.
Prosecutors in the rape case against Fr. Drew claim to have unearthed evidence of several different reports, and plan to call witnesses. Local Fox News affiliate FOX19NOW, in a story about a judge's denial of Drew's motion to dismiss the case – a fairly standard part of pre-trial proceedings, which requires prosecutors to reveal something of how they plan to organize and present evidence – included a link to filings obtained, which suggest there was plenty more for Church investigators to find, if they'd had a mind to find it.
Buffalo and beyond
The troubled see of Buffalo, NY, provided the highest-profile US case of abuse and abuse-coverup in the Vos estis era to-date (excluding L'Affaire McCarrick, which so far is in a class by itself).
There, the Holy See spectacularly decided not to use the new law, at all. Instead, they opted for a conspicuously confidential Apostolic Visitation.
That was after whistleblowers and investigative reporters spent nearly two years gathering and producing evidence of protracted and significant failure to govern, and despite calls for Church leaders to intervene since at least 2018.
Bishop Nicholas DiMarzio of Brooklyn is the subject of a Vos estis inquiry — possibly on hold pending resolution of matters in the civil sphere — but was also the bishop appointed to conduct the Buffalo Visitation.
A couple of retired Polish bishops have been investigated and subject to some sort of process and sanction under Vos estis, but bishops like Cardinal Philippe Barbarin in Lyon have not.
In Crookston, the main question was where Bishop Hoeppner's actions fell on the Corleone Scale. Nevertheless, Pope Francis allowed Hoeppner to resign rather than be deposed, and let him celebrate his own farewell Mass, and let him frame the terms of his departure, and — apparently — is letting him come and go from the diocese as he pleases.
As I noted the other day, early retirement with honor and a new address in the Sun Belt isn't punishment, it's reward.
The broad and the narrow
If Vos estis isn't also for places like Buffalo and Cincinnati, where things are clearly amiss, then it really isn't much good.
Heading into this weekend, reports hit of a statewide investigation into the Catholic Church's handling of abuse cases in Wisconsin, led by the state's Attorney General, Josh Kaul. There are indications the scope of the investigation is broad — encompassing abuse of both minors and adults — but the Herald is waiting for confirmation.
The Diocese of Green Bay says there is to be a meeting with the Wisconsin Department of Justice on Monday, after which we may know more for sure.
Wisconsin's investigation is neither the first nor the only one of its kind. By November of 2018, it was clear that the Catholic Church's house will be clean, one way or another. The only questions were: whether it would be Churchmen doing the cleaning or Caesar; and whether the cleaning would come before the fire sale, or after it? In 2019, it was already apparent that "Caesar" and "after" were becoming the more likely answers with each passing day.
Also on Friday, The Pillar reported that the Congregation for Bishops has received several complaints about Bishop Rick Stika of Knoxville, who could be facing a Vos estis investigation as a result of them. One in particular involves a seminarian against whom several "boundary violations" are alleged. The seminarian has been living with Stika and caring for Cardinal Justin Rigali (86 and in frail health, who also lives with Stika), while he — the seminarian, that is — undertakes a two-year "discernment" period.
The Pillar reports that Bishop Stika is convinced there's nothing to see there, but also quotes an unnamed official in the Congregation for Bishops who says the complaints against Stika "are not light matters, and they are being considered seriously."
"If you run that story you're going to be embarrassed in a couple days," Stika told The Pillar.
Boy, howdy.
You know what would clear all this up? If you said, "An investigation," you win the prize.
Only, here's the thing: If Vos estis is to be anything but the courthouse in the Potemkin village of Church reform, Churchmen high and low must apply it rigorously, consistently, and transparently.
If there are stalwart reformers — and we know there are some of the clerisy genuinely committed to the work of ripping out the rot and repairing the Church's leadership culture — we might nonetheless reasonably wonder whether they have the wherewithal to bring about meaningful reform.
The Psalmist is wise: "It is better to take refuge in the Lord than to trust in man. It is better to take refuge in the Lord than to trust in princes." The men who wield power in the Church need not go to such lengths to prove the Psalmist right.
https://catholicherald.co.uk/responsibility-accountability-transparency-the-state-of-church-reform/