CHICAGO (IL)
New York Times

May 24, 2021
By Azi Paybarah
There is "insufficient reason to suspect" that the Rev. Michael Pfleger is guilty, the Archdiocese of Chicago announced.
The Rev. Michael Pfleger, an influential Roman Catholic priest who temporarily stepped aside from his parish on the South Side of Chicago in January after he was accused of sexually abusing a minor more than 40 years ago, will be reinstated after an internal investigation found "insufficient reason to suspect" he was guilty, the Archdiocese of Chicago announced on Monday.
In a letter to the Faith Community of St. Sabina, the parish where Father Pfleger is assigned, Cardinal Blase J. Cupich said that the archdiocese's Independent Review Board and its Office of Child Abuse Investigation and Review, as well as outside investigators, had "conducted a thorough review of the allegations."
"The Review Board has concluded that there is insufficient reason to suspect Father Pfleger is guilty of these allegations," the cardinal wrote. He said he accepted the decision and would reinstate Father Pfleger to his position as senior pastor at the church beginning June 5.
Father Pfleger, who did not return a telephone message left at his church or an email sent on Monday evening, wrote on Facebook that he was "overjoyed" by the decision to reinstate him after having been removed "because of False Accusations."
A separate investigation by the Chicago Police Department is continuing. "It is still an open and active investigation," Steve Rusanov, a spokesman for the department, said in a statement.
The inquiry into Father Pfleger was announced on Jan. 5., after the archdiocese received an allegation that he sexually abused a minor more than 40 years ago. "Allegations are claims that have not been proven as true or false," Cardinal Cupich wrote at the time. "Therefore, guilt or innocence should not be assumed."
After the first accuser came forward, two more did, too. The second accuser is the older brother of the first accuser; the third accuser is a man not related to the brothers, according to Eugene Hollander, a lawyer representing all three men.
On Monday, Mr. Hollander said his clients had presented "a staggering amount of evidence" to church investigators. "What do I have to do, produce 10 victims to say they were allegedly abused by Father Pfleger?" he asked.
Father Pfleger has cut a striking figure in four decades at St. Sabina. In 1981, at age 31, he began working in the parish, in the Auburn Gresham neighborhood of Chicago, which has about 2,000 parishioners, most of whom are Black.
His unorthodox approach to activism has drawn widespread attention. He staged sit-in protests at drug paraphernalia shops. He painted over liquor billboards in poor neighborhoods. He paid prostitutes for their time so he could preach to them and help them find a path out of poverty and drug addiction.
In 2008, he was briefly placed on leave after he mocked Hillary Clinton in a sermon at Trinity United Church of Christ, President Barack Obama's former church. On New Year's Eve in 2020, he led a silent march in Chicago's most expensive shopping district to call attention to the more than 750 homicide victims in the city that year.
After the abuse allegations surfaced in January, Father Pfleger agreed to cooperate with investigators and to live away from the parish during the investigation, the cardinal wrote.
At the time, Father Pfleger wrote on Facebook that he was "devastated, hurt and yes angry but I am a person of faith, I Trust God." He also said church officials had asked him not to speak out, adding: "Pray also for the person, my life is more than a 40 year old accusation, and on that and my Faith I will stand."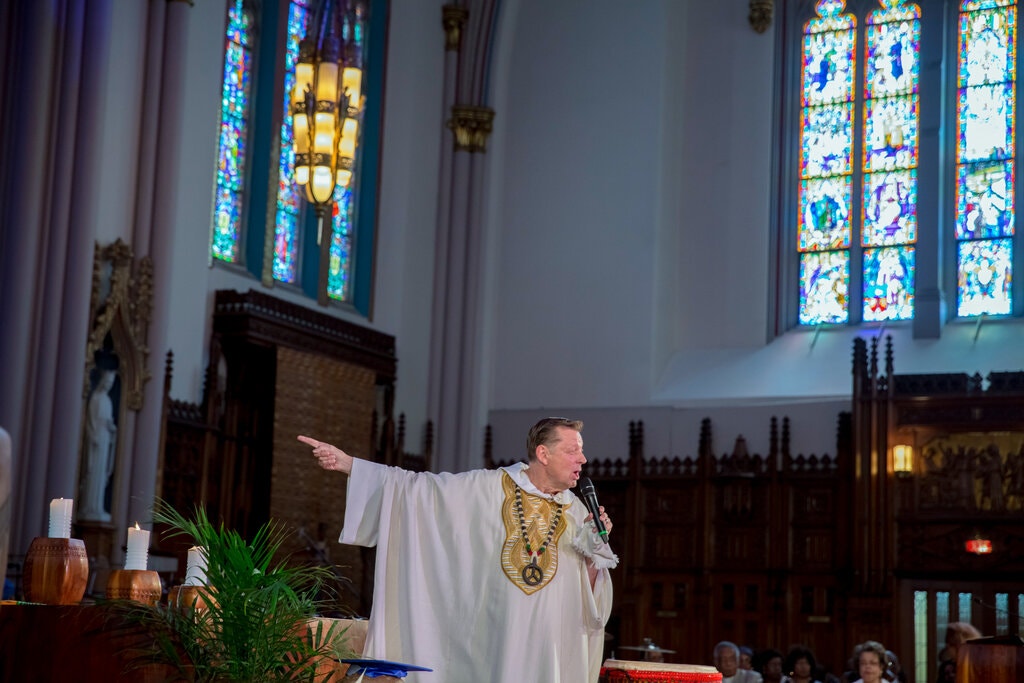 Mr. Hollander said his clients had spoken at length with church investigators. They described details only a person who had visited the pastor's bedroom would know, he said.
"No one was supposed to be in the bedroom of a priest at a rectory, period," Mr. Hollander said. "And these brothers were granted access, as well as the other victim, and they can recall all of these details which someone off the street, perhaps a parishioner of St. Sabina, would have no knowledge about that."
In January, the archdiocese said it reported the allegations against Father Pfleger to the Illinois Department of Children & Family Services and to the Cook County State's Attorney's Office.
Jassen Strokosch, a spokesman for the Illinois Department of Children & Family Services, said on Monday that the agency is authorized to investigate allegations only when the victim is a minor at the time the allegation is made. (Mr. Hollander said his clients were all over 18 years of age.)
In February, the department announced that it could not investigate the matter because the people making the accusations against Father Pfleger were adults.
On Monday, a spokesperson for the Cook County state's attorney said it had not received any information about accusations against Father Pfleger from the police.
In his letter on Monday, Cardinal Cupich said the reinstatement of Father Pfleger would occur in "the next two weeks to prepare himself spiritually and emotionally to return, realizing that these months have taken a great toll on him."
A telephone message left at the Archdiocese on Monday evening was not immediately returned.
"It's a difficult day for them to reckon with," Mr. Hollander said of the three accusers' reactions to Father Pfleger's reinstatement. "My clients, on a person level, don't feel vindicated, but I think they needed to do this to make them feel complete, in order to move on with their lives."
Azi Paybarah is a reporter covering breaking news, based in New York. Before joining The Times in 2018 he covered politics for WNYC and The New York Observer. He helped launch the website that later became Politico New York and co-founded the FAQ NYC podcast. He is a lifelong New Yorker and graduate of the University at Albany.
https://www.nytimes.com/2021/05/24/us/father-pfleger-sexual-abuse.html