HARRISBURG (PA)
Tribune-Review [Pittsburgh PA]

May 26, 2021
By Deb Erdley
Survivors of clergy child sexual abuse turned up the heat this week on state Senate Majority Leader Kim Ward, depositing a pouch of silver coins on the Hempfield Republican's desk and labeling her a "Judas."
Ward's failure to schedule a Senate vote on a bill that would provide a day in court for child sexual abuse survivors whose cases fall outside the Pennsylvania statute of limitations is a bitter betrayal, survivors said. They likened it to the 30-piece bounty that disciple Judas Iscariot accepted before double-crossing Jesus Christ with a kiss at the Last Supper, according to the Gospel of Matthew in the Bible.
Ward, a devout Catholic, insisted she shares the survivors' concerns and denied she is stalling. She said she is concerned the bill might not pass constitutional muster.
Tensions about the future of the so-called window of opportunity legislation, which passed the full House and then the Senate Judiciary Committee last month, grew Wednesday. That day, the Pennsylvania Inspector General released an investigation of the Department of State's failure to advertise a constitutional amendment on the issue in time for the May 18 primary. The amendment, had it passed, would have provided survivors an opportunity to take their cases to court.
The Inspector General found no intentional wrongdoing. Rather, he concluded the Department of State lacked adequate training and procedures to ensure such measures are advertised in a timely fashion.
Now, it will take another two years before such an amendment can be placed on the ballot.
When they learned of the error last winter, state Reps. Mark Rozzi, D-Berks, and Jim Gregory, R-Blair — a pair of abuse survivors who had collaborated on legislation on the issue — sponsored yet another bill that would have the same effect as amending the state constitution. The men say the Senate votes are there to pass, and the bill has an endorsement from President Pro Tempore Jake Corman, R-Centre County.
Time is of the essence in this battle, Gregory said.
"Every day, more victims give up and die, and these abusers are still with us," Gregory said. "I pushed forward with an alternative path (of legislation) at the encouragement of the president pro tempore. Pushing with the dual path (legislation and a constitutional amendment) is the answer to me. I can't understand why it is not the answer for Ward."
Rozzi has been promoting statute of limitation reforms for a decade and supported the constitutional amendment. He called Ward's failure to schedule a vote on the bill "despicable."
"She is just carrying the water for the Catholic Church," Rozzi said.
Frustrations mount
On Tuesday, a group of survivors and advocates for the bill came away frustrated after a meeting with Ward in her Harrisburg office.
Debbie McIlmail, a mother from Montgomery County, lost her 26-year-old son to an overdose eight years ago — the night before his clergy sexual abuse complaint was scheduled to go to court. She said she and her husband, Mike, have been trying to talk with Ward for weeks. They were excited to finally get a meeting in her office.
"We decided in advance that we had one question for her. 'Are you going to run the bill? Yes or no?,' " McIlmail said. "When she started out saying that she had to explain, we decided to walk out. My husband, who had small pack of silver coins, laid them on her table and said, 'This is for you, Judas, you're betraying us.' "
They and a dozen others, including Johnstown native and abuse survivor Shaun Dougherty, were among those who attended.
Dougherty said he is concerned the bill began to languish in the Senate just days after Long Nyquist, the powerful lobbying firm that represents the Pennsylvania Conference of Bishops, was among the hosts of a reception for Ward at the Harrisburg Hilton.
"I was in Harrisburg that day. I wasn't invited (to the fundraiser), but I saw it on the schedule. It was on the public events schedule and there for everyone to see. It said, 'Fundraising reception for Senator Kim Ward, hosts: Long and Nyquist.' So, I sat in the lobby and watched as a 'who's who' of Republican politics in Pennsylvania checked in," Dougherty said.
Asked about the timing of the reception and the fundraiser, Ward spokeswoman Erica Clayton Wright said the bill was never on the schedule.
She declined to comment on any specific meetings, saying only that Ward had met and talked with many survivors. But she also had been approached by "disrespectful victims that have orchestrated political theater stunts and thrown props at the senator during their meeting," Clayton Wright added.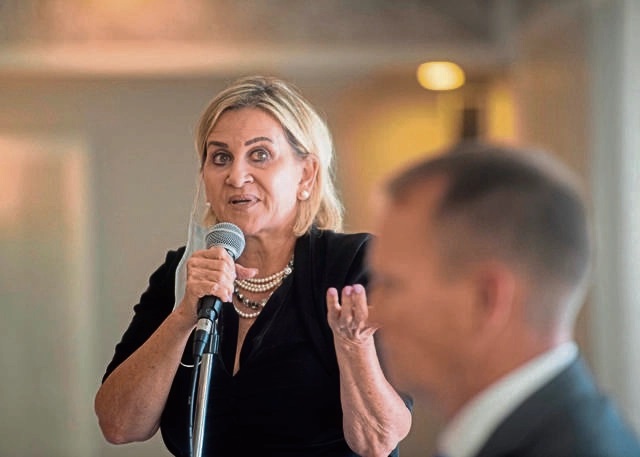 "Additionally, they have issued false press releases and started rumors about fundraising events. All of these things are inaccurate and unsubstantiated," she said. "Additionally, they have even gone as far as calling her a 'coward, pedophile, grandmother and mother.' "
Clayton Wright dismissed claims that Ward is stalling action on the bill. She reiterated her concerns that the pending legislation might not pass constitutional muster and could open the door to lawsuits against a variety of institutions, including public schools.
"This is a very important and delicate issue," Clayton Wright wrote in an email. "An issue we approach with great compassion and empathy. In fact, I would go as far as to say I think the victims and elected officials have a common goal.
"We are of the opinion that HB 951 carries with it constitutional consequences and has raised legal concerns," she continued. "These concerns have never been deliberated in previous sessions because we were on the constitutional amendment path, and they deserve consideration by the Pennsylvania Senate."
She did not say whether Ward plans to schedule any kind of hearings or a vote on the bill. She said Ward is working with Child USA and the Pennsylvania Coalition Against Rape to explore case law on the issue.
Marci Hamilton, a University of Pennsylvania law professor and the founder of Child USA, took issue with that. Hamilton, who has testified in multiple states and several foreign countries, said it is high time for the Pennsylvania Legislature to act.
"It's past time for a statutory window to further prevent the ongoing retraumatization of child sex abuse victims and to finally identify Pennsylvania's hidden predators," Hamilton said. "There is absolutely no reason to wait until 2023. There is a perfectly good bill sitting on Senator Ward's desk. (She) has the power to make this right and to protect thousands of children across Pennsylvania by immediately bringing H.B. 951 to a vote on the Senate floor."
A spokesman for SNAP, a national organization for clergy abuse survivors, added his group's voice to the appeal.
"We again urge Senator Ward and President Pro Tempore of the Senate Jake Corman to allow this piece of legislation to make amends for the devastating mistake that kept the amendment off the ballot this month and which the Senate refused to correct earlier," SNAP spokesman Mike McDonnell said.
https://triblive.com/local/westmoreland/child-sex-abuse-survivors-supporters-pressure-pa-senate-leader-kim-ward-to-bring-bill-to-vote/