BUFFALO (NY)
Buffalo News [Buffalo NY]

May 17, 2021
By Jay Tokasz
Buffalo priest who was murdered inside a church rectory in 1987 is being accused of sexually assaulting a boy a decade earlier.
A Child Victims Act lawsuit alleges the Rev. A. Joseph Bissonette molested a 7-year-old boy in his office at St. Bartholomew Church six or seven times in 1977, under the guise that the priest was counseling and helping the plaintiff with his reading.
[The original article links to: Priests' Killers Get 50 Years to Life: Judge Regrets State Forbids Death Penalty, by Matt Gryta, Buffalo News, November 2, 1988.]
The Herman Law firm in New York City filed the case May 6 on behalf of a plaintiff identified by the initials M.D.
The defendants are St. Bartholomew Catholic Church and St. Bartholomew Catholic School, both of which no longer exist. St. Bartholomew's parish merged in 1993 into Blessed Trinity Church as part of a Buffalo Diocese consolidation effort. The school was closed years earlier.
It is the first time Bissonette has been publicly accused of sex abuse. He is not included on a list of 78 diocese priests and 23 religious order priests that the diocese determined had "substantiated" abuse claims against them. Bissonette was pastor of St. Bartholomew Church and was widely known as a champion of the poor and a crusader for social justice and peace when Milton Jones and Theodore Simmons beat and stabbed him to death inside the rectory in 1987.
Eleven days after Bissonette's slaying, the two teenagers killed another highly regarded priest, Monsignor David P. Herlihy, inside St. Matthew Church rectory, about a mile from St. Bartholomew. They also robbed the two priests of $900.
The crimes stunned the region and attracted national media coverage.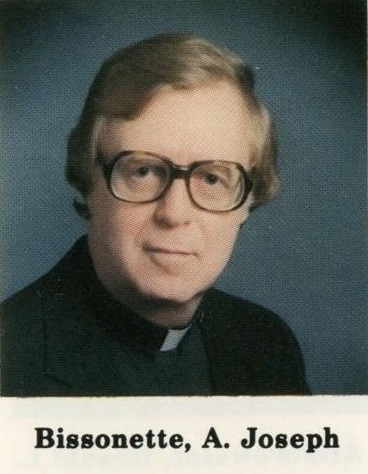 Jones and Simmons were convicted and sentenced to 50 years to life in state prison. In 1998, the popular television series "Homicide," produced by Buffalo native Tom Fontana, featured a two-hour episode that was based on the murders of the two priests.
The show included a plot line about a false claim of pedophilia against one of the priests. One of the show's writers told Buffalo News television columnist Alan Pergament in 1998 that the plot line was based on "some material provided to us" that a false abuse allegation surfaced during the police investigation of Bissonette's death.
No allegations of clergy sex abuse were raised during the trial of Jones and Simmons.
The Herman Law firm declined to discuss the lawsuit, beyond emailing a prepared statement from attorney Jeff Herman.
"I am determined to help this brave man share his story and begin the healing process. We are a voice for victims and our sole focus is to help victims heal by giving them a voice through filing a civil suit," Herman said.
The lawsuit alleged that Bissonette allowed the plaintiff to eat lunch in his office and that a church secretary saw him leaving the office.
The priest, in the office, allegedly masturbated in front of the plaintiff, showed him how to masturbate and performed oral copulation on the plaintiff, according to the lawsuit.
Bissonette, ordained in 1958, died at the age of 54.
The Rev. Roy Herberger said Bissonette was widely known as an honest, open and spiritual man who would stand up for anybody who was less fortunate or was being oppressed.
Herberger was the subject of an abuse allegation and has sued his accuser for defamation to help restore his reputation. Herberger was suspended from ministry and ultimately allowed to return to his priestly duties after a diocese investigation cleared him. His accuser filed a Child Victims Act case anyway, and Herberger fired back with a defamation claim in State Supreme Court.
"I'm going through the expense and frustration just to prove to other people that if you know up front that you're lying and you're just doing it to get the money, know that you can be sued," Herberger said.
But, he added, "When the deceased has no opportunity to defend him or herself, that's a real problem."
Bissonette's name and priestly work are memorialized across Western New York. A foundation established in his name provides funds for peace and social justice activities.
In 1989, Sister Karen Klimczak moved Hope House, a halfway residence she started for recently released prisoners, into the Grider Street rectory where Bissonette was killed. She later renamed it Bissonette House, in honor of the priest.
Klimczak, a nun who preached nonviolence, was killed in the same rectory in 2006 by a halfway house resident who was high on crack cocaine and sneaked into her room to steal a cellphone to sell for more drugs.
Klimczak went missing on Good Friday and her body was discovered the Monday after Easter. Her murder, eerily recalling Bissonette's violent death, sent similar shock waves across the community.
https://buffalonews.com/news/local/child-victims-act-lawsuit-accuses-murdered-priest-of-molesting-boy/article_7b1b7dfa-b5e9-11eb-829b-670bbf4f5bfc.html