WILMINGTON (DE)
WHYY [Philadelphia PA and Wilmington DE]

May 4, 2021
By Mark Eichmann
Pope Francis has selected a new leader for Delaware's Catholics. On July 13, William Koenig will replace Bishop Francis Malooly, who led the Diocese of Wilmington serving all of Delaware and Maryland's Eastern Shore since 2008.
Koenig, 64, most recently worked as Vicar for Clergy for the Diocese of Rockville Centre in Long Island, New York. Prior to that, he worked as Rector at St. Agnes Cathedral in Rockville Centre.
When he's officially installed this July, Bishop-elect Koenig will be the spiritual leader of more than 246,000 Catholics in Delaware and along Maryland's Eastern Shore. He'll also be leader of the nation's most prominent Catholic, President Joe Biden, who frequently attends services at St. Joseph's on the Brandywine when he travels back to Delaware on weekends.
"I have never met President Biden, I certainly pray for him every day," Koenig said as he was introduced at the Cathedral of St. Peter in Wilmington Friday morning.
Biden is just the second Catholic elected to the White House in U.S. history, but his support of abortion rights stands in contrast with Church doctrine. That disconnect likely played a part in Biden narrowly losing the Catholic vote to Donald Trump. The leader of the U.S. Conference of Catholic Bishops issued a statement on Biden's inauguration calling for him not to expand access to abortion.
In 2019, Biden was refused communion by a bishop in South Carolina for his stance on abortion rights. Following that incident, the Diocese issued a somewhat broader answer: "Bishop Malooly has consistently refrained from politicizing the Eucharist, and will continue to do so."
The 2019 statement also said "it is the responsibility of every Catholic to examine his or her conscience and refrain from reception of Christ in the Eucharist if he or she is not worthy. The Church's teachings on the protection of human life from the moment of conception is clear and well-known."
At the time, Biden said it was a "private matter" that he wouldn't talk about. He said the South Carolina incident was the first time he had been denied communion.
Koenig didn't directly answer where he stood on the issue of offering the President communion. "As a bishop, I'm called to teach the fullness and beauty of the Catholic faith."
The issue is expected to be discussed at the Bishop's conference meeting in June. They could approve a document clearly stating that Biden and other Catholic public figures with similar viewpoints should not present themselves for communion. Even if that document is approved, individual bishops would still be able to determine how to implement that position. Both Bishop Malooly in Wilmington and Cardinal Wilton Gregory of Washington, D.C. have made it clear that Biden is welcome to receive communion under their jurisdictions.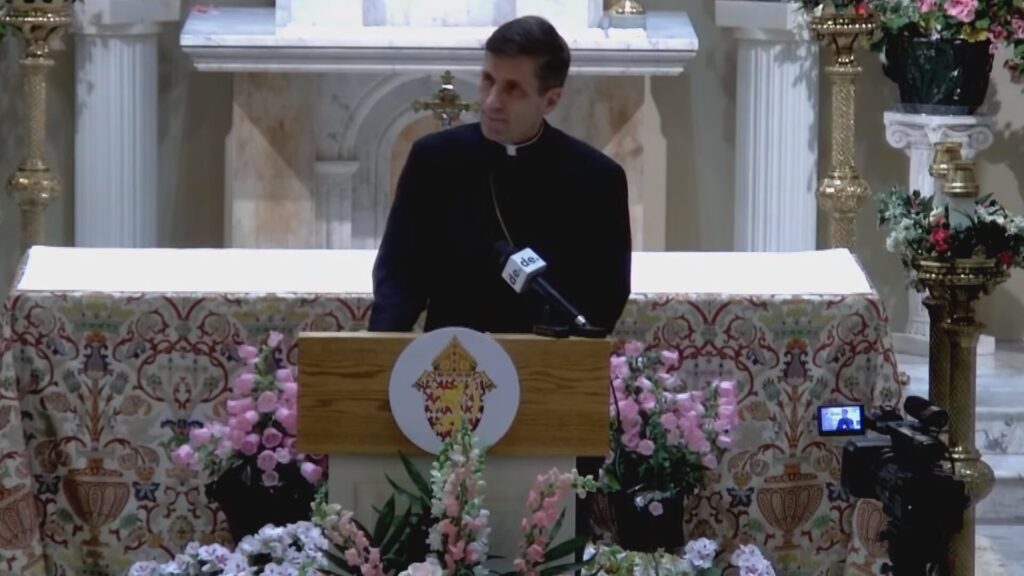 Beyond that debate, Koenig said he's looking forward to meeting other parishioners in the diocese to determine what his priorities will be leading the state's Catholics.
"The essence of the local church of Wilmington is the people of God, the consecrated men and religious women, religious and lay faithful along with the clergy or the body of Christ," he said. "Above all, I look forward to the ways that we — priests, religious and lay faithful — led by the Good Shepherd will, in word and deed, be a sign of hope, an instrument of peace, a beacon of light."
Koenig will officially be installed July 13.
Bishop Malooly offered his resignation to Pope Francis when he turned 75 in January 2019.
He's overseen the Wilmington Diocese during a rocky period. The Diocese filed for bankruptcy in 2009 in the face of 131 sexual abuse cases. After marathon negotiations, the church settled with 146 abuse victims in 2011 for a total of more than $77 million. That settlement triggered layoffs for 19 full-time workers in the diocese and caused the end of the church's newspaper "The Dialog," which had been in print since 1965.
Malooly said he plans to stay in the diocese after retirement where he can be of assistance to Koenig.
https://whyy.org/articles/delawares-catholics-including-president-biden-get-new-leader/