BUFFALO (NY)
Buffalo News [Buffalo NY]

May 20, 2021
By Jay Tokasz
Murdered Buffalo priest A. Joseph Bissonette, accused in a lawsuit of sexually assaulting a boy at St. Bartholomew Catholic Church in 1977, wasn't assigned to that parish until three years later.
Bissonette was listed in official Buffalo Diocese directories from 1973 to 1979 as associate pastor of St. Brigid Church, located about 6 miles from St. Bartholomew. He was named pastor of St. Bart's in 1980 and served in that post until 1987, when he was fatally beaten and stabbed by two teenaged robbers now serving 50-years-to-life prison terms.
The pastor of St. Bart's in 1977 was the Rev. Joseph Friel, according to the diocese directories. That raises the question of whether the plaintiff misidentified Bissonette as the alleged abuser instead of Friel, who has been accused of child sex abuse in 11 Child Victims Act lawsuits.
The Buffalo Diocese also includes Friel on its list of 78 diocese priests and 23 religious order priests who had substantiated abuse claims against them.
Bissonette is not on that list, nor had he been publicly accused of sex abuse prior to the lawsuit filed May 6 by the Herman Law firm in New York City on behalf of a plaintiff identified by the initials M.D.
Lawlor Quinlan, a lawyer for the diocese, described Bissonette's personnel file as "squeaky clean."
The plaintiff, a New York State resident, alleged Bissonette abused him on multiple occasions in a church office when he was 7 or 8 years old.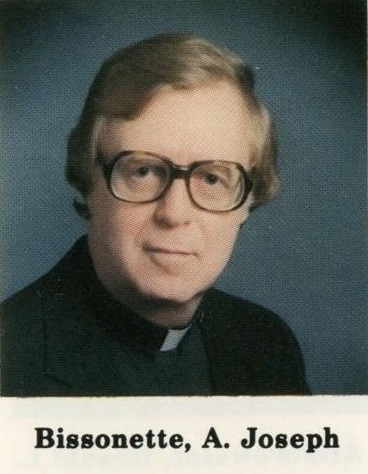 The attorneys for the plaintiff couched the time frame of the abuse by saying it happened "in approximately 1977."
The lawsuit also described the plaintiff as a second-grader at St. Bartholomew School at the time of the alleged abuse. The school closed in 1978, prior to Bissonette's arrival at the parish, according to diocese directories.
A 2005 biography of Bissonette states that the priest started at St. Bartholomew Church in February 1980.
"Nineteen seventy-seven is way too early for Joe to have been at St. Bart's," said Ray Bissonette, the priest's brother and author of "Joe's Story: The quietly courageous life and violent death of an inner city priest." "I don't even think he knew about it at the time."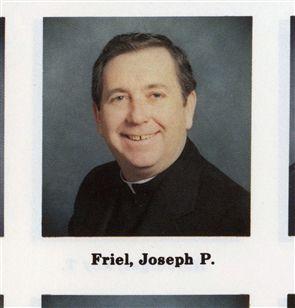 Friel was assigned to St. Bartholomew Church in 1976 and 1977, and then transferred to St. Patrick Church in Randolph, according to diocese directories. Friel died in 1995.
Friel is one of the Buffalo Diocese's most-accused priests.
Ray Bissonette said his brother abhorred any abuse of power and would never hurt a child.
"I can't think of any time I had any reason to question his integrity or his honesty or his dependability. He was an extraordinary person and I'm saying that not because he's my brother, but 35 years later now I think I can look back and be a little more objective," he said.
He slammed the Herman Law firm for filing what he called an "absolutely outrageous" case that threatens to tarnish his brother's legacy as a decent, hardworking and accomplished priest.
"When that stuff gets out, it's like smoke. It goes wherever it pleases and you have zero control over who sees it and how they interpret it," said Ray Bissonette.
A spokeswoman for the Herman Law firm did not respond to a request for comment.
Ray Bissonette acknowledged that Friel's assignment at St. Bartholomew's "may lend some credibility to the accusation, given his record. Who knows?"
"I don't know about mistaken identity, but there's certainly a disconnect between the dates of the alleged event and where Joe [Bissonette] was and what he was doing," said Ray Bissonette.
The allegation stings particularly hard for many area Catholics who revere Bissonette for his social justice work on behalf of immigrants and the disenfranchised.
Bissonette died in 1987 at age 54 after being bound, gagged, beaten and stabbed inside the St. Bartholomew rectory. Eleven days later, Monsignor David P. Herlihy was killed in similar fashion inside St. Matthew Church rectory. Theodore Simmons and Milton Jones were convicted and sentenced to 50 years to life in state prison for the crimes.
Bissonette's name and priestly work are memorialized across Western New York, including at a halfway house for ex-convicts in the former St. Bartholomew rectory.
Sister Karen Klimczak, who founded and operated the house for recently released prisoners, named it in honor of Bissonette. Klimczak, who like Bissonette was well known for her peace and social justice work, was murdered in the same building in 2006 by a resident who was high on crack cocaine and sneaked into her room to steal a cellphone he could sell for drugs.
https://buffalonews.com/news/local/crime-and-courts/murdered-priests-time-at-parish-conflicts-with-abuse-plaintiffs-claims/article_1cfbb2e0-b976-11eb-9a78-b70484136dd7.html