HARRISBURG (PA)
The Center Square

May 26, 2021
By Christen Smith
A report issued Wednesday found lacking oversight and systemic failures – not willful disregard – within the Pennsylvania Department of State resulted in a botched constitutional amendment.
The Office of the State Inspector General's probe of the incident found no evidence of "deliberate or intentional malfeasance" at play when department staffers forgot to advertise a proposed constitutional amendment that would open a two-year litigation window for survivors of child sex abuse after the Legislature passed its authorizing legislation, House Bill 963, in November 2019.
"On behalf of the Department of State, I apologize to the victims of abuse for the additional pain and distress we have caused them," said Acting Secretary Veronica Degraffenreid during a news conference on Wednesday. "We are committed to ensuring such a failing will never happen again."
Constitutional amendments must pass in the General Assembly in two consecutive legislative sessions before appearing before voters as a ballot question. Each time an amendment receives legislative approval, the department is required to advertise the proposed changes in two newspapers in each of Pennsylvania's 67 counties.
The amendment posed in HB 963 had been scheduled to appear as a ballot question during the May 18 primary election, until a staffer within the department's Office of Chief Counsel (OCC) discovered the advertising mistake in late January – just one night before the Senate scheduled its second and final vote on the amendment.
"No formal process for receiving, tracking, processing or overseeing proposed constitutional amendments existed," Degraffenreid said of the report's findings. "Instead the department relied on informal and unwritten past practices."
Just one week after uncovering the error, Secretary Kathy Boockvar resigned. Victor Wills, the director of the department's Office of Legislative Affairs, also stepped down on May 21.
Degraffenreid declined to comment whether Wills's departure stemmed from the findings of the report, shared with Gov. Tom Wolf's administration on April 28.
"I agree that persons in leadership roles should take responsibility, and that's what I'm committed to doing," she said. "We didn't just wait for the report to come out. We took proactive steps."
Part of those steps include requiring physical receipt of approved joint resolutions instead of relying solely on emails to convey the passage of important legislation. The department will assign oversight to one executive level staffer and memorialize its specific process for advertising amendments, though the report cautions this will not be enough to prevent a future oversight.
"There can no longer be a single point of failure," Degraffenreid said. "It really does need to be a top down approach, and we need to have a system of checks and balances in place."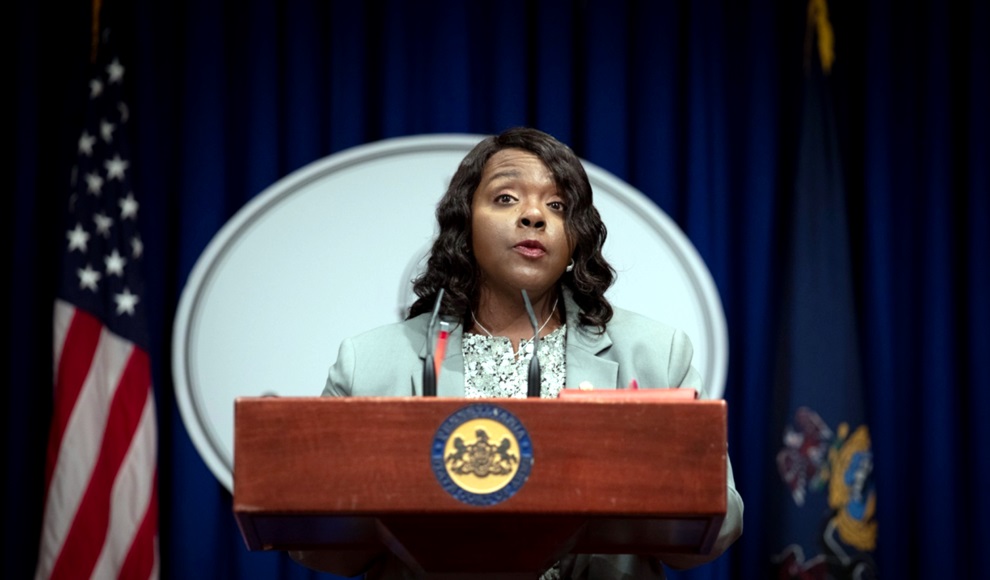 The report details how none of the employees working in the offices involved with the advertising of constitutional amendments received formal training on the matter and few understood the legislative process, the difference between bills and resolutions and the department's "critical" role in the advancement of the latter.
Findings also show the Legislative Affairs Director only sporadically used a legislative tracking service – for which the state pays an annual subscription of more than $7,000 – to follow pertinent bills and resolutions because he found it ineffective. The office's investigation determined that the OLA director – as Wills was not named directly – sent an email to executive staff members "and a few others" every time a joint resolution passed, but did not do so with HB 963.
The director was unaware that the email notifications served as "the catalyst" for the publication process, as that task fell to the Bureau of Finance and Operations.
Four other joint resolutions passed in 2020 and were advertised properly using the informal process, according to the report, including three that appeared on the May 18 primary ballot. The report said the OLA director admitted he didn't track HB 963 because "he or she believed it did not affect DOS' day-to-day operations."
"Specifically, the Legislative Affairs Director stated, HB 963 '[did not] affect what we do, whether it is licensure or elections, and so I [did not] follow it,'" the report concludes. "The Director acknowledged that they were aware of HB 963 because of the news; however, the Director assumed the OAG [Office of Attorney General] followed the legislation because it was referred to the Judiciary Committee."
A staffer for the governor told the inspector general's office that due to the volume of bills the department "takes custody of" each year – more than 1,450 in the current legislative session alone – committing one person to "that amount of tracking is an enormous task" and "far too broad, and inappropriate given other responsibilities."
Lawmakers agree. On Tuesday, the House passed a bill that shifts the responsibility of writing and advertising amendments to the Legislative Reference Bureau. Prime sponsor Rep. Jason Ortitay, R-Bridgeville, said on Wednesday his proposal would ensure "this never happens again."
"The Wolf administration portrays itself as a government that works," he said. "This is a prime example of how this is not a government that works. Time and time again it has failed."
Degraffenreid said Wednesday "for right now, it's the Department of State's responsibility to appropriately publish constitutional amendments, and that's what my focus will be."
Rep. Jim Gregory, R-Bellwood, himself an abuse survivor, sponsored HB 963 in 2019 after the Legislature tried and failed to approve legislation that changed the statute of limitations for sexual crimes committed against children, citing constitutional concerns.
The issue came to light after a 2018 statewide grand jury report found that six Catholic dioceses across Pennsylvania covered up allegations of abuse involving more than 300 priests and 1,000 children.
The bill kicked off a two-year process that sought voter approval to amend the constitution and give survivors the opportunity to sue their abusers, who otherwise would escape prosecution for their crimes.
When the department forgot to advertise the bill, as required, it threw the entire process off track and forced lawmakers to start over, delaying a vote on the amendment until at least 2023.
With few other fixes available, House lawmakers passed House Bill 951 in April to open the two-year litigation window through statute instead. The Senate has yet to act and Gregory said Wednesday he holds onto hope that the report "could provide some movement."
"We have more questions as a result of the investigation," he said. "That's not what victims want to hear. We want concrete answers to know how this could happen."
"Nobody was actually fired as a result of this and that's unconscionable to me," he added.
House Minority Leader Joanna McClinton, D-Philadelphia, thanked the administration for publicizing the investigation and urged the Senate to pass HB 951 as "a statutory solution that will end the needless suffering still being endured by so many adult victims of childhood sexual abuse who are simply waiting to have their day in court."
"We were frankly surprised to learn that, throughout multiple administrations since the Pennsylvania Constitution outlined a process for amendments, it appears there were never any written procedures in place to ensure that amendments are advertised," she said. "I know the Wolf administration has already implemented policies and procedures to make sure that such an omission is never repeated."
Sens. Lisa Baker, R-Dallas, and Dave Argall, R-Pottsville, said in a joint statement they found the department's lack of oversight "appalling" and said no employees should escape accountability. The senators, along with Gregory, received a separate briefing on the report just minutes before the department's news conference.
"As chairs of the Senate Judiciary Committee and Senate State Government Committee, we will continue our bipartisan pursuit to get to the bottom of what happened, and how it can be prevented from happening in the future," the lawmakers said. "The victims deserve better."
https://www.thecentersquare.com/pennsylvania/report-no-malfeasance-behind-pennsylvania-s-botched-constitutional-amendment/article_5e6927ce-be6e-11eb-81ed-eb59eb499135.html