CLEVELAND (OH)
WKYC-TV, NBC - 3 [Cleveland OH]

May 22, 2021
By Rachel Polansky
It took her 30 years to confront her past.
"Father Tony was always nice, or so I thought," she said. "He was very kind, gentle. He always spent a lot of time with the kids, so I trusted him until everything happened."
What happened, she said, is what's happened to dozens, if not hundreds of children over the past several decades: sexual abuse committed by a priest in the Catholic Diocese of Cleveland.
Rev. Anthony Schuerger was a priest at St. Raphael Church in 1990. She was 8 years old and a public school student who took religious classes at the Bay Village parish.
"He would come and take me to his office to speak with me in private and talk in private and talk to me about how I need to do better for God," she recalled.
The woman claims Schuerger at times would touch her inappropriately during those meetings in his office. She believes other children were abused, but so far, only she has come forward to Bay Village police with allegations against Schuerger.
She did so in October 2018, filing a report with the authorities, but for reasons she doesn't understand and for reasons the department won't discuss, the case has languished ever since.
Police and Cuyahoga County prosecutors each refused to talk about the case with 3News Investigates, saying only that the allegations against Schuerger remain under investigation over two years later.
"They only they tell me, 'It's an open case, be patient," the woman said. "I've just reached this point where I just want justice.
"I wasn't ready to deal with it and understand it. … Being raised Roman Catholic, you don't really talk about sex and those type of things, especially at that age."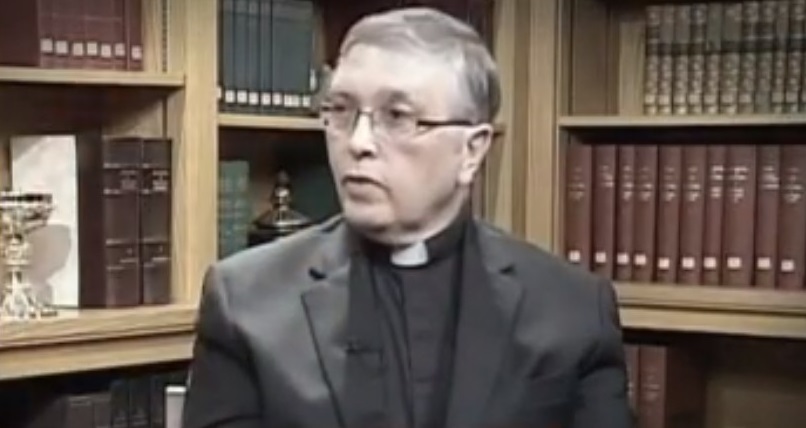 When the allegation surfaced, Schuerger had been moved to St. Malachi Parish in Cleveland, where he had served as pastor since 1994. He was placed on administrative leave in 2018, joining more than 50 other clergymen identified by the diocese as abusers or accused abusers.
3News covered those initial allegations that year, when Schuerger was named publicly as one of 22 diocesan priests and religious accused of committing sexual crimes against minors prior to 2002, when the Church adopted more stringent protocols for combatting abuse.
Diocese officials would not discuss the case against Schuerger. They provided a statement instead.
"Reverend Anthony J. Schuerger remains on administrative leave as a result of an allegation that he engaged in sexual misconduct involving a minor several decades ago. Since the time the allegation was made, the Diocese of Cleveland Review Board has worked diligently to complete its investigation, but suspended its work for a time in deference to the investigation being conducted by local law enforcement.
"The Diocese and the Diocesan Review Board have also provided civil authorities with records pertaining to Fr. Schuerger and the Review Board's investigation. The Review Board was recently told that the police investigation is still open but that the Review Board may resume its investigation."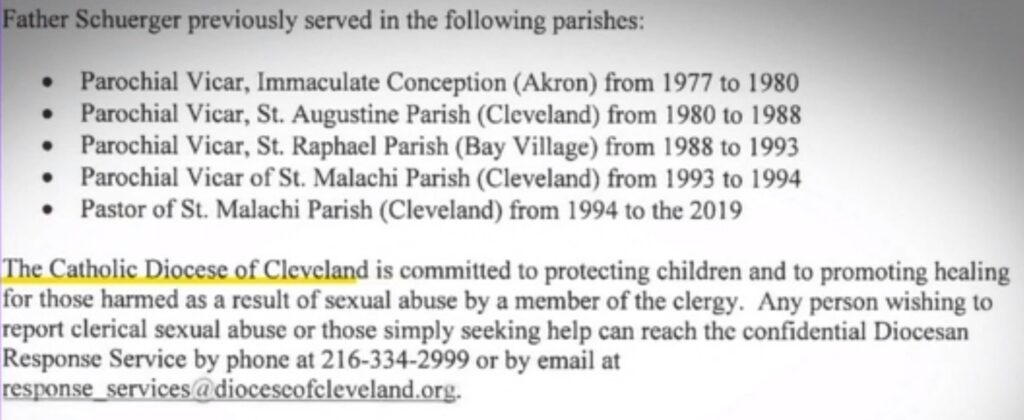 3News Investigates is not identifying the accuser because of the sensitive nature of the allegations. Now 38 years old, she says she struggled for years to come forward with what happened and that mental anguish still haunts her. She recalled one incident with Schuerger that made her believe others were victimized.
"I was going in to practice confession," the woman, now living in Texas, told us. "Before I walked into the room, a girl in front of me came out of the room [and] was crying, and she looked at me and said, 'Don't sit on his lap.' … That was the only time I had ever spoken or even had an inkling that there was anyone besides me that this was happening to."
The abuse and fondling happened on multiple occasions, she said. It only stopped when she told Schuerger his actions made her uncomfortable.
"When I spoke up to him directly, that's when it stopped," she remembered. "I think there was something in him that realized that something was going on and that it was wrong.
"As an 8 year old child, to say that … the look he gave me when I said it to him, I think it scared him a little bit."
The woman and her family moved from Ohio when she was 13 years old, but she says she's never left behind the haunting memories of what happened.
"His face … It's burned into my memory," she said.
She says she has spoken occasionally with a Bay Village police detective, but is not sure why her case remains unresolved. In addition, the diocese assigned their own investigator to question her. She's unsure of the diocese's motives and wonders if her accusations will ever be addressed in court.
She adds she suffers from post-traumatic stress disorder, and is in counseling.
"I went down that particular path with the diocese, who sent an investigator to speak with me," she said. "I spoke with him a few times … didn't really like where it was going at times.
"It felt like they were trying to intimidate me … saying things like, 'You shouldn't talk about these things. … These things shouldn't be brought up. God doesn't want you talking about these things.' … "It felt like they were pushing me not to come forward."
https://www.wkyc.com/article/news/investigations/3news-investigates-delay-sexual-abuse-charges-cleveland-priest/95-147dd054-6f96-4e01-b8a5-e45c0c18ef46