OLD BROOKVILLE (NY)
Microsoft News [Redmond WA]

June 3, 2021
By Peggy Spellman Hoey
A plaque of a deceased Roman Catholic priest accused in a sex abuse scandal has been replaced with that of the Virgin Mary at the Long Island church he led worship in, according to a parishioner.
A plaque marking Msgr. Mario Costa's contributions to St. Paul the Apostle in Old Brookville was covered up with white cardboard-like material that was held in place by blue contractor's tape last month. Costa was accused in a clergy abuse scandal and was identified on a list of over 100 credibly accused clergy members, who attorneys for the Diocese of Rockville recently included in legal papers as part of a bankruptcy court filing, Newsday has reported.
The covered up plaque has since been replaced with a picture of the Virgin Mary, the mother of Jesus Christ and a central figure of forgiveness in the Roman Catholic religion.
In a statement, Diocese spokesman Sean Dolan said its officials are "working with the parishes and is providing guidance on the issue of dedications and memorials within the parish property."
Costa's name was not used to name a hall dedicated in his his honor several weeks ago in the church's bulletin, according to James Hughes, a parishioner said. Instead it was referred to as "Lower Hall" only in the bulletin, which announced religious services for the parish.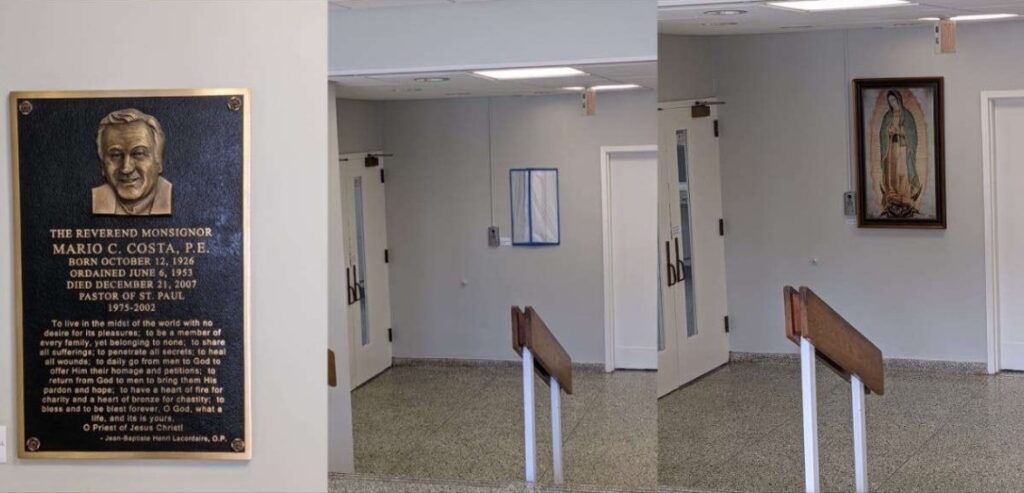 Costa's honors are not the only ones associated with an accused priest to disappear recently.
A street outside of St. Aidan's in Williston Park dedicated to Rev. Charles Bermingham reverted back to its original name of Dover Street after the village board voted to remove the name, according to Newsday.
Mayor Paul Ehrbar had reservations about the vote to remove the name, saying he believes someone is "innocent until proven guilty," but the village attorney explained church officials do view the allegations as legitimate, so he voted along with the rest of the board 5-0, Newsday reported.
In recent years, victims of clergy abuse and their supporters have called for the removal of plaques and other dedications to accused priests outside of the diocese's churches, calling them hurtful reminders of the previous abuse.
There have also been calls to remove dedications to Bishop John McGann, who has not been named on the list, from outside of St. Agnes Cathedral in Rockville Centre.
Boston-based attorney Mitchell Garabedian, a notable sex abuse victims' rights attorney who represented an abuse victim, has also called for the removal of the name of Rev. Elegio Della Rosa from St. Rocco in Glen Cove, Patch reported.
Daniel Hampton contributed additional reporting to this story.
https://www.msn.com/en-us/news/us/accused-priest-s-likeness-replaced-at-long-island-church/ar-AAKGDaI#image=1