MORRISTOWN (NJ)
NorthJersey.com [Woodland Park NJ]

June 10, 2021
By Abbott Koloff
[Photo above: The Rev. Bruno Ugliano in 1990. File photo.]
A former North Jersey high school football standout is among the latest to file a lawsuit against the Catholic order that runs the Delbarton School in Morris Township, alleging that he was sexually abused by three monks decades ago and kept quiet about it for years — partly because he and his brother were the school's only Black students.
Rodney Baron, who lives in Morristown, said in court papers that he was abused more than 150 times, was punished for minor infractions that white students got away with, and was afraid to challenge the sexual abuse even after one priest escalated the abuse during a class trip to the Jersey Shore.
"As the only African American student in the school other than his brother, Rodney thought to himself: 'Who is going to believe me?'" the lawsuit says.
The lawsuit accuses two monks who have not been publicly accused of sexual abuse before — The Rev. Manus Duffy and Brother Jonathan Michael Hunt. It also names the Rev. Bruno Ugliano, a former Delbarton headmaster who had been the subject of a prior complaint. All three clerics are deceased.
In the spring of 1978, during Baron's first year as a Delbarton student, he allegedly told his father that he "hated Delbarton and never wanted to return," without mentioning the abuse. His parents were disappointed, the suit says, but allowed him to transfer to Gill St. Bernard's in Gladstone, where he became a standout football player.
There are now 21 civil sex-abuse lawsuits pending against St. Mary's Abbey and the Order of St. Benedict of New Jersey, which runs Delbarton. All but one of the suits were filed after the state suspended the statute of limitations for civil sex-abuse complaints for two years, starting in December 2019. The law has led to more than 400 lawsuits being filed against the state's dioceses and religious orders.
Baron's civil complaint was filed last month, when another lawsuit was filed by a former Delbarton student alleging abuse in the early 1980s by Father Justin Capato, who has been accused in six other suits over the years.
St. Mary's Abbey acknowledged several years ago in a letter to the school community that it knew of 13 monks who had been accused of abusing 30 people over several decades. Over the past 16 years, at least 34 lawsuits have been filed against the order accusing 12 monks and one teacher of sexual abuse.
One monk, Timothy Brennan, who died more than a year ago, has been accused of sexual abuse in 21 lawsuits and has been the subject of 10 settlements. Many of the allegations against order monks are from the 1980s, but they span decades, from the early 1960s to 2000.
The order declined to comment on the recent lawsuits, saying in a statement that it waits for law enforcement to look into the claims. It encouraged victims of abuse "to file your claim so that the process can begin" and said recent complaints made against the order were related to abuse that "allegedly occurred more than 40 years ago."
The order declined to address questions about Capato's status as a priest and has not issued a list of credibly accused clerics — as some religious orders across the nation have done. The state's five Catholic dioceses issued such lists two years ago after the state attorney general's office launched an investigation into the sexual abuse of children in the Catholic Church and coverups by high-ranking church officials.
Baron, 57, who declined an interview request through his attorney, said in court papers that he attended Delbarton during the 1977-78 school year when he was 13 to 14 years old after his family moved from Maryland. His father, an ophthalmologist, attended prep school as a child and wanted him and his older brother to do the same. Being the only Black children at the school was a burden for Baron, according to the suit.
"This racial discrepancy placed extra pressure on Rodney, and Rodney's parents instructed Rodney in advance of attending Delbarton that he had to be twice as good as the other students and exceptionally obedient because he was African American," John Baldante, Baron's attorney, wrote in court papers.
After Baron left Delbarton, he was a standout running back for Gill St. Bernard's. In one victory over Dwight-Englewood, according to a report from the time, he rushed for more than 200 yards and scored five touchdowns. His attorney said he went on to play football in college, had a tryout with an NFL team, and played in Europe for a time before returning home and becoming an athletic fitness trainer.
According to court papers, Baron was first abused early in the 1977-78 school year at Delbarton when Hunt, a math teacher, allegedly followed him to the bathroom and touched him while "claiming to show Rodney how to properly urinate." The suit alleges that the religious brother instructed him in a "patronizing manner," telling him, "This is how a proper man does it."
"As this sexual abuse continued throughout the school year, the behavior became normalized and Rodney became conditioned to accept the sexual abuse as routine, acceptable behavior," the suit alleges. "Rodney believed this behavior was part of assimilating into the Delbarton prep school culture and being an obedient student."
Duffy, a priest who taught social studies and history, also followed Baron to the bathroom to sexually abuse him, the suit alleges. In class, the priest allegedly rubbed Baron's shoulders and patted his buttocks "in plain sight" and did the same with other students, though not as frequently.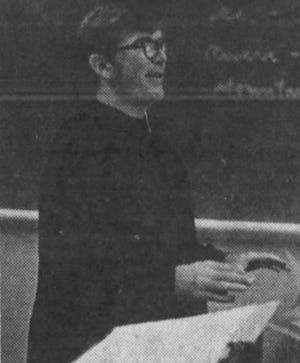 The suit also alleges that Baron was sexually abused by the school's head of discipline, Ugliano. Duffy routinely sent him to Ugliano's office for minor infractions such as running in the hall or being late for class — sometimes by seconds, when he arrived as the bell rang. "Mr. Baron, you are tardy," Duffy allegedly said each time he was late.
"Generally, the other white students at Delbarton School were not issued reprimands for such minor infractions," the suit alleges. "To this day, the word 'tardy' still triggers Rodney into a state of severe anxiety and panic."
Baldante said in an interview that his client "felt singled out" for discipline and that Duffy and Ugliano "used punishment as the vehicle to isolate him so they could sexually abuse him."
Ugliano was accused of sexual abuse in 2002, when a woman alleged that he and two other priests abused her decades before when she was 14 years old. Law enforcement authorities said that they determined the accusation against Ugliano not to be credible. The woman later received a settlement after filing a lawsuit against the other priests. Ugliano continued working as a chaplain at Rider University until 2008 and was installed in Delbarton's Hall of Honor in 2010.
In the spring of 1978, Duffy allegedly took 20 students on a class trip to a New Jersey Shore home without parents chaperoning. Students slept in sleeping bags throughout the home, Baron's lawsuit says, and Duffy slept in his own room. He allegedly tucked the boys into their sleeping bags at night "snuggling them and patting them down."
Duffy allegedly instructed Baron to come to his bedroom "to pray and talk," where he sexually abused him over two nights. On the second night, according to the suit, the priest sodomized him.
"I'm working through God," Duffy allegedly said. "This is how God wants me to show you love."
Abbott Koloff is an investigative reporter for NorthJersey.com. To get unlimited access to his watchdog work that safeguards our communities and democracy, please subscribe or activate your digital account today.
Email: koloff@northjersey.com Twitter: @abbottkoloff
https://www.northjersey.com/story/news/morris/2021/06/10/alleged-sexual-abuse-former-nj-football-star-delbarton-school-lawsuit/7548413002/