CHICAGO (IL)
Chicago Tribune

June 6, 2021
By Maggie Prosser
"It's good to be home," an emotional Rev. Michael Pfleger said to a packed and jubilant crowd Sunday at St. Sabina Church — his first time leading a congregation in five months.
The long-tenured South Side priest famous for his activism had been sidelined from the pulpit as the Archdiocese of Chicago investigated complaints by two brothers who alleged in January that Pfleger sexually abused them in the early 1970s when they were minors. Pfleger was reinstated in May as senior pastor at St. Sabina, which celebrated his anticipated return at a Sunday morning service.
"The last five months have been a roller coaster of hurt and anger and depression and pain," the pastor said during the service, which featured spotlights, a full band and choir, and dancers. "I stand here this morning back with my church, family and friends, and I am grateful. … God is real."
Parishioners expressed their unwavering support for Pfleger with standing ovations, exclamations and worship. Pfleger took multiple opportunities throughout the nearly three-hour-long service to thank his supporters, including his attorneys and director Spike Lee, who were in the pews. After the service, Pfleger greeted parishioners on the church's steps, at one point comforting a woman, saying, "Don't be angry anymore. It's all over."
Sunday's service included themes of "victory," "winning" and "overcoming" adversity.
Attendees described the pastor's return as "electric," "joyous" and "beautiful."
"He brought me closer to God," said Cathy Busch, who has been coming to St. Sabina for 22 years and knows Pfleger personally. "If you know anything about (Pfleger), if you sit through one of his services, you'll know what he's all about, and it's not (what he is accused of)."
Pfleger was reinstated after the archdiocesan board that investigates sexual abuse claims found "insufficient reason to suspect" he is guilty of allegations of abuse dating back more than 40 years.
"It's amazing to be at home around your family, to sleep in your own bed — little things, you know — shower in your own shower," he said to the media. "I feel the love, and I feel so much light. … It's just a blessing to be back and to be back with people who stayed with you, walked with you, prayed with you, believed in you. … I hope they feel my love."
The Illinois Department of Children and Family Services' investigation was concluded as "unfounded," and the office of the Cook County state's attorney said it had not "been presented with any information regarding allegations related to this matter by police to review or to determine if criminal charges are appropriate."
In January, two brothers living in Texas filed separate claims with the archdiocese saying Pfleger sexually abused them decades ago at the West Side's Precious Blood Catholic Church, where Pfleger was a seminarian and the brothers were choir members. The abuse continued, they said, when Pfleger was a deacon at Our Lady of Perpetual Help Catholic Parish in Glenview and at St. Sabina. He was named St. Sabina's senior pastor in 1981.
The brothers said they didn't know of the alleged abuse of the other until recently and have asked that their identities not be made public.
A third man came forward in early March, alleging Pfleger made an unwanted sexual advance when the accuser was 18, grabbing him in a sexual manner, according to an affidavit shared with church officials.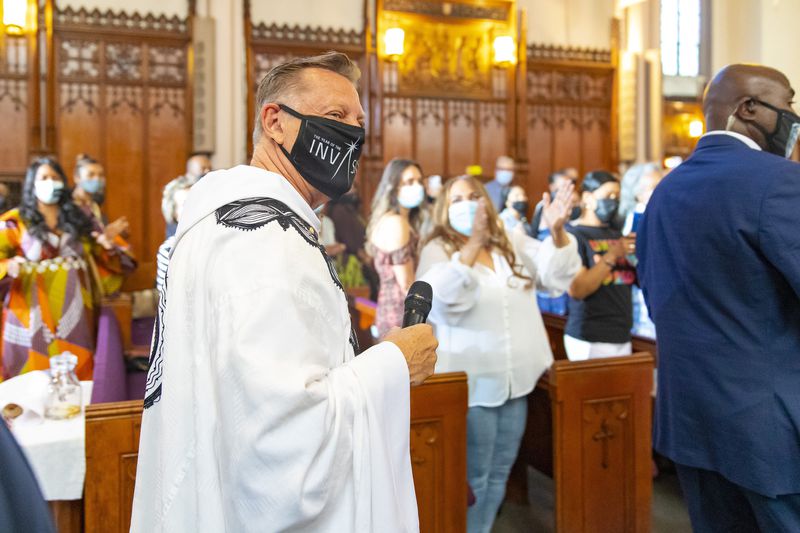 Pfleger has maintained his innocence, and his lawyers say the brothers made false allegations in hopes of a settlement, noting that the younger brother sent the South Side priest a letter seeking $20,000 before he filed a complaint with the archdiocese.
Chicago Mayor Lori Lightfoot previously said she is grateful for Pfleger's return. She described Pfleger as "an important center of gravity" in the community. Lightfoot also said the accusers "deserved to be heard."
"I know he is a conscience for many of us around issues of gun violence that plagues way too many communities in this city," Lightfoot said. "And he is an advocate, an advocate for victims."
Pfleger used his sermon Sunday to address recent spikes in gun violence and advocate against racism and violence — which he has long addressed in the South Side community and says he plans to continue fighting against.
"I'm going to fight harder because I'm stronger and I'm better," he said.
https://www.chicagotribune.com/news/breaking/ct-pfleger-returns-to-pulpit-st-sabina-20210606-fjhkr3tf3bgp7ig42t2bn3lbla-story.html