(IRELAND)
Die Zeit [Hamburg, Germany]

May 21, 2021
By Doris Reisinger
The Irish religious sister and doctor Maura O'Donohue campaigned against abuse of power by priests around the world. She helped survivors with discipline and sensitivity.
One of the many peculiar things about Catholicism is that even the outstanding women of this church remain almost unknown. One of them is the Irish nun Maura O'Donohue of the Medical Missionaries of Mary. Unusually for a woman of her generation, she had an academic degree, was appointed to management positions in her mid-twenties, spoke several languages, and managed a budget of millions. But what is possibly her greatest distinction of all, where she seems at first glance to have failed: in the fight against sexual abuse. This failure cannot be blamed on her, because survivors could not have found a more competent, committed, and better networked advocate than she.
The life and actions of O'Donohue, who died in 2015, were characterized by loyalty and faithful adherence to the applicable rules. Just as the church wishes her women religious to do. But that is precisely why she was not ready to look the other way when confronted with injustice, suffering, and rule violations.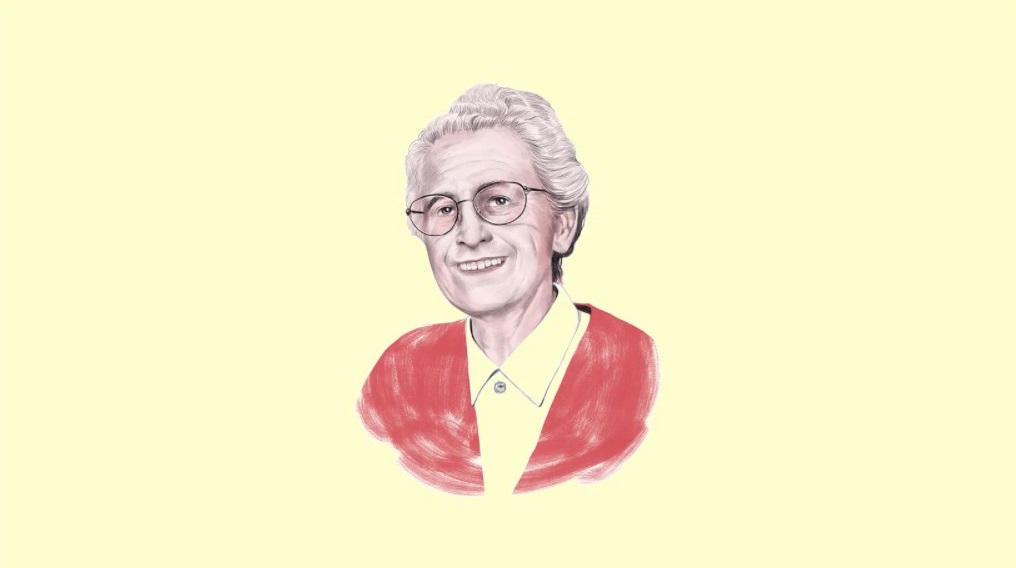 There are some photos and video recordings of Maura O'Donohue. You can see a fine smile, inconspicuous clothing, and a straight posture. This woman radiates tremendous discipline. Maura O'Donohue has been described as smart, sensitive, and articulate by people who knew her. A person in whom willingness to serve, skill, and tenacity combined to form an impressive character, and above all: a woman who knew how to convince others.
She was born Mary Brigid O'Donohue in 1933 in a small town in sparsely populated County Clare on Ireland's west coast. Barely of legal age, she joined the MMMs, the Medical Missionaries of Mary, in 1950. The order, founded only 13 years earlier, had set itself the task of bringing medical assistance where it was most needed. Upon joining, Mary was given the name Sr. Maura. She studied medicine in Dublin and was posted to a small town in southern Nigeria in 1958. In the following year, Dr. O'Donohue was appointed to the General Council of the order.
The greatest challenge of her life began 30 years later. In 1988 the British sister organization of Caritas, CAFOD, the Catholic Agency for Overseas Development, started an AIDS program. Maura O'Donohue, who for years had seen the AIDS epidemic make emergencies worse around the world in her daily work with lepers and in famine relief, took over the leadership of the program. She was responsible for HIV care, education projects, and the support of AIDS orphans, and organized cooperation with other organizations. In just three years she was able to set up 89 projects in 18 countries on three continents. One of her greatest successes was to get important church leaders and door-openers on board in the AIDS work. That was anything but easy, because within the Catholic Church, AIDS was initially seen as a pure "fringe group" problem. Above all, people were not prepared to question the church's ban on contraceptives.
The willingness to get involved in the targeted fight against HIV was therefore not particularly pronounced in the leadership of the Catholic Church. O'Donohue knew about this problem and faced it. In retrospect, Matthew Carter, the director of CAFOD's humanitarian aid, sums up her merit: "She was acutely aware that the Catholic Church could be either a part of the problem or part of the solution, with regard to HIV. From the outset she was determined to ensure Church-based responses were an effective and significant part of the solution. She made a difference" Together with the head of Caritas she traveled around the globe. She sensitized bishops' conferences, orders, diocesan assemblies, seminaries, and theological institutes in Africa, Asia, and Latin America to the AIDS epidemic and won their support.
Maura O'Donohue knew that HIV was more than a disease. It was a crisis that exacerbated all of the core problems of development work: poverty, abuse of power, and powerlessness – especially the economic and sexual powerlessness of women. It also made things visible that had previously been hidden. This included the sex life of Catholic clergy in the countries particularly affected by AIDS.
Maura O'Donohue was in her mid-fifties at the time, a seasoned religious sister and development worker. She had already seen a lot. But what she heard and experienced now stunned her. In order not to infect themselves, priests apparently went to prostitutes less often and resorted increasingly to sexual assault. There was the story of the young woman who had recently converted to Christianity against the protests of her Muslim parents and wanted to enter a monastery. To enter, she needed a certificate from the local pastor. He raped her before handing her the paper. When she found out that she was pregnant after entering, she left the monastery, feeling ashamed, completely perplexed, and scared. She couldn't go back to her parents. The pregnant young woman hid in the forest for ten days before going to the bishop. The only measure that the bishop took against the confessed pastor: He prescribed him 14 days of reflection.
The Vatican did nothing
O'Donohue heard similar stories over and over again: pastors expecting sexual services in exchange for credentials. Religious sisters who had to leave their monasteries after being infected or becoming pregnant. Bishops who ignored accusations and calls for help. Little by little it became clear to her: Sexual violence that priests perpetrated against women religious had not been triggered by AIDS, but had only become more visible. It was a problem in itself, and it was an even more sensitive issue than AIDS. In order to make a difference in this matter within the church, she would have to use the concentrated diplomatic expertise she had gathered in dealing with top church staff during the AIDS epidemic. Going public was out of the question for O'Donohue. She wanted to solve the problem in the expected way within the church, and she knew that it would be anything but easy, because she had to get those responsible in the Vatican to take care of the problem.
In February 1994, Maura O'Donohue wrote a strictly confidential report to Cardinal Martínez Somalo, then Prefect of the Congregation for Religious in Rome. This is the authority responsible for members of religious orders around the world. O'Donohue writes of "many confidences" that she had with a "great number of sisters." She referred to priests, medical staff, and "other members of loyal ecclesial family" who could testify to "the exploitation of sisters and other women by priests." She stressed that "case records exist for several of the incidents described … and that the information is not just based on hearsay." She expressly writes that such cases are neither limited to "any single country or even continent, nor indeed to any one group," but that they stem from "experience over a six-year period and relate to incidents in some 23 countries in five continents." She names all of these countries, including the USA, Colombia, Ireland, Italy, India, Papua New Guinea, and the Philippines.
The examples that she describes are beyond imagination: In several countries there is the rule that pregnant women religious have to leave the monasteries. Afterwards, they and their child are condemned to extreme poverty, and quite a few are forced to prostitute themselves and expose themselves to the risk of an AIDS infection if they are not already ill. The priests, who often impregnated these women by force, would remain in office. Superiors of the order would be completely at a loss. In one case, a superior had to send more than 20 sisters away because they were pregnant. Catholic hospital workers report that priests pressured them to perform abortions. Other priests advised nuns to take the pill and persuaded them this would protect them from AIDS. In some cases, priests would molest teenagers or married women. In a parish that protested in vain, there were even armed attacks on the rectory. In the last third of the report, O'Donohue lists consequences and recommendations before closing with the words: "There is something prophetic in this tragedy, because it is the "voiceless" who have prompted this maturing process…. I pray that their pleas for help and understanding will not go unheard but will receive an equally courageous and prophetic response."
About a year later, on February 18, 1995, O'Donohue was invited to Rome to talk to Cardinal Martínez Somalo and some of his closest collaborators. Among them was only one woman, the American canon lawyer Sr. Sharon Holland. The very beginning of the conversation was sobering. The head of the congregation was hardly prepared. There wasn't even an agenda. With haunting words, O'Donohue makes it clear that nothing has changed in the dramatic situation. With diplomatic sensitivity, she also referred to "some good things" such as workshops that she had organized for religious orders and bishops' conferences. At the same time, she referenced "sad experiences." In the meantime, some orders refused in principle all candidates who brought credentials from pastors with them. The likelihood that they were sexually abused, infected with AIDS, or pregnant in exchange for the letters was too high. She told of an abused young religious who had died as a result of an abortion forced by her tormentor, whereupon the perpetrator had held her funeral mass unmoved.
Towards the end of the conversation, it was not the cardinal, but Maura O'Donohue, who made suggestions: Among other things, she proposed a broad-based visitation in which at least one woman should be involved. In addition, several Roman authorities should work together to deal with the full range of the problem. Maura O'Donohue offered her support and cooperation. But in a memo that she wrote after the conversation, there is no reference to inquiries or commitments from the congregation.
In the following years other concerned church people spoke up: the nuns Mary McDonald and Esther Fangman, the Benedictine Abbot Notker Wolf. They all knew the problem and hoped Rome would do something about it. But the Vatican did: nothing. In any case, a statement by the Vatican press spokesman from 2001 suggests this conclusion. That year, O'Donohue's reports reached the press and were published. Apparently, the press spokesman could not refer to any visitations, criminal trials, or support programs for female survivors. Instead, he limited himself to belittling the problem in a few sentences. Even after that, inquiries went unheard. It was not until 2019, 25 years after O'Donohue's first report, that the church made the next statement on the matter. It came from Pope Francis. He no longer downplayed the problem, and even spoke of the "sexual enslavement" of women religious. But even he could not refer to convictions, compensation, or any other specific measures. Maura O'Donohue did not live to see him speak these words. She died of leukemia on May 3, 2015.
To this day, the Roman Curia does not see the violence perpetrated by Catholic clergy against women as part of the abuse crisis. To this day, clerics who perpetrate the violence go unpunished. But Maura O'Donohue's commitment also resonates to this day. She is quoted when survivors speak, when women religious defend themselves, and when research is being carried out on the subject. Ultimately, it is precisely her supposedly failed commitment for which she has received the most gratitude to this day.
DORIS REISINGER,
37 years old, researches at the Department of Catholic Theology at the Goethe University in Frankfurt am Main. She is a Fellow of the Gender, Sex, and Power research group at Notre Dame University in the USA. She has just published a book together with Christoph Röhl: Only truth saves: The abuse in the Catholic Church and the Ratzinger system.
CHRIST & WORLD SERIES
How can the process work properly? The churches in Germany are struggling to come to terms with the issue: the sexual violence that pastors (of all people) have committed against children and young people has caused a crisis of confidence. Christ & Welt has researched and reported intensively over the past few months. We know that this is a difficult topic, but at the same time we want to fulfill our journalistic task by contributing to clarification and opinion-forming. Yes, but isn't there anything positive? How are you doing better? Aren't there people in the abuse scandal who have shown how to act properly? Of course there are. We want to widen our view for them – initially in a series of portraits: The author and scholar Doris Reisinger introduces three people who acted wisely and decisively: three role models. Part 1 was about canon lawyer Thomas Doyle, who recognized the extent of the abuse scandal in the USA as early as 1984 (C&W No. 20/21).
Original German text:
Maura O'Donohue: Eine Stimme, die nachhallt
Die irische Ordensfrau und Ärztin Maura O'Donohue hat sich weltweit gegen Machtmissbrauch von Priestern engagiert. Mit Disziplin und Feingefühl half sie Betroffenen.
Von Doris Reisinger
21. Mai 2021, 8:00 UhrErschienen in Christ & Welt5 Kommentare
AUS DERZEIT NR. 21/2021
Innerhalb von nur drei Jahren konnte sie 89 Projekte in 18 Ländern auf drei Kontinenten aufbauen. © Illustration: Sören Kunz/WILDFOXRUNNING
Eine Stimme, die nachhallt – Seite 1
Zu den vielen eigentümlichen Dingen im Katholizismus gehört es, dass selbst die herausragenden Frauen dieser Kirche nahezu unbekannt bleiben. Eine von ihnen ist die irische Ordensfrau Maura O'Donohue von den Medical Missionaries of Mary. Als eine der wenigen Frauen ihrer Generation hatte sie einen akademischen Abschluss, wurde schon mit Mitte zwanzig in Leitungspositionen berufen, beherrschte mehrere Sprachen und verwaltete ein Millionenbudget. Aber ihre womöglich größten Verdienste hat sie ausgerechnet da erworben, wo sie auf den ersten Blick gescheitert zu sein scheint: im Engagement gegen sexuellen Missbrauch. Dieses Scheitern ist nicht ihr anzulasten, denn eine kompetentere, engagiertere und besser vernetzte Fürsprecherin als sie hätten Betroffene gar nicht finden können.
Dabei war das Leben und Handeln der 2015 verstorbenen O'Donohue ganz von Loyalität und treuer Befolgung der geltenden Regeln geprägt. Ganz so, wie die Kirche sich ihre Ordensfrauen wünscht. Aber gerade deswegen war sie auch nicht bereit, wegzusehen, wenn sie mit Unrecht, Leid und Regelverstößen konfrontiert wurde.
Es gibt einige Fotos und Videoaufnahmen von Maura O'Donohue. Man sieht ein feines Lächeln, unscheinbare Kleidung und eine kerzengerade Haltung. Diese Frau strahlt eine ungeheure Disziplin aus. Von Menschen, die sie kannten, wird Maura O'Donohue als klug, feinfühlig und wortgewandt beschrieben. Eine Person, in der sich Dienstbereitschaft, Können und Hartnäckigkeit zu einem beeindruckenden Charakter verbanden, und vor allem: eine Frau, die es verstand, andere von etwas zu überzeugen.
Im Jahr 1933 wurde sie als Mary Brigid O'Donohue in einem kleinen Ort im dünn besiedelten County Clare an der irischen Westküste geboren. Kaum volljährig trat sie 1950 bei den MMMs, den Medical Missionaries of Mary, ein. Der nur 13 Jahre zuvor gegründete Orden hatte es sich zur Aufgabe gemacht, medizinischen Beistand dorthin zu bringen, wo er am nötigsten war. Nach dem Eintritt erhielt Mary den Namen Sr. Maura. Sie studierte Medizin in Dublin und wurde 1958 in eine Kleinstadt im Süden Nigerias entsandt. Schon im darauffolgenden Jahr wurde die Ärztin in den Generalrat des Ordens berufen.
Die größte Herausforderung ihres Lebens begann 30 Jahre später. 1988 rief die britische Schwesterorganisation der Caritas, CAFOD, die Catholic Agency for Overseas Development, ein Aids-Programm ins Leben. Maura O'Donohue, die in ihrer täglichen Arbeit mit Leprakranken und in der Hungerhilfe seit Jahren sah, wie die Aids-Epidemie Notlagen überall auf der Welt verschlimmerte, übernahm die Leitung des Programms. Sie kümmerte sich um HIV-Versorgung, Aufklärungsprojekte und die Unterstützung von Aids-Waisen, organisierte Kooperationen mit anderen Organisationen. Innerhalb von nur drei Jahren konnte sie 89 Projekte in 18 Ländern auf drei Kontinenten aufbauen. Einer ihrer größten Erfolge war es, in der Aids-Arbeit wichtige kirchliche Führungskräfte und Türöffner an Bord zu holen. Das war alles andere als leicht, denn innerhalb der katholischen Kirche wurde Aids zunächst als ein reines "Randgruppen"-Problem gesehen. Vor allem war man nicht bereit, das kirchliche Verbot von Verhütungsmitteln infrage zu stellen.
Die Bereitschaft, sich in der gezielten Bekämpfung von HIV zu engagieren, war daher in der Führungsriege der katholischen Kirche nicht besonders ausgeprägt. O'Donohue wusste um diese Problematik und stellte sich ihr. Ihr Verdienst bringt Matthew Carter, der Leiter von CAFODs humanitärer Hilfe, rückblickend so auf den Punkt: "Sie war sich sehr bewusst, dass die katholische Kirche in Bezug auf HIV entweder Teil des Problems oder Teil der Lösung sein konnte. Von Anfang an sorgte sie entschlossen dafür, dass die kirchlichen Maßnahmen ein wichtiger Teil der Lösung wurden. Das war auch ihr Verdienst." Gemeinsam mit dem Leiter der Caritas reiste sie um den Globus. Sie sensibilisierte Bischofskonferenzen, Ordensleitungen, Diözesanversammlungen, Priesterseminare und theologische Institute in Afrika, Asien und Lateinamerika für die Aids-Epidemie und gewann ihre Unterstützung.
Maura O'Donohue war klar, dass HIV mehr war als eine Krankheit. Es war eine Krise, die alle Kernprobleme der Entwicklungsarbeit verschärfte: Armut, Machtmissbrauch und Ohnmacht – insbesondere die wirtschaftliche und sexuelle Ohnmacht von Frauen. So wurden auch Dinge sichtbar, die zuvor verborgen geblieben waren. Dazu gehörte das Sexualleben katholischer Kleriker in den besonders von Aids betroffenen Ländern.
Maura O'Donohue war damals Mitte fünfzig, eine gestandene Ordensfrau und Entwicklungshelferin. Sie hatte schon manches erlebt. Aber was sie nun hörte und erlebte, machte sie fassungslos. Um sich selbst nicht zu infizieren, gingen Priester nun offenbar seltener zu Prostituierten und wurden vermehrt sexuell übergriffig. Da war die Geschichte von der jungen Frau, die erst vor Kurzem gegen den Protest ihrer muslimischen Eltern zum Christentum konvertiert war und in ein Kloster eintreten wollte. Für den Eintritt brauchte sie eine Bescheinigung des Ortspfarrers. Der vergewaltigte sie, bevor er ihr das Papier aushändigte. Als sie dann nach dem Eintritt feststellte, dass sie schwanger war, verließ sie das Kloster, schämte sich, war völlig ratlos und verängstigt. Zu ihren Eltern konnte sie nicht zurück. Zehn Tage lang versteckte sich die junge schwangere Frau im Wald, bevor sie schließlich zum Bischof ging. Die einzige Maßnahme, die der Bischof gegen den geständigen Pfarrer ergriff: Er verordnete ihm 14 Tage Besinnung.
Der Vatikan unternahm nichts
Wieder und wieder hörte O'Donohue ähnliche Geschichten: Pfarrer, die im Austausch für Beglaubigungsschreiben sexuelle Dienste erwarteten. Ordensschwestern, die ihre Klöster verlassen mussten, nachdem sie sich infiziert hatten oder schwanger geworden waren. Bischöfe, die Anklagen und Hilferufe ignorierten. Nach und nach wurde ihr klar: Sexualisierte Gewalt, die Priester gegen Ordensfrauen verübten, war nicht durch Aids ausgelöst, sondern nur sichtbarer geworden. Es war ein Problem in sich und es war ein noch deutlich heikleres Thema als Aids. Um in dieser Sache innerkirchlich irgendetwas zu bewegen, würde sie die geballte diplomatische Expertise einsetzen müssen, die sie im Umgang mit kirchlichem Spitzenpersonal in der Aids-Epidemie gesammelt hatte. Der Gang an die Öffentlichkeit kam für O'Donohue nicht infrage. Sie wollte das Problem auf den vorgesehenen innerkirchlichen Wegen lösen, und sie wusste, dass das alles andere als leicht werden würde, denn sie musste die Verantwortlichen im Vatikan dazu bringen, sich des Problems anzunehmen.
Im Februar 1994 verfasst Maura O'Donohue einen streng vertraulichen Bericht an Kardinal Martínez Somalo, den damaligen Präfekten der Religiosenkongregation in Rom. Das ist die Behörde, die für Ordensleute weltweit zuständig ist. O'Donohue schreibt von "vielen vertraulichen Gesprächen", die sie mit einer "großen Anzahl von Schwestern" geführt habe. Sie verweist auf Priester, medizinisches Personal und "andere loyale Kirchenmitglieder", von denen "die Ausbeutung von Schwestern und anderen Frauen durch Priester" bezeugt werden könne. Sie betont, dass es für mehrere der geschilderten Vorfälle "Fallberichte gibt und dass die Informationen nicht nur auf Hörensagen beruhen". Sie schreibt ausdrücklich, derartige Fälle beschränkten sich "weder auf ein einzelnes Land oder gar einen Kontinent noch auf eine bestimmte Gruppe", vielmehr stammten sie "aus der Erfahrung von sechs Jahren und beziehen sich auf Vorfälle in etwa 23 Ländern auf fünf Kontinenten". Sie nennt alle diese Länder beim Namen, darunter die USA, Kolumbien, Irland, Italien, Indien, Papua-Neuguinea und die Philippinen.
Die exemplarischen Fälle, die sie im Folgenden schildert, sprengen jede Vorstellungskraft: In mehreren Ländern gebe es die Regel, dass schwangere Ordensfrauen die Klöster verlassen müssten. Danach seien sie mit ihrem Kind zu extremer Armut verurteilt, nicht wenige seien gezwungen, sich zu prostituieren und sich dem Risiko einer Aids-Infektion auszusetzen, wenn sie nicht ohnehin schon erkrankt seien. Die Priester, die diese Frauen oft gewaltsam geschwängert hätten, würden dagegen im Amt verbleiben. Ordensoberinnen wären völlig ratlos. In einem Fall habe eine Oberin über 20 Schwestern wegschicken müssen, weil sie schwanger waren. Mitarbeiter von katholischen Krankenhäusern berichten, dass Priester sie unter Druck setzten, Abtreibungen vorzunehmen. Andere Priester rieten Ordensschwestern, die Pille zu nehmen, und redeten ihnen ein, damit wären sie auch vor Aids geschützt. In einigen Fällen würden Priester auch Teenager oder verheiratete Frauen belästigen. In einer Pfarrei, die vergeblich dagegen protestiert habe, sei es sogar zu bewaffneten Angriffen auf das Pfarrhaus gekommen. Im letzten Drittel des Berichts listet O'Donohue Konsequenzen und Empfehlungen auf, bevor sie mit den Worten schließt: "Es liegt etwas Prophetisches in dieser Tragödie, denn es sind gerade die ohne Stimme, die diesen Prozess angestoßen haben. (…) Ich bete, dass ihre Bitten um Hilfe und Verständnis nicht ungehört bleiben, sondern eine ebenso mutige und prophetische Antwort erhalten werden."
Rund ein Jahr später, für den 18. Februar 1995, wurde O'Donohue nach Rom eingeladen, zum Gespräch mit Kardinal Martínez Somalo und einigen seiner engsten Mitarbeiter. Darunter nur eine Frau, die Amerikanerin und Kirchenrechtlerin Sr. Sharon Holland. Schon der Beginn des Gesprächs fiel ernüchternd aus. Die Spitze der Kongregation war kaum vorbereitet. Es gab nicht einmal eine Tagesordnung. Mit eindringlichen Worten macht O'Donohue klar, dass sich nichts an der dramatischen Lage geändert hatte. Mit diplomatischem Feingefühl verwies sie auch auf "einige gute Dinge" wie Workshops, die sie für Ordensleute und Bischofskonferenzen organisiert hatte. Zugleich nannte sie "traurige Erfahrungen". Manche Orden lehnten inzwischen prinzipiell alle Kandidatinnen ab, die Beglaubigungsschreiben von Pfarrern mitbrachten. Zu hoch war die Wahrscheinlichkeit, dass sie im Austausch für die Schreiben sexuell missbraucht worden, mit Aids infiziert oder schwanger waren. Sie erzählte von einer missbrauchten jungen Ordensfrau, die infolge einer von ihrem Peiniger erzwungenen Abtreibung gestorben war, woraufhin der Täter ungerührt ihre Totenmesse gehalten hatte.
Gegen Ende des Gesprächs war es nicht der Kardinal, sondern Maura O'Donohue, die Vorschläge machte: Unter anderem schlug sie eine breit angelegte Visitation vor, an der mindestens eine Frau beteiligt sein sollte. Außerdem sollten mehrere römische Behörden zusammenarbeiten, um dem Problem in seiner ganzen Bandbreite gerecht zu werden. Maura O'Donohue bot hierfür ihre Unterstützung und Mitarbeit an. Aber in einem Memo, das sie nach dem Gespräch verfasste, gibt es keinen Hinweis auf Anfragen oder Zusagen vonseiten der Kongregation.
In den folgenden Jahren meldeten sich andere besorgte Kirchenleute zu Wort: die Ordensfrauen Mary McDonald und Esther Fangman, der Benediktiner Notker Wolf. Sie alle kannten das Problem und hofften, dass Rom etwas unternehmen würde. Aber der Vatikan unternahm: nichts. Diesen Schluss legt jedenfalls ein Statement des vatikanischen Pressesprechers aus dem Jahr 2001 nahe. In diesem Jahr waren O'Donohues Berichte an die Presse gelangt und veröffentlicht worden. Offenbar konnte der Pressesprecher nicht auf bereits erfolgte Visitationen, Strafprozesse oder Unterstützungsprogramme für betroffene Frauen verweisen. Stattdessen beschränkte er sich darauf, das Problem in wenigen Sätzen kleinzureden. Auch danach verhallten Nachfragen ungehört. Erst 2019, 25 Jahre nach O'Donohues erstem Bericht, gab es die nächste kirchliche Wortmeldung zur Sache. Sie kam von Papst Franziskus. Der redete das Problem zwar nicht mehr klein, sondern sprach sogar von "sexueller Versklavung" von Ordensfrauen. Aber auf Verurteilungen, Entschädigungen oder irgendwelche anderen konkreten Maßnahmen konnte auch er nicht verweisen. Maura O'Donohue erlebte seine Wortmeldung nicht mehr. Sie war am 3. Mai 2015 an Leukämie gestorben.
Bis heute wird die von katholischen Klerikern verübte Gewalt gegen Frauen im Vatikan nicht als Teil der Missbrauchskrise begriffen. Bis heute gehen Kleriker, die sie verüben, straffrei aus. Aber bis heute hallt auch Maura O'Donohues Einsatz nach. Sie wird zitiert, wenn Betroffene sich zu Wort melden, wenn Ordensfrauen sich wehren und wenn zu der Thematik geforscht wird. So ist es letztlich ausgerechnet ihr vermeintlich gescheitertes Engagement, für das ihr bis heute die meiste Dankbarkeit zuteil wird.
DORIS REISINGER,
37 Jahre alt, forscht am Fachbereich Katholische Theologie der Goethe-Universität in Frankfurt am Main. Sie ist Fellow der Forschungsgruppe Gender, Sex and Power der Notre Dame University in den USA. Gerade hat sie gemeinsam mit Christoph Röhl ein Buch veröffentlicht: Nur die Wahrheit rettet. Der Missbrauch in der katholischen Kirche und das System Ratzinger.
CHRIST&WELT-SERIE
Wie geht Aufarbeitung richtig?
Die Kirchen in Deutschland ringen um Aufarbeitung: Die sexualisierte Gewalt, die ausgerechnet Seelsorger an Kindern und Jugendlichen begangen haben, hat eine Vertrauenskrise bewirkt. Christ&Welt hat in den vergangenen Monaten intensiv dazu recherchiert und berichtet. Wir wissen, dass es sich um ein schwer erträgliches Thema handelt, möchten aber gleichzeitig unserer journalistischen Aufgabe nachkommen, indem wir zur Aufklärung und Meinungsbildung beitragen. Ja, gibt es keine leuchtenden Beispiele? Wie geht es besser? Haben im Missbrauchsskandal nicht auch Menschen überaus vorbildlich gehandelt? Natürlich gibt es sie. Für sie wollen wir den Blick weiten – zunächst in einer Reihe von Porträts: Die Autorin und Wissenschaftlerin Doris Reisinger stellt drei Menschen vor, die klug und entschlossen gehandelt haben: drei Vorbilder. Teil 1 handelte vom Kirchenrechtler Thomas Doyle, der in den USA bereits 1984 das Ausmaß des Missbrauchsskandals erkannte (C&W Nr. 20/21).
https://www.zeit.de/2021/21/maura-o-donohue-katholische-kirche-hiv-missbrauch/komplettansicht