TRAVERSE CITY (MI)
Record-Eagle [Traverse City MI]

July 11, 2021
By Patti Brandt Burgess
Child sexual abuse sometimes takes place under the blankets while a child sits with their abuser on the sofa, watching TV in a room full of people.
"It's a wicked problem that happens in the shadows," said Ginger Kadlec, executive director of the Traverse Bay Children's Advocacy Center, which recently added 2,200 square feet of space to deal with the rise in reports of sexual and physical abuse.
The added space nearly doubles the CAC's size, allowing the center to now conduct two simultaneous forensic interviews, Kadlec said.
The number of child forensic interviews done at the CAC has increased by about 10 percent each year for the past several years, said Kadlec, who took over as director of the center in August. In May, 52 interviews were conducted, up from 38 in 2019.
"We're anticipating that trend to continue upward," Kadlec said. "We kind of hope that it does, because we know we are not helping all the kids that are out there."
Just 11 interviews were conducted in 2020, but a dip in reported child abuse cases occurred when the pandemic started — a trend attributed to the fact that schools, which are mandated to report suspicions of abuse, were closed across the region.
"During the pandemic reports from schools dropped more than 60 percent, but that doesn't mean it wasn't happening," she said. "The pandemic has impacted families and children in ways that we probably won't know about or understand for a long time."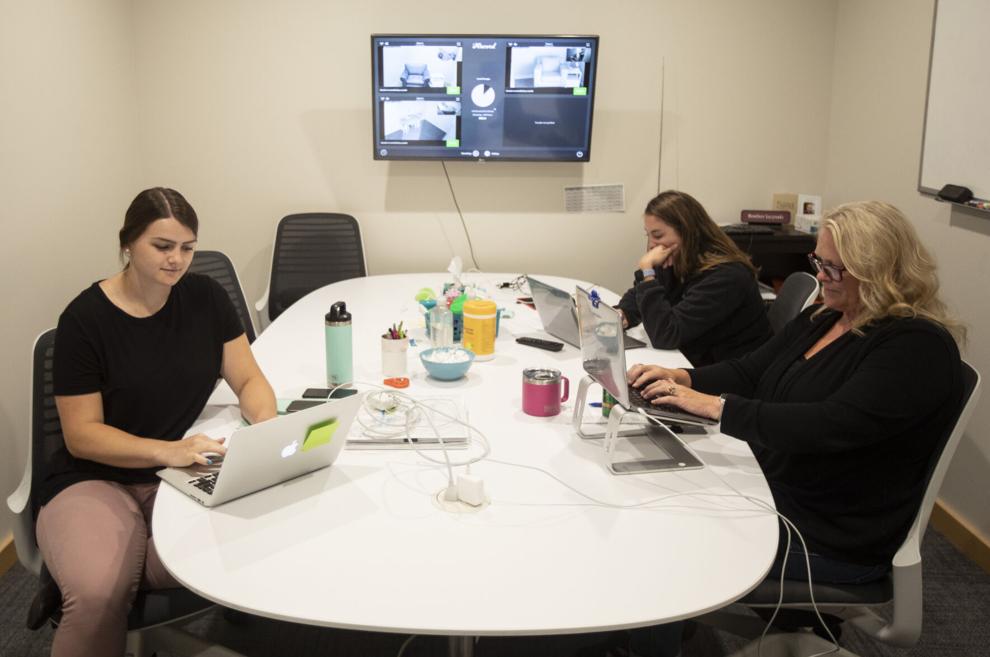 The expansion and renovation of the existing building was funded by about $555,000 raised in a silent capital campaign, she said.
The nonprofit CAC gets about half of its funding from the Victims of Crime Act Fund that allocates money generated by fines paid by people convicted by federal crimes to domestic violence shelters, rape crisis centers and child advocacy centers. The rest comes from grants and private donations, Kadlec said.
Two staff members were added to handle the increased workload, for a total of 12, including a therapist and an advocate who meets with victims and non-offending family members to offer follow-up counseling at the center, connect them with community services and more.
The space increases the CAC's ability to provide counseling and trauma-informed therapy to child victims and their families, and helps decrease the gap for children on waiting lists for services, Kadlec said.
The center recently began using the Care Process Model for Pediatric Traumatic Stress, which can identify trauma exposure, suicidal ideations and traumatic stress symptoms in children. The CPM is used for all children 6 and older who come in for a forensic interview, with children 10 and older filling it out themselves.
"We've been surprised at the number of kids who come here and don't disclose they feel suicidal, but those scores are really high," Kadlec said.
She does not know if the scores are high because of the pandemic, as there are no pre-pandemic numbers to compare. The Traverse Bay CAC is one of the first in Michigan to implement the model, she said.
Depending on a child's scores a therapist may do further assessment to see if a child is in imminent danger of harming themselves. If so, they may be sent to Munson Medical Center for evaluation.
The center may also call the Family Assessment & Safety Team offered through Northern Lakes Community Mental Health. The FAST mobile response team for families with children in behavioral health crisis works to stabilize a child and can help a family connect with available services.
Local mental health advocates have long talked about the need for mental health beds for children and teens in the region as there currently are none. Efforts are underway to establish a 24/7 community crisis center that would, among other mental health services, provide a six-bed residential unit for intensive treatment for up to a week. None of those beds would be for children.
The CAC is the response center for the investigation of child abuse in Grand Traverse, Antrim, Benzie, Kalkaska, Leelanau and Wexford counties and for the Grand Traverse Band of Ottawa and Chippewa Indians and partners with 35 organizations. Nearly 2,800 children have been served since its founding in 2010.
Kadlec said it's hard to know if actual incidents are up, or if more people are paying attention and making reports. Leelanau County Prosecutor Joseph Hubbell agrees.
"I don't know if humankind has changed so much with kids getting mistreated," Hubbell said. "I think people's eyes are more open to it. Instead of disbelieving kids, people are being more cautious to make sure something didn't happen.
"The worse case scenario is when kids aren't believed or aren't being taken care of."
Mandatory reporting by schools, law enforcement officers, medical personnel and more have also contributed to the rise in cases, Hubbell said.
Sometimes there is a pending divorce or custody case that triggers a report, he said. Sometimes a child will be interviewed and it is found that suspicions of abuse were unfounded, and that's OK, he said. Forensic interviewers do a good job of getting to the truth, he said.
Niki Dunwiddie is a domestic violence victims assistance coordinator with the Grand Traverse County Prosecutor's Office, a position she has held for about six years. In her work with children she prepares them for court when they have to testify, she provides emotional support for both children and their parents and she acts as a liaison between families and the prosecutor's office.
"It sure feels like my caseload has gotten busier," Dunwiddie said, though she doesn't have statistics on the rise in cases. "The Children's Advocacy Center is a great asset to the community and a wonderful resource to have."
The National Children's Advocacy Center in Alabama was created in 1985 and offered a revolutionary response to how victims of child sexual abuse are treated. That first center has served as a model for the more than 1,000 CACs now in operation in the U.S.
Forensic interviews are done by trained interviewers who sit down with a child one-on-one to talk about what may or may not have happened, said Kadlec, who is a trained interviewer. A team of people that may include law enforcement officers, prosecutors, child protective service workers and medical and mental health personnel watch the interview from another room, with only the interviewer having contact with the child.
In years past children often had to talk to several different people in a segmented system about their abuse.
"That's the beauty of the child advocacy model," Kadlec said. "They're not traumatized by repeating their story over and over."
Benzie County Prosecutor Sara Swanson said she has been to several child forensic interviews at which it was found the child was not abused, and that's a good thing, she said. She has also been to many where abuse did take place. She credits the efforts of the CAC in educating people on what to look for in a child who is being abused.
"It does seem like sexual assault cases have gone up," Swanson said. "I think some of the cases that may not have been reported in the past are being reported now."
The public can tour the expanded center and meet the staff at a Community Open House on July 21. The center also is kicking off a "Healing Begins with Us" community awareness campaign that will focus on the existence of the CAC and the services it offers, Kadlec said.
"Ideally, we wouldn't have to be here at all, but that isn't the case," she said. "This is truly a community challenge. We all have a responsibility and a role to play in the protection of our children."
More than 90 percent of children who are abused know, love or trust the person who is abusing them, making it harder for them to report, Kadlec said. They also have to rely on caring adults to take action, she said.
If someone has a feeling, an inkling or a suspicion that something is wrong or that a child is being abused, they should call the CAC. Someone there will walk them through the process of filing a report with Child Protective Services or a law enforcement agency, Kadlec said.
The report can be made anonymously and the person reporting is not responsible for producing proof that abuse has taken place.
That is left to the investigators, Kadlec said.
Kadlec believes that at some point the number of abuse cases will reach an apex and start to go down as there is a shift in how society views the safety and well-being of children.
"We really need to band together to take care of our most precious asset — our children," she said.
https://www.record-eagle.com/news/a-wicked-problem-advocacy-center-expands-to-deal-with-increase-in-child-abuse-allegations/article_a1679752-de78-11eb-bcef-b3aa6514f4b3.html