WASHINGTON (DC)
Washington Post

July 21, 2021
By Marisa Iati and Michelle Boorstein
Is Monsignor Jeffrey Burrill a victim of both the surveillance and morality police? Or a hypocrite who had it coming? The case of the high-ranking Catholic cleric who resigned after allegedly being tracked on the gay dating app Grindr quickly became a Rorschach test Wednesday for Catholics already mired in tension over politics, theology and culture.
Monsignor Jeffrey D. Burrill, a priest of the Diocese of La Crosse, Wis., resigned Tuesday as the general secretary of the U.S. Conference of Catholic Bishops amid "impending media reports alleging possible improper behavior." (Bob Roller/Catholic News Service)
Burrill until Tuesday was the top administrator for the U.S. Conference of Catholic Bishops. He stepped down after a Catholic newsletter presented conference officials with allegations that cellphone data indicated he had repeatedly used Grindr and visited gay bars.
Catholics reacted with immediate intensity to the Pillar's report. On Wednesday, some said they saw a story about a powerful priest violating his promises of chastity and the church's ban on same-sex activity, while others focused on the ways digital surveillance can be used to expose someone's private life.
Catholic teaching forbids sexual relations outside heterosexual marriage and calls same-sex relations and marriage "intrinsically disordered."
"It has got to be obvious to non-Catholics that the culture wars just washed over the U.S. church like a tidal wave," said Tony Spence, a former president of the Catholic Media Association.
Controversy had already swirled around the Catholic Church in the United States for weeks. In June, the bishops voted to draft a document that some say is intended to eventually deny the Eucharist — the faith's central rite — to President Biden and other Catholic politicians who support legal abortion.
As the USCCB's general secretary, Burrill when he resigned was overseeing the organization's fall conference at which bishops will review and vote on that document. Then Pope Francis last week moved to tighten restrictions on the old Latin Mass, frustrating traditionalists.
Against that contentious backdrop, Mike Lewis, founder of the Catholic news site Where Peter Is, said he felt torn about the Pillar's publication of Burrill's alleged use of Grindr and visits to gay bars. Burrill allegedly violated the promises he made as a priest and needed to step down, Lewis said. But he added that he was uncomfortable with the digital surveillance used to uncover the claims.
"Rather than bringing the truth to light, it's ruining a man's life," said Lewis, whose site aims to defend Pope Francis from ideologically conservative critics.
Kathryn Jean Lopez, a Catholic commentator and writer for the conservative National Review, said she was pained about both the allegations in the Pillar story and the surveillance methods described. She said she believes there's been a lot of dissent and miscommunication when it comes to Catholic teaching around sexuality for decades.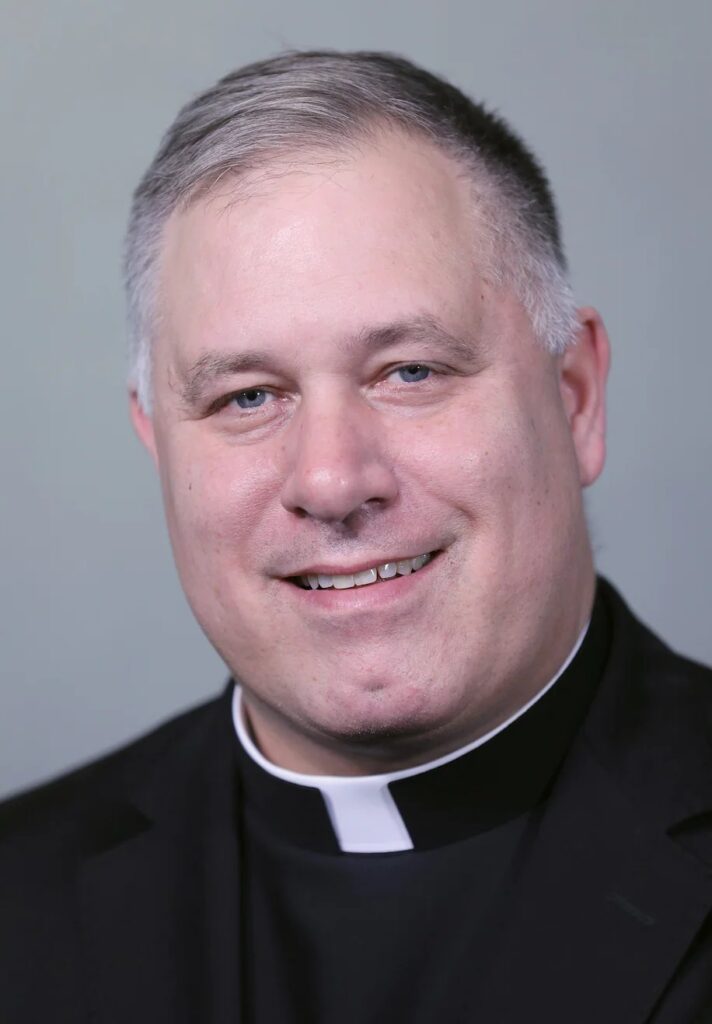 "We're in a crisis place with what the sexual revolution has wrought," Lopez said. "But to make this man pay for the mess that we are? It seems so cruel. I hate the castings of stone,particularly in this way."
Kim Daniels, a former USCCB official and Vatican adviser, said in a tweet Wednesday that the Pillar's lack of transparency about the data and where it came from didn't help the church, but hurt it.
"Without that information readers can't adequately assess the story's credibility. The end result: efforts toward increased transparency are not strengthened, they're undermined," Daniels wrote. "The actions alleged in the story are wrong, violating Church teachings on many levels. And this all lands as yet another gut-punch for me and so many other Catholics. That's one reason why credibility is so important here. Without it, we've moved backward, not forward."
Spence said the Pillar's use of anonymously gathered and analyzed data is "a new and frightening development." He compared it to tactics used in the 1950s by Sen. Joseph McCarthy and others to identify suspected communists.
"I think what is going on right now is a new McCarthyism in the church. You can see the ghost of McCarthy hanging over this and putting religion on it," Spence said.
But some said they trusted the Pillar's intentions and judgment.
Janet Smith, a prominent moral theologian, in a piece Wednesday in the conservative magazine Crisis, compared the right of Catholics to know about Burrill to the right of a spouse to know about their partner cheating.
"Certainly a Bishop has a legitimate reason to know the information about his priests and so, too, in my mind, does anyone who is entrusting their immortal soul to guidance by a priest," she wrote. Smith called such surveillance and data collection "a necessary form of accountability or 'due diligence'. Is abuse of funds a more serious offense that the abuse of people?"
"Many whom I respect raised critical questions about it; many others whom I respect defended it as obviously vital and good," tweeted the Rev. Bill Dailey, a rector at the University of Notre Dame. "I don't know that [The Pillar's] was the same judgment I'd have made, but life involves such honorable disagreement at times. I lament the vitriol that has surrounded the painful story. I invite people to consider stepping back in prayer for all concerned … Let us be patient with each other, merciful with each other, and work through such challenges so as to give rise anew to the ancient observation: 'See how they love one another.'"
The Diocese of La Crosse, Wis., where Burrill was ordained in 1998, said Tuesday in a statement that he had completed background checks and "safe environment training" as recently as 2020. The diocese added that its officials were "saddened" and would cooperate with the USCCB "to pursue all appropriate steps in investigating and addressing the situation."
In response to the backlash from some quarters, the Pillar on Wednesday issued a statement, saying it "obtained and authenticated a data set" and then sought to identify connections to the church.
Its original story claimed a potential conflict between Burrill's work on child protection issues and his alleged use of the app, a contention that triggered sharp pushback from LGBTQ advocates. Pillar writers said Wednesday that they did not mean to insinuate in their story that Burrill had sexually abused minors through Grindr.
"But law enforcement, child protection advocates, and academics have warned repeatedly that location-based hookup apps pose risks of both intentional and unintentional exploitation and abuse of minors," Pillar's statement said.
Pillar has not explained how it accessed Burrill's location data except to say that it "was obtained from a data vendor and authenticated by an independent data consulting firm contracted by The Pillar." The news site did not identify the vendor or say whether it paid for the information.
Grindr, which was fined $11.7 million in January by Norwegian officials for sharing details about its users with advertising companies, initially denied it was even possible for such data to become public, saying in a statement that the incident was "infeasible from a technical standpoint and incredibly unlikely to occur." Grindr updated its statement on Wednesday to say, "We do not believe Grindr is the source of the data" and claimed the "pieces simply do not add up."
But experts on data privacy say it is completely plausible to buy anonymous location data from third-party data brokers and use additional information like a person's home and work address to de-anonymize it.
"This data that's collected today could be used against us in ways that we can't even imagine," said Patrick Jackson, chief technology officer of the privacy-protection firm Disconnect. "A year from now, five years from now, 10 years from now."
Apps still regularly share data including location histories and demographic information with data brokers and marketing companies, claiming that it isn't tied to any one person's identity. Privacy experts have long warned that those protections are flimsy at best, but until now there hasn't been a public example of someone weaponizing an individual's cellphone data in this way.
"If there's a silver lining here, it's that this is exactly what we've been warning about and it shows just how easy this is to do," said Bennett Cyphers, a researcher with the Electronic Frontier Foundation. "If it can happen to this guy, it can happen to anyone."
Heather Kelly contributed to this report.
Marisa Iati is a reporter for the General Assignment News Desk at The Washington Post. She previously worked at the Star-Ledger and NJ.com in New Jersey, where she covered municipal mayhem, community issues, education and crime. Twitter
Michelle Boorstein has been a religion reporter since 2006. She has covered the shifting blend of religion and politics under four U.S. presidents, chronicled the rise of secularism in the United States, and broken financial and sexual scandals from the synagogue down the street to the Mormon Church in Utah to the Vatican. Twitter
https://www.washingtonpost.com/religion/2021/07/21/catholic-official-grindr-reaction/