BURLINGTON (VT)
VTDigger [Montpelier VT]

July 23, 2021
By Lola Duffort
A regional press organization has booted from its board veteran Vermont journalist Mike Donoghue over his continued role in a church-appointed committee that once investigated misconduct claims.
Donoghue took a seat in 2018 on a lay committee formed by the Roman Catholic Diocese of Burlington to investigate the church's personnel files and release the names of priests credibly accused of sexual abuse.
His role on the panel raised eyebrows in Vermont — and, apparently, at the New England First Amendment Coalition, an influential journalism industry group that advocates for government transparency. Until this week, Donoghue was vice president of NEFAC's board, and a frequent speaker at its events and annual institute. A freelance reporter who spent close to five decades at the Burlington Free Press, Donoghue also serves as executive director of the Vermont Press Association, another industry group. 
Justin Silverman, NEFAC's executive director, wrote to its board members on Wednesday to announce Donoghue's resignation. Donoghue had been a "tireless advocate for journalists throughout the region," Silverman wrote, but his departure was "the result of a controversy that made his continued membership on our board problematic."
Silverman said he initially learned of Donoghue's involvement with the church committee through press reports in 2019. At the time, Silverman wrote in the email, he and NEFAC president Karen Bordeleau shared with Donoghue their "serious concerns about the perception, at least, of a conflict between the committee's work and NEFAC's mission advocating transparency and holding powerful institutions to account."
Silverman said it was his "understanding" that Donoghue's participation would end after the committee's initial review was completed in 2019. But the committee was in the news again last week when the Associated Press reported on another prospective lawsuit and quoted Donoghue.
"With the pending lawsuit, Mike's involvement on this committee — and the committee's decision to keep certain records secret — is likely to generate even more publicity," Silverman wrote. NEFAC's executive board and Donoghue spoke last week, Silverman said, and Donoghue resigned Monday.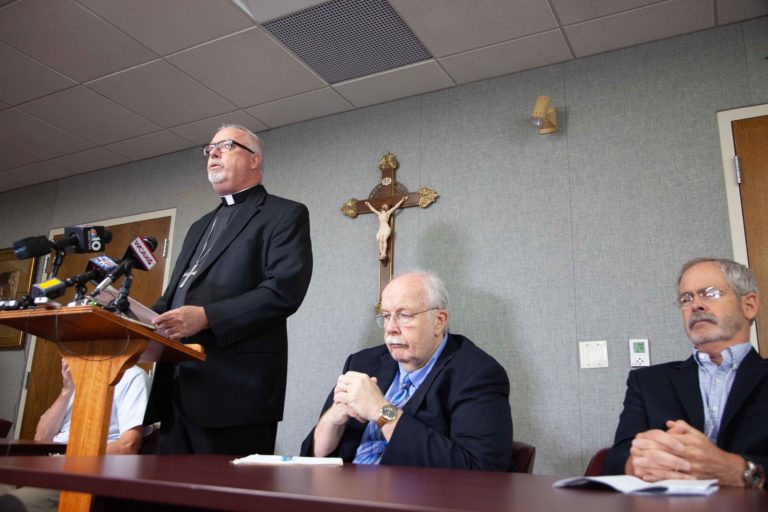 In a written statement sent to VTDigger, Donoghue bemoaned "the obvious irony" of objecting "to a member of a First Amendment coalition practicing one of the five freedoms guaranteed by the First Amendment — Freedom of Religion."
He also said that there appeared to be a "misunderstanding" about the committee's charge.
"The 7-member committee for priest sex abuse was never given the job of determining what church records would be disclosed to the public. Never," Donoghue wrote. The committee, he said, had just one job: to determine which priests in the statewide diocese had been credibly accused of sexual misconduct with a child.
Donoghue wrote that while he had commented on behalf of the committee, he had not done so on behalf of the Diocese. The church, he said, had not seen his statement in advance and has its own paid spokesperson on staff.
The AP report concerned a new accusation about a priest not mentioned in the committee's 2019 report. Donoghue said that, on behalf of the board, he had reviewed the files to see if anything had been left out. (Donoghue told the AP that he had not been able to find evidence in the church's files about the new allegations.)
"Much like a news outlet accused of missing a point in a story, the reporter will go back and determine if anything was missed. That's what was done by the committee," he said in the statement to VTDigger.
The committee's work was criticized in 2019 by some advocates for being insufficiently transparent. But Donoghue defended its work in his statement and said its only critic had been "one media outlet" that was "upset that we did not provide them the names of all the victims of child sexual abuse."
Donoghue did not name the news outlet and did not make himself available for an interview Friday.
Ethics experts and editors interviewed two years ago by VTDigger about Donoghue's role on the Diocese-appointed committee were split on whether he had erred in taking a seat on it. Some argued his role as such a prominent member of the press was irreconcilable with his active participation in a matter of such high public concern and controversy. But others said the semi-retired reporter and devout Catholic was well within his rights, though he likely ought to steer clear of stories about sexual abuse.
Vermont Press Association president Lisa Loomis was among those who defended Donoghue at the time, and she emphatically reiterated her support Friday.
"Mike's practice of his faith and service to his church are his own personal business and it is inappropriate to suggest that his journalism is compromised by his private practice of his religion," Loomis, the editor of the Valley Reporter, wrote in an email. "That was the VPA's position several years ago and that is the case today."
Loomis added in a subsequent message that the "sole purpose" of Donoghue's recent review of the personnel files was to "determine whether the 7-member independent committee had missed something two years ago in its report."
"This was like a reporter going back and checking details when somebody claims a part of a story was missed," she said, echoing nearly verbatim Donoghue's own statement.
Donoghue has served as the press association's first — and only — executive director since 1987, according to the VPA website, though he temporarily retired from the position in 2015. 
Lola Duffort is VTDigger's education reporter. Prior to Digger, Lola covered schools for the Concord Monitor in New Hampshire and the Rutland Herald. She has also freelanced for the Miami Herald in Florida, where she grew up. She is a graduate of McGill University in Canada.
Email: lduffort@vtdigger.org
View all stories by Lola Duffort
https://vtdigger.org/2021/07/23/reporter-mike-donoghue-ousted-from-press-group-over-involvement-with-church-sex-abuse-committee/