FRESNO (CA)
Fresno Bee [Fresno CA]

August 6, 2021
By Yesenia Amaro
The Roman Catholic Diocese of Fresno posted a list of priests who it says have faced "a credible accusation of sexual abuse" to its website Friday.
The lists includes more than 60 names of clergy who have been accused of sexual misconduct against minors and young adults.
The revelations come more than two years after the Fresno Diocese had vowed to release such a list. In early 2019, the diocese said it would release a list after reviewing records dating to 1922 — similar to what other dioceses did.
The Diocese of Fresno is one of the last in California to release a list of credibly accused priests to the public.
Almost all dioceses in the state released their lists in 2018 and 2019. Advocates in 2020 told The Bee that the Diocese of Fresno was stalling the release of names of accused priests because it didn't want to encourage more lawsuits from victims. Officials with the diocese never responded to those claims.
Jeff Anderson & Associates PA, a national law firm that represents victims of sexual abuse, said the failure by Bishop Joseph V. Brennan to release the list until now "continued to keep innocent children at risk of horrific crimes."
"The delayed release of this list is long over-due and a thinly veiled attempt to stifle survivors and public scrutiny," attorney Jeff Anderson said in a Friday news release. "Survivors have been waiting decades for accountability and transparency and they deserve more."
The Diocese of Fresno oversees 87 parishes in Fresno, Tulare, Kings, Kern, Inyo, Madera, Merced, and Mariposa counties. The diocese serves an estimated 1.2 million Catholics across those eight counties.
The Friday list included Monsignor Craig Harrison, who was investigated in multiple jurisdictions but didn't face charges because the statute of limitations had expired. The Fresno County District Attorney's Office, however, said it had found the allegations against Harrison to be credible.
In February 2020, Harrison sued the Diocese of Fresno over what he described as defamatory comments during his misconduct investigation. In February 2021, Harrison resigned from his pastor position at St. Francis Parish in Bakersfield.
Kyle Humphrey, an attorney who has been representing Harrison, didn't respond to a request for comment late on Friday.
According to the Friday news release by Jeff Anderson and Associates, alleged victims alleging abuse by Harrison have continued to come forward as recently as June.
"Bishop Brennan and the Diocese have remained silent on Harrison until today," Anderson said in the release. "Not included in the list of priests are Fr. Anthony Moreno and Fr. Efren Neri, both of whom were publicly identified in lawsuits as alleged perpetrators of child sexual abuse."
Three other priests who were under investigation and on paid administrative leave in late 2018 are also not on the list. They include Father Jean-Michael Lastiri, Father Ricardo Magdaleno and Rev. Gaspar Bautista.
Lastiri had previously also faced public scrutiny and was removed from St. Patrick's Church in Merced in 2004 following allegations he was active on a homosexual dating website.CANNABIS WEEKLY

The Ultimate Guide To Marijuana Smoking MethodsREAD MORE
Debunking 5 of the Most Widespread Marijuana MythsREAD MORE
Here's How To Use Cannabis Correctly Any Time of DayREAD MORE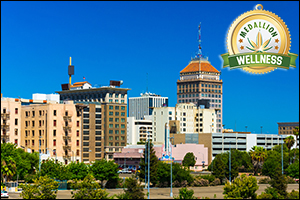 Dispensaries are Coming to FresnoSPONSORED CONTENThttps://f38d315eda14fb2211d407f116faa050.safeframe.googlesyndication.com/safeframe/1-0-38/html/container.html
Magdaleno was placed on leave after receiving a "complaint from a concerned adult that warranted investigation."
Bautista had been on leave since 2016 after the diocese was alerted by the Archdiocese of Los Angeles about allegations Bautista was involved in inappropriate behavior with a minor during his time in L.A.
In a statement by Brennan, also posted on the Diocese of Fresno's website on Friday, he said the Diocese of Fresno's family, like many families, "is far from perfect," and "can be dysfunctional at times."
"Some members of the family — priests, deacons, and religious in positions of trust and leadership — have behaved badly," he said in the statement. "That is putting it mildly. Let's face it, acts of abuse upon the innocent and vulnerable are truly evil, plain and simple. The pain, suffering, betrayal, and loss of innocence felt by many victims lasts a lifetime."
Brennan said releasing the list is meant to be part of an ongoing healing process. The list, he said, was released on the Feast of the Transfiguration — a celebration that honors the transfiguration of Jesus on Aug. 6.
Names may be added as more information becomes available, according to his statement.
"We must do everything in our power to prevent instances of abuse from ever happening at any time or anywhere here in the Diocese of Fresno," Brennan said in the statement.
Anderson said the release of names wouldn't have been possible "without the courageous sexual abuse survivors who have shared their painful truths with the institutions that betrayed them."
"Without releasing a complete list with a full account of the perpetrators' histories and their current whereabouts, a public safety imperative remains," he said in the release.
https://www.fresnobee.com/news/local/article253326698.html