EDMONTON (CANADA)
Vice [Brooklyn NY]

August 11, 2021
By Anya Zoledziowski
It's the latest example of a Catholic priest downplaying or denying residential schools. Rev. Marcin Mironiuk apologized after VICE World News reached out for this story.
A Catholic priest in Canada has repeatedly called news of unmarked graves at former residential schools "lies" and said that Indigenous children who were forced to attend residential schools died of "natural causes."
"We are now also in the unfolding of lies, big lies. There are those mass graves being uncovered at residential schools," Rev. Marcin Mironiuk told his congregation during a mass on July 18 at Our Lady Queen of Poland Parish, a Polish-language church in Edmonton, Alberta. A YouTube stream from July 18 was posted online, but has since been taken down.
The Archdiocese of Edmonton confirmed in a statement to VICE World News that it is now aware of Mironiuk's remarks. "As soon as the Archdiocese was made aware of these statements, they were reviewed and the YouTube video of Rev. Mironiuk's masses was taken offline," the statement says.
Canada ran residential schools with the help of churches to forcibly assimilate 150,000 First Nations, Inuit, and Métis children. More than half of the schools were run by Catholics. Disease, malnutrition, and physical and sexual abuses were common. More than a thousand unmarked graves have been confirmed since late May on residential school grounds across Canada, and the Catholic Church has had to respond to multiple instances of its leaders either denying or downplaying the historic and ongoing legacy of residential schools.
In multiple July 18 masses in Edmonton, Mironiuk said he personally visited Kamloops without disclosing he was a priest, and repeatedly asked to see the "mass graves." Mironiuk first spoke with a woman who was checking temperatures as part of pandemic protocol, and later, he again asked if he could see the graves after a group of people came out of their offices to see what was going on, he said.
"Of course, I didn't say I was a priest—I went 'incognito,'" he said during the first July 18 mass. "Here I am, a white person. It's known they're all Indigenous. And I say, 'I want to see the mass graves.'"
Tk'emlúps te Secwe̓pemc First Nation was the first to confirm more than 200 probable unmarked graves of Indigenous children, some as young as 3, at a former residential school site in Kamloops, British Columbia, in May.
Mironiuk said he was told he wasn't allowed to see the unmarked graves because the grounds are sacred. In one of the masses he said he asked to see the graves so he could pay his respects to the victims.
"Oh, well, if it's a sacred place then you wont allow exhumation to happen to determine why the kids were buried there," Mironiuk told the parish. "Look at this manipulation, this lying."
Mironiuk compared the events to the Jedwabne pogrom, a historical massacre during World War II marked by ethnic Poles killing hundreds of Jews, including children, in the Polish town of Jedwabne. Mironiuk said Poles are not to blame for the murders, even though researchers confirmed Poles were likely culpable. Exhumation was limited because Orthodox Jews asked researchers not to disturb the remains.
Mironiuk said the unmarked graves at residential schools are "the same lies" as those told of the massacre at Jedwabne. "The Jewish community raised the alarm and said, 'This is sacred land, don't dig.' It's the same lies, my dears," the priest told the congregation. "The lies will turn into a truth that people will end up believing… Let's protect the truth."
Tk'emlúps te Secwe̓pemc and other Indigenous communities have told reporters on multiple occasions that community consultation will determine if exhumation will happen, but stories shared by former residential school survivors, as well as ground-penetrating radar technology, confirm the likely presence of unmarked graves.
[Original video by Our Lady Queen of Poland (YouTube)]
Mironiuk, whose parish is part of Missionary Oblates of Mary Immaculate, the same congregation that ran Kamloops Indian Residential School, also questioned the cause of death at residential schools. In the first July 18 mass, he said children died of illnesses. During the second mass he said children died of natural causes and were placed in proper cemeteries after they died, "which is why we're living a huge lie and they want to deceive us."
At the peak of the residential school system, the death rate for Indigenous children was nearly five times higher than for the general population of Canadian schoolchildren.
While many children died of various illnesses and infection, the Truth and Reconciliation Commission (TRC) found they were forced to live in poorly built buildings that were crowded and often unsanitary.
The TRC, which investigated the horrors at residential schools and their ongoing legacy, identified about 3,200 deaths when it published its findings in 2015. Of all the deaths recorded by the TRC, nearly half didn't have a documented cause.
"Harsh discipline and physical and sexual abuse led many students to run away. The failure to establish and enforce national policies and procedures on the measures that principals should take when students ran away from school further contributed to the elevated rates of school deaths," the TRC concluded.
The Edmonton Archdiocese did not respond to specific questions, including whether it was aware that Mironiuk visited Kamloops without disclosing he was a priest. But the email statement from spokesperson Andrew Ehrkamp says, "Rev. Mironiuk apologizes unequivocally and expresses deep regret for those statements. They cannot be justified in any way."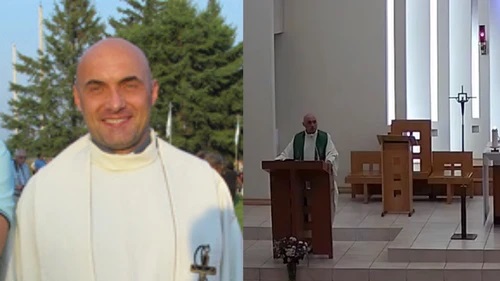 Edmonton Archbishop Richard Smith accepted Mironiuk's apology, according to Ehrkamp. Mironiuk will issue a public apology during masses on August 14 and 15 and will work alongside the Indigenous ministry of the Archdiocese to learn more about the residential school system, the statement says.
The statement also acknowledged that remarks like Mironiuk's cause further pain to residential school survivors, Indigenous communities, and all Canadians "at a time when we are trying to come to terms with the legacy of residential schools and the Church's involvement in them."
The Catholic Church has been drawing intense criticism lately for failing to acknowledge and own up to its role in running residential schools. In 2017, Prime Minister Justin Trudeau personally asked Pope Francis to apologize to Indigenous peoples, but the request was denied. This year, the pope voiced his sorrow, but stopped short of actually apologizing.
Others in the church have already been exposed for residential school denialism. Last month, a Catholic priest in Manitoba accused residential school survivors of lying about sexual abuse for money and has since been disallowed from preaching publicly. Earlier, an archbishop in Winnipeg said Catholics are experiencing "a lot of exaggerations" and are being "persecuted" as a result.
Many Catholics have said they're opting to leave the church, citing the latest news about residential schools as "the last straw." Across the country, churches have been vandalized, defaced, and lit on fire, and many people say it's time to tax the Church.
Others, including a team of 15 lawyers, are demanding criminal trials for Canada and the Catholic Church. They say they want to see them tried for crimes against humanity or genocide.
Anyone experiencing distress or pain as a result of residential schools can call the Indian Residential School Survivors Society Crisis Line (1-866-925-4419). It's available 24/7. More resources available here.
Follow Anya Zoledziowski on Twitter.
https://www.vice.com/en/article/epn88m/video-shows-catholic-priest-calling-news-of-residential-school-graves-huge-lie