BALMORAL (NEW ZEALAND)
Stuff [Wellington, New Zealand]

September 12, 2021
By Steve Kilgallon
The Catholic Church planned to accommodate a priest who was on bail for sex-messaging a 15-year-old girl at a house on the grounds of a primary school.
Sosefo Sateki Raass, later found guilty of indecent communication with a person under 16 and sentenced to 100 hours' community service, wasn't told he couldn't stay at the address until after his victim's aunt complained to the Ministry of Education.
Church officials proposed the bail address but didn't tell police or the Auckland District Court it was so close to young children – even though Raass had a bail condition preventing any unsupervised contact with under-16s.
The Auckland Catholic diocese has admitted it didn't tell the board or principal of the Good Shepherd primary school in Balmoral, central Auckland, of its plans. The Ministry of Education could not alert them as Raass had pre-trial name suppression.
The church says that while Raass used the presbytery as a "contact address" and on his bail forms, he never actually stayed there – but doesn't know where he did stay. He has since left the priesthood and last year was living in Avondale in a relationship with a woman with whom he has reportedly had children.
The church's own complaints body, the National Office for Professional Standards, warned Auckland Bishop Patrick Dunn not to move Raass to the Good Shepherd presbytery.
In a file note, professional standards officer Nicola Timms recorded a phone call to Dunn: "I questioned this decision, but Bishop Pat said it would provide companionship for Fr Sateki at this time".
The church has also admitted Raass was the subject of a previous complaint. Diocese spokeswoman Lyndsay Freer said a woman complainant "chose not to pursue matters any further once Sateki Raass admitted to the truth of the accusation, and he agreed to undertake professional counselling".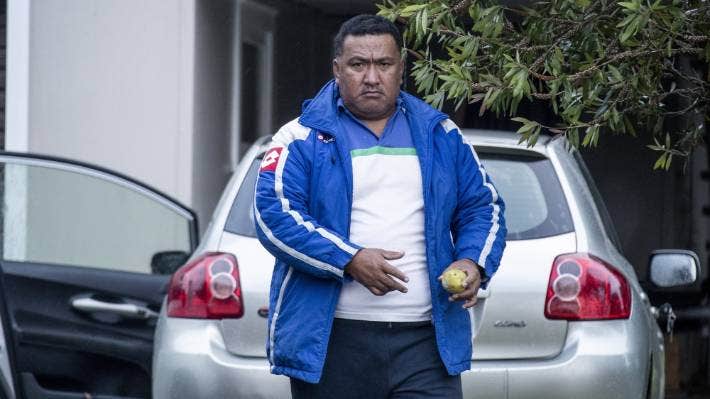 A memo from Ministry of Education manager Julien Le Seuer, obtained under the Official Information Act, reported that the diocese had "recommended this address during the bail hearing but did not divulge it was on a school site. The police took this recommendation at face value and were not aware the dwelling was in fact on a school site."
The ministry then asked police to "review the suitability" of the bail address and believed he had been moved from there, although the church said he was never actually on the premises.
Raass was parish priest of the St Mary's parish in Mt Albert, with parochial responsibility for the nearby Marist junior and senior schools, when he was arrested in January 2018.
Raass was arrested on a Thursday, but Dunn planned for him to say a mass at Mt Albert on the Saturday night, until Timms told him it "must not be permitted… under any circumstances".
Another Ministry of Education file note detailed how the ministry told the principals of both Marist schools about the arrest because "the bishop [Dunn] was not intending to do this".
The church paid for a QC, Steve Bonnar, and Raass initially pleaded not guilty and argued the classification of images he had procured from the girl as offensive. That delayed proceedings, and he eventually pleaded guilty to a lesser charge in March 2019, and was not placed on the sex offenders' register.
When approached by Stuff in 2020 he called his offending a "silly mistake", while Bonnar told Stuff that it was "not a case of grooming" and Raass had assumed the girl was over 16.
In a subsequent letter to parishioners, Bishop Dunn described Raass' offending as "inappropriate text messaging".
But the victim's aunt, known as 'Mrs CU' told Stuff those comments were "an insult to justice and intelligence" and "alarming, because … they continue to victimise the victim who was a minor and only 15 years old, minimise her/our experience and make a farce of the legal process and the faith tradition we belong to".
Mrs CU outlined the gravity of Raass' behaviour when she gave a witness statement to the ongoing Royal Commission on Abuse in Care in which she slammed the church's handling of the case.
The aunt described Facebook messages from Raass to her niece, who was visiting from Tonga for a family reunion at which Raass was the officiating priest, in which he called the girl beautiful and said he would take her to a hotel to swim in the pool and drink alcohol.
Raass asked the girl for a photo, and when she sent one of herself in formal Tongan church attire, asked for a "sexy" one and said she looked "hot hot hot". Raass also planned to sneak a mobile phone to her to arrange secret meetings. "Sateki's behaviour was clearly grooming," the aunt told the inquiry.
"My niece was only 15 years old and Sateki was a grown man that held a significant, powerful role. Nothing anyone can say to me can make what he did better, or lessen it, or excuse it."
The aunt said the church had not helped the family while false rumours had circulated that Raass was counselling the girl over an abusive relative. She said some in the Tongan community had urged the family to change the girl's surname and the family had been made to feel fakama, or shame.
She said the sentence was disappointing, and she was hugely disappointed at the church's handling of it: "The church has a lot to answer for".
She told Stuff the church "only thought about themselves – how to protect the church, their reputation and minimise harm to them," had made no approach to support the family or reconcile, and she was "still waiting for meaningful action for my niece".
She said she had met with Dunn, and mentioned the earlier complaint against Raass. "He came across as though he was hearing it for the first time [and it felt] dismissive. I felt there was no further point in the meeting if he was going to plead … ignorance of the information I was giving him."
Steve Goodlass, a peer mentor for Male Survivors Otago and a survivor of Catholic abuse, was also highly critical of the church's handling of the entire Raass affair.
Goodlass said: "At the Royal Commission, all the various people from the church who gave evidence were all saying about how it has all changed. But it's 2018 and the same s… is happening."
One parent with a child at Marist Primary who was dismayed at the church's lack of communication with parents over the case was astounded to hear of plans to bail Raas to the Good Shepherd. "You've got to be kidding me. How was that even considered an option?"
Steve Rewcastle, chair of Good Shepherd primary's board of trustees, said he was not on the board at the time but made enquiries after Stuff contacted him.
He said while the church proposed the house on school grounds as a bail address, and it was used by Raass in legal documents, "at no point did he ever reside there", and nobody knew where he stayed.
"I believe in my talks that from now on any similar situation wouldn't happen without clear consultation," said Rewcastle. "It's hard to comment on what should or shouldn't have been done in a historical case like this when I don't know all the details, but I would expect to be consulted while I am chair of the board."
In a statement, Freer​ said Raass never stayed there but confirmed "an offer was made to him to move temporarily to the presbytery… during this period which was during the school holidays, and the police raised no objection".
Freer said Raass used the address as "a contact address during the period when he was on bail" but stayed elsewhere and did not tell them where he was.
Freer said there was no long-term plan for accommodating Raass as he was "on administrative leave and had decided to leave the priesthood".
She didn't respond to questions asking why the diocese considered the presbytery a suitable bail address, why it didn't first consult the school or why it didn't disclose to the courts its proximity to a primary school.
In a statement, detective inspector Scott Beard said police had made checks into the address but hadn't realised the church and school shared grounds, but once told they "rectified the situation … if there had been any indication or information that the church was also located on the same site as a school, police would have opposed the bail address."
The Ministry of Education declined an interview request but supplied a short statement from Helen Hurst, deputy secretary for sector enablement and support, which said the ministry was "very concerned about the appropriateness of the address.
"The person was moved to another address by police, where there was no risk to students," Hurst said.
"The safety and wellbeing of our young people is of foremost importance and under no circumstances should they ever knowingly be put at risk."
https://www.stuff.co.nz/national/crime/126300718/catholic-church-planned-to-house-teensexting-priest-on-primary-school-grounds