(AUSTRALIA)
The Big Smoke [Sydney, New South Wales, Australia]

September 13, 2021
By Ingeborg van Teeseling
He fought the Catholic Church, he's fought the government. Today, we salute the incomparable Father Bob Maguire.
He said it himself in the 2013 documentary about his life: when you mess with the church, you are in trouble. In fact, he was a little more pointy about it. "You can see it through history. The Communists, the Nazi's, they all came undone when they took on the Roman Catholic Church. That is where the real power in the world lies." So when Father Bob Maguire (1934) opened the door to one of his parishioners in 2002 and let him in, his fate was basically sealed. The man told him he had been sexually abused by George Pell decades before. He asked the priest to help him get heard. "That is all I needed to be seen to be part of a process to bring George undone," Bob mused years later. "I had to do it. I am the parish priest and this is my job."
The man had a chance to tell his story, although nothing was done with it. But the church has a long memory, so in 2009, when father Bob turned 75, he was "invited to retire" by Pell's successor, Archbishop Denis Hart. Three years later, after trying to fight what he calls "head quarters", Bob Maguire was thrown out of his congregation, his church, his home. The next day he was back at work, operating from a small office, taking care of the "rank outsiders" in this world. Even without a parish, he managed to create a community. And at 82 he still does. This makes him an excellent candidate for Aussie Maverick number nine. "If you limit your contribution to the world to praying, you are of no earthly use to anybody."
Bob Maguire's childhood was an excellent preparation for his future calling. His father was an alcoholic migrant from Glasgow, who beat his wife and children and kept the household poor and miserable. Young Bob, desperate to escape, found a home with a gang of altar boys in his local church. The priest was gruff and grumpy, but also took the kids to soccer and gave them safety and a place to belong. When he was 11, Bob's oldest sister died of tuberculosis, quickly followed by both his parents. He was an orphan at 15, trying to fend for himself. He could have easily ended up like most of his future charges, drugged out and on the street, but he enrolled himself in training for the priesthood instead.
In 1962, Pope John XXIII called a meeting that would go down in history as the Second Vatican Council. It was one of the very few attempts of the church to really deal with the modern world outside, and for a while, it heeded its pontiff's advice to "open the windows". Bob and his friends were inspired to take their practice away from the rules and towards being helpful to people. It was a heady time for the church.
In 1973, the Bishop of Melbourne asked Bob Maguire to try and revive the parish of Saints Peter and Paul in South Melbourne. The neighbourhood had been a "gangland ghetto" for a few years and needed somebody who was not afraid to deal with that. The Bishop made Bob a promise: if he could kick-start the community, he could stay there until he died. It was soon clear that Bob had enough energy and understanding of human nature to quickly connect to the people around him.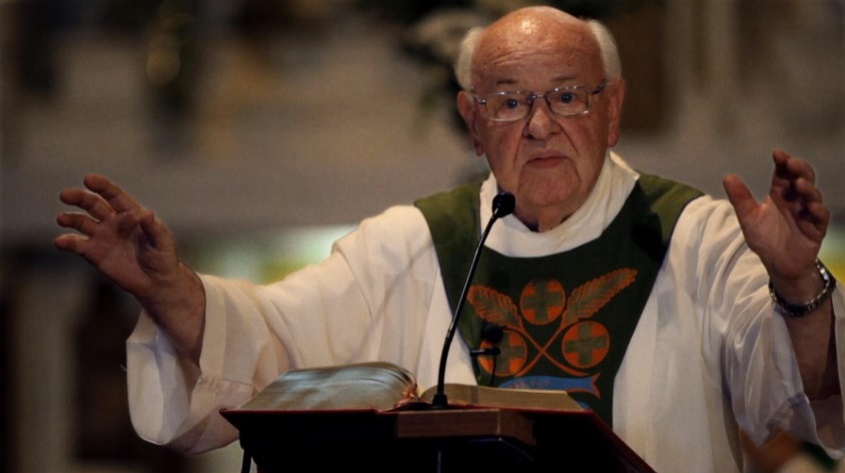 Within a few years, he managed to bring them back into the church, and not just for prayer and sacraments. He also started outreach programs for the homeless, the drug-addicted, the alcoholics, the street kids, the people with mental health issues; he started a boxing gym, a boarding house, a clinic, a farm – most of it under the umbrella of a new foundation, Open Family Australia. As one of his charges would later say: outside, everybody would fight, but Bob's church was neutral territory, where people could talk and get help. "He didn't judge, he just did what needed to be done."
For a while, all was well, but then "the conservatives started to close the windows". Vatican II was losing momentum and the idea that the church needed to be a home for the troubled was no longer popular with the powers-that-be. Suddenly, Bob had to "explain to a senior cleric why we're spending money on the poor. To me, that's offensive." What didn't help in the relationship between the priest and his supervisors was his way of looking at religion.
For instance, for Bob, Jesus was "a kid born with an unusual connection with the human race", somebody involved in "bloody social activism found a sparkling diamond in a pile of dog shit." Jesus was "a threat to the clerics", which is why they "got into bed with the secular powers and made up a story" to get rid of him. To Bob, this was not an opinion about a historical figure or a Biblical teacher, but commentary on the here and now. In the documentary made about and with him, In Bob We Trust, the pictures that accompany this idea are of Hitler and the then Pope shaking hands and smiling at each other. A little later, Bob chuckled that Jesus was proof that God had a sense of humour: "'Who are you?' 'I'm the son of God.' 'Outrageous!'"
There were other ways Bob rubbed "the firm" the wrong way as well. He was disobedient, did his best to demystify religion, was fraternising with other faiths, helped out the "unloved and unlovely" and consorted with the secular world. Even worse, he was the darling of the media, presenting a radio program himself and collaborating with John Safran on the SBS series Speaking in Tongues in 2005 and 2006. He spoke about the church as an institution, a business, with a management model that stifled thinking and rewarded blind obedience. To him, that was not just morally wrong, but against his understanding of the core of religion: "All the saints were rebels, but when you behave like one they conspire to throw you out. They can't deal with dissidents and they have no heart. I worry about the fascist element in the church."
So in 2009, "Mother Church and Father Bishop" saw their chance. According to canonic law, a priest has to offer his resignation at 75, but in practice, many clergymen are allowed to work in their parish for much longer. Besides, Bob had been promised he could stay in his home until he died. But Victorian Archbishop Denis Hart was determined not to grant Father Bob this privilege. Despite, or maybe because of the fight his parish put up, the priest was finally thrown out of his church in 2012, after 50 years of service. As one of his supporters said: "It was Goliath on one side and Bob with his slingshot on the other" and His Grace won. Without Bob's knowledge, they gave his parish to another branch of the church and asked him to hand over his keys. The last sermon was standing room only. Thousands of people were there, who gave him a standing ovation. Bob, with an accurate sense of drama, started to sing: "All we are saying, is give priests a chance." There was not a dry eye in the house.
A few days later Bob was back. His health had suffered and he no longer had a place to live, but the Father Bob Foundation didn't miss a beat. "We've got things to do. Feed people, send them to school, tell them it will be alright," he said, so now the foundation provides meals, scholarships and advocacy for thousands of people every year. The fundraising is done by the Bob Squad, a group of mainly young people who use revolutionary language and iconography more often associated with Che Guevara to draw attention to the outreach work. Following Bob's favourite form of address, "comrade!", and his view of Jesus as a freedom fighter, they try to make real-world connections between faith and action. Bob, as usual, helps them by speaking out and provoking headquarters.
Father Bob says of Pell and Hart testifying in front of the Victorian Parliamentary Inquiry into the Handling of Child Abuse by Religious and Other Organisations: "they could've said: 'we will repent, we will sell the cathedral and live on the street'." In the documentary, he had already stated that the Church had been reduced to "commentary only", turning its back on the inconvenient truth of the Bible. "That is how you choke. It will be down to secular humanism to get the bone out of our throats and make us breathe again." It was all language the religious authorities were not happy with.
Father Bob has so far survived "the firing squad" of the Catholic Church and is thriving. The foundation is going from strength to strength, his blog and Twitter account are popular, and the Father Bob Bobble-Head is currently out of stock!
The Sydney Morning Herald described his vision of a "parish without borders, an online, interdenominational group" based on the two broader values of all religions: common sense and compassion.
It's time to celebrate our "common humanity," Bob told SMH. In a world that is more and more divided, and where religions are embarking on old-fashioned crusades, that is a courageous message. One worthy of an honourable mention in our pantheon of Australian Mavericks. With pleasure and admiration, I give you our number nine: Father Bob Maguire, Larrikin Priest.
https://www.thebigsmoke.com.au/2021/09/13/aussie-mavericks-father-bob-man-fought-catholic-church/