MANCHESTER (NH)
Union Leader [Manchester NH]

September 28, 2021
By Mark Hayward
Former Manchester Bishop John B. McCormack, whose years as head of the New Hampshire church were plagued by the priest-abuse sex scandal, was laid to rest Tuesday in a ceremony witnessed by hundreds.
The 1 1/2-hour ceremony included dozens of priests clad in white vestments and 11 bishops, including Cardinal Sean O'Malley, the archbishop of McCormack's native Boston. McCormack died Sept. 21 at the age of 86.
His open casket was at the front of the church, just below the altar where he held sway for 13 years.
The lifelong friend of McCormack who eulogized him said he and fellow priests ministered in the dark times of the priest sexual abuse scandal.
"Like so many priests and bishops, Bishop John came slowly to realize what had happened," said the Rev. John MacInnis, pastor at St. John and St. Thomas churches in Peabody, Mass. But McCormack eventually acknowledged the scandal and took steps to prevent any reoccurrence, he said.
The ninth bishop of Manchester, McCormack was in his fourth year when scandal rocked the Archdiocese of Boston, where he had served under former Archbishop Bernard Law and was in charge of handling priests who had abused children.
He fell under heavy criticism for his role in Boston. But in New Hampshire, he took several key steps to address problems with the church here.
Manchester was the first diocese in the country to reach a plea agreement to head off criminal prosecution. McCormack released the names of all diocesan priests under credible allegations of sexual abuse. Since 2001, the Diocese paid out $30 million to settle claims from more than 225 victims.
And he instituted a training and abuse-prevention program that has become adopted by dioceses across the country.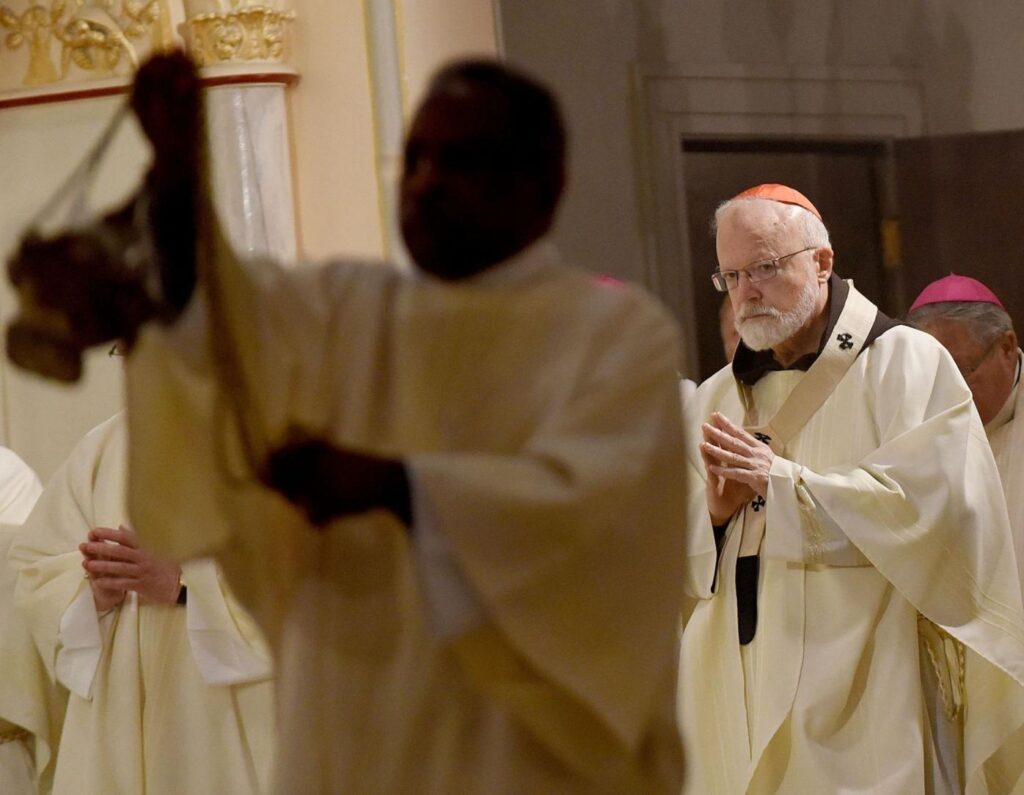 Outside of the sexual abuse scandal, McCormack closed churches, reducing the number of parishes from 131 to about 90. And he oversaw the re-establishment of Catholic Medical Center as a full-service hospital following the breakup of Optima Health.
The Mass featured music from three choirs, with works in English and Latin. Several hundred Catholics also attended, including blue-habited nuns, the Daughters of Mary, Mother of Healing Love.
VIPs included former Manchester mayor Sylvio Dupuis, former St. Mary's Bank president Ronald Rioux, CMC President Alex Walker, Manchester lawyer Ovide Lamontagne and Diane Quinlan, former chancellor of the diocese and recently-appointed assistant director of Charitable Trusts in the New Hampshire Justice Department.After the Mass, McCormack was buried in the Cathedral Cemetery, which takes up a gated portion of the courtyard on the north side of the cathedral.
Last year, retired Bishop Odore Gendron died. The only living retired bishop in New Hampshire is Francis Christian, who served as auxiliary bishop. He attended McCormack's funeral Mass.The Mass was led by current Bishop of Manchester Peter Libasci, who was named after McCormack retired in 2011.
Libasci said he and several priests were in McCormack's room at Mt. Carmel nursing home when they prayed, sang the hymn "Salve Regina" and watched him breathe his last.
In his eulogy, MacInnis painted a light side of McCormack.
His friend enjoyed things of beauty, including good Scotch whisky, which his fellow priests snuck into his room at Mt. Carmel.
MacInnis said McCormack was a parish priest at heart, wanting to heal, comfort and challenge people at the parish level.
"He truly loved skiing, so coming to the Granite State was an answer to his prayers," MacInnis said. "This was his home until the end."
https://www.unionleader.com/news/religion/mccormack-9th-bishop-of-manchester-laid-to-rest-in-high-church-ceremony/article_02439e5f-b6a5-5295-8843-1f93ca87e621.html