WASHINGTON (DC)
Washington Post

September 11, 2021
By Tom Jackman
Actions of late priest J. Donald Freeze were revealed in June, but another accuser had come forward earlier.
A now-deceased Catholic priest who was the provost and executive vice president at Georgetown University, and was accused of sexual misconduct by one former student, has also been accused by additional alumni, the university said. They include a man who said he tried to report an encounter with the priest to school officials in the 1980s but was referred to campus ministry — which he felt would answer to his alleged abuser.
J. Donald Freeze was provost, the school's chief academic officer, from 1979 to 1991 and had worked at Georgetown in a variety of roles for years before that. He died in 2006. In June, Georgetown disclosed that Freeze had been accused by one former student of "non-consensual kissing and touching" more than 30 years ago. The university said it had launched a "working group" within its board of directors to oversee the school's response, and it revoked an honorary degree awarded to Freeze in 1991.
On a webpage headlined "Preventing and Responding to Clerical Sexual Abuse," Georgetown now states that "other alumni have come forward to report similar experiences of abuse." The university declined to say how many other alumni have accused Freeze.
"We won't share the number due to the confidential nature of the Title IX intake process," university spokeswoman Meghan Dubyak said, referring to provisions of the Education Amendments Act. She declined to say how releasing the number of people accusing Freeze would violate their confidentiality.
Georgetown's statement in June did not acknowledge that another alumnus, who told The Washington Post he had been groped by Freeze, had reported his own experience in February of last year. The alumnus said Georgetown referred him to the university's Office of Institutional Diversity, Equity & Affirmative Action, which oversees Title IX enforcement at the institution. He said he became frustrated and stopped communicating with the office. The Washington Post generally does not name victims of sexual abuse.
Dubyak said that Georgetown's Title IX office responded to the alumnus "several times in 2020, and invited him to meet [to] learn more about his experiences," but that the former student declined to meet, "and we respected his privacy." Shortly thereafter, Dubyak said, a second former student came forward who did agree to meet and "share his experiences as a survivor," leading to Georgetown's announcement on June 11 of allegations of "deeply troubling and unacceptable behavior" by Freeze and of the formation of the working group. That former student has not spoken publicly. Both accusers were adults when they were allegedly assaulted.
The first alumnus, in an interview with The Post, said that when he renewed his complaint this year, he was referred to the eastern province of the Jesuit Catholic order, which has had a long affiliation with Georgetown. The Jesuits contacted the man promptly, offered support and a $45,000 settlement to be used toward counseling, correspondence from the Jesuits provided by the man shows. The man said he donated $15,000 of the settlement to the Survivors Network of Those Abused by Priests, or SNAP.
Both SNAP and Bishop Accountability, a second group that tracks Catholic sex abuse, called for an independent investigation into Freeze's actions at Georgetown and at other stops during his academic career. "The [Catholic religious order] Society of Jesus and Georgetown University have been shirking accountability in the Freeze case," said Bishop Accountability's Terry McKiernan. "At a minimum, both the order and the university should be entirely transparent about Freeze's career history and about the allegations against him," McKiernan said, noting that before working at Georgetown, Freeze also taught at St. Joseph's Preparatory School in Philadelphia and at what is now Wheeling University in West Virginia.
"Such a significant case requires an independent investigation and a public report so that alumni and the public can learn what the Jesuits and various institutions knew about Freeze and when they knew it," McKiernan said.
"I think they [Georgetown] have an obligation," said Mike McDonnell, communications manager for SNAP, "to disclose to their former students what Freeze was up to."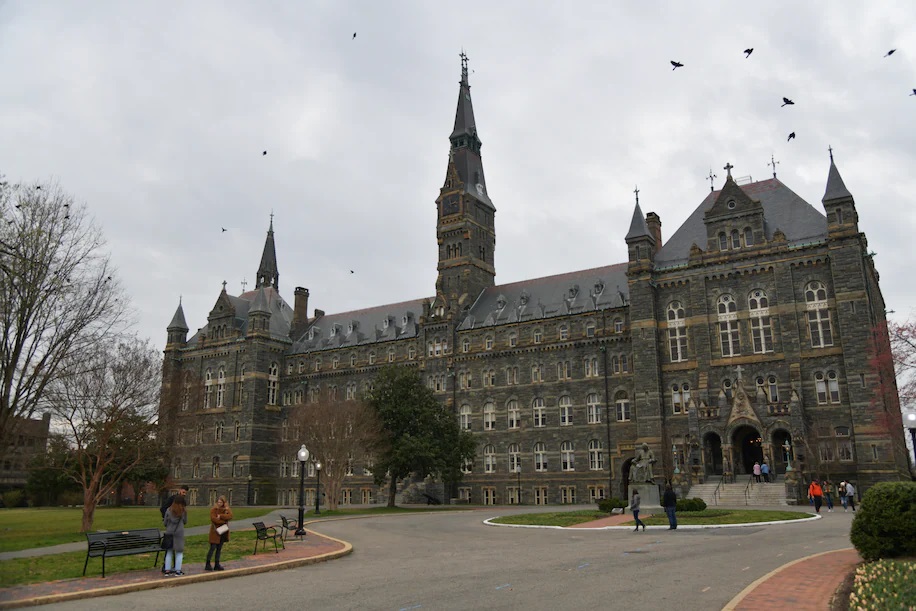 The alumnus interviewed by The Post said that he was one of many students who attended short Masses said by Freeze, called "Freeze's Breezes," and that one day during his senior year he got a call from Freeze's secretary inviting him to dinner. He said that he went to Freeze's campus office in Copley Hall a number of times and that the routine was the same: cocktails in the priest's office, then a walk to the restaurant 1789 for dinner just off campus, then back to the office for more drinks.
He said Freeze then helped him get a job on Wall Street. At their final meeting, after drinks and dinner, the man claimed Freeze reached over and placed his hand on the man's crotch. The man said he stood up, forcibly pushed Freeze away and began to leave, while Freeze repeatedly said to him, "You don't want to do this; you don't want to do this," the man said.
"He was a predator," the man said. "Make no mistake."
The alumnus said he went to the office of the school president, the Rev. Timothy Healy, a couple days later and told a staff member what had happened and demanded a meeting with Healy. He was told to leave his name and number. He said he was later referred to campus ministry. He said he felt that the ministry was made up of priests who answered to Freeze, the No. 2 official on campus, and declined to go there.
He graduated not long after. Healy left Georgetown in 1989 and died in 1992. Dubyak said that Georgetown had no record of the original complaint but that "in the years since Father Freeze was provost we've implemented strong policies and procedures to provide support for sexual abuse survivors and ensure robust reporting."
In February 2020, the man wrote an email to Georgetown recounting his accusation against Freeze. He said in the email that the episode "ended my relationship with the Catholic church. … This was and is the single-most important milestone in my life as a Christian."
The university's Title IX representatives responded, and the alumnus did not pursue the complaint further when the school declined to connect him with top Georgetown officials. An email provided by the alumnus shows the Title IX representatives asked to meet with him and provided links to hotlines for rape reporting and counseling.
After the university's announcement about Freeze on June 11, the alumnus again contacted Georgetown, according to emails provided by the alumnus. The university agreed to set up a virtual meeting with the three members of the board of directors who formed the working group set up by current Georgetown President John J. DeGioia — board chair Thomas A. Reynolds, and directors Tyree P. Jones and Bonnie W. Gwin — along with Title IX staff members.
Georgetown also referred his complaint to the Jesuits, who responded with offers of help and with a case worker who he said was sympathetic, as well as the $45,000 financial settlement.
"I want to express in writing, on behalf of the Jesuits of the USA East Province," province leader Joseph M. O'Keefe wrote to the man in June, "my deepest apologies for the abuse you suffered by Jesuit Father Donald Freeze. I am grateful for the courage you displayed in reporting the abuse to Georgetown University last year and again to the Province more recently."
Last month, the alumnus had an online meeting with the three members of the working group. He said he asked for greater transparency in the disclosures about Freeze. Georgetown does not maintain a public list of its credibly accused clergy members, although the Jesuits do.
The alumnus said he asked Reynolds whether other people had come forward to accuse Freeze. Yes, he said Reynolds answered.
"Is it closer to two or two dozen?" the alumnus said he asked. He said Reynolds replied, "It's not two dozen." He said each of the working group members read a written statement of apology to him.
Reynolds, Jones and Gwin all declined requests to comment.
Dubyak said Georgetown's Title IX website includes "information on how the university is preventing and responding to clerical sex abuse." A second page provides links for reporting abuse to the police, the university, or both.
Tom Jackman has been covering criminal justice for The Washington Post since 1998 and anchors the True Crime blog. He previously covered crime and courts for the Kansas City Star.
https://www.washingtonpost.com/dc-md-va/2021/09/11/georgetown-provost-accused/