OMAHA (NE)
KETV - ABC 7 [Omaha NE]

October 16, 2021
By Abbie Petersen
[See also the criminal affidavit complaint in the case.]
Rev. Michael Gutgsell jailed for abuse of a vulnerable adult, attempted theft
Rev Michael F. Gutgsell, the former chancellor of Omaha's archdiocese, was arrested Friday on felony charges of Attempted Theft by Unlawful Taking, and Vulnerable Adult Abuse.
According to the criminal complaint filed Wednesday, Gutgsell is accused of attempting to take $154,732 worth of property from Rev. Theodore Richling, Jr.
Gutgsell was granted a signature bond after a brief apperance Friday afternoon in Douglas County court.
The abuse charge alleges over a period from October, 2018 to January, 2020 when Gutgsell allegedly liquidated the assets of Richling as Richling's health deteriorated and he became incapacited.
In the affidavit, prosecutors laid-out Gutgsell's explanation of what happened to that money and thousands more.
Gutgsell told investigators over a period of eight years, he paid a homeless man named Michael Barrett around $700,000 to help him with bills.
Gutgsell said he would give Barrett the money in cash, usually meeting in the front seat of Gutgsell's car parked in a downtown Omaha lot.
Time after time, Gutgsell said Barrett promised to pay him back from a Social Security disability account, but each time, "there was always a complication that came up" which prevented the repayment.
Gutgsell told investigators he drained his own retirement account to keep providing Barrett money, and when his own funds ran out, Gutgsell turned to other accounts he controlled.
According to the affidavit, Gutgsell had the church bookkeeper at Saint Joseph's Church in Springfield write 76 checks to Gutgsell totalling around $123,000. Gutgsell reportedly later admitted to financial irregularities when questioned by the archdiocese, but said the money was given to a homeless man Gutgsell met in 2013.
Gutgsell served as the parish priest in Springfield from October 2019 to July 2021.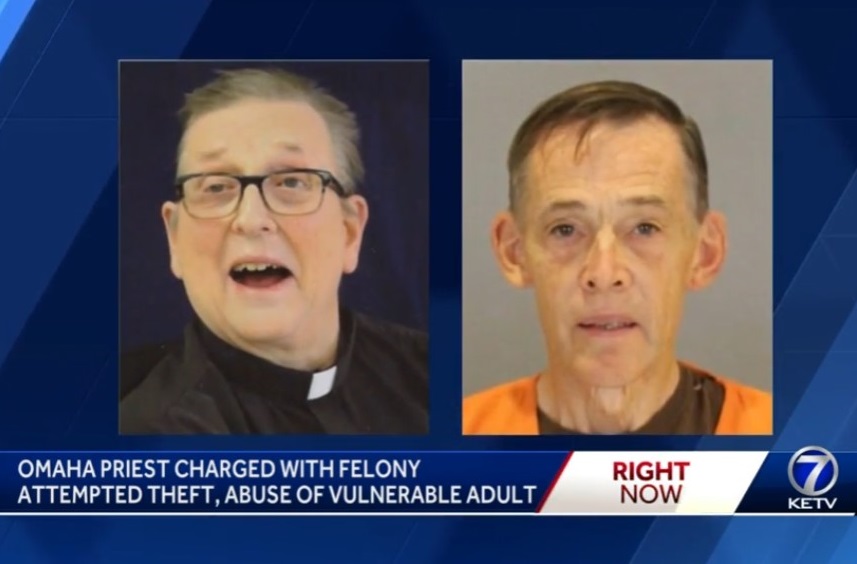 A representative of the archdiocese also told Douglas County Attorney Don Kleine that Gutgsell had admitted to taking $180,000 from Father Theodore Richling, Jr.
Again according to the affidavit, while serving as power of attorney for Richling, Gutgsell allegedly liquidated Richling's brokerage and retirement accounts, transfered the money to Richling's checking account, and then wrote checks to himself totalling $179,042 over a two-year time span.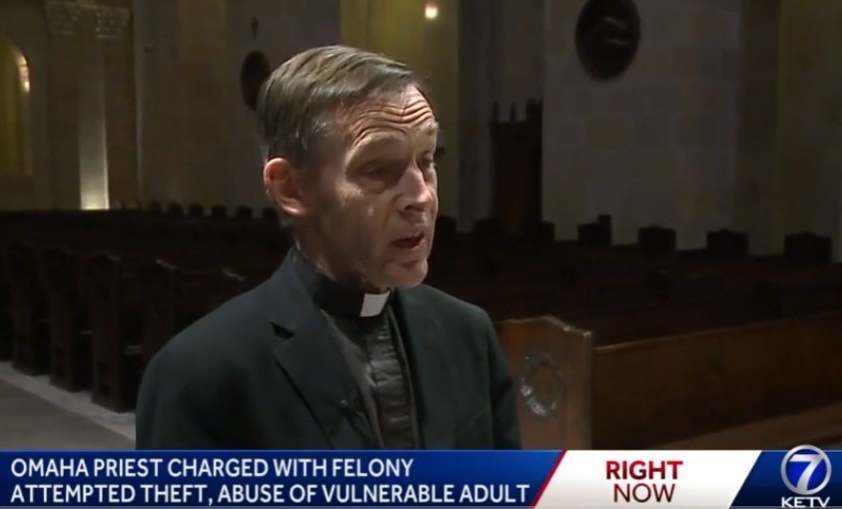 You can read the court filings here.
Richling's money was willed to the archdiocese, and church officials alleged Gutgsell stole it from Richling's estate.
Richling suffered from dementia in the final years of his life. After his death in 2019, the archdiocese reported Richling was been responsible for sexual misconduct with minors earlier in his life while serving at parishes in Nebraska, including Christ the King Catholic Church in Omaha.
In a statement Friday afternoon, defense attorney Joseph Naatz noted Gutsell has fully cooperated with law enforcement and made arrangements to turn himself in.
"We are saddened and disappointed in the filing of charges by the Douglas County Attorney," said Naatz. "We are confident as these claims continue to be thoroughly investigated that an appropriate and positive outcome will be forthcoming."
Gutgsell served as chancellor of the Omaha archdiocese from 1994 to 2003. The Archdiocese of Omaha said Friday it will have no comment on Gutgsell's arrest.
https://www.ketv.com/article/former-omaha-archdiocese-chancellor-arrested-on-two-felony-charges/37973836