OMAHA (NE)
Omaha World-Herald (omaha.com) [Omaha NE]

October 15, 2021
By Todd Cooper
The priest and former chancellor of Omaha's archdiocese told detectives he took money from a church and a retired priest because he was helping a homeless Omaha man.
The amount authorities say the Rev. Michael Gutgsell stole: nearly $280,000. The amount Gutgsell said he funneled to the homeless man from 2013 to 2021: $700,000. Gutgsell told authorities he emptied his own personal accounts before he took from the parish or the priest.
Asked why he gave the man that much, Gutgsell told detectives that the man, then 41, kept telling him he would pay him back "when he got the payout of his Social Security disability" funding, according to court documents.
Omaha attorney Joseph Naatz said Gutgsell got scammed, conned and taken advantage of because of his good nature.
"The common thinking is that there was some sort of drugs, gambling, sexual favors tied to this," Naatz said. "But that's just not the case.
"It's his unending service to others that allowed him to get scammed and conned," Naatz said. "He used the money to help those he viewed as less fortunate."
Chief Deputy Douglas County Attorney Brenda Beadle was quick to note that Gutgsell gave the $700,000 to one homeless man, not a group or a homeless charity. Prosecutors charged Gutgsell on Friday with attempted theft and abuse of a vulnerable adult, each punishable by up to three years in prison. However, Beadle said they plan to amend the attempted theft charge to a felony theft charge punishable by up to 20 years in prison.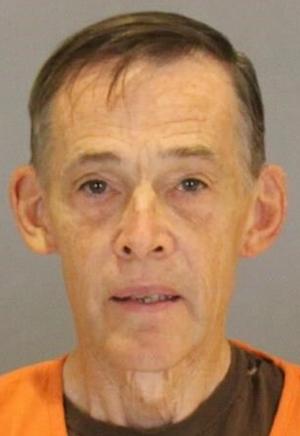 The 73-year-old priest, who has been relieved of any parish duties, was released on his own recognizance.
The vulnerable adult abuse charge relates to the emptying of the accounts of the late Rev. Theodore Richling, a priest over whom Gutgsell was given power of attorney. Richling was in a nursing home and suffering from Alzheimer's at the time of the alleged theft. Sarpy County authorities are expected to file a theft charge over allegations that Gutgsell stole $100,000 from St. Joseph Catholic Church in Springfield.
Beadle said investigators are still digging into the nature of the relationship between Gutgsell and the man. The homeless man, now 48, is a fixture in downtown Omaha and Council Bluffs. A stout man, he frequently wears suits and sunglasses as he gets on and off city buses. He also is frequently spotted at Council Bluffs casinos.
"Gutgsell advised that he believed (the man) was truly a very sick homeless individual that was in need of assistance," Douglas County investigator Bill Mulligan wrote in an affidavit. "Gutgsell advised that (the man) always wore a suit and also wore sunglasses because of his diabetes, which made him a very noticeable person on the streets of Omaha."
An investigator with the Douglas County Attorney's Office wrote in a court affidavit that he repeatedly asked Gutgsell whether he was the victim of extortion: If the homeless man was demanding money in return for not revealing information about Gutgsell.
"Gutgsell was asked on several occasions if he was being extorted, manipulated or threatened by (the homeless man)," the affidavit said. "(Gutgsell) denied it on each occasion."
Naatz said Gutgsell was being taken advantage of. However, the attorney said, it wasn't because he had anything to hide.
"Gutgsell continued to get a story from this person about being down and out — needing money for medical bills, rent, etc.," Naatz said. "Gutgsell is the type who would give the shirt off his back."
Naatz insists that Gutgsell was the victim in this scheme — so much so that Naatz had Gutgsell go to investigators to report what he said was the homeless man's crime.
Authorities laid out a different reason for why Gutgsell submitted to the interview. An administrator and an attorney for the archdiocese had discovered the theft from St. Joseph's parish and took it to Douglas County Attorney Don Kleine.
Kleine's office launched an investigation in coordination with Omaha police.
Beadle said authorities reject the notion that Gutgsell was a victim of his generosity: "I'm doubtful and I'm dubious of that. How does that compute to him turning around and taking from a dead man?"
According to the affidavit of Mulligan, the Douglas County investigator:
Gutgsell told investigators that he met the man in May 2013 when Gutgsell was a priest at St. Cecilia Cathedral in midtown Omaha. Gutgsell said the church often had homeless people approach in search of help.
This man was no different. Gutgsell said he decided to assist the man by giving "him something (with which) to carry his stuff." Gutgsell said he helped the man for three months and then the man disappeared for three months.
"Gutgsell advised that when the man reappeared he began asking him for money."
Gutgsell said he gave the man only cash and always met him in "the front seat of (Gutgsell's) vehicle, normally in a parking lot of the Salvation Army," about a block or two from St. Cecilia's. The man isn't a member of St. Cecilia's, and he's not Catholic.
Gutgsell said he took "meticulous" notes of his donations and knew that he had given "approximately $700,000 (between) May 2013 to July 2021. Gutgsell advised that he had given (the man) approximately $250,000 of his own personal monies by draining his personal accounts, life savings, insurance and his retirement account."
Once his own accounts were exhausted, Gutgsell told authorities, he began taking from Richling and the church. Gutgsell kept track of what he took and told investigators he considered the money loans that he intended to repay, though he acknowledged he had no documentation of anyone else agreeing to loan him the money.
"There's no evidence that Gutgsell spent any of this money on himself," Naatz said.
Pressed on why Gutgsell didn't stop giving money to the man at any point in the eight years, Naatz said the man always promised that he would pay Gutgsell back.
"It's the definition of getting scammed — you don't realize you're getting scammed," Naatz said.
Beadle said the real people getting scammed were the people who trusted Gutgsell within the Catholic Church. In addition to the money missing from St. Joseph's, Richling's entire estate was supposed to be given to the archdiocese.
"It makes no difference what your rationale is, what your giving nature is," Beadle said. "That money belonged to (the parish and the retired priest). How they spend that money is their decision, not Gutgsell's."
https://omaha.com/news/local/crime-and-courts/omaha-area-priest-accused-of-embezzling-280-000-charged-with-2-felonies/article_0e5bbeb8-2ddb-11ec-8d8b-df517bac5294.html