KANSAS CITY (MO)
Kansas City Star [Kansas City MO]

November 2, 2021
By Judy L. Thomas
When the Kansas City-St. Joseph diocese's victim assistance coordinator came to her with the unusual request in the summer of 2019, Carrie Cooper didn't miss a beat.
Six men, all survivors of childhood sexual abuse by priests, were making a documentary and wanted to film inside some of the churches in the diocese.
"I said, 'I'm great with that, but we just need to make sure our bishop is,'" Cooper, director of the diocese's Office of Child and Youth Protection, recalls telling Kathleen Chastain.
Then, she said, the two sat down and talked to Bishop James Johnston.
"And we all felt like it was the right thing to do," Cooper told The Star. "He said that if allowing them to go through this process and visit the places that they need to visit helps them in their healing journey, then it's the very least we can do."
The documentary, "Procession," was recently completed and acquired by Netflix. It is scheduled to begin running on Netflix and in selected theaters on Nov. 19, with a sold-out premiere Wednesday night in Kansas City.
Local diocesan leaders are using the film's release to try and open a new dialogue in the community.
"The church as an institution is the offender here," Cooper said. "There's a very dark history in our diocese with sexual abuse of minors. There are so many minors who were harmed, but it's not just them. It's their families and really, it's the whole community."
Directed by award-winning filmmaker Robert Greene, "Procession" brings together the six men — all but one from Missouri — who write and act out fictional scenes based on their memories of the sexual abuse. With the assistance of a trained drama therapist, the project was designed to collectively work through their trauma. The men — Joe Eldred, Mike Foreman, Ed Gavagan, Dan Laurine, Michael Sandridge and Tom Viviano — accompany each other to places where the abuse occurred and take on roles in each other's segments.
The Diocese of Kansas City-St. Joseph is planning a series of sessions starting at the end of this month that it says will be aimed at helping survivors through the healing process.
"We want to bring people together, be very transparent and open about talking," said Jennifer Prusa, executive director of Journey to Bethany, a new initiative in the diocese. "We want to listen to people and empower them. We're all about putting survivors first."
The sessions, or "healing conversations," will kick off Nov. 30, Prusa said, after people have had a chance to see the documentary. A second session will take place sometime in December, she said, with a third likely to come early next year.
Cooper said the gatherings will be held in a neutral location.
"With the church being the institution that allowed for harm to happen to them, if it causes them stress to go into a church building, that's not helpful," she said. "We're looking for someplace that won't be a trigger or something that makes it uncomfortable."
Greene said he was encouraged to hear about the diocese's plans.
"That's fantastic," he told The Star. "I'm glad they want to use the film to continue the work. There's a lot of pain that has been created by what the church has done and what they have denied. And now it's time to open the doors and let people back in if they want to come back in. And it's equally important to not force them to come back in if they don't want to."
Ed Gavagan, a New York City contractor and one of the six abuse survivors featured in the documentary, said the action was too little, too late.
"We don't need a dialogue; we know what has to be done," said Gavagan, whose allegations of sexual abuse against retired Wyoming Bishop Joseph Hart — a former Kansas City priest — were deemed credible by the current Bishop of Cheyenne, Steven Biegler, but rejected by the Vatican.
"Really, this is what it takes to open up a dialogue? Weren't the lives of hundreds of boys enough?"
Prusa said Journey to Bethany was started by clergy and lay people in the diocese who wanted to see more accountability to those who were abused and provide more resources to help with their healing. In forming the program, she said, organizers conducted an anonymous survey last year in the diocesan community. More than 1,400 parishioners and clergy responded.
"The findings demonstrate the tremendous amount of hurt, anger and pain that has resulted from the clergy sexual abuse issue, with many impacted in some way," the program's website says. "The results show that this community is clearly calling for Church accountability, transparency and commitment to change."
Journey to Bethany works with the diocese's Office of Child and Youth Protection, which includes the victim assistance coordinator, Whitney True-Francis. Her predecessor, Chastain, now works for the Archdiocese of Kansas City in Kansas.
True-Francis said her job is to provide care and compassion to survivors of abuse and their families as they try to work through the healing process. That includes providing pastoral care, referring and coordinating treatment and professional counseling, and helping them access support outside the diocese if they desire.
"I'm really excited to be in this role," she said.
Much of the filming for "Procession" was done in the Kansas City area, and most of the priests who are named as abusers served in the Kansas City-St. Joseph diocese. One was with the Archdiocese of Kansas City in Kansas.
The Kansas archdiocese told The Star that it was not involved in the making of the documentary and wasn't in a position to comment because officials hadn't yet seen it. It noted, however, that Chastain, who is now a consultant with the Archdiocese's Office for Protection and Care, played a part in the filming.
Bishop Johnston, who serves with the U.S. Conference of Catholic Bishops as chairman of the Committee for the Protection of Children and Young People, said Monday that "the painful experience of survivors always calls us to continual vigilance and improvement. "
"When we learned that participating in the documentary film and the drama therapy process was integral to the healing for these six survivors, we felt it was important for us to support them in any way possible," Johnston said in a statement.
"We also know that as the film is released to the public, it might reopen wounds for many. I encourage anyone who is a survivor of sexual abuse at the hands of a Catholic priest, bishop, deacon, employee or ministry volunteer, to have the courage to share your story with a trusted friend, family member or confidant and ask them to support you in reporting to the proper civil or Church authorities."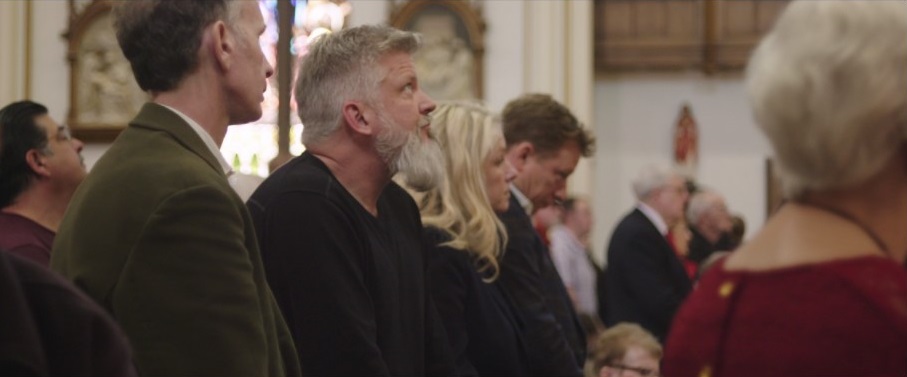 The Diocese of Cheyenne said Monday that Bishop Steven Biegler plans to see the film when it is made available to the public and "hopes that the six men involved in this drama therapy-inspired experiment have experienced some healing in the process. "
"In 2019, those who were producing the documentary contacted Bishop Biegler, and they described the effort as a means to help survivors of sexual abuse to find healing," the diocese said in a statement. "Consequently, he gave them permission to film the 2019 Good Friday liturgy in Cheyenne with some of the adult survivors in attendance whom he greeted that day.
"Bishop Biegler is committed to accompanying survivors of clergy sexual abuse and their family members on the journey of healing. He continues to pray for all who have been affected."
https://www.kansascity.com/news/local/article255477601.html