CINCINNATI (OH)
Spectrum News 1 Kentucky [Louisville KY]

November 22, 2021
By Casey Weldon
For some Catholics, attending Mass is a Sunday morning tradition. Nowadays, many reserve it for major holidays, like Christmas and Easter.
That's not the case for Julie Krommer, a lifelong parishioner at St. Ignatius of Loyola on Cincinnati's west side. To her, the church is more than a place to worship. It's a second home – and not just a spiritual one.
---
What You Need To Know
– The Archdiocese of Cincinnati plans to consolidate St. Ignatius of Loyola and 207 other parishes down to 60 over the next few years
– The changes are needed because of rapidly declining populations of parishioners and priests, per the Archdiocese 
Fr. Earl Fernandes said the moves will let the Archdiocese go from 'maintenance to mission'
– Julie Krommer has attended St. Ignatius for the past 40 years and is nervous about what the changes might mean for her and her family
---
Krommer is often there multiple days a week. She's chair of the church's Worship Commission, an advisory committee that works with St. Ignatius' pastor, the Rev. Earl Fernandes, on liturgical items, including planning for Holy Days and Feast Days throughout the year.
"It's really about supporting the people of this parish," Krommer said.
St. Ignatius is one of 208 church parishes spread across the 19 counties in western and southwestern Ohio that make up the Archdiocese of Cincinnati.
"We have a very vibrant community," Fernandes said. "Sometimes you go to Catholic parishes, and they're largely empty for Mass and it's mostly older people attending. Here, you have a lot of people still coming into Mass, and a lot of those families are younger."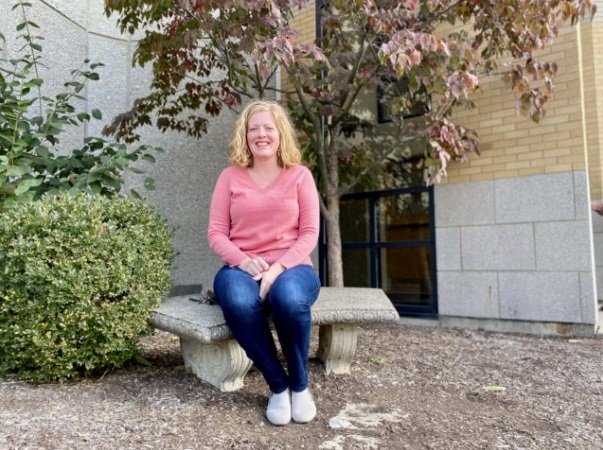 Fernandes, who came to St. Ignatius in 2019, said you experience a sense of vibrancy not just on Sunday, but all days of the week in various aspects of church life.
That sense of youth and vibrance isn't experienced across all Catholic parishes, however. The average Sunday Mass is about one-third full, per the Archdiocese.
As a result, the Archdiocese of Cincinnati has made the decision to consolidate its more than 200 churches into 60 parish groupings that will become families of parishes. The process will take place over the next few years.
Across the Archdiocese there are about 160,000 registered Catholic households, housing about 442,000 people. Those numbers may seem high, but they're really small compared to historic highs of nearly 600,000.
For perspective, while Philadelphia and Detroit have roughly the same number of parishes as Cincinnati, those dioceses each have more than 1 million Catholics.
There are also only 140 active diocesan priests available for assignment; 26 of which are over the age of 70. By 2026, the number of diocesan priests is expected to dip to 113.
"Even with greater numbers of ordinations and higher enrollment to the seminary, it won't be able to replace the number of priests who are retiring, or dying, or of poor health as quickly as we need them," Fernandes said. "It just can't go on like this."

Beacons of Light: From 'maintenance to mission'
Fernandes was part of the Archdiocesan Steering Committee, or oversight committee, for the Beacons of Light Initiative. The committee received the charge to evaluate the realities of the situation and come up with a growth plan that would allow the Archdiocese to best utilize its resources.
The group released a "Current Realities" report, prepared by PartnersEdge, to outline the drastic nature of the situation.
What came out of that process was "Beacons of Light," a multi-year process of pastoral planning to maximize its resources, including finances, physical spaces and people.
"This process is shaking things up. It's helping us remember that we're connected to something much bigger than ourselves and our individual parishes," Fernandes said.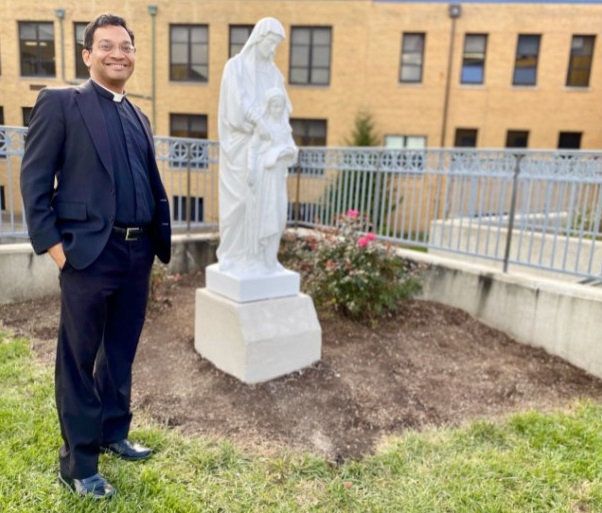 In a letter sent to parishioners in July, Archbishop Dennis M. Schnurr said the Archdiocese has a "responsibility to make the best use of all the means which God has provided us to pursue (our) sacred mission."
"It is therefore appropriate to ask, are all our resources – human, physical and financial – properly ordered to missionary discipleship? Are they working in concert to continuously draw parishioners and attract new members into a more intimate relationship with Jesus? Or are they consumed by efforts to maintain the status quo and spread too thin to be truly effective?"
Fernandes described the process as a way to move from "maintenance to mission." He said the Archdiocese cannot afford to wait for people to come to them; rather, they must "seize the initiative" and become what he called "spiritual entrepreneurs."
It's not yet clear the effects the changes will have on St. Ignatius parish.
Planning has been going since 2020 and some trials are underway. But the Archdiocese won't announce the final families of parishes until Sunday, Dec. 5. They'll go into effect in July 2022.
The pastors of each parish family will assemble a representative group. That group will help develop a pastoral plan for their Family of Parishes. All with the expectation of consolidating down to a single parish within five years.
"The people of the parish and their leaders will have to have some difficult discussions about which facilities we keep open, which to potentially sell, which can be repurposed, etc. But none of that has been determined yet," Fernandes said.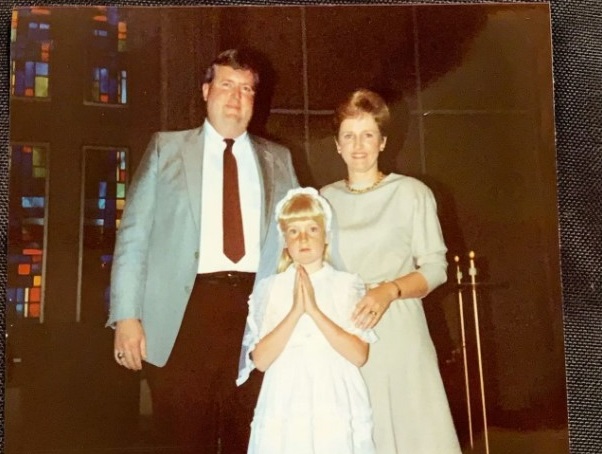 More than just a church
"You just see generation after generation of faith every week," Fernandes said. "That's something that makes this place special."
The Krommers are one of about 3,000 families that make up the St. Ignatius parish.
The family relationship with St. Ignatius dates back to her grandmother. She would help clean the church with a group of female parish members.
"My first memory of St. Ignatius is seeing my grandma sew large tapestries for the church in her basement," Krommer said. She says those colorful displays are still there. She gets to see them often. She lives not far from the church in a condo.
Krommer's grandparents were married in St. Ignatius in 1954; her parents got married there in 1975. It's the place where they baptised Krommer and her three siblings. It's also the church where the Krommer kids received the sacraments of First Communion and Confirmation, which is when Catholics reach an age where they can affirm their beliefs.
Like her siblings, Krommer attended St. Ignatius of Loyola School – the largest Catholic elementary school in the state of Ohio – from first through eighth grades. She went on to St. Ursula Academy for high school.
Krommer remembers being "super excited" on the first day because she got to wear a uniform and new backpack. She can still recall in great detail the roughly one-mile bus ride to school from her family home to the church on North Bend Road.
There have been near countless sporting events, fish fries and church festivals over the past four decades. It's part of who she is.
"I've learned a lot about myself and my faith while being here," said Krommer, who's chair of the St. Ignatius' Worship Commission which evaluates the challenges facing the church community. "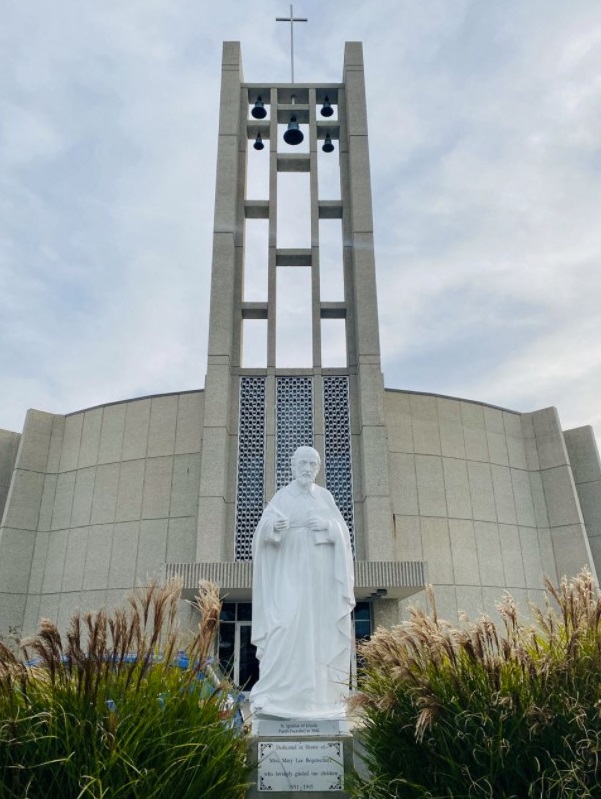 Adapting to a new world
Put simply, the changes proposed by the Archdiocese are a byproduct of having too many churches and not enough priests and parishioners to fill them.
"Cincinnati has an enormous number of Catholic churches and parishes," he said. He called the growth in the Catholic population between 1910 and 1960 "astronomical." That led to a need to build churches and build schools, especially at the time of the Baby Boom.
But those numbers aren't the same today.
"The infrastructure that we have is far too great," Fernandes said. He gave an example of a past parish, Sacred Heart, he pastored that was founded in part due to a rapid increase in Italian immigrants in the late 19th-century.
There aren't many Italian immigrants relocating to Cincinnati in 2021, he said. Those sorts of things happen all over the Archdiocese.
The church has also faced its share of social challenges related to politics – such as gay rights and abortion. It's also still dealing with fallout from the church's handling of abuse allegations by clergy members over the years.
St. Ignatius' former priest, the Rev. Geoff Drew, was arrested in 2019 on accusations that he raped a 10-year-old altar boy three decades ago. He is currently awaiting trial.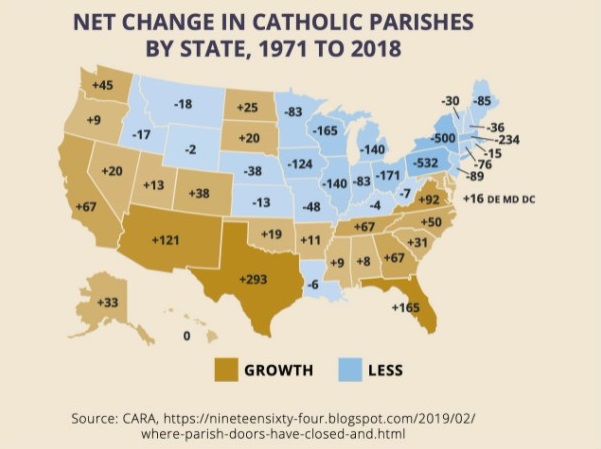 [See also the source of the map.]
Fernandes said beyond immigration, the demographics have changed. Fewer babies are being born, and Fernandes said attendance at most Masses today is "very top heavy" with older adults.
He said people have also moved away from the Midwest, whether down South or out West.
"That's where the Catholics are by and large. We still have a vibrant Catholic community, but we don't have the same numbers or the same need for the massive number of churches and schools we have today," he said.
"The neighborhoods have changed, and so we have to adjust to that."
Fernandes said the local Catholic elementary school system is a great example of why this process is necessary.
Fernandes said Cincinnati has the fifth- or sixth-largest Catholic elementary school system in the United States, even though the archdiocese ranks in them mid-40s in terms of overall population.
"In 1970, there were 105,000 students in Catholic schools in Cincinnati. Today in the Archdiocese there are about 44,400. So even when we're among the largest, that's great, it's nearly 60% drop from where we once were. Something has to be done."
Fernandes said there've been previous attempts to address demographic challenges such as the Futures Project and For the Harvest, but not enough was done.
Coming to terms with necessary change
Jennifer Schack, director of media relations for the Archdiocese, acknowledged that the changes may be difficult to accept at first for some. She asked the faithful to try to "keep an open mind."
"The anxiety associated with first seeing the draft Families of Parishes released Oct. 1 is completely understandable," she said, adding that they "will all be walking together through this process. Let's prayerfully support one another and keep our focus on the Lord and building His Kingdom."
Schack gave the formation of Our Lady of the Valley parish in Reading as an example of how the consolidation plan will likely play out.
Unrelated to the Beacons of Light process, Our Lady of the Sacred Heart and Sts. Peter and Paul, both in Reading, made the decision over the last two years to come together and form a single parish.
With the Archdioces's blessing, they took part in a pastoral planning process led by Fr. Matt Robben, who was the pastor of both churches. They decided to locate the combined parish at the Sts. Peter and Paul campus. They plan to rent Our Lady of the Sacred Heart campus to a new charter school, Robben told the Catholic Telegraph in September.
While most of the parishoners understand why they had to make the decision, "that doesn't make the pain go away," Robben said.
"There are still people out there who are upset, and they're going to be. And I don't blame them. That's a parish they've been in all their lives. There's a lot of pain and frustration in that," he said.
Krommer said she "had to laugh" at the situation because she does corporate change management for GE Aviation. "Yet, like all other humans, I don't like change."
Despite the initial nerves, Krommer knows things need to change. She's preparing herself for a "bit of an adventure."
Fernandes believes that while there may be fear or hesitation at first, this will be a good thing for the Catholic Church in the end.
"We can't be focused on maintaining what we have. I know that's hard and may be difficult for some people because of all of that history. But we have to think about how we can grow and flourish and help us carry out our bigger mission as a church," he said.
Additional information is available at www.catholicaoc.org/beacons-of-light
https://spectrumnews1.com/ky/northern-ky/news/2021/11/22/cincinnati-catholics-brace-for-change-as-part-of-church-consolidation-plan