LINCOLN (NE)
Lincoln Journal Star [Lincoln NE]

November 4, 2021
By Peter Salter
After a three-year investigation, state investigators have identified 258 documented victims of sexual abuse and misconduct by 57 Catholic Church officials, Nebraska Attorney General Doug Peterson said Thursday.
The victims, who reported abuse dating back decades, include 97 from the Lincoln Diocese, 158 from the Omaha Diocese and three from the Grand Island Diocese.
But largely because of statute of limitations laws, Peterson's office was unable to prosecute any of the abusers. Just one case was still viable, but the victim chose not to participate in the prosecution.
"We've not been able to bring our own justice system to bear on those predators," Peterson said during a news conference to release his office's 182-page Report on Clergy Abuse. "And that's extremely frustrating."
Nor was it able to take formal action against church leaders who failed to report suspected abuse to law enforcement. Sometimes, a diocese would require a priest to get counseling, and reassign him to another parish. Sometimes, it would do nothing.
"The most troubling finding from the report is the fact that on numerous occasions when there was an opportunity to bring justice to the victims, those in authority chose to place the reputation of the church above the protection of the children," Peterson wrote in the report.
The findings prompted the state's three bishops to offer an acknowledgement, an apology — and an assurance they're committed to protecting children, preventing abuse, offering healing for victims and cooperating with civil authorities.
"We apologize to the victims and their families for the pain, betrayal and suffering that never should have been experienced in the Church."
The report is the result of work Peterson's office started in August 2018, when it urged Nebraskans who were sexually abused by clergy members or others in positions of authority to call its child-abuse hotline.
The move wasn't intended to single out any denomination, Peterson said, though all but one of the 120 calls it received accused an official of the Catholic Church of abuse.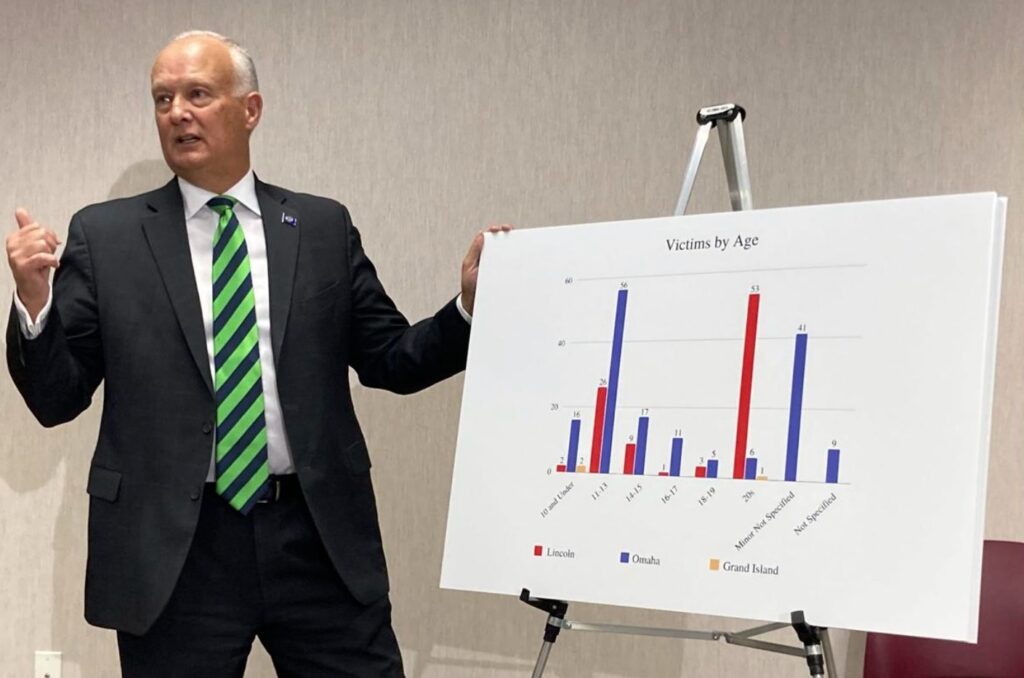 Later that month, his office asked each diocese for all abuse-related investigative files since Jan. 1, 1978. But investigators found inconsistencies while comparing those files with the allegations from the hotline calls, he said, so they doubled-down in February 2019, issuing 426 subpoenas — seeking even more information — to Catholic churches and schools statewide.
In the end, his office investigated the files of more than 200 clergy members and diocese employees, reviewed 12 hours of recorded interviews with those reporting sexual abuse, and examined 30,000 pages of documents.
And it was painful, Peterson said, his voice breaking several times during the news conference.
"The nature of the harm caused to these young, innocent victims is indescribable," he said. "The extent of physical and psychological harm caused by the perpetrators and the failure of the church to safeguard so many victims is gut-wrenching."
He would support legislation that would ease the statute of limitations, he said, and at the news conference, a legislative aide said Omaha Sen. Rich Pahls plans to introduce a related bill during the next session.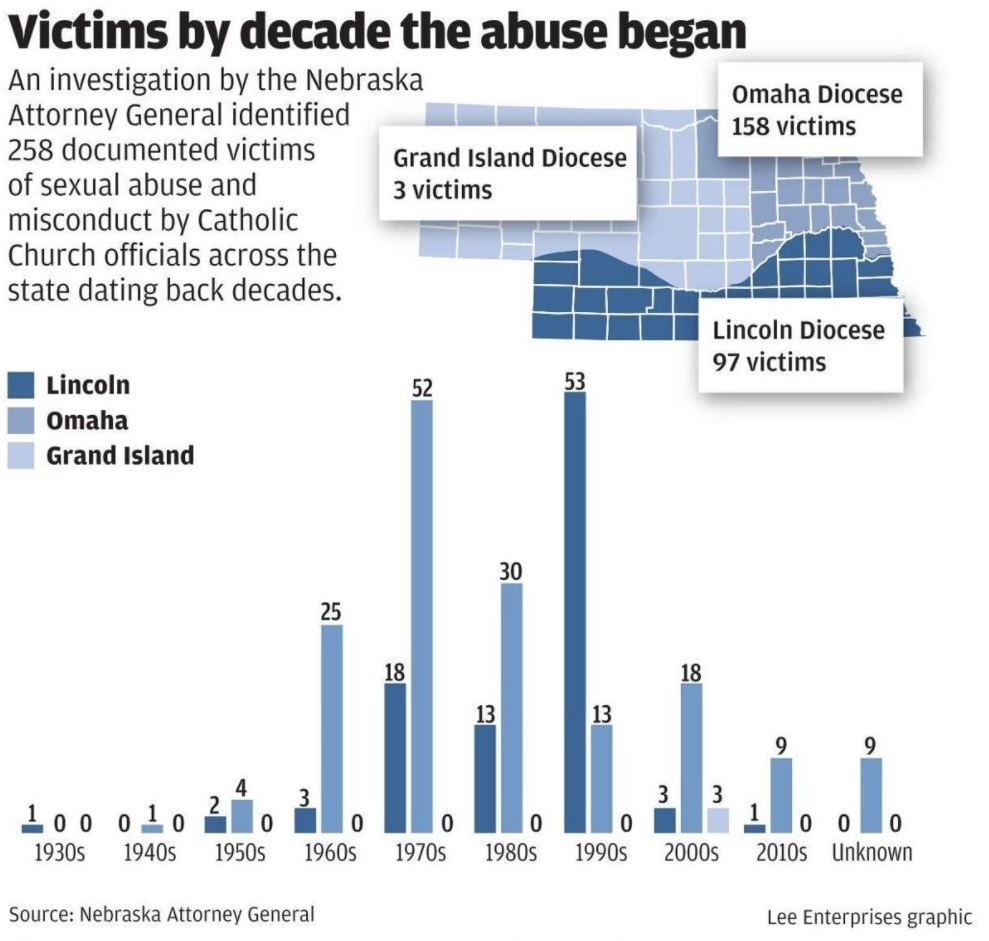 Part of the attorney general's report takes a broad view of the patterns of clergy sexual abuse in Nebraska:
* The vast majority of victims, 236, were male; 22 were female. In the Lincoln Diocese, 92 were male; five were female.
* In the Omaha Diocese, the majority of victims were 11 to 13 years old. In the Lincoln Diocese, the majority were in their 20s — and almost all of them were preyed upon by Monsignor Leonard Kalin, longtime pastor at UNL's Newman Center.
* In the Lincoln Diocese, the majority of victims reported the abuse occurred in the 1970s, 1980s and 1990s — though the state fielded a report from the late 1930s.
* Reports of abuse tapered after the church adopted the Charter for the Protection of Children and Young People — known as the Dallas Charter — in 2002, which outlined procedures for dioceses to take to protect children. Since 2000, the Lincoln Diocese has been at the center of four abuse reports; Omaha 27; and Grand Island, three.
But the report also provides detailed accounts of the grooming and abuse by church officials and names names — almost all of them priests, though four were deacons and two were Catholic school teachers.
For the Lincoln Diocese, the report lists 14 priests — some living, some dead — found to have credible allegations of sexual abuse or misconduct against them. That's two more than the list the diocese released in 2019, which identified priests either facing substantiated allegations or under investigation at the time.
They are: James Benton (three victims); John Copenhaver (two victims); Clarence Crowley (seven victims); Richard Deonise (one victim); Thomas Dunavan (two victims); Robert Hrdlicka (nine victims); Leonard Kalin (51 victims); Paul Margand (five victims); Jerome Murray (nine victims); Alfred Pettinger (two victims); Aloysius Piorkowski (two victims); Sean Redmond (one victim); Robert Smith (two victims); and Charles Townsend (one victim).
Kalin, who died in 2008, served several Lincoln and Southeast Nebraska parishes after his ordination in 1956, and before his role as vocations director at the Newman Center from 1970 to 1988.
Investigators interviewed six victims, who detailed a pattern of Kalin's grooming, kissing, sexual advances and inappropriate touching starting in the 1970s, sometimes under the guise of needing help in the shower.
One victim reported the abuse in 2018, two decades after he'd been involved at the Newman Center in his early 20s.
"Victim #5 was tasked with assisting Kalin during his physical decline with Parkinson's disease. During a period of several months, Kalin made repeated unwanted sexual advances, which included 'verbal sexual compliments, asking to be touched in inappropriate places, and molestation, including repeated requests for French kisses.' Kalin would also grab Victim #5's genitals and make lewd sexual remarks."
The young man told another priest about Kalin's behavior, the report said, though investigators couldn't find any evidence the diocese took action.
But investigators learned Kalin's abuse was far more widespread. They found a record of a 1998 meeting, where then-Bishop Fabian Bruskewitz asked Kalin "to list all the sexual encounters he had."
"Kalin referred to one encounter which had occurred the previous month," according to the report. "Kalin then listed the names of 50 men he had 'showered with in the gym' and had 'kissed on the lips in a non-sexual way.' Bruskewitz issued a canonical warning and forbade him to be alone with any man under the age of 40, except for priests and family members."
Crowley is accused of abusing seven boys from 1938 — a year after he was ordained — through the 1980s.
"Victim #1 wrote a letter to Bishop Bruskewitz in 2001 or 2002, describing the circumstances of his abuse at the hands of Crowley. The letter was returned with no response from the diocese. In 2018, Victim #1's family resubmitted the letter to Bishop (James) Conley. Conley sent the family a formal apology letter a few weeks later."
Murray, who died in 2016, is accused of abusing numerous boys in the York area during the 1960s and 1970s, the report said.
"The file contains a summary of the sexual abuse of Victim #4. He was a student and in a Boy Scout troop led by Murray. He said Murray would undress completely in the presence of groups of boys. He recounted Murray would masturbate publicly and ask the boys to feel his penis."
Another victim told investigators Murray told him not to tell anyone about what they did, because it was "between you, me, and God."
State investigators concluded the Lincoln Diocese had received complaints about at least six of the 14 named priests but took no action to remove them from ministry, with some of them continuing to serve for years.
And in at least two cases, there were allegations church leaders tried to keep victims from reporting their abuse to law enforcement, according to the report.
"The thing that was most concerning is that some of the bishops and archbishops were in positions where they knew something could be done, and they failed to act," Peterson said. "It was placing the reputation of the church above the needs of the child, which is incomprehensible."
But the attorney general said the existing church leadership was generally cooperative with his office's investigation, and he praised its more recent policies — from screening and hiring procedures to rules for engaging with children — that have led to a decrease in reports of sexual abuse.
"They seem to have put in safeguards that have made a difference," he said.
https://journalstar.com/news/local/nebraska-clergy-sex-abuse-report-258-victims-57-predators-no-prosecutions/article_8c094c91-60dd-5175-ad9f-28eb86efc9df.html