WEST MELBOURNE (AUSTRALIA)
The Tablet [Market Harborough, England]

December 2, 2021
By Tom Heneghan
The departure of Aupetit creates a new challenge for the French Church.
The Pope has accepted the resignation of the Archbishop of Paris Michel Aupetit and has appointed Mgr Georges Pontier as appostolic administrator.
The affair is a further blow to France's Catholic Church, still dealing with a shocking report on clerical sexual abuse of minors.
Archbishop Aupetit had unexpectedly offered to resign last week over media reports about his brusque management style.
Discontent with the archbishop burst into the open when the centre-right newsweekly Le Point published a long inquiry into his controversial decisions and spoke of "his scathing ways, his singular lack of listening and empathy".
It also reported a decade-old relationship with a woman, which Aupetit insists was not intimate and was reported to his superiors. 
The case has been a headache for Pope Francis, forced to decide whether to back a much-criticised bishop or find a new face for the leading diocese in France.
At the same time, the Vatican has put off a papal meeting planned for 9 December with members of the commission that estimated 330,000 cases of sexual abuse of minors in the French Church since 1950, two-thirds of them by clerics.
Le Point noted that two vicar generals, including the popular Mgr Benoist de Sinety, had quit over the past year. They did not disclose why publicly but the magazine said Aupetit had humiliated them and ignored their suggestions several times. 
One unpopular decision was abruptly to terminate the 45-year-old experimental parish of St Merry in February, after which Sinety left Paris for Lille. His resignation came four months after another vicar general Mgr Alexis Leproux, 49, also quit after only two years in his post.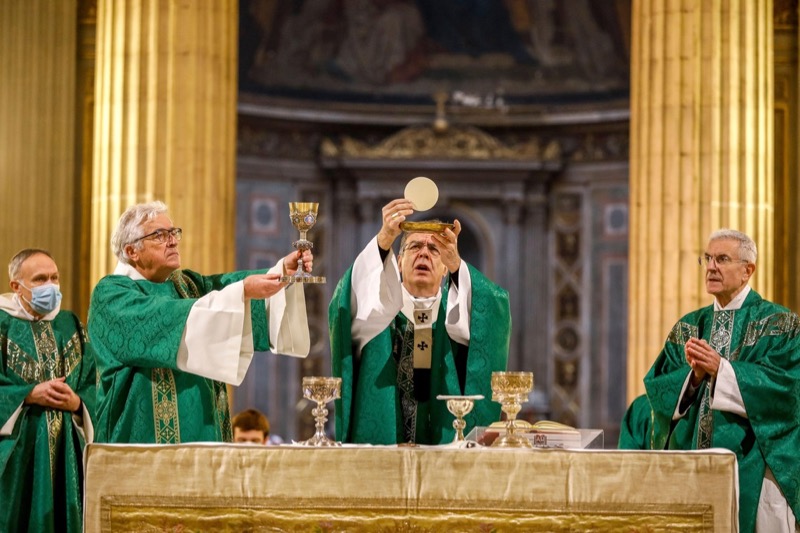 Two other decisions were the abrupt firing of a Catholic school director in a chic Paris neighbourhood and applying the Pope's limits on the Latin Mass in a way traditionalists considered too authoritarian.
"Michel Aupetit has therefore united against him apparently irreconcilable opponents: the 'open Catholics' who support St. Merry, a fringe of the bourgeoisie … as well as a nucleus of traditionalist Catholics," the Catholic weekly La Vie wrote.
Aupetit, chosen in December 2017, had offered to step down to preserve unity in the archdiocese. "The word 'resignation' is not the one I used," he insisted last week. "I've put (my post) into the hands of the Holy Father."
About the reported affair, he said: "My behaviour towards her may have been ambiguous, thus allowing one to assume the existence of an intimate relationship and sexual relations, which I strongly refute."
The abuse report revealed further divisions within the Church. A group of intellectuals from the French Catholic Academy challenged its results, saying they were methodologically and theologically weak and sometimes ruinous for the Church.
The heads of the country's bishops' conference and conference of religious promptly resigned from the academy, saying neither they nor Jean-Marc Sauvé — also a member — had been informed of this broadside.
Sr Véronique Margron, head of the conference of religious, said the abuse report had established the Church's institutional responsibility for the scandal — which the hierarchy admitted on 8 November for the first time — no matter how many or few cases it estimated.
"The systemic dimension is due to the fact that the aggressors have been able to attack for 30 or even 40 years, (and) they were protected by their hierarchy, sometimes to the point that it became complicit," she said.
Creating another headache, media reports have highlighted expensive property holdings in Paris by a Church that has agreed to pay victims compensation without knowing how large this bill will be.
In Brittany, Fr Maurice Roger, 57 and a former vicar general in Vannes received a three-year suspended sentence for embezzling €678,000 of diocesan funds and contributions to finance liaisons with young men in Colombia. He has been barred from his mission since 2016.
https://www.thetablet.co.uk/news/14761/pope-accepts-resignation-of-paris-archbishop-