BUFFALO (NY)
Buffalo News [Buffalo NY]

January 9, 2022
By Charlie Specht and Dan Herbeck
[Photo above: 2007: The Rev. David Bialkowski of St. John Gualbert Catholic Church, blesses the instruments at the Pvt. Leonard Post Jr. Post in Cheektowaga. The young musicians are part of the Harmony Polish Folk Ensemble. By Robert Kirkham / Buffalo News]
Buffalo priest who is suspended from ministry because of accusations that he molested children stands to gain control of the $2 million estate of a 93-year-old widow.
In a case at Erie County Surrogate's Court, two attorneys are disputing the will of Ruth Peters, a retired principal from the Cheektowaga public school system who died in 2019 and left $125,000 to the Rev. David W. Bialkowski. Before her death, Peters also made Bialkowski the executor of her estate.
Attorneys representing several cousins of Peters allege in court papers that Peters was not of sound mind when she made out her will. They also accuse Bialkowski of taking advantage of the elderly widow.
"Just as he apparently 'groomed' young boys, he has become the sole beneficiary under the will of a wealthy elderly widow," attorney Sean A. Fitzgerald, a court-appointed guardian representing relatives of Peters, said in court records. "The methods of grooming (a) boy or teenager are the same as the methods of exercising undue influence over a person."
Bialkowski's attorney said the will signed by Peters in November 2016 is "completely legitimate" and he said the priest has already agreed to distribute most of her estate – estimated at more than $2 million – to charities.
The allegations of child molestation against Bialkowski – which the priest has repeatedly denied – have "absolutely nothing" to do with any questions raised about the legitimacy of Peters' will, said attorney Robert M. Ciesielski.
"This case has nothing to do with children," Ciesielski told The News. "It has to do with this woman's will and following her wishes."
Through his attorney, Bialkowski, 60, declined to comment on the dispute. A copy of the will – which leaves no money to anyone but Bialkowski – was obtained last week by The Buffalo News.
Surrogate Judge Acea M. Mosey is examining court papers filed by both sides and will decide whether to allow Bialkowski to receive the $125,000 and serve as executor. The most recent court papers were filed Dec. 21.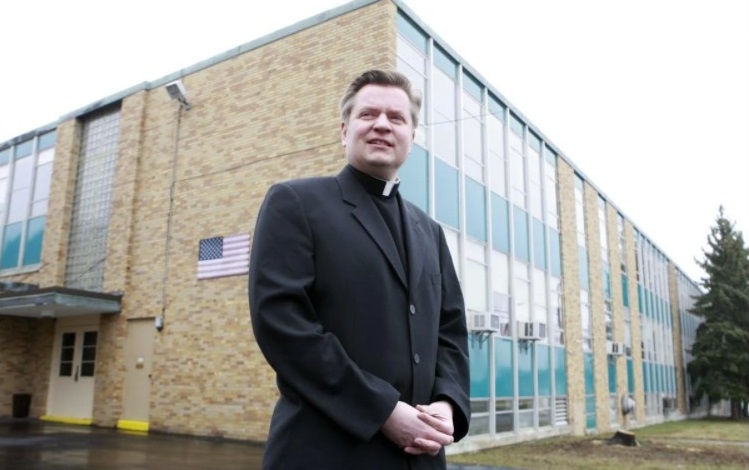 Ruth Peters was married for 62 years to Matthew H. Peters, a World War II veteran who died at age 84 in 2014. A News obituary described him as a self-employed contractor, a designer of homes and entrepreneur who owned several rooming houses in Buffalo.
His wife was a "devout Catholic," court papers state. Ruth Peters was a member of the Ladies Guild at St. John Gualbert Catholic Church in Cheektowaga, which was one of the diocese's most active Polish congregations.
Ciesielski, the priest's attorney, described Peters as a "sharp, competent woman" and said "it was her idea" to leave $125,000 to Bialkowski and put him in charge of the rest of her estate. He said Peters appreciated the way Bialkowski helped her clean up her home and organize her finances after the death of her husband.
"Ruth had no children, no brothers or sisters, no really close relatives. When her husband died, the priest was kind and helpful to her," Ciesielski said.
But two former St. John Gualbert employees and volunteers who clashed with Bialkowski while he was pastor of the church in 2006 tell a different story.
"These old ladies used to adore Bialkowski," said Andrew Kowtalo, who served as organist at the parish for 10 years. "He's very good at playing to people's needs and gaining people's trust."
The priest would cater to a group of elderly church women, especially after their husbands died, he said.
"Here comes Father David, playing on his good senses, because he knew these women were lonely and he used that to get what he wanted," said Kowtalo, who said he was fired by Bialkowski in 2010 for raising questions about his conduct.
Elena Greco, a former president of the Ladies Guild at St. John Gualbert, said some women would give Bialkowski gifts, including $50 and $100 bills. When she started raising concerns, Greco said she was removed from her volunteer posts at the church.
"I saw firsthand how he courted these women," Greco said. "I got a lot of backlash from these women because I saw a lot of stuff I probably should not have seen about how he was finagling their finances."
Sex abuse accusations
It was allegations of sexual misconduct – not financial improprieties – that led to Bialkowski's removal from the parish in 2011. A former altar server said Bialkowski inappropriately touched his thigh and made suggestive comments when he was 14 years old.
After the altar server's account appeared in The News, two more people came forward to describe inappropriate contact with Bialkowski. Bialkowski was removed from ministry, but never defrocked as a priest.
Two Child Victims Act lawsuits filed in 2019 also accused Bialkowski of sexual abuse of minors. A civil lawsuit against the diocese filed by State Attorney General Letitia James said the Buffalo Diocese received at least four reports of inappropriate contact with minors by Bialkowski.
Bialkowski has denied that he sexually abused any child. He also denied that he had tried to "groom" a child for sex.
"No, no, not at all. Never," he told The News in 2020.
The diocese included Bialkowski on its list of priests with "Substantiated Allegations of Abuse of a Minor." Diocesan spokesman Gregory Tucker said Vatican officials this fall "agreed with the Diocese's recommendation that he be permanently barred from active priestly ministry. There will now be an extra-judicial process to confirm his future status, which may entail his laicization."
Bialkowski is no longer receiving a salary or other benefits from the diocese, Tucker said.
Survivors not happy
Bialkowski's attorney said the priest has assured Judge Mosey, on the court record, that the bulk of the money from the estate will be distributed to charities if the judge affirms his role as executor.
"I've heard people have made the accusation that the priest is going to keep all the money for himself," Ciesielski said. "That's absolutely not true."
He added, "The only money that he would keep would be the $125,000 she bequested to him, and the standard executor's commission as permitted by state law. The rest of the estate, most of the estate, will go to charities."
According to the formula set for compensating executors in New York state, Bialkowski could also expect a commission of at least $59,000 for acting as the executor of Peters' estate.
Bialkowski, as the executor of Peters' estate, has already disposed of some of the late widow's assets.
Documents filed with the Erie County Clerk show that in 2019 and 2020, after Peters' death, the priest sold three of her properties for a total of $338,000.
A News reporter also viewed an online listing for an estate sale where much of Peters' belongings were listed for sale, including a grand piano, furs, gowns and a silver Christmas tree.
The estate sale, which was managed by Edna Louise Estate & Household Liquidations, took place in July and August 2020.
A second cousin of Ruth Peters told The News that Peters was a deeply religious person, but the second cousin said she and other family members were "shocked" to hear that Peters had left $125,000 to Bialkowski and made him her executor.
The second cousin, who asked that her name be withheld because she is "a private person," said she does not think Peters would have left money to Bialkowski if she knew that he was accused of molesting children.
The News asked Ciesielski if Peters was aware of the allegations of wrongdoing made against Bialkowski.
"I don't know if she knew about those accusations or not," Ciesielski said. "I don't know what she would have done if she knew about them. I just don't."
Greco, the former St. John Gualbert volunteer, said she believed Peters did know about the allegations against Bialkowski. She said Peters still supported the priest.
The second cousin and another relative of Ruth Peters said they were puzzled and surprised that they never saw any death notice or obituary in any publication after the 2019 death of Ruth Peters. Court documents say Peters died of heart problems and other medical causes in her Cheektowaga home on July 29, 2019.
"She was my kindergarten teacher. She was my late father's first cousin. I knew Ruth my entire life," the second cousin said. "I only found out that she had died from a lady who told me at church."
The second cousin said she later responded to a legal advertisement in a newspaper that indicated Fitzgerald, as a court-appointed guardian, was trying to contact relatives of Peters. Fitzgerald did not respond to repeated calls and emails from The News for comment on the case.
Bialkowski is not qualified to serve as an executor "by reason of dishonesty, improvidence or is otherwise unfit," attorney Elizabeth A. Ingold said in a court document filed last February.
Ingold is the attorney for Nancy Kolack, a Florida resident described in court papers as Peters' first cousin.
Kolack, in court papers, said the creation of Peters' will "was not a free and voluntary act" and her signature "was procured by duress and/or undue influence" on Bialkowski's behalf.
Thomas F. Hewner, a Buffalo attorney who handles many cases at Surrogate Court, assisted Ciesielski in preparing his case. Hewner told The News he believes that Peters' will is legitimate, but he told a reporter to talk to Ciesielski for further comment.
An assistant state attorney general, Melissa H. Thore, is listed in court papers as representing the interests of "charitable beneficiaries" in the case.
In a written ruling Mosey issued Aug. 23, the judge appeared to sympathize with the legal arguments presented by Bialkowski's attorney. Mosey made reference to a Nassau County case from 2008 where objections were raised about another Catholic priest who was named as executor of a will, despite allegations that he molested a child 30 years earlier.
The judge in the Nassau County case wrote that attorneys contesting the will had "failed to demonstrate how an allegation of sexual abuse which took place over 30 years ago" could have any bearing on the accused priest's fitness to oversee an estate.
"The same observation is appropriate in this case, where (Fitzgerald) appears to be suggesting disqualification by innuendo," Mosey wrote.
Mosey added that she wanted to hear more about the Peters case – including testimony from Bialkowski – before making her final decision.
Kevin Koscielniak, founder of the Buffalo Survivors Group, said survivors of clerical sex abuse have not received a penny in their bankruptcy court case against the diocese.
"They're not going to be happy about any of this," Koscielniak said of the Bialkowski dispute. "We just sit here, watching this go on, and it's demoralizing. We're frustrated."
Frank Bogulski, a Buffalo attorney who filed a lawsuit in State Supreme Court alleging that Bialkowski sexually abused his client when the boy was 8 years old, said he was "not surprised" at Bialkowski's involvement in the will dispute.
"They're predators," he said of priests on the diocese's abuse list. "They're like wolves, some of these guys. They see a vulnerability in someone and they exploit it."
https://buffalonews.com/news/local/priest-accused-of-molesting-boys-will-control-widows-2-million-estate/article_2984cef8-6fd7-11ec-abe4-af361b2ce0a8.html