DE SOTO (MO)
The Leader/myleaderpaper.com [Festus MO]

February 21, 2022
By Tony Krausz
The priest at St. Rose of Lima Catholic Church in De Soto has been accused in a lawsuit of abusing a child two decades ago at a St. Louis boys' home.
Christin Hornbeck says in the lawsuit that the Rev. Alexander Anderson fondled him in the late 1990s or early 2000s at St. Joseph's Home for Boys, 4753 S. Grand Ave., in south St. Louis. The lawsuit was filed Feb. 10 in the St. Louis Circuit Court.
Hornbeck, who now lives in Georgia, was between the ages of 11 and 13 at the time of the alleged abuse, said his lawyer, Rebecca M. Randles of the Randles Mata law firm in Kansas City.
The Leader typically does not identify alleged victims of sexual abuse, but Hornbeck's suit uses his name and his lawyer said Hornbeck does not object to being identified.
In the lawsuit, Hornbeck is seeking a jury trial and asks to be awarded compensatory, statutory and punitive damages because he continues to "suffer great pain of mind and body, shock, emotional distress, physical manifestations of emotional distress that are medically diagnosable and significant, embarrassment, loss of self-esteem, disgrace, humiliation and loss of enjoyment of life."
The lawsuit also says Hornbeck "suffered the destruction of his faith in God and all things pertaining to religion or spirituality; was prevented and will continue to be prevented from performing his daily activities and obtaining the full enjoyment of life; has sustained loss of earnings and earning capacity; and/or has incurred and will continue to incur expenses for medical and psychological treatment, therapy and counseling."
The lawsuit also was filed to achieve "at least a semblance of justice," Randles said.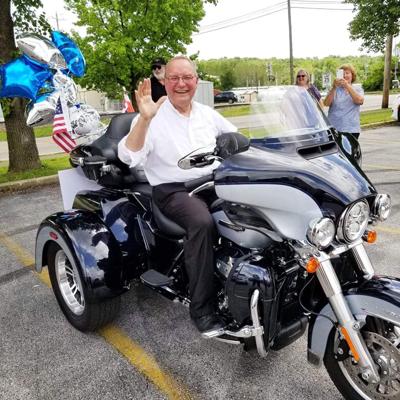 "For individuals who have been sexually abused, that semblance of justice is usually validation," she said. "Regardless of the outcome, the filing of the lawsuit for someone who has been through his experiences is a win."
In his lawsuit, Hornbeck also is suing Archbishop Mitchell T. Rozanski, Archbishop Robert Carlson, Good Shepherd Children and Family Services, Catholic Charities of St. Louis and Sisters of St. Joseph of Carondelet. The suit says the St. Louis Archdiocese and other Catholic institutions allowed Anderson access to "numerous vulnerable individuals" and "knowingly covered up and concealed the sexual abuse of their minor parishioners."
The lawsuit says at least three others have claimed Anderson abused them.
Anderson declined to comment on the lawsuit, referring questions to the Archdiocese of St. Louis.
The Archdiocese said in a written statement that previous claims against Father Anderson were either retracted by the claimant or, after independent third-party investigation, determined to be false.
"This most recent claim is demonstrably false, as Fr. Anderson was not assigned to St. Joseph Home during the time the claimant was a resident," the Archdiocese said.
The lawsuit says Anderson was assigned to St. Joseph's Boy's Home from 1983-1988 but continued to serve at the home as a counselor and spiritual guide at least through 2002.
The suit also says Anderson worked at St. Pius V in St. Louis from 1975-1979, St. Blaise in Maryland Heights from 1979-1980, Immaculate Heart of Mary in St. Louis from 1980-1981, St. Simon's in Concord Village from 1981-1983, St. Andrews in Lemay from 1988-1992, Assumption-Mattese Parish in St. Louis County from 1992-1993 and Most Sacred Heart Parish in Eureka from 1992 to 2008, before being assigned to St. Rose of Lima.
The lawsuit says Hornbeck was placed at St. Joseph's as a child after being removed from his mother's care.
Hornbeck was seen as an outsider at the boys' home, and he was bullied, physically attacked by other residents and abused by older boys at the home, according to the lawsuit.
When Hornbeck complained about the bullying, staff members reportedly ignored him. Also, staff placed Hornbeck in a "quiet room" and sent other boys into the room to fight him so they could watch the fights for "sport," the lawsuit claims.
Anderson regularly went to St. Joseph's to offer counseling and guidance, and he reportedly used those opportunities to "manipulate, control and groom" Hornbeck to be sexually abused, according to the lawsuit.
Hornbeck suppressed memories of the abuse, but he was reminded of the incidents in 2018 after seeing a Facebook post about St. Joseph's, the suit says.
A "John Doe" sued Anderson and the church in federal court two years ago, also alleging sexual abuse. That suit is pending, and Anderson and the church have denied the accusations in legal filings.
The Archdiocese also noted in the filings that the "John Doe" currently is in prison for financial fraud.
"This is not the first allegation against Fr. Anderson," said Randles, whose law firm also represents the "John Doe" in the federal case, which was filed in February 2020. "I believe this is the fourth allegation made against him. He is one of the only priests we can think of who has not been removed for at least the purposes of investigating the complaints."
In its statements about abuse accusations, the Archdiocese says, "We encourage all individuals who allege to have been sexually abused by anyone to report their allegations to law enforcement and the Archdiocese Office of Child and Youth Protection. Any such allegation is promptly reported to law enforcement by the Archdiocese upon receipt. Additionally, if the claimant wishes to cooperate in an investigation, the Archdiocese engages former federal law enforcement officers to independently review all such claims."
https://www.myleaderpaper.com/news/police_fire/lawsuit-accuses-de-soto-priest-of-sexually-abusing-boy/article_96695f8e-9264-11ec-88f0-1fe975a4a38c.html