(ITALY)
BBC [London, England]

February 17, 2022
By Mark Lowen
[Photo above: Reporter Mark Lowen interviews Rev. Gianni Bekiaris about his canonical trial. Screen image from BBC report.]
The BBC has uncovered how a culture of complicity and denial conceals the true scale of clerical sex abuse in Italy. One shocking case that we delved into exposes how abusers in the Church can escape justice. This account contains descriptions which readers may find upsetting.
We'll call him "Mario". He pulls back slightly as we shake hands, still clearly uncomfortable with physical contact. And at my first question – "How are you?" – which I hoped would ease him gently into conversation, he immediately breaks down.
"This interview is taking me back to it all," he stutters, barely able to get the words out through his tears.
Mario has never spoken before to a journalist about what he calls his "sexual slavery" at the hands of his childhood priest.
Our journey will take us from Mario's horrifying testimony, to confronting his abuser face-to-face – and finally to seeking answers from those who have allowed the priest to continue celebrating Mass to this day.
His is one of the countless stories of clerical sex abuse in Italy, which has never properly confronted the scourge. Despite having the highest number of priests of any country, and the seat of the Catholic Church in its backyard, Italy keeps no official statistics on the issue and there's been no public inquiry.
In the shadow of the Vatican, Italy's sins are hidden beneath a veil of darkness.

"Of course, I was told that it was a secret," Mario recalls, "between him, me and Jesus."
That secret was, Mario says, 16 years of horrific abuse that he endured from the age of eight, carried out by a priest named Father Gianni Bekiaris.
A summary of the case by Mario's lawyer, which includes many details too graphic to report, describes the first rape in 1996 as "premeditated". Bekiaris reserved a hotel room with one single bed for them both. Afterwards, the papers read, Mario was left "in pain and bleeding… crying silently".
Bekiaris later gave Mario's parents "a gift" of a poster showing where the hotel was – and where the rape is said to have taken place – under which he'd written the date and time of that moment, as well as the words: "In memory of the two days we spent in the cold of the mountains."
It was, it seemed, a warped commemoration of the crime, and a sign of how the priest manipulated the emotionally vulnerable child, profiting from Mario's strained relationship with his father.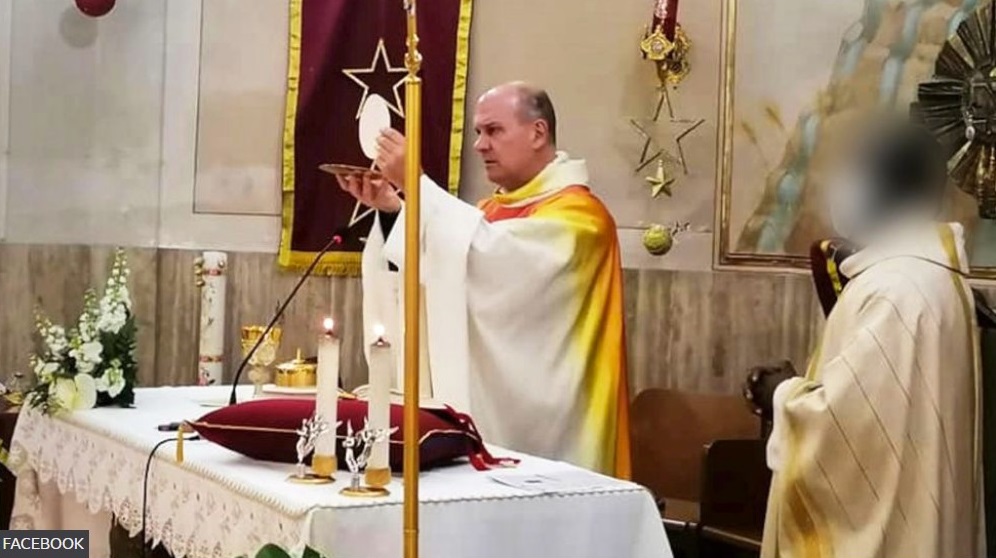 The case files allege Bekiaris threatened Mario to keep quiet, "telling him what happened… was also the child's fault".
"As I grew up, he asked my parents if I could go and sleep at his house," Mario remembers. "They agreed, even though I prayed they wouldn't."
His parents, unaware of the horror unfolding, were naively proud that an important man of the cloth would value their son. The trauma led Mario to drugs, psychological collapse and repeated suicide attempts.
"He stole the kind soul that I used to be," Mario says. "And the nightmares… my dreams are about wars with Kalashnikovs and hand grenades."
Eventually, after opening up to a therapist, Mario embarked on a quest for justice. His first step was to approach Bekiaris's superior, Bishop Ambrogio Spreafico. Bishop Spreafico initiated a trial under canon law – the law of the Catholic Church, which it uses to deal with problems internally.
The verdict that we've obtained from that canon law trial shows judges found Bekiaris "clearly culpable of the accusations levelled against him" and that, while he disputed some details of the abuse, he "admitted committing the crime". He even made a payment of €112,000 (£94,000) to Mario.
But the panel did not defrock the priest, as Mario requested, instead choosing to ban him for life from "administering his duties with minors".
Disillusioned, Mario and his lawyer filed a criminal complaint with the Italian police.
The documents we've seen from this second trial reveal that judges had "no doubt about the veracity of the allegations", leaving "no room for the acquittal of the defendant".
But under Italy's cumbersome legal system, the case had run beyond the statute of limitations, meaning Bekiaris could not be convicted. The case illustrates the quagmire of legal obstacles that has ensnared Italy's sex abuse cases, depriving the survivors – a term most prefer to "victims" – of justice.
Italy's statute of limitations – which begins when a crime is committed, rather than reported – is currently being reformed to stop it from being used to obstruct or string out a legal process, but the reform is not retrospective.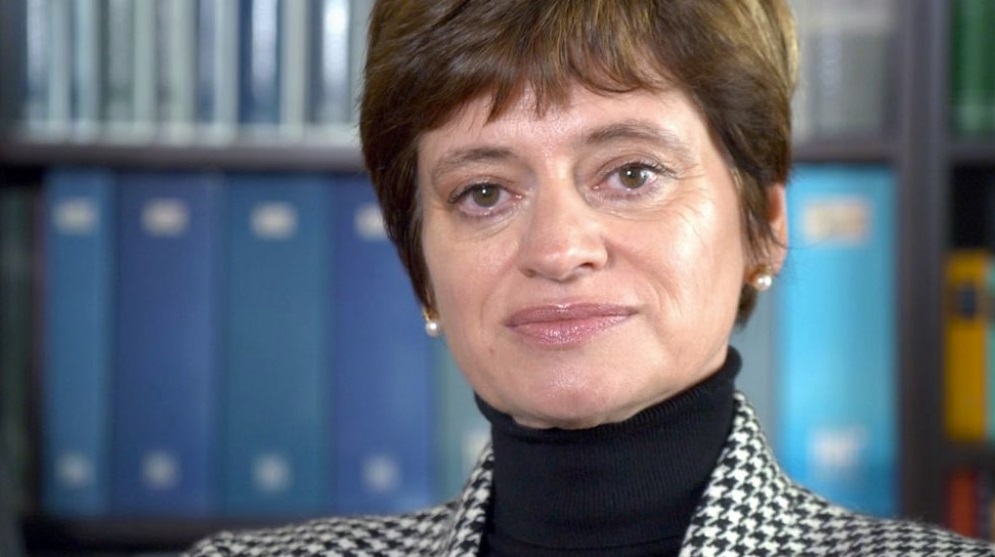 Mario's lawyer, Carla Corsetti, told us the time limit has hindered countless sex abuse cases due to the years it can take for survivors to mentally process the crime. But, she adds, the problem runs deeper – to Italy's constitution and the 1929 Lateran Pact signed by the then-ruling dictator Benito Mussolini, which gave the Vatican legal autonomy from Italy. This gives the clergy recourse to Vatican law over that of Italy, in effect potentially shielding them from Italian justice.
"Through preserving the Lateran Pact, we are a country with limited sovereignty," Ms Corsetti says. "We pay for that fact every day and the ones who pay first are the victims of sexual abuse."
The Vatican under Pope Francis has slowly stepped up its attempts to tackle the offence, outlawing, for example, the use of a code of silence called "pontifical secrecy". Recently, the Italian Bishops' Conference established Italy's first national day of prayer for survivors of abuse.
But for critics, these moves are at best belated and at worst woefully inadequate.
In 2019, the United Nations called on Italy to implement an independent and impartial inquiry into clerical sex abuse. Their calls have fallen on deaf ears so far.
Elsewhere in the world, progress is being made to peel back the cloak of secrecy. A report in France last year found that since 1950, at least 216,000 children had been abused there by some 3,200 priests. Italy has more than twice as many priests as France – but no official tally of abuse cases.
Even within Vatican walls, some have expressed consternation at Italy's inaction.
Father Hans Zollner, the director of the Safeguarding Institute at Rome's Pontifical University and a member of the Vatican's Commission for the Protection of Minors, has urged Italy to follow the lead of France and other countries that have investigated these crimes.
"In Great Britain, in Australia, in the US, in Germany, society came to a point to confront this issue and then the Church also had to confront it – but this awareness and urgency to deal with it has not come about in this country yet," he says.
In places that have tackled clerical abuse, Father Zollner says an average of 4-5% of priests were accused or convicted, adding that "in all probability, there would be a similar number expected in Italy". But in the absence of an official tally and with barely any engagement by the Italian state, it has been left to the country's one campaign group working on the issue to compile what it can.
Francesco Zanardi – a survivor himself – runs an association called The Abuse Network from his tiny flat in northern Italy. "When we started looking for support and legal backing," he says, "we hit a brick wall." Combining confidential tip-offs and media reports, he has mapped the country's priests who have been suspected, investigated, or convicted of abuse. And he has established a group of lawyers ready to work with survivors.
Mr Zanardi has calculated 163 convictions of priests in Italy in the past 15 years – but is certain that this is a gross underestimate.
"Italy is like another planet far from Europe," he says. "There's a clear lack of will by the state to interfere with the Church, at the expense of children."
Part of the problem here is cultural. Italy is often more conservative on some social issues compared with other western European countries. In a country in which more than 80% of people identify as Catholic, the Church is, for many Italians, as central to their identity as the family – and can often seem an unchallengeable authority.

That notion of silence and untouchability of the Church in Italy, as Father Zollner portrays it, has allowed some priests accused of abuse to be placed in a network of Church-run rehabilitation centres.
Several of these centres exist across the country but little about them is known. One near Rome, to which we gained rare access, is secluded up an unmarked road, behind barbed wire. Through the gate stands a white statue of Christ.
Inside are bedrooms for the resident priests, a living room and a small chapel. On the wall are photos of a recent visit from Pope Francis, who stayed for an hour and a half and reportedly praised the pastoral care of the institution.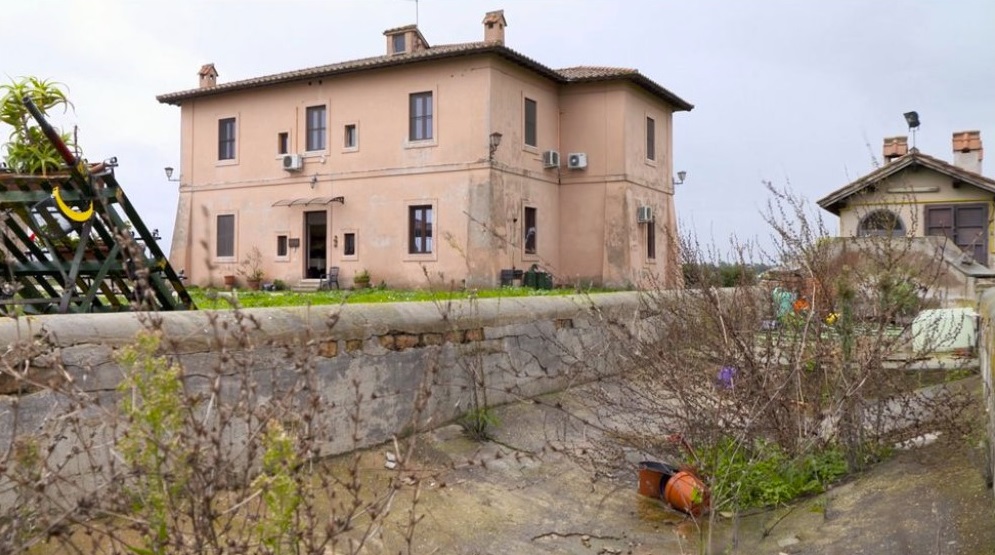 Priests sent to the centres have a range of problems, including gambling and drug addiction. But some are also either accused, under investigation or on trial for sex abuse.
Marco Ermes Luparia, the founder, strenuously denies that his community is "a refuge for fugitives", insisting that it is instead a place of treatment for priests to prevent re-offending. Abusers follow what he calls "an individual, very intense course of two or three psychotherapy sessions a week, followed by a total restriction on movement. They cannot even have lunch outside."
For survivors, the obscure structures that keep abusers away from prying eyes illustrate once again a chain of complicity burying the crime.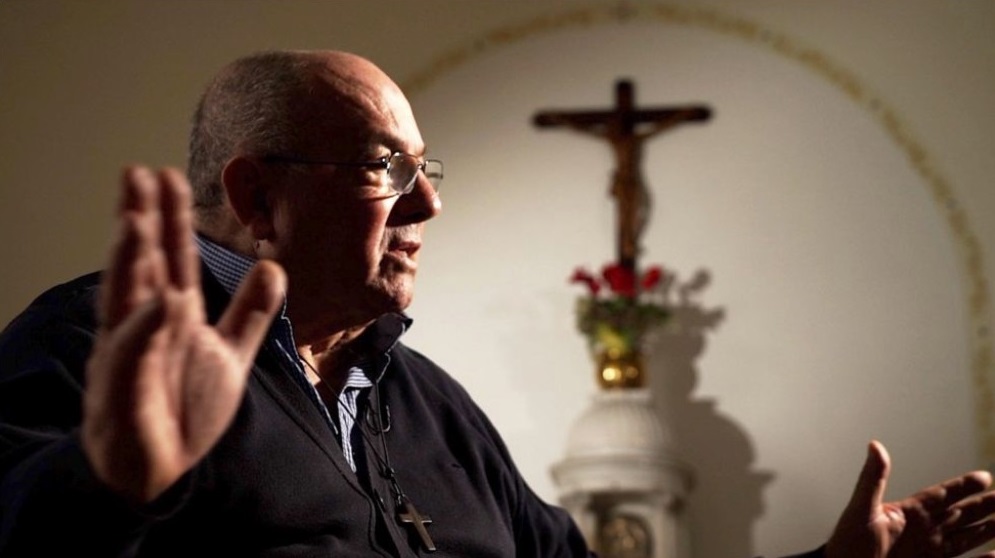 Mr Luparia flatly rejects that allegation. "The bishops have to advise the relevant authorities that the priest is coming to us," he says, dismissing claims the community enables the Church to protect abusers. "Today a bishop who did that – it would be the end of him," he says.
There is no such dignified care for the countless survivors of abuse, including Mario, for whom the cover-up continues.
His abuser, Gianni Bekiaris, remains an active priest still in the same diocese where the crimes are alleged to have begun – and still under the leadership of Bishop Ambrogio Spreafico.
We spend weeks tracking Bekiaris online, finding how he stands in to celebrate Mass at various churches in more than one town, before appearing to lie low again. He is still listed as a priest in the diocese where the abuse took place. We even unearth photographs of him celebrating Mass with children present.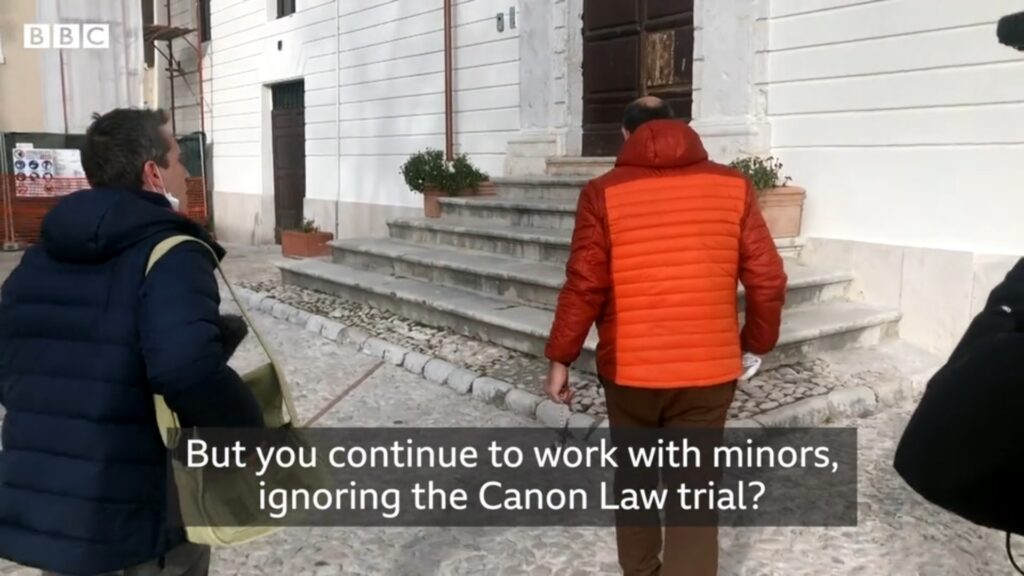 Finally, in one location near Rome, we find and approach him. I show him the trial papers that we'd obtained and the photos of children present at his Mass.
"I work here," he replies, indicating the building where he lives, "and there are no children."
I then produce the photographs of him in church with minors.
"Those are people, not minors," he insists.
He begins to retreat indoors.
"Are you a paedophile?" I ask.
"This is what you're saying," he replies.
"No, it's what your victim is saying," I venture, before he closes the door, with a simple "goodbye".

I ask Father Hans Zollner, from the Safeguarding Institute, what should in theory happen to a priest whose guilt was recognised in a canon law trial, who admitted the abuse and paid damages.
He tells me that, while he is not familiar with the specific case: "If the procedure establishes that he committed the crime, he should be dismissed, of course. And if there is any kind of activity that brings him into contact with minors, that goes obviously against the verdict."
And yet, when we challenge Bekiaris's superior, Bishop Ambrogio Spreafico, on why he hadn't defrocked the priest, despite a direct plea to do so from Mario, he denies any wrongdoing.
Bishop Spreafico insists it was the Congregation for the Doctrine of the Faith – the powerful Vatican department that deals with such issues and led the canon law trial – that took the decision.
"I followed the procedures," he says, "and they decided in this way. It wasn't up to me."
But why, I ask, didn't he advise the Vatican to take a different course of action, given his knowledge of all the details, the fact that Mario had confided in him and that the canon law trial found Bekiaris guilty?
"Guilt can be based on different facts," he replies. "They could turn out to be of a different scale, a different timeframe, a different reality."
When I show him the photographs of Bekiaris in church with minors, he initially suggests he had checked with the Vatican and that occasional celebration of mass was not against the sentence, before assuring me: "I will ask the Congregation [for the Doctrine of the Faith] whether this is included in the ban. But per se it's not specified in the decree."
Even if, as he maintains, it's not against the law, I ask, isn't it against basic morality for a man with such a past to continue as a priest?
"I'll take your observation into account," he says, "and I'll look into it, don't worry."
We look into it ourselves, asking the Congregation for the Doctrine of the Faith for a response.
They tell us the lifetime ban on administering duties with minors imposed on Gianni Bekiaris was intended to "heal and atone" and that it could allow a priest to celebrate public Mass with minors, "as long as they are never left alone".
Legal technicalities, procedural loopholes, and personal interpretations of judgements – they are what enabled Gianni Bekiaris to continue preaching the word of God; deprived Mario of justice – and could lead to him one day potentially entering a church in his diocese with his son and watching Mass celebrated by the man accused of repeatedly raping him.
That is the cost of Italy's failure to tackle the curse of abuse – and of its lack of accountability for the survivors whose faith and childhood were so cruelly robbed.
"The impact is devastating," Mario says, his broken soul clear to see. "Towards the whole Church, from the Pope down to the last priest, I feel sickened by them. I'm sick to death."
Additional reporting by Julian Miglierini
https://www.bbc.com/news/world-europe-60325191