STOCKHOLM (SWEDEN)
New York Times

March 15, 2022
By Jenny Nordberg
[Photo above: Ms. Wallin at her first trial for defamation in Stockholm District Court in 2019. Fredrik Persson / TT, via Zuma Press]
AS FLIGHT SK946 rounded the southern tip of Greenland, with her husband and 2-year-old son quietly sleeping next to her, Cissi Wallin felt her resolve begin to harden. Two generations of silence was enough.
Her mother and her grandmother, too, told her they had mostly kept quiet when they'd been mistreated by men. It's what women did back then, they'd said.
But as the plane carried Ms. Wallin, a Swedish writer and actor, from Chicago back to Stockholm that night in October 2017, her thoughts were on what was happening in America. Harvey Weinstein had just been exposed and was fired within days. Something seemed to be gathering momentum. Within a few weeks, women across the country and the world would be saying it out loud: Me Too.
A week after the flight, after working out, skipping her shower and drinking several mugs of strong coffee at a cafe near her house, Ms. Wallin posted a mirror selfie to her tens of thousands of followers on Instagram. "The powerful media man who drugged and raped me in 2006 is named Fredrik Virtanen," the caption began.
Today — more than four years later — Mr. Virtanen has never been charged with any crime in connection to his encounter with Ms. Wallin. (He has denied her allegations.) She, meanwhile, is a convicted criminal, at risk of prison time.
In 2019 she was charged with and convicted of defamation, after Mr. Virtanen reported her to the police. Other Swedish men have pursued similar tactics: At least 12 criminal convictions have followed of women who had told their own stories since the #MeToo movement began.
And now, in what might be a low point in Ms. Wallin's quest for the right to speak about what she says happened to her, she's about to be prosecuted again — after self-publishing a memoir about her experience. Although the book doesn't name the man, if she's convicted, the government will seek to have all unsold hard copies of her book destroyed.
EVEN TODAY, in the post-Stieg Larsson era, Sweden retains its reputation as the feminist capital of the world. Much of that reputation is deserved: In Sweden, 480 days of parental leave is standard; fathers can be spotted pushing strollers around on any given day in the capital's parks; sexual encounters are — in theory, at least— governed by a consent law; the government even officially proclaims itself "feminist."
And still, the outpouring of testimonials at the height of #MeToo was striking. More than 60,000 Swedish women signed appeals, many of which detailed personal stories ranging from sexual harassment to sexual assault at workplaces and beyond.
But what marked the Swedish version of #MeToo as unusual is that this outpouring of testimonials took place almost completely anonymously: Few women were willing to come forward to be identified as the victims, and only a handful of the accused men were named.
The actor Sofia Helin helped spearhead the appeal from Swedish actors. It began on Facebook Messenger and then transitioned into a closed Facebook group, where stories poured in. There, in this small, closed space, people were initially willing to name names, and eventually it became clear that many stories revolved around a group of about 15 men, of whom several were "among our greats," as Ms. Helin put it.
Ms. Helin had her own #MeToo story. But she came to believe there had to be a better way to effect systemic change, without the discomfort or the ugliness of how #MeToo played out in the United States.
"We're not doing this trial by shame," she said the female actors told one another. "It would be undignified. Below us. We wanted to be above it. We believed in the Swedish system, that this could be worked out and resolved" in some kind of orderly way.
After publishing a selection of testimonials in a national newspaper, the group staged a dramatic reading of anonymous testimonials from female actors detailing cases of abuse and harassment. It was a national news event, attended by the queen and the crown princess. Even the prime minister at the time, a self-described feminist, offered his support for #MeToo.
Naming names felt impossible, Ms. Helin said. The actors were afraid, and to her, doing so felt inhumane. Besides, this nameless mass attestation to grave injustice was more elegant anyway. And this way, she said, "none of us could be called a crazy woman."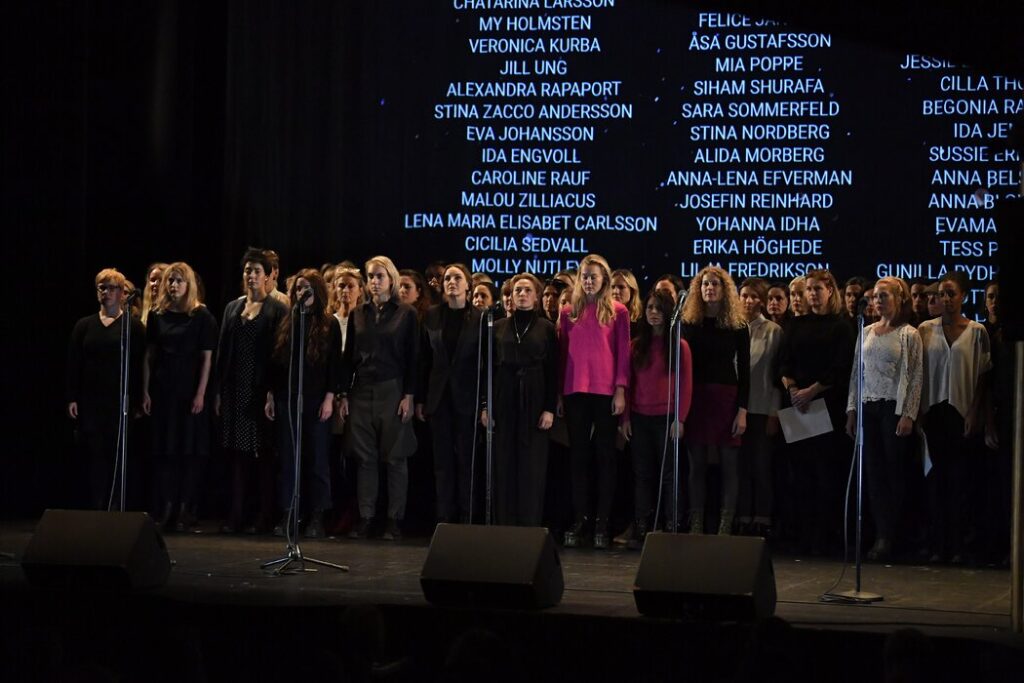 I MET CISSI WALLIN for the first time on a gloomy afternoon a few days after her Instagram post. At the time, she had a lingering cough from a cold she'd found difficult to shake, and as she sat, hunched over in a puffer coat, wearing a too-large Yankees hat pulled down low, it was hard to look her in the eyes. For someone who'd recently made such a bold move, she seemed shy and wary as she handed me a copy of the police investigation from her rape complaint. The case was never prosecuted: As with many rape cases, Ms. Wallin had taken years to report the alleged assault — in her case, the encounter took place in 2006, and she reported it in 2011 — and after the police investigated, it was determined there wasn't enough evidence for a prosecution that could lead to a conviction.
Ms. Wallin, who is now 37, is from an industrial town in the southwest of Sweden; her Polish immigrant mother chain-smoked and worked as a cleaner. Ms. Wallin had no higher education but plenty of talent and made a name for herself through acting and writing and built her influence online in the early days, when most of my colleagues and I were just joining Twitter and Instagram. She was a natural at social media, letting her followers know what was on her mind at least once, sometimes multiple times a day. She reveled in personal disclosures that sometimes tipped into oversharing, like the time she livestreamed from the hospital before she was about to give birth.
I first saw Ms. Wallin's Instagram post while I was walking home from a correspondents' dinner a few nights before and saw a link she'd reposted on Twitter. The man she had called out was a high-profile columnist for Aftonbladet, Sweden's largest newspaper. He often wrote with a feminist slant; he was also a recurring figure in the kind of whisper networks women use to warn one another about certain men. I myself had an unpleasant encounter with him at a bar around 2002, when I was a journalism student in New York.
With a burst of adrenaline, I retweeted her, adding a line about my own experience. I was one of tens of thousands of people who saw her Instagram post, and a few other women came forward with information about their run-ins with him. A little more than a week later, with pressure building, Mr. Virtanen agreed to an interview in Aftonbladet. In it he said that while he might have behaved badly at times, he had never drugged or raped anyone.
When Ms. Wallin and I met, her phone was overflowing with notifications and missed calls. If she was a young, peripheral feminist writer a few days earlier, she was now at the center of something that was moving very fast and that nobody quite understood.
I convinced her that she should let me investigate her case as part of a story about other allegations that women had made against Mr. Virtanen. I told her that the press would have more freedom to publish the allegations than ordinary citizens writing on social media. She seemed highly skeptical, but she agreed to let me try.
After poring over police transcripts, tracking down and interviewing witnesses and scrutinizing the stories of other women, a colleague and I published a story that month after 12 women gave us accounts of their experiences with Mr. Virtanen. They gave independent and detailed stories of incidents ranging from sexual harassment to sexual assault and one account eerily similar to Ms. Wallin's, which included blacking out and experiencing only flashes of consciousness during what she described as an assault. All of the women except for Ms. Wallin declined to be named; Mr. Virtanen was too well known and too powerful, they told me. Those who knew him professionally were afraid for their jobs, and those who were not in the media were too ashamed.
Four days after the story was published, the editorial page editor for Aftonbladet announced that she had dismissed Mr. Virtanen from its opinion pages.
But unlike the handful of men in Sweden who had been named and who quit their jobs or were fired and for the most part moved away from the spotlight, Mr. Virtanen set out to fight what he has called a "witch hunt." He has called Ms. Wallin "a pathological liar," and as for the other stories about him, the women had misunderstood or exaggerated the situation or simply didn't exist; the presumption was that my colleague and I had invented them.
Despite having gone public in his own defense on the same day that our story was published, Mr. Virtanen reported multiple stories identifying him. These complaints were later adjudicated by the media council, which is part of a sort of self-regulatory body that all traditional media in Sweden voluntarily subscribe to and that handles complaints about the press.
The council criticized our story, among others, deeming it a clear breach of press ethics. The accounts by mostly anonymous women, some of whom were speaking about incidents that took place years ago, did not justify naming the accused, they reasoned. "Publishing the story," the council wrote, "harmed the complainant in an indefensible manner." My paper kept our account up online but removed his name. I was also asked to remove a tweet in which I named him in conjunction with the article; I refused.
Other media took note of the council's decisions; slowly, it became clear that in Sweden, the possibility of publishing the name of someone accused of sexual misconduct, even with multiple witnesses and accounts, would be risky. The message from the council was clear: Doing so could be a breach of good journalistic practice. What was the point of speaking to journalists now, several women asked me, when not even the media would call out the worst of these men by name?
Above all, they were paying attention to what was happening to Ms. Wallin. In January 2018, Mr. Virtanen filed his own charges. That spring, Ms. Wallin received an envelope bearing the insignia of the national police. The letter required her to appear at a Stockholm district police station so she could be interviewed, on suspicion of gross libel.
Less than two weeks after giving birth to her second son, still wearing the adult diapers dispensed by the hospital underneath her clothes, she returned for additional questioning.
MS. WALLIN'S FIRST TRIAL for defamation took place in the fall of 2019 at the Stockholm District Court, where an overflow room housed members of the press and the defendant's posse of young supporters, some of whom had taken buses from other cities; Ms. Wallin offered to reimburse them for their tickets, even though she'd never met most of them.
In the end, much of the defense testimony did not matter.
Not that of Ms. Wallin's former therapist, who described her patient's distress when she recalled details of the night; not that of her former boyfriend, who told the court how she broke down during sex and confided in him.
Nor did it seem to matter that two women, who had never met or spoken, had stories about being invited to two different after-parties, in 2000 and 2002, where they identified the same man, Mr. Virtanen, as having assaulted them. (Mr. Virtanen has always held that he has never assaulted anyone.) One woman appeared in person at the trial but was not allowed to describe the assault she said took place. The other woman had given a detailed account to the police but when she was not able to appear in person at the trial for what her doctor said were mental health reasons, the court denied the request of Ms. Wallin's defense team to introduce her written testimony as evidence.
Trials for defamation in Sweden are open to the public, so they must steer clear of further defaming a complainant. As a result, Ms. Wallin could describe what happened to her, but at the urging of the prosecutor, the judge kept reminding her defense team and various witnesses not to go into detail on any allegation of sexual assault. This was not supposed to be a public rape trial.
I'd spent a few days watching Ms. Wallin prepare for her court date and practice what she wanted to say: "When the right to choose what happens to your own body is taken from you, when someone else decides what should happen to it," she'd say, "then, you should at least have the right to speak about it. That's just as important. I believe it's a basic human right to be able to tell your own story."
In the years since we first met, Ms. Wallin had become a reluctant standard bearer for free speech in Sweden. After Mr. Virtanen filed his defamation complaint, her career stumbled. A documentary she was making about abortion in Poland was put on hold indefinitely, with vague references to how she was being investigated for a crime. She lost her newspaper column after a conflict with the publisher. She and her husband were subjected to an interview by a social worker after they were anonymously reported as unfit parents.
In much of establishment feminist Sweden — a world of celebratory galas and paid lectures on how government agencies might become more equal — Ms. Wallin was a pariah. And the more she felt like an outcast, the rawer her writing grew. She seemed to thrive off being polarizing: She would write fierce diatribes on hot-button topics, from gender identity to cancel culture to trigger warnings, and throw herself into the social media fights that followed. She was called an attention seeker — a profound insult in a quiet country. I lost count of the times I watched her try, and fail, to organize some kind of more structured "sisterhood"-type group, with other women. In the end, she often wound up by herself again.
Each time I saw her, her physical armor seemed to have increased slightly: Her hair slowly turned redder, her eye makeup got thicker, soft pastel sweaters gave way to all-black ensembles.
At the same time, she was now well known enough to be periodically recognized around Stockholm. Women sometimes came up to her and began sharing spontaneously. Her DMs brimmed with #MeToo stories, vivid and full of detail. Ms. Wallin would occasionally suggest women go to the press or to the police; usually, they'd tell her it was not something they wanted.
The day before the trial, Ms. Wallin focused her anxiety on footwear — at the very least, people wouldn't be able to say she looked shabby or broken on national news — and so we took a trip to the city's fanciest department store. As we cut through the cosmetics department, a woman who looked to be in her 50s by the MAC counter spotted her. "Cissi Wallin, right?" She placed her hand on the younger woman's arm. "Best of luck tomorrow!"
"Thank you," Ms. Wallin said, picking out a bright crimson lipstick and smiling faintly.
At her trial, Ms. Wallin spoke about how, for years, she feared no one would believe her and how the arrival of #MeToo had moved her deeply and helped her feel less alone. She described anxiety attacks from what she said was a physical memory that had taken hold in her body, a memory of "being in a completely powerless state where one cannot defend oneself." But in the end, none of this, too, seemed particularly relevant to the verdict the court delivered.
Unlike in the United States, where truth is widely considered to be an absolute defense in defamation cases, Swedish law takes a two-step approach. The court first decides whether the alleged defamation is "justifiable"— that is, whether it's of broad public interest. Only if the court decides that a statement is justifiable will it move on to consider whether or not it is true.
In this case, despite Mr. Virtanen's being one of the highest-profile writers at the country's largest newspaper, the court concluded that he was not enough of a public figure to justify public interest in his personal conduct. Ms. Wallin's posts, in other words, were not justifiable, and as a result, it didn't matter whether her account of their encounter was accurate. "The court will not review whether the statements were true," the verdict read.
Sweden's approach to defamation law stems in part from its broader philosophical approach to justice.
In this country of strong public oversight agencies and robust social safety nets, the state also zealously guards its role as the primary arbiter of crime and punishment.
In the United States, defamation is typically considered a civil matter, something to be sorted out between two parties. In Sweden, civil lawsuits for defamation are, in theory, an option, but in practice, relatively few are ever filed. Damages are kept low, so as not to encourage individuals or corporations to sue. The idea is that conflict between citizens should be resolved via the state, said Fredrik Bergman, a constitutional lawyer who heads the Center for Justice, a public interest law firm in Stockholm.
Sweden is not a smaller, colder America with better child care. It is a different society — a country of just 10 million people, built on consensus and collectivism, where schoolteachers are instructed, as part of the government's national guidelines for educators, to emphasize the importance to children of being able to "relate to and understand the situation of others and to develop a desire to act while considering what is also best for those others."
To be an outcast in such a society has different and potentially more extreme consequences than in the United States, and the strict legislation around defamation reflects the importance of protecting each citizen's right to remain a part of the collective.
"You could even be convicted for defaming a criminal," Mr. Bergman said. "If it means other people could look down on that person, it doesn't matter whether something has been proved in court; it could still be defamation. That's how valuable the right for anyone to participate and reintegrate in society is viewed."
In many ways, this approach is appealing. It encourages forgiveness, a fresh start: Even criminals should be able to serve out their sentences and have the opportunity to reintegrate without the additional and arbitrary punishment of being shunned when it's over.
With her Instagram posts, Ms. Wallin had produced the equivalent of a medieval pillory and tied Mr. Virtanen to it, argued his counsel Monique Wadsted.
Mr. Virtanen, who is currently unemployed, testified about what he described as the near collapse of his everyday life: how a slew of hatred washed over him when he looked at social media, how he suffered from stress and anxiety and constantly feared for how his public fall from grace would affect his children.
"This case is not about silencing," said Daniel Suneson, the prosecutor. On the contrary, he said, Ms. Wallin had been able to speak to her friends, her family, the police and her therapist. But she shouldn't have accused and named the person in front of a wider audience — that is, the internet.
When the guilty verdict came two weeks after the trial, both parties immediately appealed: Ms. Wallin because she insisted she wasn't guilty, Mr. Virtanen because he wanted more than the roughly $9,000 Ms. Wallin had been ordered to pay him.
An interview with Ms. Wallin aired on national radio after the verdict. In it, the female interviewer was audibly frustrated: "Has this defamation process made you re-examine yourself in any way?" she asked. Those discussing her case on TV after were, for the most part, no more sympathetic. Ms. Wallin was a "radical," one commentator said. In naming Mr. Virtanen, she had committed "an extreme act."
AS A GOOD DAUGHTER OF SWEDEN, I was always a rule follower, confident that my country provided the greatest of protections for both women and their speech.
But as an immigrant to the United States who spent two decades in New York, I watched the fallout from Ms. Wallin's Instagram post and her subsequent ordeal with a growing sense of disbelief. Maybe I was a radical now, too.
It's not that speaking out about sexual misconduct in the United States is risk-free. Any woman speaking out about a man's actions runs the risk of being sued and owing damages and legal fees. And of course, there is the risk of doxxing and other forms of harassment. But the law tries to provide protections — among them, by holding that a true statement can never lead to liability in a defamation suit.
JoAnne Sweeny, a law professor at the University of Louisville who has studied and published several articles and an academic paper on the legal fallout in the United States and internationally after #MeToo, told me she knows of no current U.S. cases in which a woman is in serious legal jeopardy of losing a defamation suit as a result of accusing a man of misconduct since the #MeToo movement began.
The way #MeToo played out in the United States was chaotic, like several parallel justice systems operating at once. There was the lawless realm of social media, where men were criticized for their actions, sometimes by name, there were the quasi-public not-quite-a-whisper networks (the Shitty Media Men list, for instance), and of course, there were journalistic investigations, which often required accounts from multiple women in order to be published.
What ensued has been rightly criticized: for focusing too much on the toppling of big names and neglecting to push for systemic change, especially for women working in anonymous low-wage jobs; for lacking due process; for giving those toppled men either no path back in some cases or for making the path back too easy in others.
But if what unfolded in America was not perfect, it was undeniably powerful. And according to Ms. Sweeny, the movement that traveled across the ocean to Europe and beyond could not have happened without the naming of names.
"Women have been talking about this for a long time structurally, but naming names made it real," she said. Those first big names — Mr. Weinstein, Louis C.K., Matt Lauer — being made public gave many more women the courage to speak out about others.
In a concurring opinion in a 1967 Supreme Court case, Curtis Publishing Co. v. Butts, Chief Justice Earl Warren explained why people considered public figures — those who wield power and influence, despite not holding elected office — ought to also be subject to a high degree of scrutiny by both the press and the public.
These people often shape society as much as elected officials, Chief Justice Warren argued, and as a result, citizens have the right to know about these people and to choose whether either to continue to afford those people the same power and influence or to re-evaluate their status. Anonymity makes none of that possible.
EVEN BEFORE Ms. Wallin's conviction, women who had followed her example in Sweden and identified men in their #MeToo stories on social media were beginning to be called in for questioning by the police.
Julia Lindh was 18 and hadn't yet graduated from high school when she first connected with the comedian Soran Ismail, who was 10 years older, online. "It was the coolest thing that had happened to me," she said, recalling when he asked her out to dinner. "That he chose me."
In the year that followed, she was drawn into what she says was an abusive and sexually exploitive on-and-off relationship including nonconsensual assaults she alleges amounted to rape. Amid what she said were death threats and harassment, she finally broke off contact. (In an email, Mr. Ismail said he never threatened or harassed Ms. Lindh and that he broke off contact. Mr. Ismail also denied ever engaging in sexual activity without consent.)
Even at the height of #MeToo, Ms. Lindh had no desire to shame Mr. Ismail publicly. But the many testimonies of women she read online helped her work up the courage to do something else: She decided to finally go to the police. But first, she went to a closed Facebook forum for sexual assault victims with more than 580 people in it, to ask for help.
"This is without a doubt the scariest thing I've done in my entire life," her post read, asking members of the group to keep her name confidential and then announcing her decision to file a police report. "I will need support," she pleaded, asking any other victims of the man to contact her. She soon learned that at least two other women had reported him for sexual assault, to no avail. (Mr. Ismail denied those allegations as well.)
Her complaint, too, was later dismissed because of lack of evidence, but a screenshot of her Facebook post was forwarded to Mr. Ismail.
Mr. Ismail sent the screenshot to the police. He told the police that he and Ms. Lindh had always had a consensual relationship. He said he suspected that Ms. Lindh was in love with him and felt disappointed, so she wanted "revenge."
In the more than four years that have passed since #MeToo arrived in Sweden, at least 12 women have been prosecuted for taking part in what several of them said they believed was a global women's rights movement. The courts have told these women otherwise. I have found no instance so far in which a woman charged in Sweden with defamation in a #MeToo-related case has been found not guilty.
The court said Ms. Lindh was guilty of gross libel and ordered her to pay damages of more than $5,000 to Mr. Ismail. Despite referring to him in the verdict as "a public and very famous person" the court said naming Mr. Ismail in Ms. Lindh's post in the closed Facebook group was not "justifiable." Last April he appeared in a two-part special on Swedish public television, titled "Persona Non Grata," in which he spoke out about how the accusations harmed his life and career. This month, Ms. Lindh lost her appeal.
#METOO WAS MANY THINGS: It was a conversation about workplaces and who controlled them and what they did with that power; it was an attempt to rewrite a society's rules. But at its heart, it was an outpouring of speech from women telling the stories of their own lives, as they saw them.
In the Swedish justice system, "who the perpetrators of sexual violence are is a private matter," said Linnea Wegerstad, an assistant law professor and scholar at the University of Lund who for a forthcoming academic paper has been studying the cases of the women convicted of defamation since the #MeToo movement began.
It's clear that Swedish courts do not consider stories about sexual violence that name the accused men to be a political topic, which would fall under Sweden's constitutional right to speech, she said. It's instructive, she added, to hear whom the courts say a woman can still tell her story to without fear of repercussions: her therapist, her immediate family and friends. A few dozen friends on Facebook counts as too wide of a circle.
But sexual violence and abuse are not private matters. And the speech in #MeToo is part of an ongoing dialogue between women and the state.
If the justice system had worked as it was supposed to, #MeToo might not have existed, in Sweden or elsewhere. #MeToo was always a way of saying that the state and society at large had failed women, that they hadn't been listened to or protected, and now women had to speak for themselves.
"Social media vigilantism doesn't exist in a vacuum," Ms. Sweeny, the American law professor, said. "When someone commits a crime against you and your justice system isn't working, what recourse do you have?"
In Sweden, however, the state has responded to these cries not with contrition but with a rebuke: Who are you to say we are not listening?
IN THE SPRING of 2019, Fredrik Virtanen published a book. Its title translates in English as "Without Mercy: A Reckoning." In it he details his years of partying involving alcohol and drugs, as well as his years of being a victim of what he calls a "mass psychosis," "narcissistic YouTube feminism," "lynch justice" and a complete breakdown of press ethics.
A review in the liberal newspaper Expressen called the book a "modern Kafka" account, "captivating, fascinating and deeply moving."
In early 2020, Ms. Wallin also got a contract to write a memoir. When I spoke to her shortly afterward, she was giddy at the prospect: Finally, she was going to be heard. She was going to get to talk about what the trial was like from her perspective, the ugly aftermath — though with a caveat: she would not mention Mr. Virtanen by name. Still, she was happy. She'd also secured a columnist gig with Expressen. "This is my year," she told me.
After that, she went quiet for a few months, furiously writing. She emerged with an almost complete manuscript, titled "All That Was Mine: The Story That's Not Allowed to Be Told."
In the summer, she heard from her publisher: It had a problem. The publisher's legal team had read the book and was concerned about defamation issues. Ms. Wallin said the company told her that it could publish only a version that contained no potential libel. In Ms. Wallin's view, because she had already agreed not to name Mr. Virtanen, that meant taking out most of her story.
Ms. Wallin withdrew her contract and self-published the book. Soon after, Mr. Virtanen filed another defamation complaint.
"It can't be reasonable that a person, who has been prosecuted and convicted for gross libel in one forum, then continues her criminal enterprise in another forum, escaping responsibility," his counsel wrote, this time to the Justitiekansler, or JK, the Swedish chancellor of justice , the authority responsible for pursuing rare cases involving free speech rights against media publishers. (Having self-published her memoir, Ms. Wallin is being treated as a publisher in this case.)
Now Ms. Wallin will go to trial again. If the state wins, it will seek to have all unsold copies of her book confiscated. She risks a maximum prison sentence of two years for defamation in book form, in addition to the two years she risks in the appeals trial for her Instagram posts.
In Ms. Wallin's case, "my grounds for prosecution is that she's already sentenced in a first trial," said Mari Heidenborg, the chancellor of justice, a former Supreme Court judge who previously wrote legislative reports for Parliament on topics such as sexualized crime and so-called honor killings. "She's defying the law a little," said Ms. Heidenborg in an interview, "and she's not taking in the lesson about how you can't do this."
Ms. Wallin's lawyer, Percy Bratt, has been a human rights lawyer for most of his career. When she called him in 2017 after being summoned for questioning by the police, he immediately felt it could be an important case for free speech.
He finds the case against Ms. Wallin puzzling. The country, he said, seems to want to send the message "that this is something that we must stop: We must stop her. We must set an example so that no man will ever again be subjected to having the truth about him be spread around."
He's prepared for the possibility that Ms. Wallin's case may end up before the European Court of Human Rights.
THAT UNPLEASANT ENCOUNTER I referred to at the beginning of this story? It happened when I was a student at Columbia Journalism School in New York two decades ago. At the time, Mr. Virtanen was a U.S.-based correspondent, and I ran into him at a bar one evening while out with a friend.
At some point, he began a lewd commentary on the shape of my breasts in the sleeveless red top I was wearing that evening. When I stood up to leave, he spluttered that I was a "little whore."
I share this story in part to disclose that I have met Mr. Virtanen before. I certainly don't intend to imply any equivalence between Ms. Wallin's story and mine. An insult is not an assault.
But I write this because in America, I can. The Times has done its due diligence: A fact-checker confirmed details of this account with my friend who was with me at the time and two friends I told about it shortly afterward. We gave Mr. Virtanen a chance to respond — he declined to comment.
So: Can I be a Swedish journalist and an American one? What is my own right to speak and tell my story?
For women in particular, the right to speak is the bedrock on which all other rights are built; women obtained the right to vote, for instance, after holding rallies in order to demand that right.
Not every act of speech results in that sort of broad, systemic change, of course, at least not right away. But what each does is contribute one additional testimonial to the collective story, being written in real time, of what it means to be a woman — a story we use, in turn, to demand a better world.
A few months ago, I met with Ms. Helin, the actor, in central Stockholm. In retrospect, she said, the decision to act collectively was beautiful, naïve and also perhaps a little arrogant.
Sweden wanted to do things differently, she said. "We're a highly developed, civilized culture," she said. "We wanted another solution to a dirty problem." But that method did not bring the change she had hoped for. "Now here we are," she said. "And I have to breathe deeply when I think of some people who are in power who should have no power at all over others."
She has watched Ms. Wallin's ordeal with both horror and awe for the woman at its center, but she feels the options for telling her own #MeToo story with a name attached to it have narrowed, should she ever want to. She wouldn't go to a newspaper now, she said, and were she to publish it on social media, she would "become Cissi Wallin."
So what does it mean to be Cissi Wallin now?
She has moved out of the city, to a house in the woods a few hours from Stockholm. From there, she still posts what's on her mind at least once a day. Last night, she left her two small sons with her husband and got on a train to the capital; this week she'll participate in the first of at least two more criminal trials. She still stands alone; only now millions in Sweden are paying attention to what will happen next to this difficult, persistent — and some say dangerous — woman, who lives and speaks out loud.
Ms. Wallin has been asked hundreds of times by well-meaning friends: Why couldn't she have told her story without mentioning a name? Her answer has always been the same: "Why do I need to keep his secret? His shame? Why is that my responsibility?"
Telling her story has quieted her mind, she said. And as Ms. Helin and I talked, she turned over the possibility, one more time, that she could have this quiet, too. "Maybe I'll just start saying it out loud," she said. "How many of us will they prosecute?"

* * *
"I was 17 and was raped by
a Stockholm politician
who's now a top candidate in
the election 2018."
"Sitting with colleagues in the
dining room hall. One of them
fixates his eyes on me and
says 'I can really understand why
men rape sometimes.' The
other colleagues (male) laugh."
"I was 25 when I was a new intern
at the medical clinic. A 50 or
60-year-old chief resident suddenly
pulled down my pants when I had
turned my back, squeezed my bottom
and explained to the male intern
that 'here's where you perform a
crista puncture.'"
"After I left the court as a law
clerk, one of the judges became
my mentor. He was supportive,
offered advice, and one day
he came to the office and wanted
me to pay him back. In oral sex."
"We were greeted on the first day
of law school with the phrase:
"Here, we educate Sweden's
best lawyers and Sweden's most
educated housewives."
"When I did my court service,
a now retired judge called me into
his office the day before I was
sitting in on a rape trial with him.
He showed me photos of the
three defendants and asked me by
whom I would rather be raped."
Sourcing for anonymous accounts: Svenska Dagbladet, Dagens Nyheter.
Update — On Thursday, March 17, a jury dismissed the libel case against Ms. Wallin related to her book. She still faces an appeals trial related to her Instagram posts.
Jenny Nordberg (@nordbergj) is a Swedish journalist and author based in New York.
https://www.nytimes.com/interactive/2022/03/15/opinion/cissi-wallin-fredrik-virtanen-metoo-sweden.html