KAMSACK (CANADA)
CBC (Canadian Broadcasting Corporation) [Toronto, Canada]

April 17, 2022
By Olivia Stefanovich
[Photo above: Indigenous delegates stand with Pope Francis after the Pontiff delivered an apology for the Catholic Church's role in Canada's residential school system at the Vatican on April 1, 2022. HO-Vatican Media / The Canadian Press]
The Pope's residential school apology made history. But for Ted Quewezance and Archbishop Donald Bolen, atonement starts at home.
WARNING: This story contains distressing details.
The morning after returning to Canada from a weeklong trip to Rome, Ted Quewezance walked outside his hotel near the Toronto Pearson International Airport for a smoke and quietly asked himself what he should do next.
Later that day, Quewezance, 69, would return to his home in Keeseekoose First Nation, about 285 kilometres northeast of Regina, with what he went abroad to obtain: a commitment from Pope Francis to visit Canada soon and an initial apology for the conduct of some Roman Catholic Church members at residential schools.
Quewezance, a residential school survivor who is not Catholic, sat in an ornate room at the Vatican's Apostolic Palace when Pope Francis, speaking in Italian, said: "I am very sorry."
Days later, as he re-read the Pope's written remarks over and over again, Quewezance found his answer.
"I've come to closure with the file of the residential schools," Quewezance later said during a telephone interview, his voice breaking.
"I have to, because dwelling on it is not going to do myself any good, or my children or grandchildren or great grandchildren."
He carries a photo of one of his great-grandchildren, six-month-old Ella, in a bright orange beaded medallion. Quewezance wore that medallion everywhere he went in Rome. It was around his neck during that history-making audience with Pope Francis. It was blessed by the Pope twice.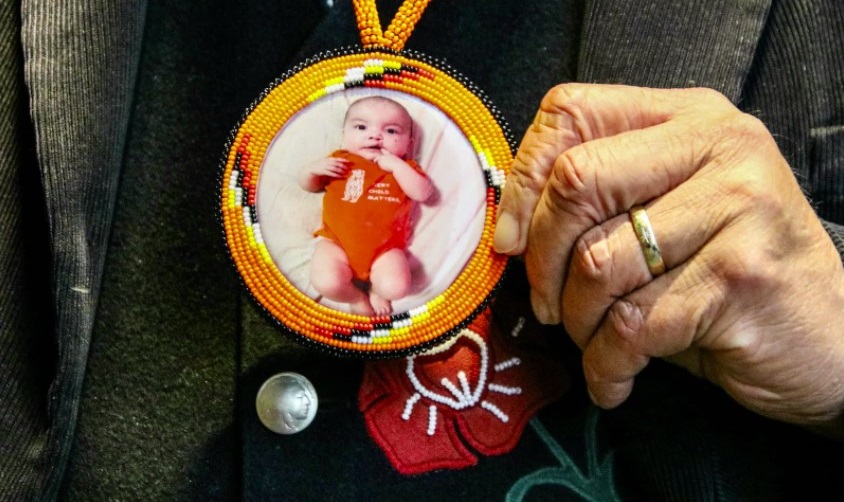 "She's the future," Quewezance said.
"'My grandpa visited the Pope,' she's going to say. And what did I bring home to deliver? What kind of news to her, my grandchildren, my daughters and my community?"
Quewezance, a former chief of Keeseekoose, told his family he's putting his suffering behind him so that he can focus on his community – on helping other survivors heal and on helping the Catholic Church atone for the widespread, intergenerational pain it left behind by running most of Canada's residential schools.
"The Catholic Church fully understands there's been a breach of trust," he said. "I'm working with my bishop and I ask him, 'How do you fix the breaches that you have?'"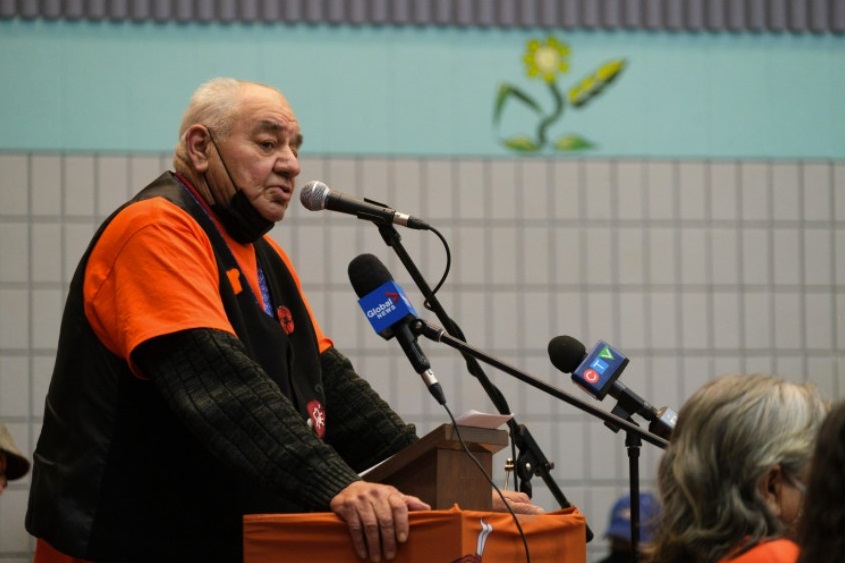 Next steps
Quewezance, whose trip to Rome was sponsored by the Canadian Conference of Catholic Bishops, said he knows that not all residential school survivors supported the trip — and not all will accept an apology from the Pope in any form.
"You have to respect that," he said. "It's about a personal choice. And that's the question that's so key in this … what are the next steps from the apology?"
Quewezance got to know Archbishop of Regina Donald Bolen last summer following reported discoveries of what are believed to be unmarked graves at former residential school sites across the country.
A truth and reconciliation working group within the Roman Catholic Archdiocese of Regina was meeting regularly with Indigenous and non-Indigenous people at the time. Bolen said he realized the church needed to reach out to First Nations affected by Catholic-operated schools within the archdiocese.
"We needed to come to terms with that past," Bolen said. "We needed to do it by listening to and engaging with survivors."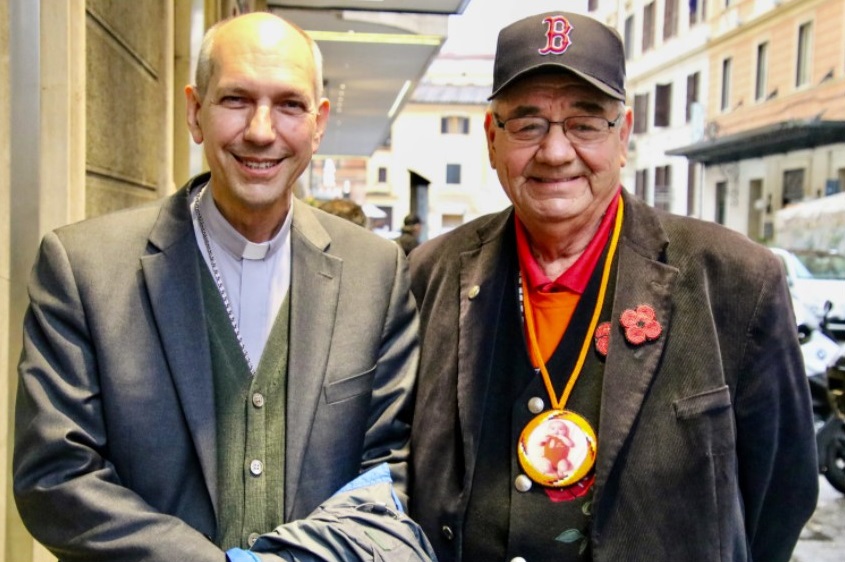 Bolen reached out to Chief Lee Anthony Ketchemonia of Keeseekoose First Nation, who invited him to the community to hear from three survivors, including Quewezance.
"I apologized on that occasion," Bolen said.
"They indicated the possibility that we could meet again, which is, I guess, all you can hope for coming out of a conversation and a situation like that … A first step in a relationship where there is such deep hurt and such deep wounds."
Archbishop Bolen and the Keeseekoose community continued to meet throughout the year as the First Nation launched its own ground-penetrating radar surveys — which reportedly found 54 potential gravesites near two of the residential schools that operated in or near the community.
Those institutions, Fort Pelly and St. Philip's, were run by the Missionary Oblates of Mary Immaculate, a Catholic congregation, from 1895 to 1969.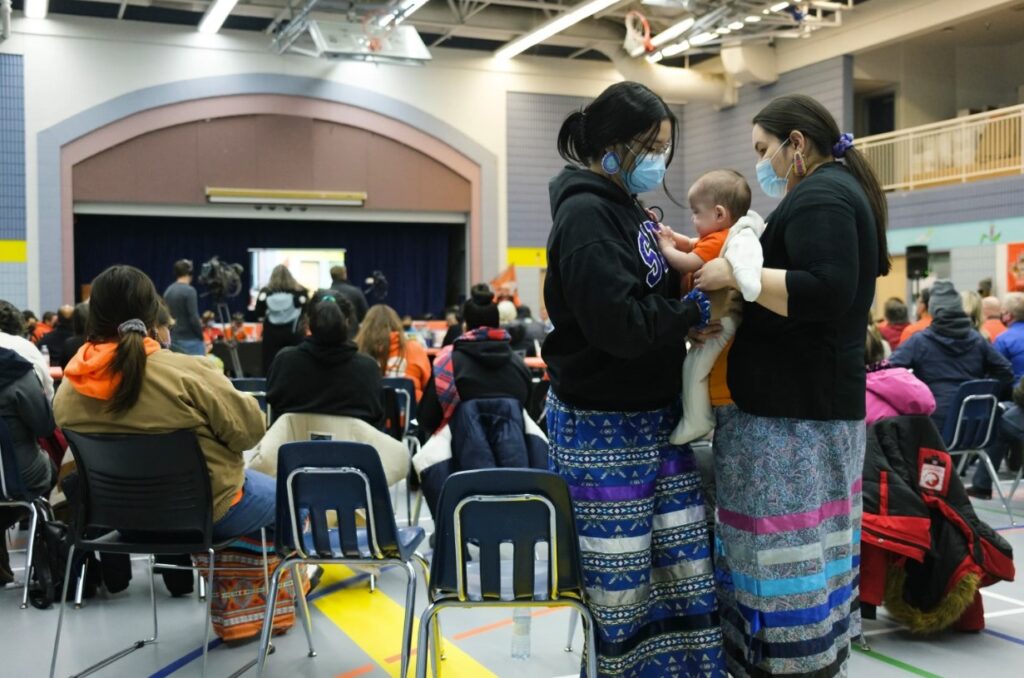 Quewezance spent four years at St. Philip's after spending seven years at Gordon's Residential School, which was run by the Anglican Church in Punnichy, Sask., about 129 km north of Regina.
"I experienced the abuse, sexual abuse, physical abuse, traumatization," he said.
Quewezance's family has a combined 144 years of residential school experience. Over the last decade, he said, the family lost 19 people to suicides and opioid use.
"The effect of residential school is attacking the intergenerational [survivors] of our community," he said.
Despite the pain that lingers from the residential school experience, Quewezance said he didn't hesitate to meet with Bolen.
"In order to move forward, you've got to have relationships," Quewezance said.
"If you're at the point of trying to have healing and bringing closure, you've got to have partnerships. You can't do it alone."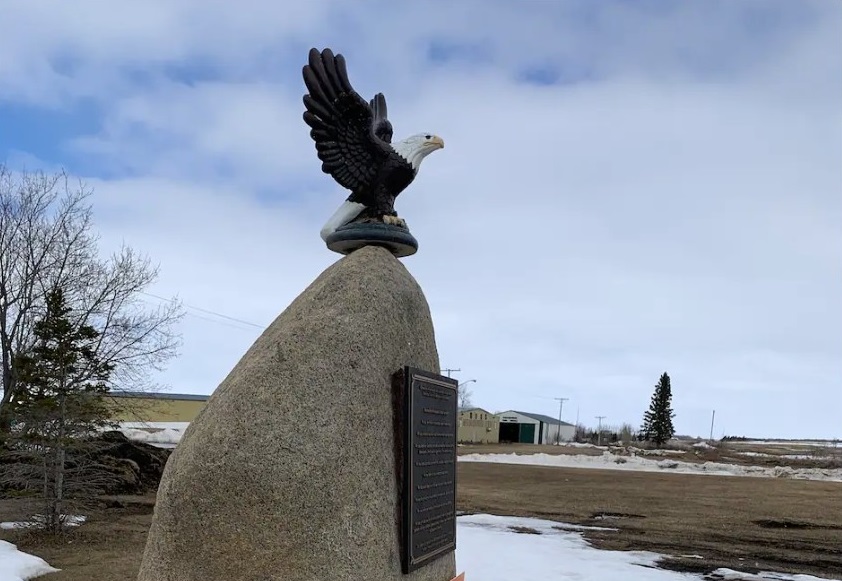 As part of their work together, Quewezance brought to Bolen's attention a piece of land connected to St. Philip's Roman Catholic Church in Keeseekoose, where a residential school monument built eight years ago stands. Survivors have asked the archdiocese to return the land to them.
Quewezance is one of several family names engraved on plaques attached to the monument — a big rock upon which a painted eagle stands with its wings spread.
"We the survivors of residential schools declare that we can celebrate each day with renewed respect and appreciation," says the inscription on the monument.
Bolen said the archdiocese returned the land on which the monument stands to the First Nation back in October — a small step on the path to atonement.
He said the archdiocese is also working with Keeseekoose to disclose archival material that could help to tell the stories of the community's residential schools.
'This doesn't end with an apology'
"We want to walk that journey and it's going to be step by step," Bolen said.
"As Ted and other survivors have said over and over again, this doesn't end with an apology and it isn't going to end with a papal visit. It's a matter of learning to walk together in solidarity in the long haul."
Now, attention is turning to the Pope's planned visit to Canada and how it might build on the partial apology delivered in the Vatican.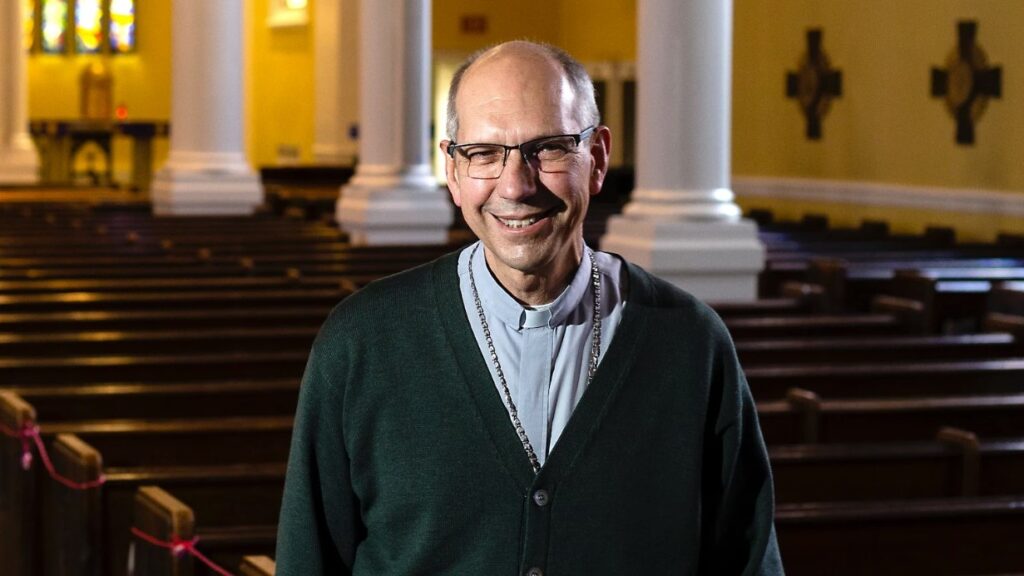 In Rome, Pope Francis apologized only for the actions of the church's members — not for the fact that the Catholic Church operated residential schools in Canada.
Quewezance said the church needs to engage with survivors to ensure the Pope's upcoming visit offers a healing moment.
"I think when survivors, when they see him, when they hear him, there's going to be a totally different meaning from seeing him on TV," Quewezance said.
Pope Francis's pending visit is expected to fulfil a key recommendation of the Truth and Reconciliation Commission. The TRC called on the spiritual leader of 1.3 billion Catholics worldwide to apologize on Canadian soil for the church's role in the spiritual, cultural, emotional, physical and sexual abuse of First Nations, Inuit, and Métis children.
A culture 'at the brink'
The damage done by the church through residential schools will take generations to repair, said Quewezance.
Only 19 people out of 3,000 in Keeseekoose can still speak the Saulteaux language fluently, he said, and even fewer can lead the traditional ceremonies of their nation.
"We're at the brink of losing everything," he said.
Bolen said he owes a debt to Ted Quewezance and other survivors for opening a dialogue between the church and their communities. He said he hopes their relationship can serve as a model for other archdioceses.
"The church needs to be not only in repentant mode, but in learning mode … retelling our own history and learning what it is to stand in solidarity with Indigenous Peoples," Bolen said.
As part of the church's commitment to atonement, Bolen said, the archdiocese will cover the cost of bringing survivors to wherever the Pope travels during the Canadian visit.
"I certainly hope and, to the extent that I can be involved in planning, will encourage real encounters with survivors because that has the greatest chance of bringing healing," he said.
Quewezance said he also expects to see the Pope in person again, when he visits.
"Wherever he comes, Ted will be there," Quewezance said. "Along with Don."
Support is available for anyone affected by their experience at residential schools or by the latest reports.
A national Indian Residential School Crisis Line has been set up to provide support for former students and those affected. People can access emotional and crisis referral services by calling the 24-hour national crisis line: 1-866-925-4419.
https://www.cbc.ca/newsinteractives/features/residential-school-pope-francis-quewezance-bolen