HARRISBURG (PA)
Tribune-Democrat [Johnstown PA]

April 29, 2022
By Dave Sutor
A legislative effort to create a retroactive window during which childhood sexual abuse victims could file civil claims against alleged perpetrators and enablers, even if Pennsylvania's statute of limitations has expired, is further along than it has ever been.
The proposal, however, is now stalled at a crucial point in the process.
In March 2021, state Reps. Mark Rozzi and Pamela DeLissio, both Democrats, introduced House Bill 951 that would put into place a two-year look-back period. It passed the Pennsylvania House of Representatives by a vote of 149-52.
The legislation then got out of the Senate Judiciary Committee by an 11-3 vote, with state Sen. Wayne Langerholc, Jr., R-Richland Township, 35th District, siding with the majority.
Countless lawmakers have been involved in trying to enact a plan since a retroactive window was first mentioned 17 years ago, following a 2005 grand jury investigation into abuse within theRoman Catholic Archdiocese of Philadelphia. Other bills have been written, but died without becoming law.
HB 951 would need to pass the full Senate and be signed by Gov. Tom Wolf to be adopted.
"I'm always optimistic," said Survivors Network of those Abused by Priests (SNAP) President Shaun Dougherty, a Westmont resident. "You have to be optimistic. It should move forward."
But Senate Majority Leader Kim Ward, a Republican from Westmoreland County, will not bring the bill to the Senate floor for a vote. In the past, Ward has said she believes the proposal to be unconstitutional. Ward's office did not respond to two interview requests – one by email, one a phone message.
"This bill ultimately comes down to Kim Ward making the decision to put it on the calendar and to put it up for a vote," Rozzi said.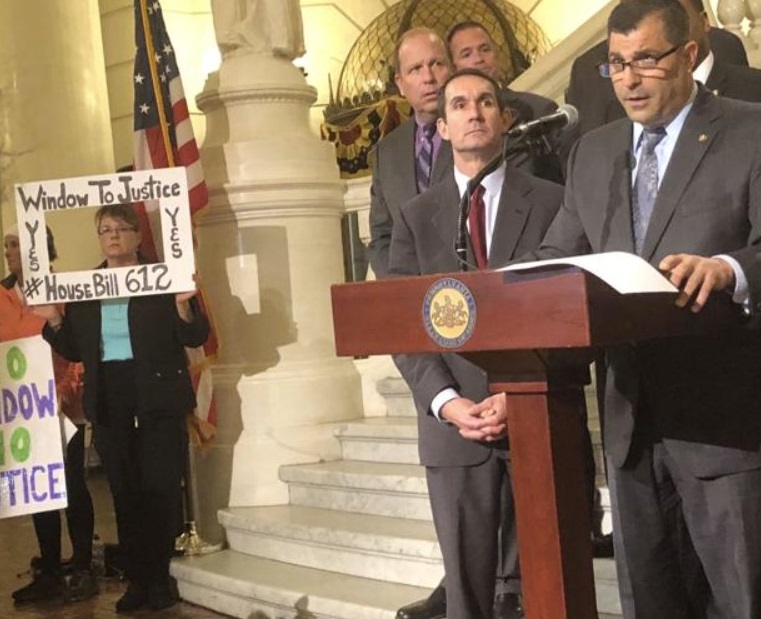 In the General Assembly
Wolf said that if the bill is not included in the upcoming state budget package, then he will call a special session of the General Assembly.
"The governor supports House Bill 951, which provides a statutory two-year window for survivors of child sexual abuse to file lawsuits outside of the statute of limitations," Elizabeth Rementer, press secretary for the office of the governor, said.
"This is a necessary, important step to hold abusers – and the institutions that enabled them – accountable. This is the fastest path to justice for survivors. The House of Representatives has already passed the bill with overwhelming support but stalled in the Senate. The governor urges the Senate to act now to pass House Bill 951."
A statewide question regarding a proposed constitutional amendment that would create a two-year retroactive window was set to appear on the 2021 primary ballot. However, former Secretary of State Kathy Boockvar failed to properly advertise the referendum, so the vote could not go forward.
Wolf said he was "gravely disappointed" to learn about the failure to advertise in a letter he sent to Ward and Senate President Pro Tempore Jake Corman.
"The constitutional amendment process, to me, was the fastest way to achieve, I think, the result that most people wanted, which was to allow victims to seek justice," Corman, now a candidate for governor, said in a recent interview with The Tribune-Democrat.
Rozzi supports the special session if the bill does not get included in the budget.
"The governor said if Kim refuses to do anything and we get through the budget, that he will call a special session and bring the House and Senate back to Harrisburg and keep us there until Kim Ward does something," Rozzi said. "He admitted the faults of what happened with the secretary of state – that it was tragic and that he was upset by it. He's willing to do whatever it takes for this bill to finally get a vote on it, and that's why he's willing to call the special session. I know that she does not like that. She doesn't like hearing that, but, Kim Ward, do your … job."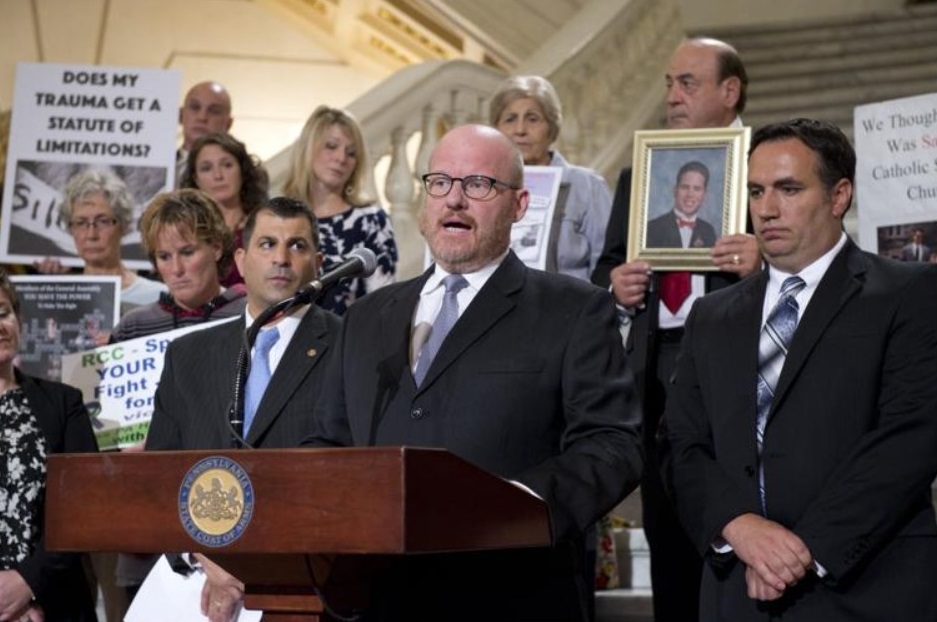 For and against
Proponents of the bill argue that it would give victims an opportunity to seek justice after, in their opinions, organizations such as the Roman Catholic Church spent decades allegedly covering up abuse.
Information could also be obtained and made public about possible abusers.
Dougherty called the measure "a protective bill that will protect children against child rape."
The Pennsylvania Catholic Conference and the Insurance Federation of Pennsylvania have steadfastly opposed creating a retroactive window through statute.
The process to get the retroactive window proposal as a referendum question has been restarted.
"The Catholic Church, as always, remains neutral on the constitutional amendment that treats public and private actors the same way and is currently working its way through the process," responded Pennsylvania Catholic Conference communications director Al Gnoza in an email statement when asked for an interview.
Sam Marshall, president and CEO of the Insurance Federation of Pennsylvania, added: "We respect that the General Assembly acted quickly to restart that process with its passage of HB14, which will allow this to come up for a public vote as soon as next May.
"We did not oppose that, just as we did not oppose earlier measures to amend Pennsylvania's constitution to allow this."
"We believe the alternative approach in HB951 – establishing a reviver by statute rather than by amending the constitution – comes with its own constitutional defects," Marshall said. "Lawyers can and will argue that point – that's what lawyers do, and that alone will take more time than the already-started process of amending the constitution."
Marshall continued: "Should a reviver pass – whether by amending the constitution as has been started with the passage of HB14, or by a statute, as proposed in HB951 – its impact won't be on the insurance industry, but it will be on those insurers who covered entities subject to revived claims.
"Those insurers will be subject to liability without having collected any premium to reflect that liability – which isn't the way fiscally sound insurance regulation works. That is understandably a secondary concern for many, and it is not the basis for our concern with HB951 anyway."
Rozzi accused Ward, the federation and the conference of being a political "love triangle" with the shared mission of stopping the retroactive window.
"She will do everything possible to make sure this bill doesn't come up to a vote to protect the Catholic Conference and the Insurance Federation," Rozzi said.
"In my mind, Kim Ward is exactly what's wrong with Harrisburg. People like her have no business being in leadership because they don't know how to lead. She is the problem."
https://www.tribdem.com/fastest-path-to-justice-house-bill-951-for-civil-child-abuse-window-stalled-in-senate/article_1cefe004-c5e2-11ec-99e0-df514a837163.html