YAKIMA (WA)
Yakima Herald-Republic [Yakima WA]

May 9, 2022
By Joel Donofrio
For 34 years, Yakima native Michael Ross blocked the memory of sexual abuse by a Catholic priest from his mind. Then he pushed officials at two Catholic dioceses for acknowledgement of the abuse and, eventually, resolved a lawsuit over it.
Now Ross is taking his efforts to another stage — Yakima's Calvary Cemetery, where Monsignor Joseph Sondergeld has been buried for more than 50 years in an area reserved for deceased clergy.
Ross has asked the Diocese of Yakima to remove Sondergeld's remains from the priests' circle, or at least acknowledge in the cemetery that multiple claims of abuse against him have been substantiated.
"Right now, in the Yakima diocese, he's still a venerated priest," Ross said of Sondergeld's placement in the cemetery. "When people who have been abused, when family members of people who have been abused by Joseph Sondergeld walk by and see he's there with an elevated priest status, it's just not the truth.
"I've had several family members who've expressed to me that they don't want to be buried (in Calvary Cemetery) with him there in the ground."
Monsignor Robert Siler, episcopal vicar and moderator of the Curia for the Yakima diocese, said Ross' request has been considered and will be denied.
"It has been our practice to celebrate with a minimum of ceremony the funeral Masses of priests accused of abuse," Siler wrote in an email to the Yakima Herald-Republic. "However, burying the dead is one of the corporal works of mercy. These works are central to our response to the gift of the faith, and in our carrying out the mission of the Church.
"Sondergeld died in 1969 and was buried in the priests' plot at Calvary, where his body will remain," Siler wrote. "Our faith tells us he stood before the Lord Jesus to be judged at his death and that same faith reminds us it is God alone, ultimately, who is our judge."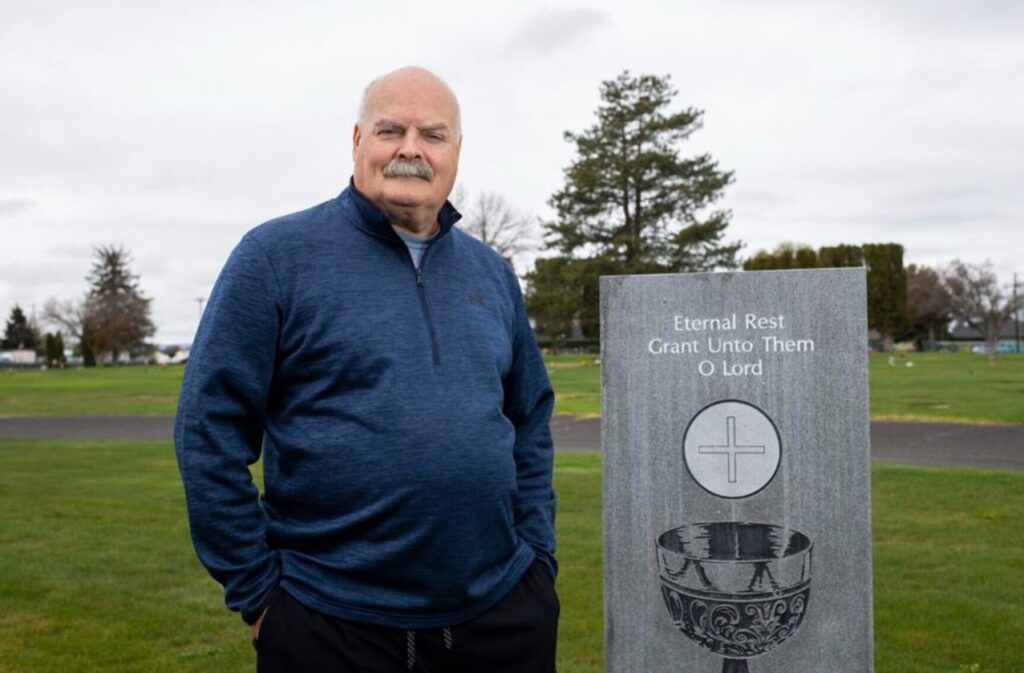 Abusive incidents
Ross, now in his late 60s, discussed his Catholic upbringing and details of his abuse by Sondergeld with the Herald-Republic during an April 30 interview in Yakima. Ross married and raised a family in Spokane and still lives there, although he has family members and friends in the Yakima Valley.
He grew up in a family of eight children, attended Mass and Catholic schools, played sports and was an altar boy.
"There were 1,300 kids at St. Paul's elementary (kindergarten through eighth grade) at the time — it was bedlam," Ross said. "I went to Carroll High School and graduated from there in 1972."
Ross was a newspaper carrier for the Yakima Herald-Republic when he was in junior high school, and one of his customers was Sondergeld, a retired priest who lived with his sister in a home near St. Paul Cathedral school.
"I was never abused in the church or in the rectory. He always abused me in his house, and it was always when I collected for the newspaper," Ross said. "I always looked through the window to make sure (the sister) was there, before I went in, but sometimes it got so late you would have to collect anyway. And he would always pay me $20 (much more than the cost of the paper) after he abused me, and sometimes he gave me candy."
The final time he was abused — Ross described it as rape — Sondergeld's sister returned home and witnessed the incident, Ross said.
"She went to the rectory — I found this out about 40 years later. But I remember she left the home in a hurry and dropped her groceries on the floor when she saw what was happening," he added.
Ross said he was angry and hurt after discovering Sondergeld's sister allegedly reported her brother's abuse to the pastor, but it was never disclosed to police.
"(Diocese officials) have told me, 'Oh, we didn't do that back then.' Well, why not? What's right? If you're a priest, or just a good Catholic person, aren't you taught to be morally functioning in all ways? Or to protect children at the least? And they didn't do it," he said.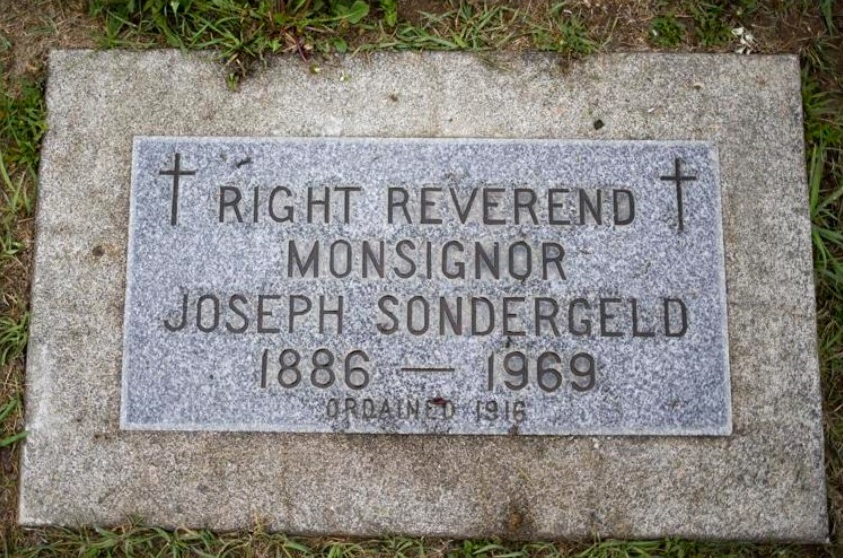 Abuse acknowledged, lawsuit settled
Ross attended college at Gonzaga University in Spokane, where he met his wife and "completely forgot about my abuse." It remained that way for him until 34 years later, when he, mistakenly, believed his son was being groomed for abuse by a parish priest and "it just started coming back to me."
Because Sondergeld was a priest in both the Spokane and Yakima dioceses — the latter was formed in 1951, from portions of the Seattle and Spokane dioceses — Ross went to both seeking counseling, and he filed a lawsuit. The Diocese of Yakima eventually settled the lawsuit for $50,000.
In his email to the Herald-Republic, the Yakima diocese's Siler noted that Ross' recent request regarding Sondergeld's remains at Calvary Cemetery could violate the lawsuit settlement.
"The request does not seem to be in keeping with the agreement and release of claims Mr. Ross signed in 2004, when he received $50,000 from the Diocese (with $4,000 reserved for providing reimbursement to mental health counselors for therapy provided, if that might be of help to him)," Siler wrote. "In return, he forever discharged the diocese, its entities (including Calvary Cemetery) and its personnel from any claims regarding Sondergeld."
In 2019, the Yakima diocese created a website identifying priests and deacons with substantiated allegations of sexual abuse of a minor during their ministries in Central Washington. The updated list includes 21 names, three of which are religious order priests who served in the diocese.
Sondergeld is found to have "multiple claims (of abuse) and lawsuits settled," according to the diocese, which lists his assignments as Sacred Heart parish in Prosser and Immaculate Conception parish in Roslyn.
He is also on the Spokane diocese's list of "admitted, proven or credibly accused clergy perpetrators of clergy sexual abuse," although that list does not provide parish assignments.
The Spokane diocese also adopted, in 2010, a list of regulations regarding priests or deacons "removed from active ministry" or who have lost their clerical state. Among other things, these former priests or deacons may not be interred or inurned in the clergy section of a Catholic cemetery.
None of the sexual abuse allegations against him were publicly known when Sondergeld was buried in late 1969, and his body remains in the priests' circle at Yakima's Calvary Cemetery with 24 other priests, including the diocese's first bishop, Joseph Dougherty, who died a few months after Sondergeld in early 1970.
Two other priests who died before Sondergeld (in 1962 and 1964) are buried in the circle, located in the central portion of the cemetery near a statue of the Virgin Mary and a pillar that states, "Eternal Rest Grant Unto Them O Lord. Diocese of Yakima Priests' Burial Plot. Pray For Them." The most recent priest buried there died in 2018.
Ross said he has researched Sondergeld's past assignments, dating back to the 1920s, and has discovered at least 45 other victims. He believes there are others who were abused by Sondergeld and never reported it.
Yakima "is still a Catholic community," Ross said. "I mean, I walked through the gravesites (at Calvary Cemetery) and I saw so many people that we knew as children. The parents and kids of people we knew. It's a Catholic community.
"I don't really want to cause problems here. I just want to see if there's a way to remove this serial perpetrator who abused at least 35 people in the Spokane diocese and at least 11 here that I know of, including myself," he added. "I hope something can be done for our family and the community."
Contact Joel Donofrio at jdonofrio@yakimaherald.com.
https://www.yakimaherald.com/news/local/victim-wants-abuser-removed-from-priest-s-circle-at-yakima-catholic-cemetery/article_e9492761-36ca-58ef-9209-ad792f79a7f9.html